the YOGI TIMES ultimate bali travel guide 2021
Published: 30-10-2018 - Last Edited: 12-08-2021
the bali yoga & traveling guide for the modern yogi
For the last 19 years, YOGI TIMES and its vibrant team of volunteer contributors, photographers, and editors from all around the world have had one single mission – to inspire a healthy and mindful lifestyle – with articles, reviews and city guides.
The ULTIMATE BALI GUIDE was born out of a vision to give modern yogis traveling to Bali, Indonesia, a route to amazing eats, adventures, stays, boutiques, and spas.
We want to share our carefully curated list of local businesses offering creative and inspirational experiences. Our aim with this guide is to continue to connect like-minded people and expand the vibrant community on the magical island of Bali.
The guide is full of recommendations guaranteed to suit your tastes. Visit the rice fields in Tegalalang or take a break from the scenery and explore the sacred monkey forest sanctuary in Ubud. If you're searching for peace and serenity, find a yoga shala you connect and become yoga certified. There are yoga retreats and yoga teacher training sessions available all over Bali!
Indulge in tasty raw vegan foods, practice a variety of yoga classes
Ranging from kundalini, Hatha, yin, ashtanga, and many more, release your inhibitions at an eclectic dance class, lounge at an exclusive beach club, or simply bike around and explore the island; there is an abundance of activities readily available for you.
We can't wait for you to read our ultimate Bali guide and experience everything the island we call home has to offer.
STAY
BOUTIQUE HOTELS & RESORTS + RETREATS + EXCLUSIVE VILLAS
Where you stay is important, which is why we've compiled the island's most breathtaking accommodation just for you. Stay and sleep in style.


Hotel Tugu Bali

Indonesia, Hotel Tugu Bali's decor features a vast collection of priceless Indonesian antiques and artwork. The aesthetics blend pure tropical luxury with an out-of-the-ordinary ambiance. Our favorite part about the hotel is the exclusive cultural experiences only available to guests. You'll be transported back in time through lavish feasts and banquets of kings from the 14th century or through quiet village dinners of Java and Bali where food is cooked in terracotta pots over wood fires. Experience a mix of luxury, romance, and culture at Hotel Tugu Bali.
Jl. Pantai Batu Bolong, Canggu
tuguhotels.com
IG – @tuguhotels
FB – tuguhotels
Villa Tantangan
Edging the Indian Ocean and emerald-green gardens, Villa Tantangan is an opportunity to lose yourself in the splendor of Bali. This elegant, one-of-a-kind villa is situated in the photogenic village of Beraban. It has a contemporary, minimalistic feel while being off the grid, sourcing its own electricity using solar panels.
You can retreat into your own private sanctuary while remaining close to the vibrant and energetic Batu Bolong strip in Canggu. Wake up to the sound of birds or witness the hidden charms of nature with a delightful proximity to wildlife and seascapes.
Jalan Galiran
+62 361 8482 927
villatantanganbali.com
FB – VillaTantanganBali


LaLaLand Villa
This villa is a refurbishment of an existing residence, originally a composition of three old 'joglo' houses hailing from the neighboring island of Java. The main house has been adapted to your needs with the introduction of mezzanine spaces for added comfort and privacy while retaining the old teak structures and timber flooring. The house is first accessed via the garden courtyard, which features a large circular reflecting pool and an angular deck. On your way through the courtyard, check out the massive egg structure which is your guest bathroom! We think you'll love the eclectic decorations, such as the capiz shell covered ceilings, rainbow wall art or a number of the furnishings designed by the owner and sourced from all over the world.
Jl Pantai Berawa, GG 22, Canggu
+62 361 7432565
wordofmouthbali.com
IG – @lalaland_bali
Chalina Estate
Overlooking the picturesque rice fields of Canggu and minutes from Echo beach, Chalina Estate is a complete destination for rejuvenation and peace. The luxurious property is tucked amongst a haven of beautifully landscaped gardens and lawns, with decor that mixes classic Balinese architecture and the owner's striking modern artwork. From massages on the pools floating gazebo to Yoga retreats, detoxes and Meditation seminars, you'll be sure to find serenity at Chalina Estate.
Jl Pantai Pererenan
chalinaestate.com
FB – Chalina estate
IG – @Chalinaestate.bali
Chili Hilly
Located in the artist enclave known as Sayan, Ubud in Bali – Chilly Hilly sits directly above the Ayung River on about 1,100 square meters of land. The house has two master bedrooms, an open-concept living and dining space, a mezzanine study and lounge which sits above the kitchen, a heated plunge pool, a garden courtyard for performances and meals, and a Koi fish pond. Our favorite part is the stunning view of the coconut trees laced around the volcanoes on the horizon. We think you'll love this relaxing getaway villa.
Jl. Raya Sayan No.84, Ubud
wordofmouthbali.com
Fivelements Retreat
This eco-wellness retreat is located in the lush region of Manbal and has been recognized for international awards spanning across the hospitality, wellness, retreat, spa, culinary and sustainable design industries. Fivelements Bali is the first of a new genre of wellness destinations bridging the wisdom of traditional healing cultures with innovative wellness concepts. As a healing destination, Fivelements fully understand that food is more than simply fuel; vegan and raw foods actively support ones journey to greater wellness. With striking details like the Sakti Dining Room, an open bamboo structured restaurant by the river, we know that healing and self-discovery will be part of your journey whilst attending this retreat in Bali!
Jl Raya Mambal, Ubud
+62 361 469206
fivelements.org
IG – @fivelementsretreats
FB – FivelementsRetreats
Soulshine Bali Retreat
A boutique yoga hotel, Soulshine Bali is an elegant mix of traditional Balinese and modern design. Nestled along a bubbling river and surrounded by rice terraces, the property flows with the natural curves of the landscape. You're certain to enjoy the rooftop yoga studio with stunning panoramic views of the rice fields and jungle canopy. At Soulshine, you're free to chill in a fun, friendly environment, enjoy delicious organic food, and lounge by the pool where your soul can soak up all the sun!
Jl. Ambarwati, Ubud
+62 81 238 32505
soulshinebali.com
IG – @soulshinebali
FB – soulshinebal
Amed Boutique Hotel
Located on the dramatic east coast of Bali in a small fisherman's village, Life in Amed Boutique Hotel offers an authentic experience within an exquisite and colorfully designed beachfront haven. The hotel boasts a blend of Balinese and modern design, elegant decor, fine bedding and furnishings, natural stone bathrooms, views of the ocean, a swimming pool, and lush fragrant gardens. Life Restaurant features the freshest selection of local and worldly dishes to suit your taste. The area is best known for its shipwrecks, deep sea diving, snorkeling and fishing trips, all of which can be arranged by the wonderful staff at Life in Amed. We know you'll love how the staff pampers you during your stay!
Lean Village, Amed
+62 363 23152
lifebali.com
FB – Life In Amed
Menjangan Dynasty Resort
Resting beside the gentle waters of Banyuwedang Bay on the outer perimeter of West Bali National Park, Menjangan Dynasty Resort offers adventure enthusiasts a peaceful and private hideaway. At this rare destination of choice, you'll find safari-style tented rooms and villas, a restaurant and barefoot beach club, a spa, two swimming pools, and a PADI dive center. Amenities that all harmoniously coexist with the natural splendor of an extraordinary patch of paradise. We know you'll love indulging in a unique, luxurious glamping experience, which is a refreshing alternative to architectural style and five-star flare.
Pejarakan, Gerokgak, Buleleng Regency
+62 362 3355000
mdr.pphotels.com
FB – MenjanganDynastyResort
Sumberkima Hill
These private villas in northwest Bali offer an ideal spot to get away from it all and recharge. Become radiantly alive in the spa, exercise, meditate and practice yoga in the amazing pavillion. We're especially fond of the stunning 360-degree view of the sea, mountains of Barat National Park, valleys of northwest Bali and the line of volcanoes on the neighboring island of Java. Offering some of the best diving and snorkeling in Bali, we're certain you'll enjoy exploring this less crowded part of the island.
Banjar Dinas Taman Ayun
Desa Sumberkima, Gerokgak,
+62 82340049363
sumberkimahill.com
IG – @sumberkimahill
Villa Chameleon
Designed with experience in mind, Villa Chameleon provides endless ways to spend your day relaxing. Begin your day by swimming laps in the 20-meter infinity pool, or reading a book by the pool lounge, then watch the sun go down in the upper lounge whilst baking your own Napoli pizza, or treat yourself to an evening Aperol spritz in the front kitchen. There are plenty of movies, books, and games to choose from in the villa's media room, and the well-being space is ideal for your daily in-house massage, meditation, or yoga practice. End your day with a bonfire or an eye-opening walk across the rice fields. Whichever experience you modern yogis desire, we think Villa Chameleon offers the perfect setup to make your stay amazing.
Buwit
villachameleon.com
Samabe Bali Suites & Villas
Located on the Southern beach cliffs of Nusa Dua, Samabe Bali Suites & Villas immediately welcome you to breathtaking views of white sand and turquoise waters. Complete with 81 suites and villas, two restaurants and two bars, this luxury Bali resort is designed to indulge and pamper you throughout your stay. The design combines contemporary and traditional Balinese styles with colorful and sophisticated touches. From fresh breakfasts to daily afternoon tea, Samabe signature activities to a delicious offering of food and beverage, the customizable luxury packages provide every type of experience for your beach getaway.
Jl Pura Barong-Barong Sawangan
+62 361 8468633
samabe.com
IG – @samaberesort
FB – samabesuitesandvillas
STAY SANUR
Tandjung Sari Hotel
The seminal boutique hotel of tropical Asia and Bali's oldest hotel, Tandjung Sari is an ageless beauty. This small hotel remains serene, discreet and elegantly modest while boasting 28 traditional Indonesian bungalows nestled among the giant shade trees of Sanur Beach. You can enjoy the tasteful cuisine at the resort's open-air restaurant or lounge on the sun deck by the 50-foot saltwater infinity pool. We're particularly fond of the authentic Balinese dances performed twice a month by local children and accompanied by a traditional gamelan orchestra of senior musicians. Tanjung Sari Hotel is Bali at its finest.
Jl Danau Tamblingan, Sanur
+62 361 288441
tandjungsarihotel.com
STAY SEMINYAK
Villa Bella Bali
If you are up to experience the magic of old school Bali then this charming and luxurious three bedroom private villa with a bohemian atmosphere is the perfect romantic getaway. Beautifully furnished with timeless objects sourced in Asia, large landscaped gardens, a private pool and sunset views of the rice fields create a unique and serene setting. A loyal staff team is there to ensure you are at ease for the duration of your stay, including cooks, massage therapists, drivers as well as a baby sitter. A true tropical home for family and friends.
Villa Bella Banjar Kuwum 2 – Bali
+ 212 9175154545
villabellabali.com
IG – @villabellabali
FB – VillaBellaBali
STAY SUKAWATI
Floating Leaf Eco-Luxury Retreat
If you're seeking a relaxing break, 6* honeymoon escape or group retreat in paradise, Floating Leaf Bali is the perfect place to nourish your well-being. This award-wining Balinese owned retreat center combines ancient healing wisdom with modern grandeur. Their luxury experiences with world-renown yoga instructors, Ayurvedic consultations, Balinese spa treatments, and transformative workshops replenish you with profound long-lasting wellness, whilst retaining a conscious impact on the environment. We love their eco-friendly approach to helping you heal, inside and out.
JL. Pantai Purnama No.42. Sukawati
+62 811 380 202
IG – @floating-leaf-eco-luxury-retreat
FB – FloatingLeafEcoRetreat
STAY ULUWATU
Yoga Searcher
Located just a quick drive from the Uluwatu Temple, the Yoga Searcher resort is a special spot for surf and yoga enthusiasts. They offer accommodation in beautiful Eco-Lodges made out of 100% recycled teak wood. The outdoor pool and terrace is the perfect spot for a lovely breakfast or a session of reading. Delicious vegan meals and drinks are served daily within the in-house restaurant. Led yoga classes are available in their two yoga shalas. We're positive you'll love Yoga Searcher's combination of delicious food, varieties of yoga and calm atmosphere.
Jl. Labuan Sait Suluban, Pecatu (Uluwatu) 80364 Bali, Indonesia
+62 811 399 150/62 811 380 9772
yogasearcher-bali.com
FB – Yoga Searcher Bali
STAY UBUD
Sandat Glamping Tents
Located just 3km from central Ubud, Bali's first glamour-camp is a hidden paradise where the green rice fields create the perfect landscape for an exotic escape. Sandat Glamping Tents provide exclusive luxury safari tents to limited guests, ensuring privacy and tranquility, including a restaurant, yoga shala and infinity pool overlooking the forest. This experience allows you to savor the charm of untouched Balinese land, connecting you with nature whilst you enjoy luxury and comfort. We were curious about this glamping trend and now it's one of our favorite weekend getaways!
Jl Subak Sala, Ubud
+62 821-4408-1998
www.glampingsandat.com
FB – @SandatGlampingTents
STAY PEMUTERAN
Puri Ganesha
This luxurious and tranquil retreat, offering secluded beachfront villas, is the perfect place to nourish your inner Epicurean. Reside next to the calm blue waters of Pemuteran and immerse yourself in an authentic Bali experience. Let the stunning interiors relax and comfort you, adorned with unique antiques, textiles, and other treasures.
Enjoy their signature Rawstafel lunches, prepared with locally sourced, seasonal, and naturally-grown produce. Indulge your senses with a lounge on the beach to a relaxing Balinese massage and finish off with a beautifully prepared meal. Dive into a cultural and culinary exploration, where attention to detail is carefully crafted to bring you closer to their mission –– to nurture, rejuvenate, and welcome you home.
Buleleng, Bali
+62 812 3932 984
IG – Puri Ganesha by the Beach
Matahari Beach Resort & Spa
This authentic Balinese style 5-star resort is the perfect destination for sea lovers, divers, couples and families. They offer an on-site diving center, a fabulous large pool, a striking palatial spa, two restaurants featuring an "East meets West" menu, as well as a variety of child-friendly activities. Spread over a well-manicured botanical like garden, this resort is a clean, flawless, friendly and cultural setting to relax and rejuvenate.
JL Raya Seririt, Gilimanuk, Ds.
+62 0812-3805-458
matahari-beach-resort.com
IG – @MathariBeachResort&Spa
FB – @MathariBeachResort&Spa
STAY KABA KABA
Ulaman Eco Wellness Retreat
STAY | KABA KABA
Ulaman Eco Wellness Resort
If you are looking to leave the smallest ecological footprint possible while traveling but not willing to give up on luxury, we have the perfect place for you. Only 30 minutes from both Ubud and Canggu, you'll find Ulaman, a beautiful eco wellness retreat nestled off the main path in Kaba Kaba. Ulaman offers a beautifully designed bamboo main house with three extra-large well-appointed bedrooms, spacious bathrooms, and additional guesthouses.
With its impressive infinity pool overlooking the Ulaman river, a perched off a cliff face yoga studio, and rice fields beyond, we consider Ulaman a tranquil eco wellness retreat to fully relax and renew in a one of a kind environment and architecture.
Buwit, Tabanan Regency, Bali
+62-812-3858-0063
ulamanbali.com
IG – @ulamanbali
FB – UlamanBali
stay@ulamanbali.com
STAY | TABANAN
Shanti Lodge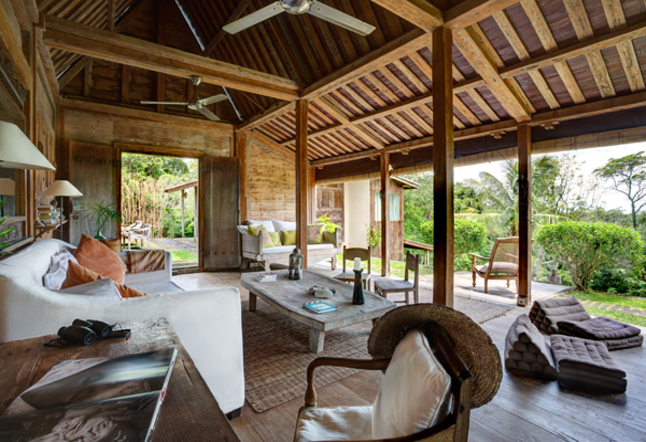 "Shanti", which means peace in Sanskrit, is what you experience in this green oasis of infinite rice fields. The Lodge stands upon a hill of a 2-hectare property facing a long infinity pool. Charming rustic houses with fresh elements of white and wood give an immediate sense of rest. Welcoming you with cozy and spacious bedrooms, this boutique hotel is sure to make you feel at home. For the ultimate peace of mind, this is an excellent place to connect with oneself and nature, find your creativity, and simply be.
Bajera, Tabanan
+62 852 6641 8594
shantilodgebali.com
IG – @shantilodge
FB – @shantilodge
MEDITATION
We are mind, body, and spirit. Let your mind rest and take an excursion inward through the power of meditation. It is an ancient science to keep you bright and blissful in our modern days.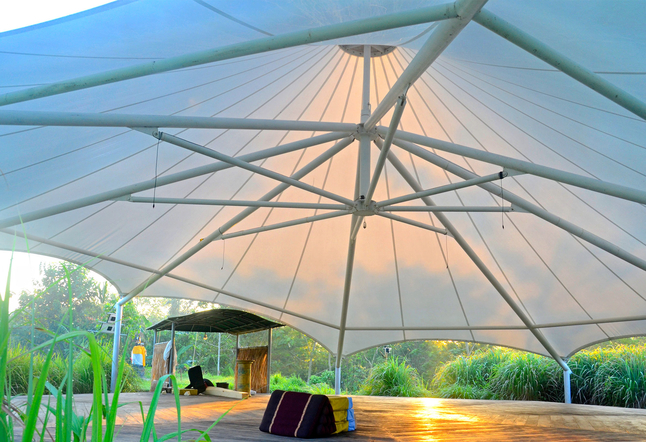 Bali Silent Retreat
Bali Silent Retreat is more than just yoga and meditation – it's an eco-sanctuary of restorative and amazing activities inspired by spiritual wisdom and grounded in 'green-to-the-extreme' eco- principles. You'll nourish your body and soul whilst reconnecting to the true self in your own way on your own time, in profound peace and silence. The silence allows for solitude and restful contemplation. We think the retreat center's philosophy behind the silence, the sustainability, the food, and its environmental commitments make it a unique destination for modern yogis.
Banjar Mongan, Penatahan, Penebel, Tabanan Regency
balisilentretreat.com
IG – @balisilentretreat
FB – BaliSilentRetreat
RESTAURANTS & CAFES
We've uncovered some of the best foods, coffees, and juices on the island. So whether you're taking a relaxing stroll or catching up with friends, you can nourish your body with the best of Bali.
EAT CANGGU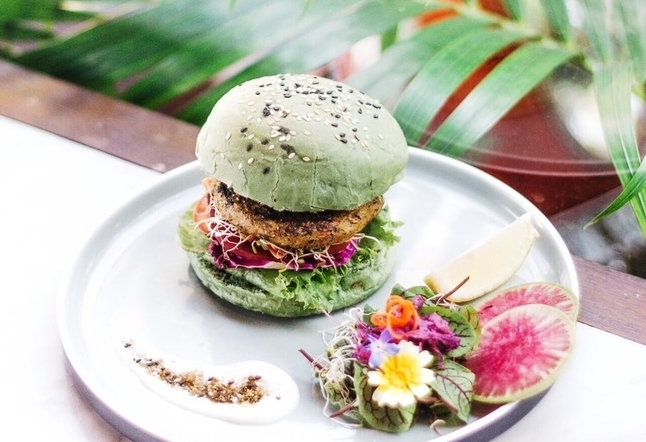 Peloton Supershop
At Peloton, like-minded people come together to share their ideas, vision, and love for healthy and tasty food. Their surprising and inventive menu is entirely plant-based, which is a delicious bonus in our books! Not only do they have a great culinary fare – offering raw foods, but the juices add a creative boost to your day and include the opportunity to add super-food plants like spirulina and moringa. From the décor to the friendly staff, plus the 98 percent plastic-free policy, we think Peloton is one of the strongest contenders in the Canggu restaurant scene.
Jl. Pantai Berawa No.46, Canggu
+62 813 3761 9335
pelotonsupershop.com
IG – @pelotonsupershop
FB – Pelotonsupershop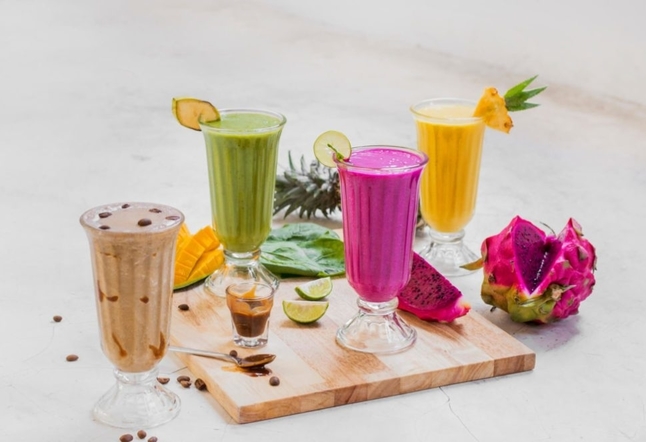 Living Food Lab
Experiments in conscious eating serve as the motto for Living Food Lab. And they do just that – create food from the heart with dishes full of as much life-force as possible. Constantly experimenting, Living Food Lab is more than a café. This spacious café allows you to be as creative as you like. Consider booking yourself an intimate dining experience based on the concept of mindful dining and meaningful conversation. The food is all vegan-friendly so there is no such thing as a guilty pleasure, which we think you'll appreciate!
l. Pantai Berawa No.8, Units 12 & 13 Canggu or
Green School – Jalan Raya Sibang Kaja
+62 3619077842
livingfoodlab.com
IG – @livingfoodlabbali
FB – LivingFoodLab
EAT CANGGU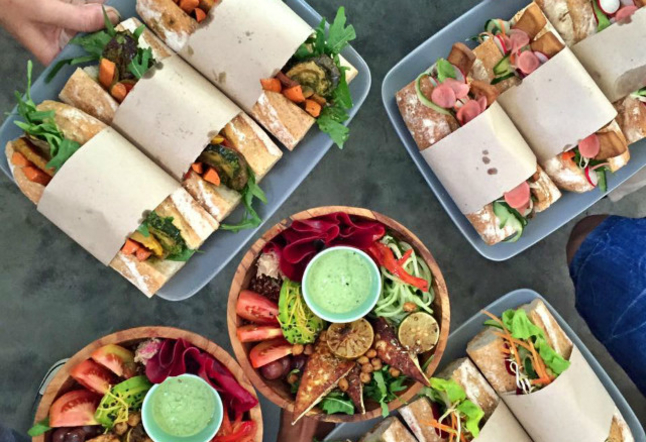 Shady Shack
Hungry and looking for a lush place to awaken your receptor cells? Pamper your senses with the smell of freshly brewed coffee and toasted bread inside The Shady Shack. Situated on a quiet street across from a rice field – the cafe offers a breezy, tropical oasis from the increasingly busy town of Canggu. Enjoy the cafe from either the shaded seated area set in a thriving, green garden or from the comfy sofas on the verandah. The menu includes a variety of vegetarian and vegan food, including health shots and juices, smoothie bowls, onsen eggs, salads, wraps, burgers and so much more. We just love how all the dishes have been well thought out with a focus on optimum health and vitality.
Jl Tanah Barak, Canggu
+62 812 36116466
IG – @theshadyshack
FB – Theshadyshackbali
EAT CANGGU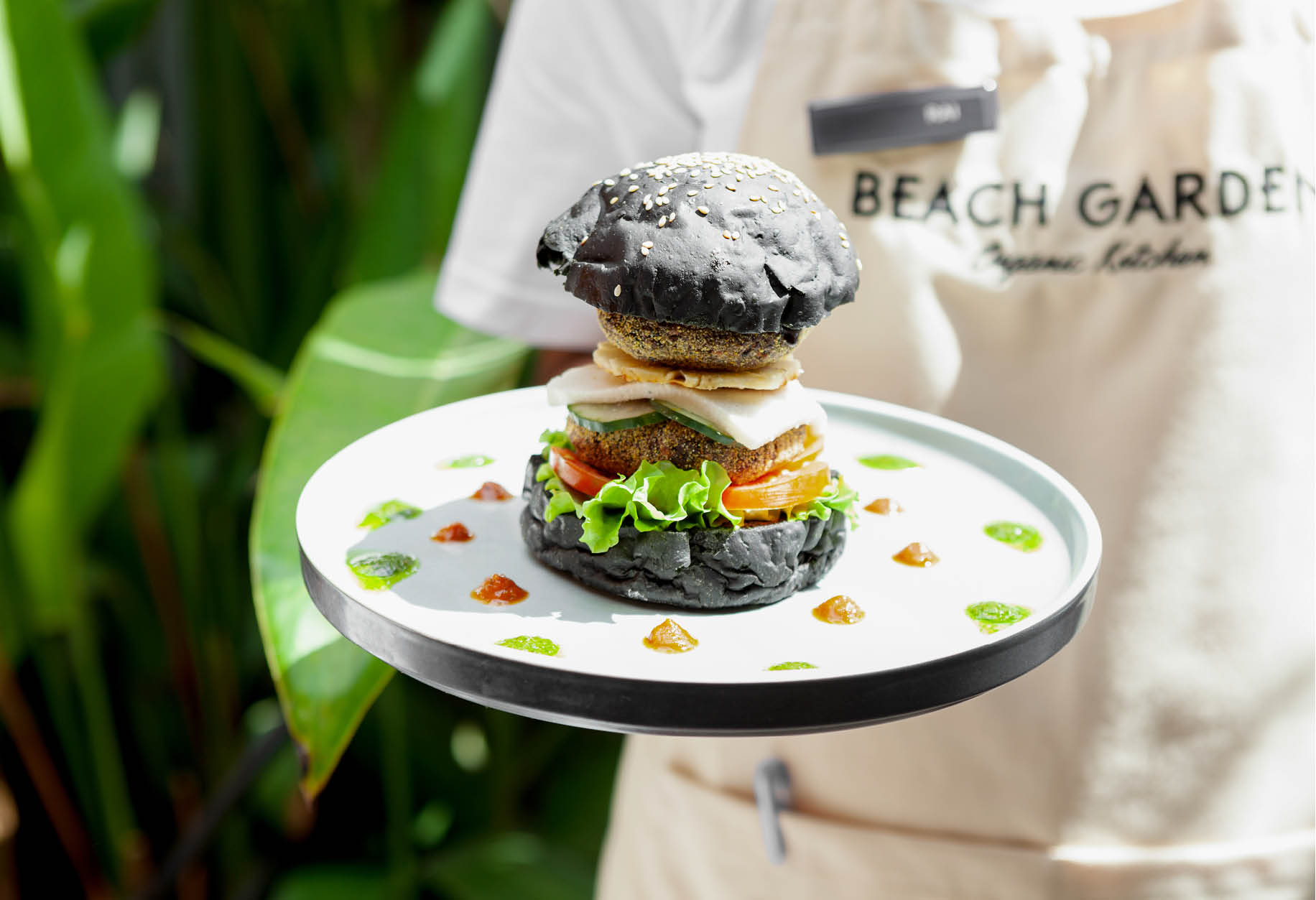 Beach Garden – Organic Kitchen
Situated in a beautiful joglo on the vibrant scene of Batu Bolong, Beach Garden – Organic Kitchen offers a large outdoor lounge, cafe, and raw juice bar. Becoming a staple in the lively restaurant scene of Canggu, International chef, Ronald, an Alain Ducasse trained protege from Rio Brazil, has launched a dazzling array of vegan/ raw/ vegetarian, with more traditional dishes that cater to all sorts of tastes and budgets. With a vast offering of unique recipes and combinations, the cold-pressed juices, fresh smoothies, and juice cleanse packages are quickly becoming a local favorite. Outstanding service and an ambiance to match, you'll instantly feel relaxed at Beach Garden – Organic Kitchen.
Jl. Pantai Batu Bolong no. 103, Canggu
+62-812-3749-6861

FB – Beach Garden Organic Kitchen
EAT CANGGU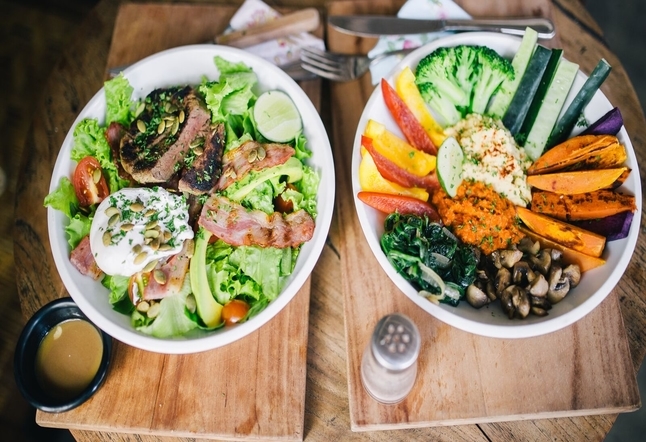 Motion Cafe
Motion Cafe offers the first unique fitness food concept in Bali. Here you will find a huge variety of fresh, clean meals with vegan and paleo options. Motion Cafe supports local farmers and uses only organic products where possible, making us huge fans already. All dishes are compiled for the best nutritional absorption, flavored with fresh herbs and spices, Himalayan salt and no refined sugar. Various healthy drinks, guilt-free desserts, and snacks are all homemade and most of them are gluten-free or vegan also!
Jl Batu Bolong 69B, Canggu
+62 0811 3999 411
motionfitnessbali.com
IG – @motioncafe
FB – motioncafebali
EAT CANGGU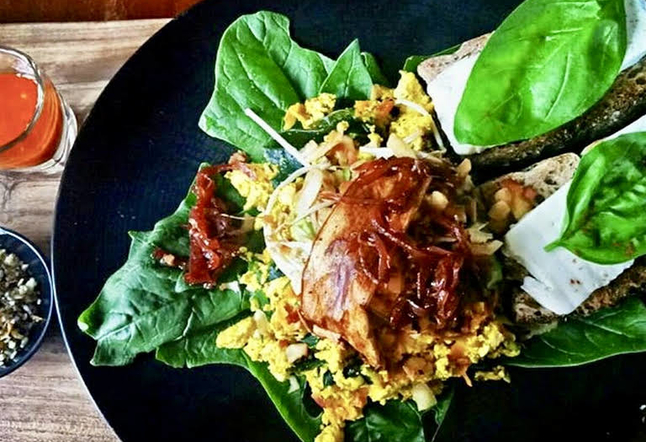 Cafe Vida
Good vibes, good coffee, good music and a friendly atmosphere. Cafe Vida is a hub of health and foodie heaven certain to leave you satisfied. They offer a wealth of vegan, vegetarian, and gluten-free options. Whilst the cuisine veers towards the Western health-food fanatic and our modern yogis, Cafe Vida's ability to promote a healthy, balanced lifestyle without restriction or loss of taste is perfectly executed. We recommend you try the paleo granola with probiotic coconut yogurt and compote. You won't be disappointed!
Jl. Pantai Batu Bolong No.38A, Canggu
+ 62 813-3988-6864
cafe-vida-bali.business.site
IG – @cafe_vida_bali
FB – cafevidabali
EAT CANGGU
Two Trees Eatery
Inspired by the trees at the front of the restaurant, Two Trees Eatery upholds their philosophy – something for you, every day and every meal. They stay true to their natural tendency to be a bit naughty from time to time which is why their meals range from very healthy to something slightly less healthy, depending on your mood! Two Trees' intimate space makes it the perfect place to catch up with friends, have a glass of wine and indulge. You'll feel at home in their environment, so sit back, relax, enjoy. And remember, two trees is better than one!
Jl Pantai Berawa No 99, Canggu
+62 3619077067
twotreeseatery.com
IG – @twotreeseatery
FB – twotreeseatery
EAT CANGGU
Made's Bakery
As the world's first banana flour bakery, all of Made's products are created with green banana flour which they make themselves right here in Bali! More impressive is that all of their products are 100 percent gluten free and coeliac friendly. We love that banana flour seeds are a prebiotic that feed your microbiome and heal your gut, which contributes to your overall health and well-being. Their products are a Bali staple and a true taste sensation you won't want to miss.
Jl Pantai Batu Bolong No14, Canggu
+62 821 4466 6001
madesbakery.com
IG – @madesbananaflourco
FB – madesbananaflourco
EAT CANGGU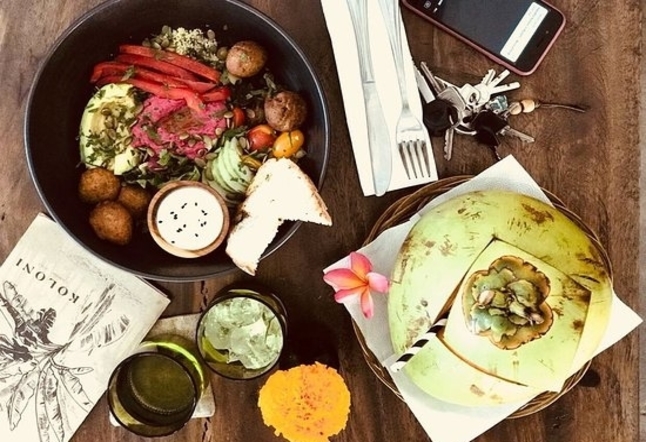 Koloni
Koloni describes their philosophy as "Californian cuisine, marinated in Bali". Foodies of all tastes can devour and delight in generously-served fusion cuisine, bursting with flavor. You'll find unique dishes made from local ingredients, including many exciting vegan and vegetarian options. Halloumi salad, rainbow fruit salad, truffle fries… falafel in a bowl. Koloni's earthy, jungle setting makes for a soothing ambiance, demonstrating the owners' desire to create a peaceful, charming space for the community to gather, meet, mingle, and connect. We love dropping by for lunch with friends, and we particularly enjoy their creative selection of warm drinks, including beetroot and cacao chai and turmeric latte.
Jl. Raya Semat no. 1, Canggu
+62 813 3894 6085
IG – @kolonibali
FB – kolonibali
EAT CANGGU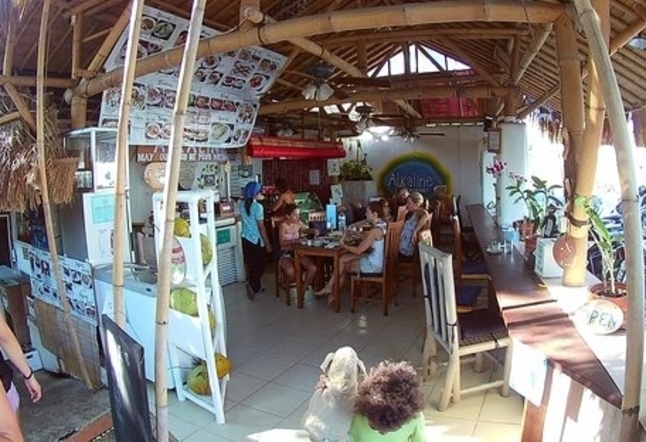 Alkaline
Nestled within Serenity's yoga shalas, Alkaline Cafe is where home-cooked food meets our essential nature of health and happiness. Warmed by an energetic staff, innovative vegan and raw cuisine, this artisan cafe fosters a plentiful mealtime ritual. Transforming mainstream favorites into vegan and gluten-free nourishment, starting with a hearty main and follow by a deluxe guilt-free dessert menu. This wholesome conscious hub is great for meeting like-minded people and a properly balanced meal.
Jalan Nelayan, Banjar, Kuta Utara, Canggu
+62 0361 8469251
IG – @alkalinebali
FB – @alkalinebali
EAT UBUD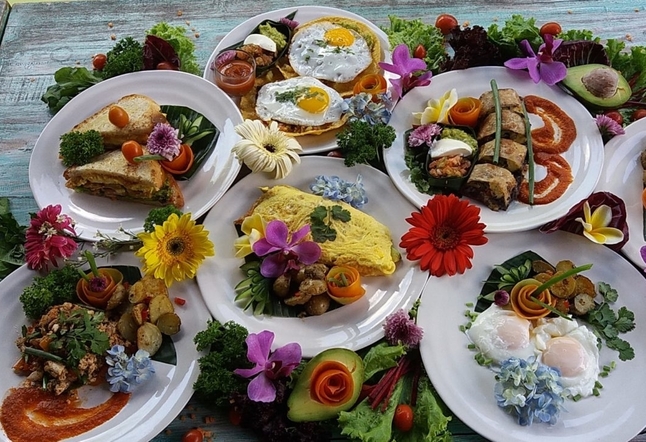 Clear Cafe
Clear Cafe provides a warm sanctuary for your mind, body, and spirit to flourish. They support organic farming and use home- grown vegetables and fruits from local Balinese farmers. At Clear, they believe energy can be transferred through food. They pride themselves on laughing, playing, and having a good time while preparing your food so it becomes charged with life. Come on in, choose your favorite table or sofa, and hang out as long as you like. With more than 6,000 hand- picked songs on rotation, we know you'll especially enjoy the tunes as you chill at this cozy cafe.
Jalan Hanoman No. 8, Ubud
+62 878 6219 7585
clearcafebali.com
IG – @clearcafeubud
FB – ClearCafeUbud
EAT UBUD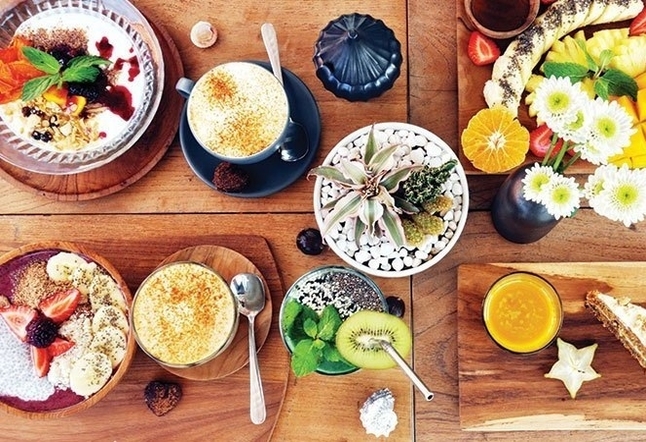 Secret Spot
Looking for a healthy treat for the family? Try delicious desserts from Alex and his family at Secret Spot. This charming café serves real treats with wholesome ingredients. Choose homemade granola to top your freshly-made frozen yogurt. Experiment with raw cakes and nutritious vegan treats. Try their home-made almond milk in your zero-caffeine chicory coffee – all locally sourced. We feel the taste of the island in every dessert, which certainly hits our sweet spot!
Jl. Pantai Berawa no. 44, Canggu
+62 813 3791 5791
IG –@secretspotbali
FB –secretspotbali
EAT UBUD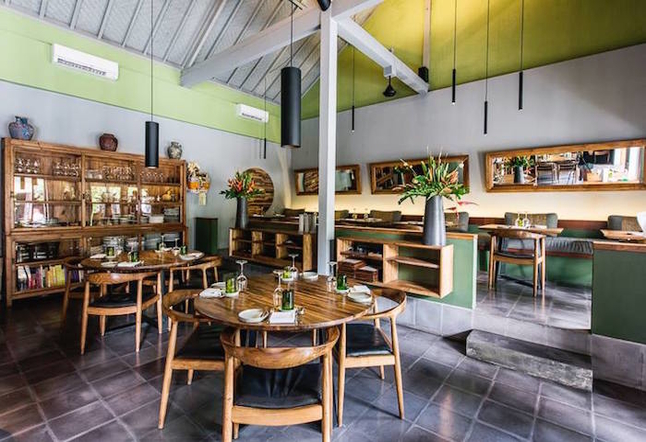 Restaurant Locavore
Locavore is a stunning mixture of performance, food, and art that make for an unforgettable dining experience. Choose from a 5- or 7-course Herbivore menu which you can enjoy with or without a drink selection pairing. Local and fresh is the Locavore motto, so the menu changes seasonally according to what is available. All the food is created from sustainably sourced ingredients from local farmers. Their inventive chefs continually challenge and push the limits of progressive cuisine, displaying great imagination and confidence. We're certain this meal is a wonderful food adventure you will never forget.
Jl Dewi Sita No 10, Ubud
+62 361977733
locavore.co.id
IG – @RestaurantLocavore
FB – Restaurant Locavore
EAT UBUD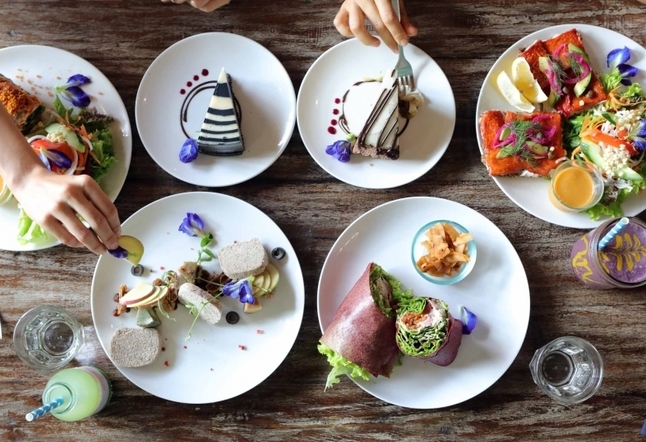 Sayuri Healing Foods
Sayuri is known for serving predominantly raw-living food because of its higher light and vibration, which enhances your healing process and encourages healthy rejuvenation and longevity on the physical, emotional, and spiritual levels. We love that their plant-based, gluten-free, simply cooked food also incorporates the ancient wisdom of Ayurveda, Chinese, and Macrobiotic perspectives. These outlooks view food as energy, which helps you to align with nature. If you're interested in becoming a raw food chef, be sure to check out their training.
Jl Sukma Kesuma, Ubud
+62 822 4048 5154
sayurihealingfood.com
IG – @sayuri_healing_food
FB – Sayuri-Healing-Food


Moksa
From the open space restaurant to the extensive and innovative menu (all plant- based cuisine) the whole experience comes together with those tiny details that make a restaurant worth returning to. Every dish is a pleasure to the eyes and a delight to the senses, prepared with love and heart and using seasonal produce from their permaculture garden is one of their most important principles. Sustainability, freshness, and flavor seem to be their ethos. Meeting the man being the business only sealed the deal for us when it comes to authenticity and passion to create a community hub that inspires you to take better care of your temple – YOU!
Gang Damai, Ubud
+62 0813 3977 4787
moksaubud.com
IG – @moksaubud
FB – moksaubud


Kafe
A staple in the heart of Ubud, KAFE is a lively, wholesome food cafe on Jalan Hanoman. Their menu features a wide variety of healthy vegetarian and vegan food, raw, glutenfree, macrobiotic and worldly dishes. You can fi d cuisine specialties from Mexico, Italy, and, of course, Indonesia. Your taste buds are sure to love the bold fl vors! All of their ingredients are sourced from local, organic suppliers, another plus to us! Fusing together the tropical laid back vibes of Ubud with a quirky New York bistro, KAFE is a great spot to chill out while on holiday and to meet like-minded people.
Jl Hanoman No 44B, Ubud
+62 811 1793455
kafe-bali.com
IG – @kafe_ubud
FB – KAFE Ubud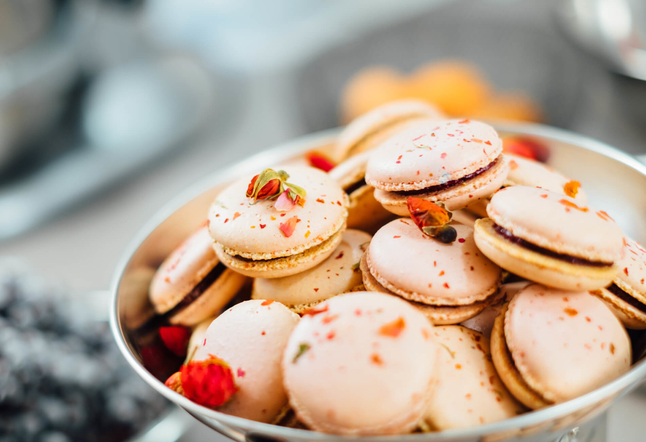 Zest
Zest is on a mission to spread the love of plant-based food. Their vegan, fl less menu comprises organic roots, shoots, and fruits, that are entirely locally-sourced – with the exception of a unique nut that can only be found in Java. Chef Simon creates simple yet beautifully-crafted cuisine, using fresh, fl vourful ingredients that connect people to Bali's magical heritage. Their one-of-a-kind coconut crust vegan pizza is particularly scrumptious. Balinese-inspired décor and an open space infused with natural daylight make for an ultra-chilled environment where you can experience exceptional gluten-free, sugar-free, and waste-free dining. Their unique touch of adding tiny bits of fl vour-enhancing lemon peel keeps us coming back for more.
Jalan Penestanan Kelod No.8, Ubud
+62 878 6219 7585
zestubud.com
IG – @zestubud
FB – zestubud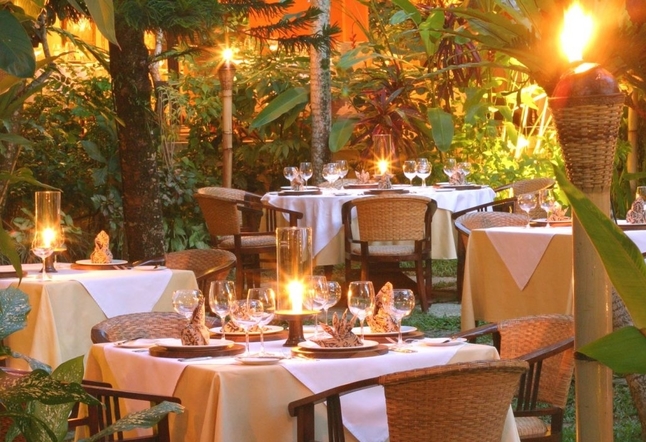 Mozaic
Mozaic is a memorable, fi e dining experience in the heart of Ubud. It embodies Chef Chris Salans' philosophy of 'Cuisine du Marché' – modern French cuisine comprised of Bali's seasonal ingredients and traditional fl vours. This iconic restaurant has been around for years and foodies of all tastes are consistently blown away by their diverse menus, full of creative, mouth- watering dishes. We particularly love their vegetarian menu, made up of locally-grown, organic veggies, herbs, and Indonesian spices. From the impeccable service to its elegant setting, you can appreciate the magic of Mozaic from the moment you walk through its doors.
Jl. Raya Sanggingan, Ubud
+62 361 975 768
mozaic-bali.com
IG – @mozaicrestaurantubud
FB – Mozaic.Restaurant
EAT JIMBARAN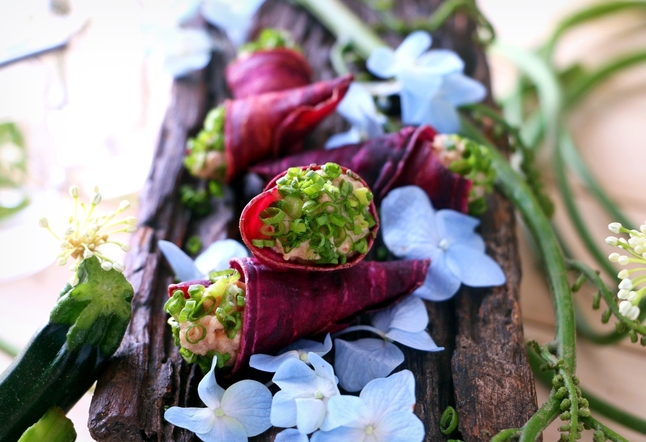 Cuca Restaurant
Located in tranquil Jimbaran, Cuca Restaurant offers a cutting- edge concept of globally inspired, locally sourced tapas, cocktails, and desserts. You'll be treated to clever comfort foods sbursting with tropical fl vors. The exquisite cuisine is served in small portions, as it's meant to be shared. Balancing texture, color and taste is a specifi skill set of Michelin-trained Chef Kevin Cherkas. He and his Spanish, entrepreneur wife, Virginia Entizne, developed a radically different, casual-meets-fi e- dining experience that we're certain you'll enjoy.
Jl Yoga Perkanti, Jimbaran
+62 361 708066
cucaflavor.com
IG – @cucaflavor
FB – CucaFlavor
SPA
SPAS & BEAUTY SHOPS
We know it's important to look good as well as feelgood while you're on holiday. That's why we've found the best pampering places to spend your time while in Bali!
SPA CANGGU
Sofia Spa & Boutique
Escape for a relaxing journey at Sofia Spa & Boutique in Canggu, where they combine the charm of Bali with European elegance. Perched comfortably on top of Pomelo Cafe on Jl Berawa, the spa is a crisp, clean, fragrant oasis to nourish the body inside and out. Among their most popular treatments are light therapy facial care, teeth whitening, organic waxing, and intuitive massages. All treatments feature natural and organic ingredients. We recommend the waxing for men and women which is made with lemon, water, honey, and sugar. With only three treatment rooms, Sofia Spa & Boutique is extremely intimate allowing for your needs to come first.
Jl Pantai Berawa No77, Canggu
+62 813 3874 8401
FB – SofiaBali
Color Nails & Juice Bar
Experience the ultimate pamper session in a funky and playful setting