the YOGI TIMES ultimate bali guide 2020
the bali yoga guide for the modern yogi
For the last 19 years, YOGI TIMES and its vibrant team of volunteer contributors, photographers, and editors from all around the world have had one single mission – to inspire a healthy and mindful lifestyle – with articles, reviews and city guides.
The ULTIMATE BALI GUIDE was born out of a vision to give modern yogis traveling to Bali a route to amazing eats, adventures, stays, boutiques, and spas.
We want to share our carefully curated list of local businesses offering creative and inspirational experiences. Our aim with this guide is to continue to connect like-minded people and expand the vibrant community on the magical island of Bali.
The guide is full of recommendations guaranteed to suit your tastes. Visit the rice fields in Tegalalang or take a break from the scenery and explore the sacred monkey forest sanctuary in Ubud. If you're searching for peace and serenity, find a yoga shala you connect and become yoga certified. There are yoga retreats and yoga teacher training sessions available all over Bali!
Indulge in tasty raw vegan foods, practice a variety of yoga classes
Ranging from kundalini, Hatha, yin, ashtanga, and many more, release your inhibitions at an eclectic dance class, lounge at an exclusive beach club, or simply bike around and explore the island; there is an abundance of activities readily available for you.
We can't wait for you to read our ultimate Bali guide and experience everything the island we call home has to offer.
STAY
BOUTIQUE HOTELS & RESORTS + RETREATS + EXCLUSIVE VILLAS
Where you stay is important, which is why we've compiled the island's most breathtaking accommodation just for you. Stay and sleep in style.


Hotel Tugu Bali

Indonesia, Hotel Tugu Bali's decor features a vast collection of priceless Indonesian antiques and artwork. The aesthetics blend pure tropical luxury with an out-of-the-ordinary ambiance. Our favorite part about the hotel is the exclusive cultural experiences only available to guests. You'll be transported back in time through lavish feasts and banquets of kings from the 14th century or through quiet village dinners of Java and Bali where food is cooked in terracotta pots over wood fires. Experience a mix of luxury, romance, and culture at Hotel Tugu Bali.
Jl. Pantai Batu Bolong, Canggu
tuguhotels.com
IG – @tuguhotels
FB – tuguhotels
Villa Tantangan
Edging the Indian Ocean and emerald-green gardens, Villa Tantangan is an opportunity to lose yourself in the splendor of Bali. This elegant, one-of-a-kind villa is situated in the photogenic village of Beraban. It has a contemporary, minimalistic feel while being off the grid, sourcing its own electricity using solar panels.
You can retreat into your own private sanctuary while remaining close to the vibrant and energetic Batu Bolong strip in Canggu. Wake up to the sound of birds or witness the hidden charms of nature with a delightful proximity to wildlife and seascapes.
Jalan Galiran
+62 361 8482 927
villatantanganbali.com
FB – VillaTantanganBali


LaLaLand Villa
This villa is a refurbishment of an existing residence, originally a composition of three old 'joglo' houses hailing from the neighboring island of Java. The main house has been adapted to your needs with the introduction of mezzanine spaces for added comfort and privacy while retaining the old teak structures and timber flooring. The house is first accessed via the garden courtyard, which features a large circular reflecting pool and an angular deck. On your way through the courtyard, check out the massive egg structure which is your guest bathroom! We think you'll love the eclectic decorations, such as the capiz shell covered ceilings, rainbow wall art or a number of the furnishings designed by the owner and sourced from all over the world.
Jl Pantai Berawa, GG 22, Canggu
+62 361 7432565
wordofmouthbali.com
IG – @lalaland_bali
Chalina Estate
Overlooking the picturesque rice fields of Canggu and minutes from Echo beach, Chalina Estate is a complete destination for rejuvenation and peace. The luxurious property is tucked amongst a haven of beautifully landscaped gardens and lawns, with decor that mixes classic Balinese architecture and the owner's striking modern artwork. From massages on the pools floating gazebo to Yoga retreats, detoxes and Meditation seminars, you'll be sure to find serenity at Chalina Estate.
Jl Pantai Pererenan
chalinaestate.com
FB – Chalina estate
IG – @Chalinaestate.bali
Chili Hilly
Located in the artist enclave known as Sayan, Ubud in Bali – Chilly Hilly sits directly above the Ayung River on about 1,100 square meters of land. The house has two master bedrooms, an open-concept living and dining space, a mezzanine study and lounge which sits above the kitchen, a heated plunge pool, a garden courtyard for performances and meals, and a Koi fish pond. Our favorite part is the stunning view of the coconut trees laced around the volcanoes on the horizon. We think you'll love this relaxing getaway villa.
Jl. Raya Sayan No.84, Ubud
wordofmouthbali.com
Fivelements Retreat
This eco-wellness retreat is located in the lush region of Manbal and has been recognized for international awards spanning across the hospitality, wellness, retreat, spa, culinary and sustainable design industries. Fivelements Bali is the first of a new genre of wellness destinations bridging the wisdom of traditional healing cultures with innovative wellness concepts. As a healing destination, Fivelements fully understand that food is more than simply fuel; vegan and raw foods actively support ones journey to greater wellness. With striking details like the Sakti Dining Room, an open bamboo structured restaurant by the river, we know that healing and self-discovery will be part of your journey whilst attending this retreat in Bali!
Jl Raya Mambal, Ubud
+62 361 469206
fivelements.org
IG – @fivelementsretreats
FB – FivelementsRetreats
Soulshine Bali Retreat
A boutique yoga hotel, Soulshine Bali is an elegant mix of traditional Balinese and modern design. Nestled along a bubbling river and surrounded by rice terraces, the property flows with the natural curves of the landscape. You're certain to enjoy the rooftop yoga studio with stunning panoramic views of the rice fields and jungle canopy. At Soulshine, you're free to chill in a fun, friendly environment, enjoy delicious organic food, and lounge by the pool where your soul can soak up all the sun!
Jl. Ambarwati, Ubud
+62 81 238 32505
soulshinebali.com
IG – @soulshinebali
FB – soulshinebal
Amed Boutique Hotel
Located on the dramatic east coast of Bali in a small fisherman's village, Life in Amed Boutique Hotel offers an authentic experience within an exquisite and colorfully designed beachfront haven. The hotel boasts a blend of Balinese and modern design, elegant decor, fine bedding and furnishings, natural stone bathrooms, views of the ocean, a swimming pool, and lush fragrant gardens. Life Restaurant features the freshest selection of local and worldly dishes to suit your taste. The area is best known for its shipwrecks, deep sea diving, snorkeling and fishing trips, all of which can be arranged by the wonderful staff at Life in Amed. We know you'll love how the staff pampers you during your stay!
Lean Village, Amed
+62 363 23152
lifebali.com
FB – Life In Amed
Menjangan Dynasty Resort
Resting beside the gentle waters of Banyuwedang Bay on the outer perimeter of West Bali National Park, Menjangan Dynasty Resort offers adventure enthusiasts a peaceful and private hideaway. At this rare destination of choice, you'll find safari-style tented rooms and villas, a restaurant and barefoot beach club, a spa, two swimming pools, and a PADI dive center. Amenities that all harmoniously coexist with the natural splendor of an extraordinary patch of paradise. We know you'll love indulging in a unique, luxurious glamping experience, which is a refreshing alternative to architectural style and five-star flare.
Pejarakan, Gerokgak, Buleleng Regency
+62 362 3355000
mdr.pphotels.com
FB – MenjanganDynastyResort
Sumberkima Hill
These private villas in northwest Bali offer an ideal spot to get away from it all and recharge. Become radiantly alive in the spa, exercise, meditate and practice yoga in the amazing pavillion. We're especially fond of the stunning 360-degree view of the sea, mountains of Barat National Park, valleys of northwest Bali and the line of volcanoes on the neighboring island of Java. Offering some of the best diving and snorkeling in Bali, we're certain you'll enjoy exploring this less crowded part of the island.
Banjar Dinas Taman Ayun
Desa Sumberkima, Gerokgak,
+62 82340049363
sumberkimahill.com
IG – @sumberkimahill
Villa Chameleon
Designed with experience in mind, Villa Chameleon provides endless ways to spend your day relaxing. Begin your day by swimming laps in the 20-meter infinity pool, or reading a book by the pool lounge, then watch the sun go down in the upper lounge whilst baking your own Napoli pizza, or treat yourself to an evening Aperol spritz in the front kitchen. There are plenty of movies, books, and games to choose from in the villa's media room, and the well-being space is ideal for your daily in-house massage, meditation, or yoga practice. End your day with a bonfire or an eye-opening walk across the rice fields. Whichever experience you modern yogis desire, we think Villa Chameleon offers the perfect setup to make your stay amazing.
Buwit
villachameleon.com
Samabe Bali Suites & Villas
Located on the Southern beach cliffs of Nusa Dua, Samabe Bali Suites & Villas immediately welcome you to breathtaking views of white sand and turquoise waters. Complete with 81 suites and villas, two restaurants and two bars, this luxury Bali resort is designed to indulge and pamper you throughout your stay. The design combines contemporary and traditional Balinese styles with colorful and sophisticated touches. From fresh breakfasts to daily afternoon tea, Samabe signature activities to a delicious offering of food and beverage, the customizable luxury packages provide every type of experience for your beach getaway.
Jl Pura Barong-Barong Sawangan
+62 361 8468633
samabe.com
IG – @samaberesort
FB – samabesuitesandvillas
STAY SANUR
Tandjung Sari Hotel
The seminal boutique hotel of tropical Asia and Bali's oldest hotel, Tandjung Sari is an ageless beauty. This small hotel remains serene, discreet and elegantly modest while boasting 28 traditional Indonesian bungalows nestled among the giant shade trees of Sanur Beach. You can enjoy the tasteful cuisine at the resort's open-air restaurant or lounge on the sun deck by the 50-foot saltwater infinity pool. We're particularly fond of the authentic Balinese dances performed twice a month by local children and accompanied by a traditional gamelan orchestra of senior musicians. Tanjung Sari Hotel is Bali at its finest.
Jl Danau Tamblingan, Sanur
+62 361 288441
tandjungsarihotel.com
STAY SEMINYAK
Villa Bella Bali
If you are up to experience the magic of old school Bali then this charming and luxurious three bedroom private villa with a bohemian atmosphere is the perfect romantic getaway. Beautifully furnished with timeless objects sourced in Asia, large landscaped gardens, a private pool and sunset views of the rice fields create a unique and serene setting. A loyal staff team is there to ensure you are at ease for the duration of your stay, including cooks, massage therapists, drivers as well as a baby sitter. A true tropical home for family and friends.
Villa Bella Banjar Kuwum 2 – Bali
+ 212 9175154545
villabellabali.com
IG – @villabellabali
FB – VillaBellaBali
STAY SUKAWATI
Floating Leaf Eco-Luxury Retreat
If you're seeking a relaxing break, 6* honeymoon escape or group retreat in paradise, Floating Leaf Bali is the perfect place to nourish your well-being. This award-wining Balinese owned retreat center combines ancient healing wisdom with modern grandeur. Their luxury experiences with world-renown yoga instructors, Ayurvedic consultations, Balinese spa treatments, and transformative workshops replenish you with profound long-lasting wellness, whilst retaining a conscious impact on the environment. We love their eco-friendly approach to helping you heal, inside and out.
JL. Pantai Purnama No.42. Sukawati
+62 811 380 202
IG – @floating-leaf-eco-luxury-retreat
FB – FloatingLeafEcoRetreat
STAY ULUWATU
Yoga Searcher
Located just a quick drive from the Uluwatu Temple, the Yoga Searcher resort is a special spot for surf and yoga enthusiasts. They offer accommodation in beautiful Eco-Lodges made out of 100% recycled teak wood. The outdoor pool and terrace is the perfect spot for a lovely breakfast or a session of reading. Delicious vegan meals and drinks are served daily within the in-house restaurant. Led yoga classes are available in their two yoga shalas. We're positive you'll love Yoga Searcher's combination of delicious food, varieties of yoga and calm atmosphere.
Jl. Labuan Sait Suluban, Pecatu (Uluwatu) 80364 Bali, Indonesia
+62 811 399 150/62 811 380 9772
yogasearcher-bali.com
FB – Yoga Searcher Bali
STAY UBUD
Sandat Glamping Tents
Located just 3km from central Ubud, Bali's first glamour-camp is a hidden paradise where the green rice fields create the perfect landscape for an exotic escape. Sandat Glamping Tents provide exclusive luxury safari tents to limited guests, ensuring privacy and tranquility, including a restaurant, yoga shala and infinity pool overlooking the forest. This experience allows you to savor the charm of untouched Balinese land, connecting you with nature whilst you enjoy luxury and comfort. We were curious about this glamping trend and now it's one of our favorite weekend getaways!
Jl Subak Sala, Ubud
+62 821-4408-1998
www.glampingsandat.com
FB – @SandatGlampingTents
STAY PEMUTERAN
Puri Ganesha
This luxurious and tranquil retreat, offering secluded beachfront villas, is the perfect place to nourish your inner Epicurean. Reside next to the calm blue waters of Pemuteran and immerse yourself in an authentic Bali experience. Let the stunning interiors relax and comfort you, adorned with unique antiques, textiles, and other treasures.
Enjoy their signature Rawstafel lunches, prepared with locally sourced, seasonal, and naturally-grown produce. Indulge your senses with a lounge on the beach to a relaxing Balinese massage and finish off with a beautifully prepared meal. Dive into a cultural and culinary exploration, where attention to detail is carefully crafted to bring you closer to their mission –– to nurture, rejuvenate, and welcome you home.
Buleleng, Bali
+62 812 3932 984
IG – Puri Ganesha by the Beach
Matahari Beach Resort & Spa
This authentic Balinese style 5-star resort is the perfect destination for sea lovers, divers, couples and families. They offer an on-site diving center, a fabulous large pool, a striking palatial spa, two restaurants featuring an "East meets West" menu, as well as a variety of child-friendly activities. Spread over a well-manicured botanical like garden, this resort is a clean, flawless, friendly and cultural setting to relax and rejuvenate.
JL Raya Seririt, Gilimanuk, Ds.
+62 0812-3805-458
matahari-beach-resort.com
IG – @MathariBeachResort&Spa
FB – @MathariBeachResort&Spa
STAY KABA KABA
Ulaman Eco Wellness Retreat
STAY | KABA KABA
Ulaman Eco Wellness Resort
If you are looking to leave the smallest ecological footprint possible while traveling but not willing to give up on luxury, we have the perfect place for you. Only 30 minutes from both Ubud and Canggu, you'll find Ulaman, a beautiful eco wellness retreat nestled off the main path in Kaba Kaba. Ulaman offers a beautifully designed bamboo main house with three extra-large well-appointed bedrooms, spacious bathrooms, and additional guesthouses.
With its impressive infinity pool overlooking the Ulaman river, a perched off a cliff face yoga studio, and rice fields beyond, we consider Ulaman a tranquil eco wellness retreat to fully relax and renew in a one of a kind environment and architecture.
Buwit, Tabanan Regency, Bali
+62-812-3858-0063
ulamanbali.com
IG – @ulamanbali
FB – UlamanBali
stay@ulamanbali.com
STAY | TABANAN
Shanti Lodge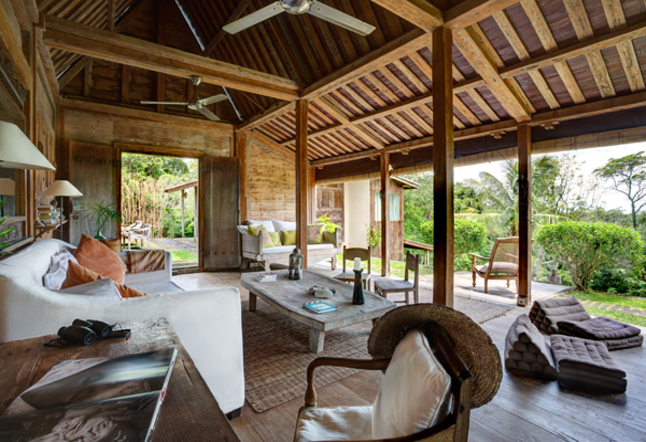 "Shanti", which means peace in Sanskrit, is what you experience in this green oasis of infinite rice fields. The Lodge stands upon a hill of a 2-hectare property facing a long infinity pool. Charming rustic houses with fresh elements of white and wood give an immediate sense of rest. Welcoming you with cozy and spacious bedrooms, this boutique hotel is sure to make you feel at home. For the ultimate peace of mind, this is an excellent place to connect with oneself and nature, find your creativity, and simply be.
Bajera, Tabanan
+62 852 6641 8594
shantilodgebali.com
IG – @shantilodge
FB – @shantilodge
MEDITATION
We are mind, body, and spirit. Let your mind rest and take an excursion inward through the power of meditation. It is an ancient science to keep you bright and blissful in our modern days.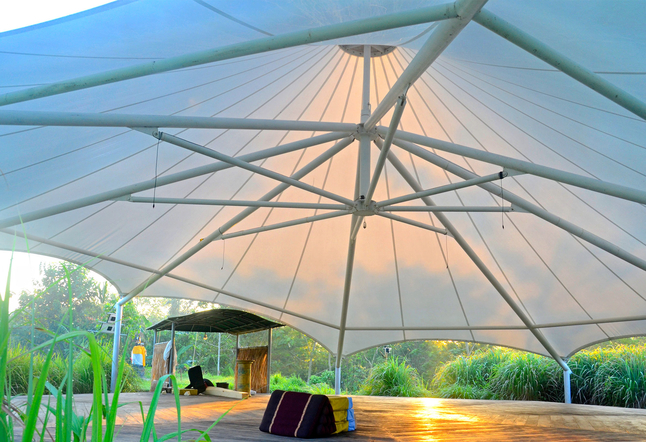 Bali Silent Retreat
Bali Silent Retreat is more than just yoga and meditation – it's an eco-sanctuary of restorative and amazing activities inspired by spiritual wisdom and grounded in 'green-to-the-extreme' eco- principles. You'll nourish your body and soul whilst reconnecting to the true self in your own way on your own time, in profound peace and silence. The silence allows for solitude and restful contemplation. We think the retreat center's philosophy behind the silence, the sustainability, the food, and its environmental commitments make it a unique destination for modern yogis.
Banjar Mongan, Penatahan, Penebel, Tabanan Regency
balisilentretreat.com
IG – @balisilentretreat
FB – BaliSilentRetreat
RESTAURANTS & CAFES
We've uncovered some of the best foods, coffees, and juices on the island. So whether you're taking a relaxing stroll or catching up with friends, you can nourish your body with the best of Bali.
EAT CANGGU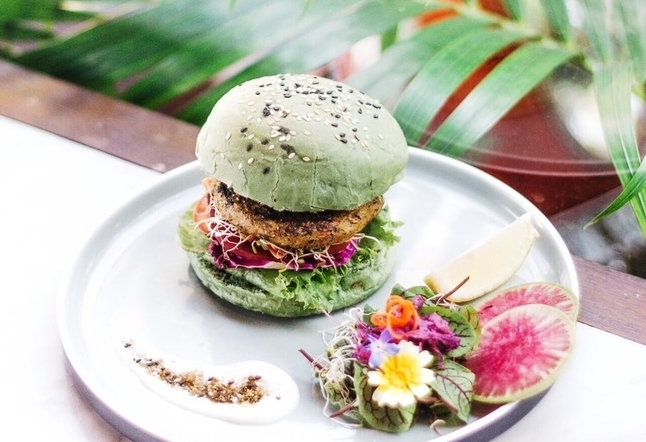 Peloton Supershop
At Peloton, like-minded people come together to share their ideas, vision, and love for healthy and tasty food. Their surprising and inventive menu is entirely plant-based, which is a delicious bonus in our books! Not only do they have a great culinary fare – offering raw foods, but the juices add a creative boost to your day and include the opportunity to add super-food plants like spirulina and moringa. From the décor to the friendly staff, plus the 98 percent plastic-free policy, we think Peloton is one of the strongest contenders in the Canggu restaurant scene.
Jl. Pantai Berawa No.46, Canggu
+62 813 3761 9335
pelotonsupershop.com
IG – @pelotonsupershop
FB – Pelotonsupershop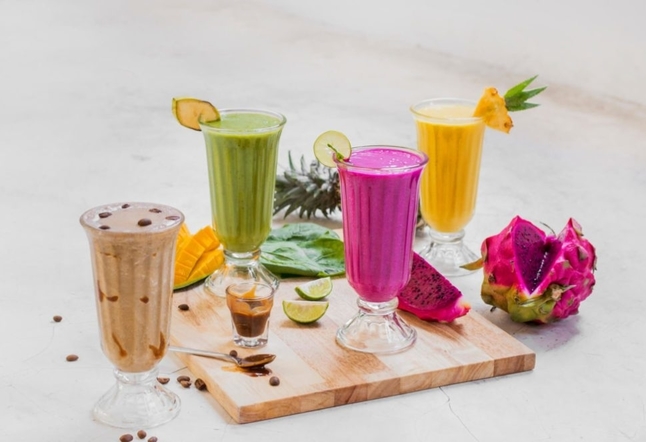 Living Food Lab
Experiments in conscious eating serve as the motto for Living Food Lab. And they do just that – create food from the heart with dishes full of as much life-force as possible. Constantly experimenting, Living Food Lab is more than a café. This spacious café allows you to be as creative as you like. Consider booking yourself an intimate dining experience based on the concept of mindful dining and meaningful conversation. The food is all vegan-friendly so there is no such thing as a guilty pleasure, which we think you'll appreciate!
l. Pantai Berawa No.8, Units 12 & 13 Canggu or
Green School – Jalan Raya Sibang Kaja
+62 3619077842
livingfoodlab.com
IG – @livingfoodlabbali
FB – LivingFoodLab
EAT CANGGU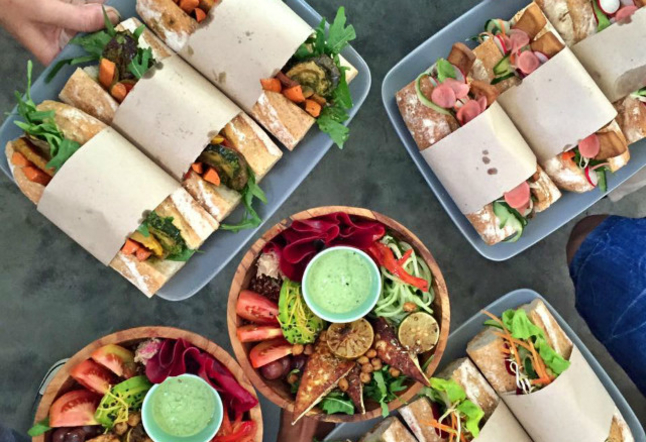 Shady Shack
Hungry and looking for a lush place to awaken your receptor cells? Pamper your senses with the smell of freshly brewed coffee and toasted bread inside The Shady Shack. Situated on a quiet street across from a rice field – the cafe offers a breezy, tropical oasis from the increasingly busy town of Canggu. Enjoy the cafe from either the shaded seated area set in a thriving, green garden or from the comfy sofas on the verandah. The menu includes a variety of vegetarian and vegan food, including health shots and juices, smoothie bowls, onsen eggs, salads, wraps, burgers and so much more. We just love how all the dishes have been well thought out with a focus on optimum health and vitality.
Jl Tanah Barak, Canggu
+62 812 36116466
IG – @theshadyshack
FB – Theshadyshackbali
EAT CANGGU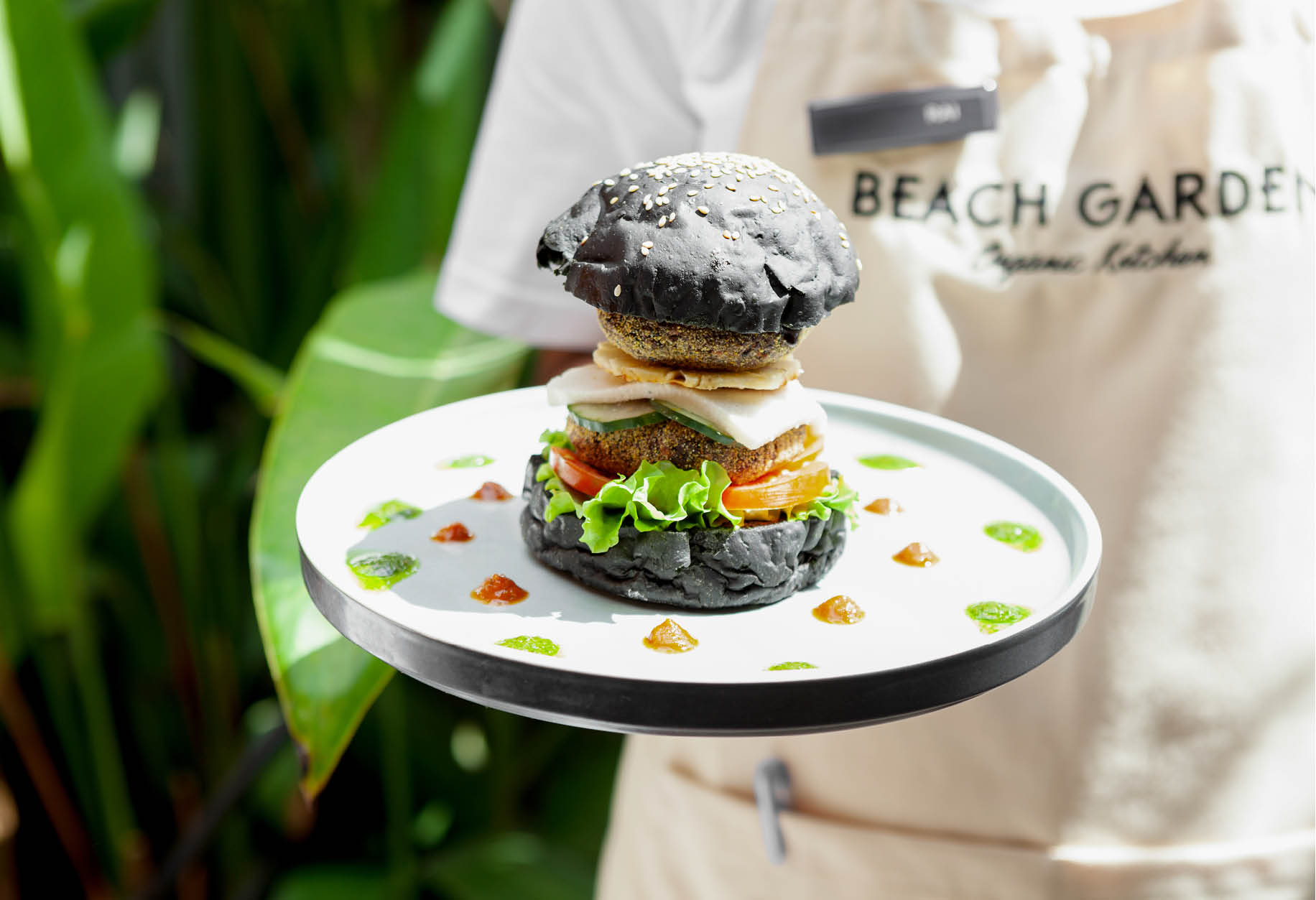 Beach Garden – Organic Kitchen
Situated in a beautiful joglo on the vibrant scene of Batu Bolong, Beach Garden – Organic Kitchen offers a large outdoor lounge, cafe, and raw juice bar. Becoming a staple in the lively restaurant scene of Canggu, International chef, Ronald, an Alain Ducasse trained protege from Rio Brazil, has launched a dazzling array of vegan/ raw/ vegetarian, with more traditional dishes that cater to all sorts of tastes and budgets. With a vast offering of unique recipes and combinations, the cold-pressed juices, fresh smoothies, and juice cleanse packages are quickly becoming a local favorite. Outstanding service and an ambiance to match, you'll instantly feel relaxed at Beach Garden – Organic Kitchen.
Jl. Pantai Batu Bolong no. 103, Canggu
+62-812-3749-6861

FB – Beach Garden Organic Kitchen
EAT CANGGU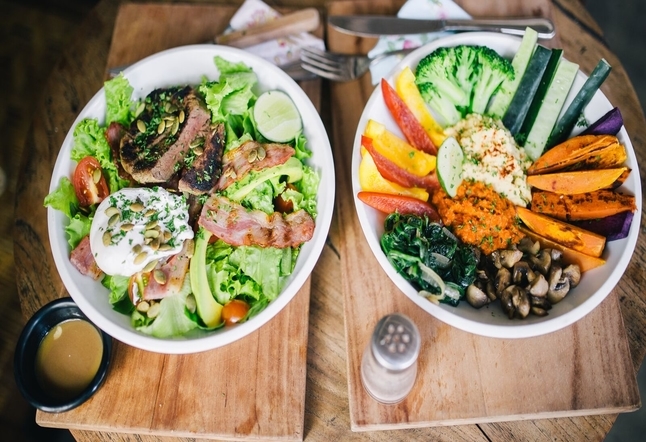 Motion Cafe
Motion Cafe offers the first unique fitness food concept in Bali. Here you will find a huge variety of fresh, clean meals with vegan and paleo options. Motion Cafe supports local farmers and uses only organic products where possible, making us huge fans already. All dishes are compiled for the best nutritional absorption, flavored with fresh herbs and spices, Himalayan salt and no refined sugar. Various healthy drinks, guilt-free desserts, and snacks are all homemade and most of them are gluten-free or vegan also!
Jl Batu Bolong 69B, Canggu
+62 0811 3999 411
motionfitnessbali.com
IG – @motioncafe
FB – motioncafebali
EAT CANGGU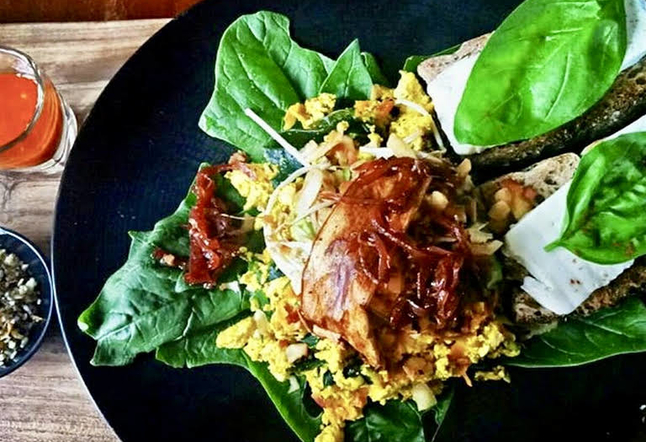 Cafe Vida
Good vibes, good coffee, good music and a friendly atmosphere. Cafe Vida is a hub of health and foodie heaven certain to leave you satisfied. They offer a wealth of vegan, vegetarian, and gluten-free options. Whilst the cuisine veers towards the Western health-food fanatic and our modern yogis, Cafe Vida's ability to promote a healthy, balanced lifestyle without restriction or loss of taste is perfectly executed. We recommend you try the paleo granola with probiotic coconut yogurt and compote. You won't be disappointed!
Jl. Pantai Batu Bolong No.38A, Canggu
+ 62 813-3988-6864
cafe-vida-bali.business.site
IG – @cafe_vida_bali
FB – cafevidabali
EAT CANGGU
Two Trees Eatery
Inspired by the trees at the front of the restaurant, Two Trees Eatery upholds their philosophy – something for you, every day and every meal. They stay true to their natural tendency to be a bit naughty from time to time which is why their meals range from very healthy to something slightly less healthy, depending on your mood! Two Trees' intimate space makes it the perfect place to catch up with friends, have a glass of wine and indulge. You'll feel at home in their environment, so sit back, relax, enjoy. And remember, two trees is better than one!
Jl Pantai Berawa No 99, Canggu
+62 3619077067
twotreeseatery.com
IG – @twotreeseatery
FB – twotreeseatery
EAT CANGGU
Made's Bakery
As the world's first banana flour bakery, all of Made's products are created with green banana flour which they make themselves right here in Bali! More impressive is that all of their products are 100 percent gluten free and coeliac friendly. We love that banana flour seeds are a prebiotic that feed your microbiome and heal your gut, which contributes to your overall health and well-being. Their products are a Bali staple and a true taste sensation you won't want to miss.
Jl Pantai Batu Bolong No14, Canggu
+62 821 4466 6001
madesbakery.com
IG – @madesbananaflourco
FB – madesbananaflourco
EAT CANGGU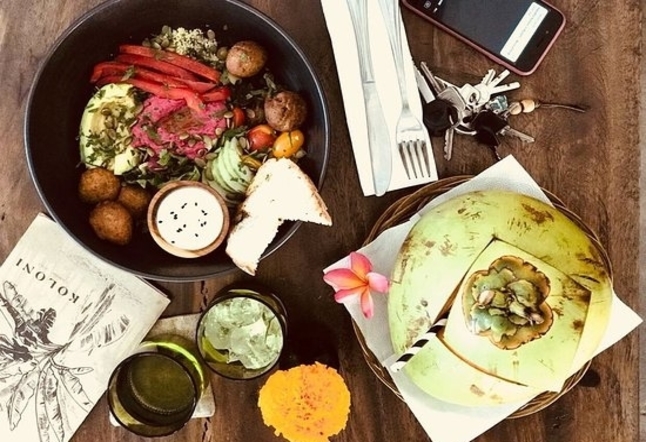 Koloni
Koloni describes their philosophy as "Californian cuisine, marinated in Bali". Foodies of all tastes can devour and delight in generously-served fusion cuisine, bursting with flavor. You'll find unique dishes made from local ingredients, including many exciting vegan and vegetarian options. Halloumi salad, rainbow fruit salad, truffle fries… falafel in a bowl. Koloni's earthy, jungle setting makes for a soothing ambiance, demonstrating the owners' desire to create a peaceful, charming space for the community to gather, meet, mingle, and connect. We love dropping by for lunch with friends, and we particularly enjoy their creative selection of warm drinks, including beetroot and cacao chai and turmeric latte.
Jl. Raya Semat no. 1, Canggu
+62 813 3894 6085
IG – @kolonibali
FB – kolonibali
EAT CANGGU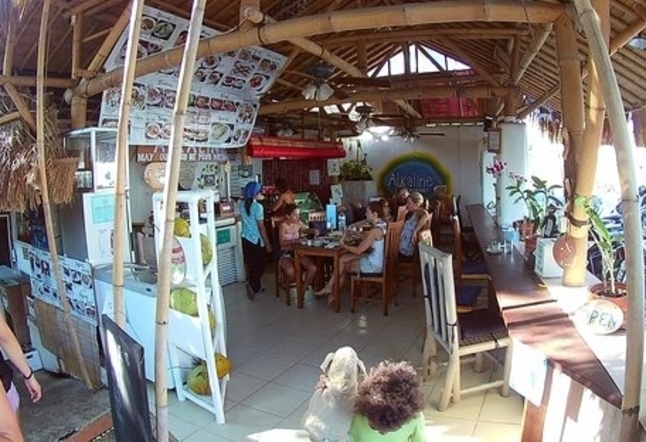 Alkaline
Nestled within Serenity's yoga shalas, Alkaline Cafe is where home-cooked food meets our essential nature of health and happiness. Warmed by an energetic staff, innovative vegan and raw cuisine, this artisan cafe fosters a plentiful mealtime ritual. Transforming mainstream favorites into vegan and gluten-free nourishment, starting with a hearty main and follow by a deluxe guilt-free dessert menu. This wholesome conscious hub is great for meeting like-minded people and a properly balanced meal.
Jalan Nelayan, Banjar, Kuta Utara, Canggu
+62 0361 8469251
IG – @alkalinebali
FB – @alkalinebali
EAT UBUD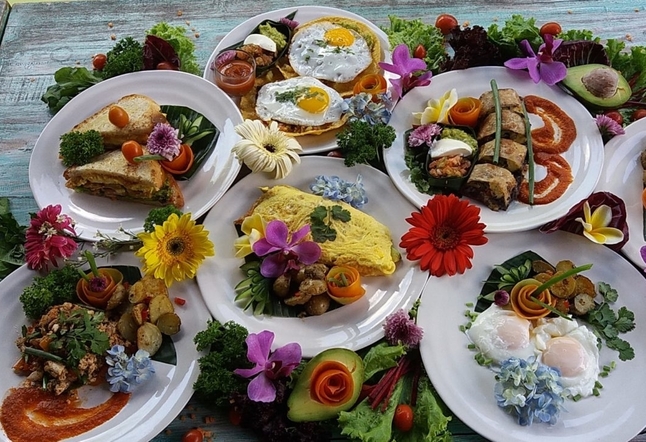 Clear Cafe
Clear Cafe provides a warm sanctuary for your mind, body, and spirit to flourish. They support organic farming and use home- grown vegetables and fruits from local Balinese farmers. At Clear, they believe energy can be transferred through food. They pride themselves on laughing, playing, and having a good time while preparing your food so it becomes charged with life. Come on in, choose your favorite table or sofa, and hang out as long as you like. With more than 6,000 hand- picked songs on rotation, we know you'll especially enjoy the tunes as you chill at this cozy cafe.
Jalan Hanoman No. 8, Ubud
+62 878 6219 7585
clearcafebali.com
IG – @clearcafeubud
FB – ClearCafeUbud
EAT UBUD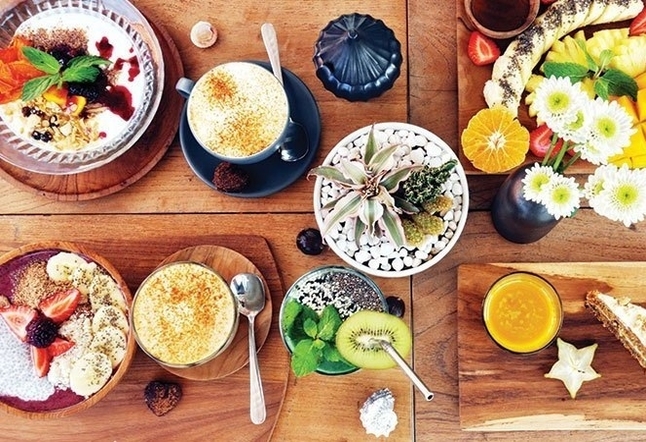 Secret Spot
Looking for a healthy treat for the family? Try delicious desserts from Alex and his family at Secret Spot. This charming café serves real treats with wholesome ingredients. Choose homemade granola to top your freshly-made frozen yogurt. Experiment with raw cakes and nutritious vegan treats. Try their home-made almond milk in your zero-caffeine chicory coffee – all locally sourced. We feel the taste of the island in every dessert, which certainly hits our sweet spot!
Jl. Pantai Berawa no. 44, Canggu
+62 813 3791 5791
IG –@secretspotbali
FB –secretspotbali
EAT UBUD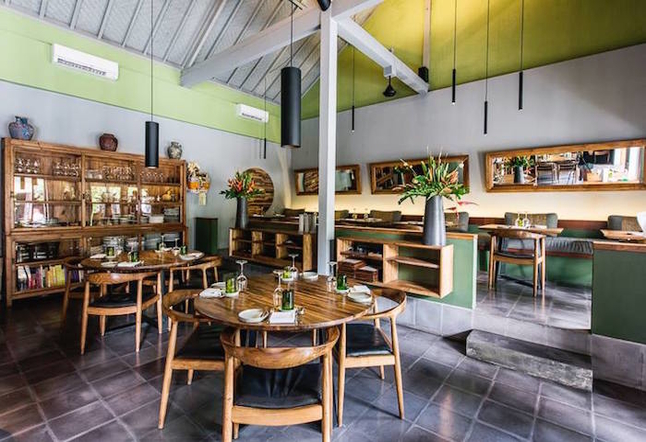 Restaurant Locavore
Locavore is a stunning mixture of performance, food, and art that make for an unforgettable dining experience. Choose from a 5- or 7-course Herbivore menu which you can enjoy with or without a drink selection pairing. Local and fresh is the Locavore motto, so the menu changes seasonally according to what is available. All the food is created from sustainably sourced ingredients from local farmers. Their inventive chefs continually challenge and push the limits of progressive cuisine, displaying great imagination and confidence. We're certain this meal is a wonderful food adventure you will never forget.
Jl Dewi Sita No 10, Ubud
+62 361977733
locavore.co.id
IG – @RestaurantLocavore
FB – Restaurant Locavore
EAT UBUD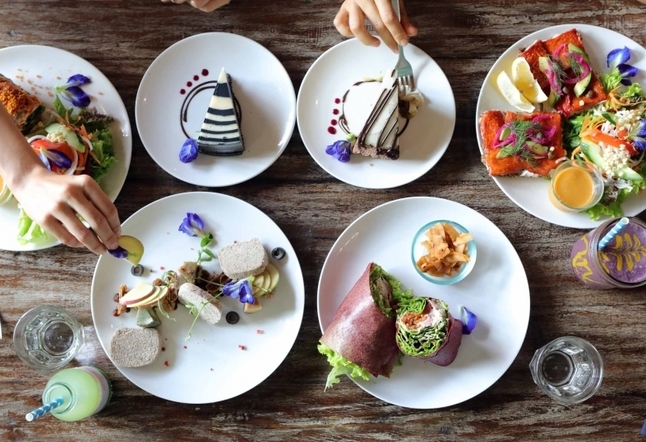 Sayuri Healing Foods
Sayuri is known for serving predominantly raw-living food because of its higher light and vibration, which enhances your healing process and encourages healthy rejuvenation and longevity on the physical, emotional, and spiritual levels. We love that their plant-based, gluten-free, simply cooked food also incorporates the ancient wisdom of Ayurveda, Chinese, and Macrobiotic perspectives. These outlooks view food as energy, which helps you to align with nature. If you're interested in becoming a raw food chef, be sure to check out their training.
Jl Sukma Kesuma, Ubud
+62 822 4048 5154
sayurihealingfood.com
IG – @sayuri_healing_food
FB – Sayuri-Healing-Food


Moksa
From the open space restaurant to the extensive and innovative menu (all plant- based cuisine) the whole experience comes together with those tiny details that make a restaurant worth returning to. Every dish is a pleasure to the eyes and a delight to the senses, prepared with love and heart and using seasonal produce from their permaculture garden is one of their most important principles. Sustainability, freshness, and flavor seem to be their ethos. Meeting the man being the business only sealed the deal for us when it comes to authenticity and passion to create a community hub that inspires you to take better care of your temple – YOU!
Gang Damai, Ubud
+62 0813 3977 4787
moksaubud.com
IG – @moksaubud
FB – moksaubud


Kafe
A staple in the heart of Ubud, KAFE is a lively, wholesome food cafe on Jalan Hanoman. Their menu features a wide variety of healthy vegetarian and vegan food, raw, glutenfree, macrobiotic and worldly dishes. You can fi d cuisine specialties from Mexico, Italy, and, of course, Indonesia. Your taste buds are sure to love the bold fl vors! All of their ingredients are sourced from local, organic suppliers, another plus to us! Fusing together the tropical laid back vibes of Ubud with a quirky New York bistro, KAFE is a great spot to chill out while on holiday and to meet like-minded people.
Jl Hanoman No 44B, Ubud
+62 811 1793455
kafe-bali.com
IG – @kafe_ubud
FB – KAFE Ubud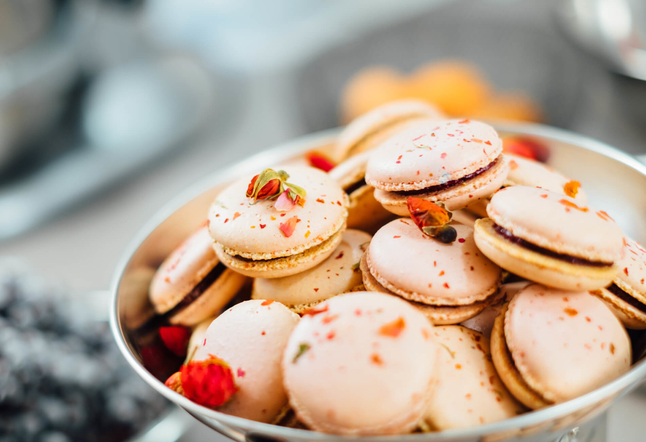 Zest
Zest is on a mission to spread the love of plant-based food. Their vegan, fl less menu comprises organic roots, shoots, and fruits, that are entirely locally-sourced – with the exception of a unique nut that can only be found in Java. Chef Simon creates simple yet beautifully-crafted cuisine, using fresh, fl vourful ingredients that connect people to Bali's magical heritage. Their one-of-a-kind coconut crust vegan pizza is particularly scrumptious. Balinese-inspired décor and an open space infused with natural daylight make for an ultra-chilled environment where you can experience exceptional gluten-free, sugar-free, and waste-free dining. Their unique touch of adding tiny bits of fl vour-enhancing lemon peel keeps us coming back for more.
Jalan Penestanan Kelod No.8, Ubud
+62 878 6219 7585
zestubud.com
IG – @zestubud
FB – zestubud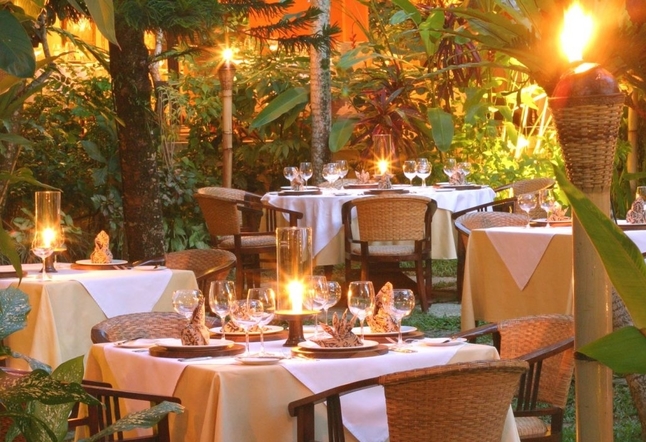 Mozaic
Mozaic is a memorable, fi e dining experience in the heart of Ubud. It embodies Chef Chris Salans' philosophy of 'Cuisine du Marché' – modern French cuisine comprised of Bali's seasonal ingredients and traditional fl vours. This iconic restaurant has been around for years and foodies of all tastes are consistently blown away by their diverse menus, full of creative, mouth- watering dishes. We particularly love their vegetarian menu, made up of locally-grown, organic veggies, herbs, and Indonesian spices. From the impeccable service to its elegant setting, you can appreciate the magic of Mozaic from the moment you walk through its doors.
Jl. Raya Sanggingan, Ubud
+62 361 975 768
mozaic-bali.com
IG – @mozaicrestaurantubud
FB – Mozaic.Restaurant
EAT JIMBARAN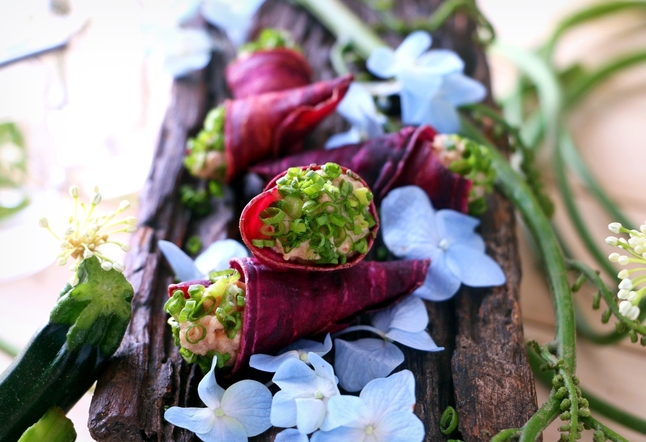 Cuca Restaurant
Located in tranquil Jimbaran, Cuca Restaurant offers a cutting- edge concept of globally inspired, locally sourced tapas, cocktails, and desserts. You'll be treated to clever comfort foods sbursting with tropical fl vors. The exquisite cuisine is served in small portions, as it's meant to be shared. Balancing texture, color and taste is a specifi skill set of Michelin-trained Chef Kevin Cherkas. He and his Spanish, entrepreneur wife, Virginia Entizne, developed a radically different, casual-meets-fi e- dining experience that we're certain you'll enjoy.
Jl Yoga Perkanti, Jimbaran
+62 361 708066
cucaflavor.com
IG – @cucaflavor
FB – CucaFlavor
SPA
SPAS & BEAUTY SHOPS
We know it's important to look good as well as feelgood while you're on holiday. That's why we've found the best pampering places to spend your time while in Bali!
SPA CANGGU
Sofia Spa & Boutique
Escape for a relaxing journey at Sofia Spa & Boutique in Canggu, where they combine the charm of Bali with European elegance. Perched comfortably on top of Pomelo Cafe on Jl Berawa, the spa is a crisp, clean, fragrant oasis to nourish the body inside and out. Among their most popular treatments are light therapy facial care, teeth whitening, organic waxing, and intuitive massages. All treatments feature natural and organic ingredients. We recommend the waxing for men and women which is made with lemon, water, honey, and sugar. With only three treatment rooms, Sofia Spa & Boutique is extremely intimate allowing for your needs to come first.
Jl Pantai Berawa No77, Canggu
+62 813 3874 8401
FB – SofiaBali
Color Nails & Juice Bar
Experience the ultimate pamper session in a funky and playful setting at Colors Nail & Juice Bar in Canggu. From a luxury experience caring for your hands, feet, cuticles, and soles to a relaxing facial cleanse and exfoliation followed by a nourishing moisture mask, Colors offers various packages to meet your needs. The unique advantage of this salon, in our opinion, is the limitless options catering to the health conscious crowd, such as an organic and vegan mani/pedi. And be sure to indulge in the juice bar which offers 100 percent organic fruit juice, coffees, and teas. We recommend you come when you can soak up every minute!
Jl Raya Semat No 15b, Canggu
+62 812 384 000 45
colors-nails-bali.com
IG – @colorscanggu.bali
FB – colorscanggu
Escape
If you are up for a flawless spa experience in Canggu, ESPACE is the place to revitalize. Its distinctive fresh, young and immaculate ambiance, elegantly touched with artistic style, invites you in for an attentive therapeutic experience. The atmosphere is vibrant and upbeat, with a very professional approach and strong philosophy behind their treatments. Therapists are well-trained by a renown meditative master and massage trainer, who specializes precisely on how to cure the body. From massages to healing treatments, be prepared for your senses to go through a refined experience.
Jl. Pura Batu Mejan – (Pantai Batu Bolong), Canggu
+62 361 907 7442
espacespabali.com
IG – @espacespabali
FB – Espace Spa Bali
SPA SEMINYAK
Cocoon Medical Spa
If you're looking for affordable, effective, non-surgical aesthetic treatments, then a visit to Cocoon Medical Spa in Bali is a must. Cocoon focuses on treatments to improve the skin quality and health making your results look better and last longer, which is why we love them so much! Rejuvenation treatments include RF micro needling for skin tightening, diamond microaggression, no- needle, high-frequency mesotherapy, and Dermapen, just to name a few. The best part – the spa offers to pick up and drop off services allowing you to truly relax and enjoy your treatment.
Jl Sunset Road, Legian
+62 811-3882-240
cocoonmedicalspa.com
IG – @cocoonmedicalspa
Eden Life Centre
Located in the heart of Seminyak, Eden Life Centres takes a holistic approach to wellness, anti-aging, and self-improvement. With the help of expert nutritionists, dermatologists, healers, counselors, and general practitioners, you'll achieve real results by creating balance and vitality through good nutrition, happiness, self-care, and integrated learning. We are especially fond of their approach which empowers you to take control of the holistic spectrum of your life through personal choices. As you become more knowledgeable you choose the food, the levels of stress you allow yourself to feel, and the treatments that support and encourage your personal growth.
Jl Petitenget No 12, Seminyak
+62 361 9342958
edenlifecenters.com
IG – @edenlifecentres
FB – edenlifecentres
SPA ULUWATU
Karma Kandara Spa
Seeking a luxe yoga, spa and wellness yoga resort with incredible one-, two-, three- and four-bedroom pool villas, a pristine beach, and by-the-sea yoga bale? Set into the rugged limestone cliffs with 360-degree views over the Indian ocean, Karma Spa at Karma Kandara is a sanctuary where you can slow down, breathe and be. The cliff spa consists of a traditional thatched-roof bales, an infrared sauna, a bath house, and yoga bale. Karma offers all of this plus healthy cuisine with juices and healing and holistic treatments such as Karma rhythm massage, yoga facial, celebrity oxygen facials, and even yoga to live DJs – it's epic!
Jalan Villa Kandara,
Banjar Wijaya Kusuma, Ungasan
+62 361 848 2200
karmagroup.com
IG – @karma.group
FB – karmagroupglobal
SPA UBUD
Visesa Balinese Healing & Spa
Visesa Balinese Healing & Spa promotes luxury with soul, a place for natural wellness in the spirit of ancient Bali. The focus is on generating awareness about the extraordinary benefits of Bali's age-old wellness legacy. They feature a collection of treatments which use the power of touch to purify the mind and soul. Imagine experiencing these rituals in natural caves with spectacular views of the jungle, receiving healing massages and treatments in beautiful bamboo pavilions and outdoor baths. Offering blessing ceremonies and private consultations with a Balinese healer, Visesa is the perfect place to find peace in Ubud.
Jalan Suweta, Banjar Bentuyung Sakti Ubud
+62 361 209 1788
visesahealingspa.com
IG – @visesahealingspa
PLAY
EXPERIENCES & ADVENTURES
We know our modern yogis are always up for some vibrant discoveries. From dancing to diving, we've gathered some of the island's most treasured experiences. Let 's play!
PLAY SIBANGKAYA
Green School
The concept of Green School is learning without walls, where innovation and creativity flush, forming a community of people from all over who celebrate a purposeful life. Green School believes in three underlying rules: be local, let your environment be your guide and think about how future generations will be affected by your actions. It's inspiring to see a place where children are encouraged to be curious, freethinkers and find joy in their education.
Guided tours are available Monday through Friday from 9 am to 10 am and Saturday through Sunday from 10-30am to 11-30pm.
Jalan Raya Sibang Kaja, Badung
+62 0361 469875
greenschool.org
IG – @greenschoolbali
FB – greenschool
PLAY PEMUTERAN
Sea Rovers Dive Center
Greenfins Dive Centre
An SSI, SDI, TDI dive center with a PADI Instructor available, Sea Rovers offers you the chance to explore the underwater treasures of Northwest Bali. Diving or snorkeling – there is no discrimination! All explorers are welcome aboard. Accommodating small groups with personal service, Sea Rovers is a place where safety is looked after so you can concentrate on the fun. We know you'll enjoy exploring this underwater adventure!
Jl Singaraja-Gilimanuk, Pemuteran
+62 0811-3857-118
searovers.net
FB – SeaRovers
Bali Diving Academy
FreeDiving
At Bali Diving Academy, undergo a truly life-changing experience when you become a freediver. Freediving, as is yoga, is based on the harmony between the mind and the body. It's a flowing meditation and an incredible way to see below the surface. Founded in 1991, Bali Diving Academy is known for its professionalism and 100 percent safety record.
They also strongly support marine research and conservation, a plus in our books! When you dive with Bali Diving Academy, you're sure to have an unforgettable time. WhatsApp this free diving academy for easy booking!
Jl Seririt-Gilimanuk
+62 813-3917-6652
scubali.com
IG – @balidivingacademy
FB –Bali.Diving.Academy
PLAY TULAMBEN


Tauch Terminal
Located on the northeast coast of Bali, Tauch Terminal Resort Tulamben & Spa is a beachfront diving resort with sweeping views of the beautiful ocean. The dive center (SSI Diamond Resort) boasts modern equipment, free Nitrox and free WiFi. You can go snorkeling or participate in various daily offered diving trips. Our favorite dive is the famous sunken WWII freighter which lies at a depth of 4-29 meters and is easily accessible from the beach.
Other beautiful dive sites within walking distance include a steep wall, a cleaning station, and a coral garden. You can also enjoy kayaking, snorkeling, billiards, bike rides, and various other land excursions. An undersea adventure awaits you at Tauch Terminal!
Jl Kubu, Tulamben
+62 361 774 504
tulamben.com
FB – Tauch Terminal
IG – tauchterminalresorttulamben
PLAY UBUD
BaliSpirit Festival 2020
If you are looking to experience something UNFORGETTABLE, the annual BaliSpirit Festival in Ubud is a must! The seven-day, eight-night festival takes place end of March or the beginning of April and boats over 5,000 attendees from 60 nationalities, a schedule of 300 events, workshops, concerts and children's activities, all taking place at a lush tropical venue that embodies the spirit of Bali.
You will find inspiration with world-renowned teachers and wisdom talks, discover new paths to inner harmony and walk away with some of that Bali magic in your heart. Book your accommodation in Ubud way ahead as the festival brings lots of world travelers!
Purnati Center, Ubud
balispiritfestival.com
IG – @balispiritfest
FB – BaliSpiritFestival
Tegenungan Waterfall
This scenic waterfall is nestled in a lush jungle setting above a shallow bathing area at the sacred Petanu River, in the greater area of Ubud. It's about a 20 minutes drive after a visit to Puseh Batuan Temple, which you could add to your adventure. There are many steps to reach down to the river yet in only a few minutes you will be surrounded by dense foliage and an unforgettable view of a splendid drop of water.
This is one striking waterfall to not miss and if you can bear the cold water, go ahead and make that Instagram post you have been dreaming about!
Jalan Ir. Sutami, Kemenuh Sukawati, Kemenuh, Sukawati, Kabupaten Gianyar
+62 85 3781 8549
Directions – Tegenungan Waterfall
Usada
We were lucky to partake in one of Usada's intimate 'water purify' ceremonies held at an ancient temple surrounded by rich natural scenery. If you are looking for a similar way to experience the enchanting traditions of Bali, Usada – a cultural center in the heart of Ubud – offers bespoke experiences, including fi e and water blessing ceremonies.
The team works closely with the island's spiritual and artistic community to craft unique packages, classes, and tours. Usada's Hindu dharma priests and Balinese healers are available for private and group bookings, allowing you to experience local life with authenticity and style.
Sugriwa 4, Padang Tegal, Ubud
+62 361 9084463
usadabali.com
IG- @usadabali
FB – usadabaliubud
Hidden Canyon Beji Guwang
If you're looking for a way to connect with nature and experience pure tranquility, we know the perfect spot. Located in Sukawati, this 2-hour trek is a natural wonder to be discovered. Consisting of 2 captivating canyons and a final section that branches off to Bengbengan River, your experience transforms into an epic jungle trek. Be prepared to get wet and do some climbing over rocks.
This experience is best suited for adults and children over the age of 10. The trek is completed with a walk through fields of rice and flowers, where you can see Mount Agung and Nusa Penida in the distance on a clear day. This unique excursion is one to be explored while it is still a hidden gem.
Jalan Sahadewa, Banjar Wangbung, Guwang,
Sukawati, Kabupaten Gianyar, Bali 8058
SHOP
CLOTHING + ACCESSORIES + DECOR & DELICATESSEN
As Bali has become an incubator for creativity, it is home to many designers and artists. Here are some forward-thinking shops that go beyond the typical retail experience.
SHOP CANGGU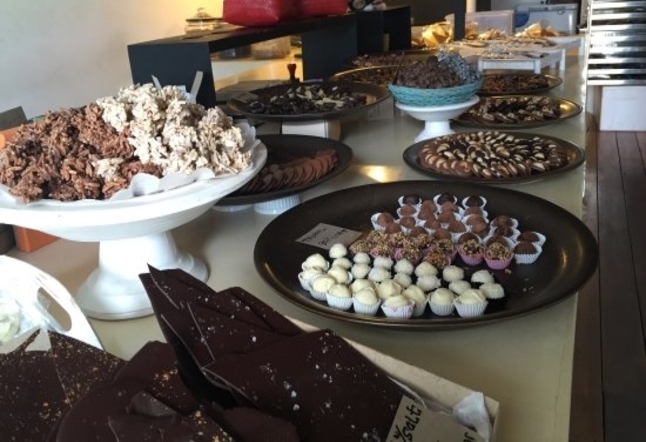 Be Chocolat
A sustainable, eco-friendly tribute to Willy Wonka himself, Be Chocolat is a treat for all the senses – your very own golden ticket. Each piece of chocolate is specifically crafted to ensure you experience the inventively combined local flavors. Free samples of chocolate are available to try on request, and we definitely suggest you do! Each bite of chili, salted, coffee-infused, almond, cashew, or raisin chocolate will melt on your tongue and leave you wanting more. There are so many different kinds of chocolate to try that it's difficult to stop with one or two.
Jl Subak Sari N4, Canggu
+62 822 3741 4584
IG – @be_chocolat
FB – bechocolat
Kevala Ceramics
A staple on the island of Bali for the last 25 years, Kevala produces handmade ceramics tone ware. At its facility in Bali, each piece is crafted as a thoughtful statement of contemporary design, realized through the heart and hands of skilled artisans. The design philosophy behind all the ceramics is rooted in the company's Sanskrit name, which means perfect, whole, and complete.
Kevala employs more than 100 artisans, drawn from a region famous for its skilled craftspeople. The stoneware ceramics are designed and made entirely by hand, which we love! Shop now and ship your purchases home.
Find all locations here:
+62 361 720718
IG – @kevalaceramics
FB – kevalaceramics
SHOP SEMINYAK
Psylo
Every Psylo piece of clothing is more than stitched fabrics thrown together to meet the demand of trendsetters. It is the result of a deeply-thought-of process of alchemy – ancient art, sacred symbolism, contemporary art, cultural history, and the essence of humanity it seems. Psylo founders uphold pride in its originality and sustainability.
Ethical and environmentally friendly and infused by a strong essence of various Ethnic elements from different cultures, Psylo brand inspires in us the yogi, global traveler, surfer, dancer and seeker of new experiences!
Jl Petitenget N12b, Seminyak
+62 361 4730700
psylofashion.com
IG – @psylofashion
FB – PsyloFashion
WE-AR Yoga Shop
Founded in 2005, WE-AR is a pioneering brand of New Zealand's growing sustainable fashion industry and releases core collections annually to stand alongside their coveted range of yoga clothing. With a strong focus on using eco- preferred textiles and dying processes, WE-AR creates pieces perfectly suited to the tropical climate of Indonesia.
All of their pieces are produced at Certified B-CORP production houses in Bali, which we think you'll appreciate. You can check out their great products at any of the three store locations in Bali or online.
Find shop locations here
+62 0361 731899
we-ar.com
IG – @wearyoga
FB – wearyoga
Biasa
Biasa, founded by Italian-born designer and art enthusiast Susanna Perini, is a beautiful boutique and label inspired by Indonesian lifestyle and Italian design. Each season they offer sophisticated resort-wear collections along with treasures from around the world in a truly unique expression of art, idealism, and lifestyle.
Artistry is at the core of all they do, and the perfect extension to this clothing brand is their active Biasa Art Space founded in 2005 as a natural response to Susanna Perini's many encounters with young artists in Java and Bali. We all want a piece of Biasa before going home!
Jalan Raya Seminyak 34, Seminyak
+62 361 730308
biasagroup.com
IG- biasaofficial
FB – biasaofficial
Sensatia Botanicals
Established in 2000, Sensatia Botanicals was founded in a small village of Jasri, Karangasem, located on the east coast of Bali. Trademarked in 40+ countries with more than 200 product registrations with Indonesia's National Food & Drug Control Agency (BPOM), Sensatia Botanicals is Bali's first and only GMP-certified cosmetic company. They are committed to producing high-quality skin care with natural ingredients.
The best part, in our opinion, is that Sensatia Botanicals employees, most of whom are villagers from where the company started, are 20 percent shareholders in the principal production company. Talk about taking care of your employees and the community!
Find Sensatia Botanicals outlet locations here.
sensatia.com
IG – @sensatia_botanicals
FB – Sensatia
SHOP CANGGU
ISHA Naturals
Isha Naturals, once a small stall at Sunday markets in Canggu, has transformed into a chic apothecary shop for their locally handmade, all-natural beauty products. This black-and-white concept boutique offers soaps, masks, skin oils, diffusers, body butter and scrubs, candles, and aromatherapy. The best part about these products beyond the wonderful aroma of essential oils is the lack of any unnecessary parabens, additives or chemicals. Isha Naturals does eco-beauty minimal better than anyone and we're so excited they now have a store nearby!
Jalan Pantai Batu Bolong No.37, Canggu
+62 877 61805178
IG – @ishanaturals
FB – ishanaturals
SHOP ULUWATU
Aum Rudraksha
Let Aum Rudraksha entice you with their Mala creations. Their Rudraksha beads, inspired by Hindu spirituality, hold wisdom and power from the ancient sages. These powerful beads alleviate stress, depression, anxiety and exhibit anti-aging properties – helping you feel focused, relaxed and empowered. Aum Rudraksha's vision is to 'let the way you live to be the way you give'.
You will be buying more than a simple Mala. 20% of profits are shared with those in need. We love their eco-friendly and sustainable approach to making the consumer world a more positive place.
Aum Rudraksha Designs Jl. Raya Uluwatu #108, Pecatu
+62 87861894416
aumrudraksha.com
IG – aumrudrakshadesigns
FB – aumrudrakshadesigns
SHOP UBUD
Ananda Soul
Ethically produced and based in Ubud, Anada Soul Jewelry is full of unique bohemian designs created to help women realize their innate beauty. Founder and owner, Christina Zipperlen, puts enormous amounts of energy into the way her employees are treated and focuses on a production process that works with recycled, sustainable, and low-impact materials.
We are inspired by the mission of this conscious company and know you will feel the love when wearing a piece of Anada Soul jewelry.
Jl. Hanoman #2, Ubud
+62 361 970 725
Jl. Monkey Forest #14, Ubud
+62 822 3636 0111
anandasoul.com
IG – @anandasoulcreations
FB – AnandaSoul
Suci Jewelry
In the laundry of life, we sometimes need a gentle reminder to practice the daily ritual of graffiti. An elegantly designed piece of jewelry from Suci can reawaken the healing properties felt even after leaving this little slice of paradise. This is where a French designer found her expression of appreciation. Each medallion represents a temple, which is blessed during a full moon ceremony. Take the Land of the Gods' tranquil essence home with you, to wear with you always.
FB – sucijewelry
IG- suci_ jewelry
Muka Intuitive Herbology
The mission of MUKA is love! By practicing love and care to your physical body you find the key to a happy life. When you accept yourself you can accept and feel the love in your surroundings. MUKA was created in the name of love, health, and beauty. MUKA helps maintain the youth of the soul and body and synchronizes with the forces of the magical island of Bali.
They only use locally grown, ecologically friendly, and organic herbs, roots, oils, and butter. Ingredients are processed in an artisan way and restore the Indonesian tradition of Jamu. Their intuition guides them to create new products that did not exist before within ancient Jamu traditions.
IG – @mukaskincare
SHOP PETITENGET
Dare2wear
Dare2wear launched an environmentally sustainable athleisure wear line. Their inaugural, sustained line is the 'Maria' collection, which is crafted from fabrics made from recycled plastic from fishing nets, threads from the ocean and plastic water bottles.
The high-performance fabric comes from Italy's ultra-green market leader Carvico and Vita, an operation that is eco-friendly from its purpose-built wastewater plant to fume treatment and its use of methane gas for power. In true Dare2Wear style, they found solutions to reduce pollution and offer an ethical sportswear line in Bali.
Batu Belig 11c
+62 81936018232
dare2wear.com
IG – @dare2wear_athleisurewear
FB – dare2wear


Tiger Frame Jewelry
Who knew jewelry could be so strong and inspiring? Tiger Frame's signature pieces are designed with intuition and careful artistry. These precious gems sparkle with a rare spirit of adventure felt just by wearing them. Spontaneously sketched into stunning jewelry, most pieces are inspired by mystical wildlife, touched with femininity.
Let her jewelry invite you to walk taller, travel further and be beautifully empowered. Just like the Tiger in the wild, her creations inspire every woman to feel powerful, delicate, timeless and stunning.
tigerframe.com
IG – @TigerFrame
FB – Tiger Frame Jewelry
SHOP CANGGU
COVE Island Essentials
COVE Island Essentials, the fresh and uplifting newcomer in the Bali shopping scene is declaring its authority on Jalan Pantai Berawa in Canggu, with their homeware and carefully curated fashion and art. Cove's natural textures, organic linens, and balanced art, along with their lifestyle products, will certainly make you fall in love with this different yet unique shopping paradise. They have 'coastal chic' covered.
Jalan Pantai Berawa, Canggu
+62 812 39015056
coveislandessentials.com
IG – @cove_island_essentials


Indigo Luna
There's more woven into this eco-conscious yoga and swimwear brand. Their super-soft outfits are created with organic bamboo, recycled materials, and plant-based dyes – bringing a beautiful, sustainable and affordable choice to the modern Yogi and sun-seekers.
Their family-run business supports the lives of local manufacturers, personally taking care of the people behind the brand. By enjoying this ethical brand, you will be doing more than just wearing beautiful clothes.
Jl. Pantai Berawa No.42
+62 813 6089 88311
indigoluna.net
IG – @indigoluna_yogaswim
FB – indigolunayogaswim
SHOP UBUD
Shivaloka Soul Jewelry
Imagine owning a set of Mala Beads as powerful as those worn by holy men and women in ancient India. SHIVALOKA Soul Jewelry offers sacred jewelry and mala beads activated through the ancient Shakti process. With an intention in mind, you can choose from 14 categories to find the piece that is most useful to your life.
SHIVALOKA has beautiful stores in Ubud and Seminyak, where you can find an object your soul connects with, experiencing divine power and peace as you choose your one-of-a-kind jewelry. We know you won't leave empty-handed!
Jl. Raya Seminyak, Seminyak 49-1 Jl Hanoman, Ubud
+62 361 9348777
www.omshivaloka.com
IG – @shivaloka_soul_ jewelry
FB – shivalokasouljewelry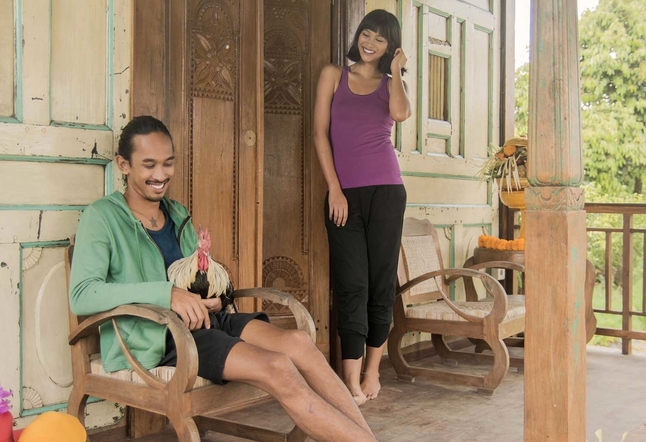 Bali Yoga Shop
Bali Yoga Shop is a one-stop-shop for all things yoga but not limited to. You can fi d the latest eco-mats, props, books, and a range of spiritual jewelry as well as practical designs for head-to-toe basics for yoga and daily wear. We love the fact that all of their high-quality products are made in Bali, supporting local brands and manufacturers. One of their shops is conveniently located right next door to their sister venture, the healthy restaurant KAFE.
Jl. Hanoman No.44B, Ubud Jln. Dewi Sita or at The Yoga Barn
+62 0897-0965-454
baliyogashop.com
IG – @baliyogashop
FB – baliyogashop
TRY
TREATS & WONDERS
After ten years of exploring Bali, we've uncovered a few treasures that are far too special to keep to ourselves. Here are a few secret treats that are absolute must-tries while visiting our beautiful island of Gods.
TRY CANGGU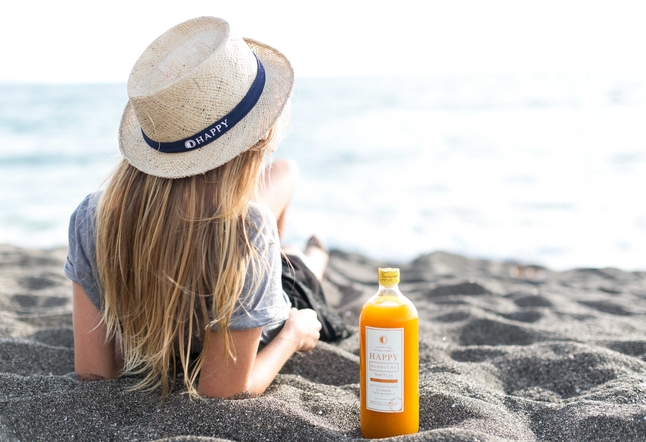 Happy Kombucha
You simply cannot leave Bali without satisfying your kombucha craving. Happy Kombucha Secret Lab offers delicious kombucha mixes that not only boost your immunity and increase energy but also offer a break from alcoholic drinks. In fact, sipping Happy Kombucha out of a wine glass is encouraged so you can get the full effect of flavors mixes, such as watermelon/rosemary/black pepper or hibiscus/ginger to name a few.
Operating on a zero-waste philosophy, purchase your kombucha in an upcycled bottle you can refill at one of the 'selected venues' throughout Bali or at many local cafes and stores. We love their commitment to supporting organic agriculture, sustainability and their overall philosophy of living in the present.
happykombuchalab.com
IG – @happykombucha
FB – HappyKombuchaSecretLab
I wanna Jamu with you
Jamu is an ancient Indonesian traditional drink. This is preventative health at its best! It has high anti-inflammatory, antioxidant properties and is rich in vitamin C. A delicious way to boost your mood & immune system 100% naturally. Jamu Jamu is a fresh and nicely packaged drink that contains Turmeric, Ginger, Lime, Honey, and Black Pepper. We love native medicinal plants & herbs, so Jamu Jamu is now our daily morning wake-up drink. Find them in all the best cafes & restaurants in Bali. Or have it delivered to you in Canggu & Seminyak area.
+62 812 361 05842
jamuwithyou.com
IG – @jamuwithyou
FB – jamuwithyou
YOGA STUDIOS
Bali is known for its plethora of yoga studios and venues, making it hard for you to choose which is the best fit for you. We've removed the guesswork and selected the best of Bali for you and your yoga mat.
YOGA UBUD
The Yoga Barn
Over the last 10 years, we have seen The Yoga Barn's tropical oasis become an epicenter for yoga, spirituality and the healing arts. Right in the heart of Ubud, it is Bali at its best, welcoming a global community to indulge in its natural beauty, rustic charm and healing pathways in the spirit of exploration and nourishment back to self. With a Garden Kafe, Detox Programs and 7 unique studios it holds space for yoga, dance, meditation, breathwork and sound healing, teacher training and retreats – all blessed by a curated team of world-class teachers and healers.
Jln. Hanoman, Pengosekan, Ubud
+62 361 971236
theyogabarn.com
IG – @theyogabarn
FB – theyogabarn
Radiantly Alive
Centered on the spiritual and cultural hub of Bali, Radiantly Alive offers more than 70 yoga and movement classes per week, as well as workshops, teacher training, and healing therapies. Relax in the delicious, healthy, plant-based cafe that offers nourishing breakfast, lunch, and dinner. This family business is run with an open-heart policy: everyone is welcome and invited to feel at home.'Come for yoga, stay for the family.'
Jl. Jembawan, No 3, Ubud
+62 0361 978055
radiantlyalive.com
IG – @RadiantlyAliveYoga
FB – RadiantlyAliveBali
Ubud Yoga Center
Set in the heart of Ubud, Ubud Yoga Centre is the place to escape the throngs of exploring tourists and the chaos of traffic. Upon entering, you are welcomed by a modern, open floor plan with a vast, lush view overlooking the river, all of which serve as a gentle reminder that it is time to relax and rejuvenate your mind and body. Every detail of the center has been curated by its owner, Mony Suriani, who left her demanding career in finance to pursue her passion for alternative healing, health, and yoga.
Whether it is a vigorous flow class, a mind-body connection practice, or a Gong meditation session, we're sure you modern yogis will find what you're looking for here.
Jl. Raya Singakerta No.108, Ubud
+62 361 8987207
ubudyogacentre.com
IG – @ubudyogacentre
FB – ubudyogacentre
Ubud Yoga House
Hidden off the beaten track, Ubud Yoga House is a beautiful and serene alternative to the bigger and more commercial studios in Ubud. Still, just a 10-minute walk to Ubud Center, this inclusive studio provides classes, retreats, and teacher training for yogis of all levels and backgrounds. The attentive and friendly energy of the teachers and students is palpable, and mix that with the breathtaking rice field views… this calm oasis is one of our favorites destinations in Ubud.
There have an up-coming Women's Wellness Retreat: Relax, Restore, Reboot
February 6-11, 2020 April 2-7, 2020 5 nights/4 days
Jl. Subak Sokwayah, Ubud
+628214418105
ubudyogahouse.com
IG – @ubudyogahouse
FB – ubudyogahouse
YOGA CANGGU
Samadi Bali
A hub for alternative health and healing in the heart of Canggu, Samadi Bali offers treatments and courses for your body, mind, and spirit. There you'll fi d daily yoga classes, teacher training, holiday retreats, healthy vegetarian food, and holistic wellness treatments such as chakra balancing and therapeutic bodywork. Their kitchen experiments with Ayurvedic principles and raw foods from local farmers to produce healthy cuisine.
We love the emphasis on organic and natural foods low in fat and calories using whole grains, fresh fruits and vegetables, lean proteins, and avoidance of artificial additives. We know you'll find your stay empowering at this center for wellbeing.
Jl Padong Linjong No 39, Canggu
+62 812 3831 2505
samadibali.com
IG – @samadibali
FB – Samadi Bali
The Chillhouse
Set in the beachside edge of Canggu, The Chillhouse Surf & Yoga Retreat is a home away from home for surfers and modern yogis alike. Their restaurant, Cassava, is an amazing vegetarian cafe using only locally sourced, fresh produce. You'll love their daily yoga classes taught by internationally-accredited teachers. And the yoga shala, which is set among their gardens, is spacious, airy and serene, making it perfect to get out of your head and onto your mat.
We know you'll find the accommodations both comfortable and beautiful. The Chillhouse offers the ideal place to wind down and feed your mind, body, soul, and spirit.
Jl. Kubu Manyar No 22, Canggu
+62 812 3958 3056
thechillhouse.com
IG – @thechillhouse
FB –TheChillHouse
Desa Seni
Nestled in the middle of a rice fi plantation in Canggu, Desa Seni Village Resort is an enchanting and breathtaking property, just a short stroll from the beach. The name translates to 'art village' which is quite fitting since the sprawling assortment of original antique-style Indonesian houses, peaked roofs, and stone walkways are truly works of art. Delicious, homegrown and organic vegetarian food mixed with the serenity of the Trimurti Yoga House, and local Balinese spa treatments make Desa Seni a completely blissful and restorative space, open to everyone from resort guests to day visitors.
Jl Subak Sari No 13, Canggu
+62 361 844 6392
desaseni.com
IG – @desaseni_avillageresort
FB- desaseni
YOGA ABANG
Amed Yoga Shala
Life in Amed Yoga Shala offers a variety of small, intimate classes for all levels that allow for an enriched practice with inspiring teachers. Your gaze will be graced with stunning sea views, your body with Bali breeze and your ears with village soundscape, all of which create a sensational experience of Amed. Our modern yogis, free spirits and explorers can find the shala by following the heart signs along the coastal road in Amed. This beautiful shala, coupled with Life In Amed Boutique Hotel, makes a perfect setting for group retreats or personal rejuvenation.
Lean Village, Amed
+62 363 23152
lifebali.com
FB – Life In Amed
YOGA SANUR
Power of Now Oasis
Whether you are interested in developing your daily practice, becoming a yoga teacher or fully submerging yourself in one of their customized retreats, there is an array of yoga teachings scheduled at this beachside studio. The upstairs open-air yoga shala receives a nice breeze and offers a beautiful view of Sanur's white sand beach. Smile, stretch and learn while giving back knowing that 50% of the studio's earnings go to charity in the local community and foundations.
Jl. Merta Sari, Sanur
+62 0878 61534535
powerofnowoasis.com
FB – @powerof nowoasis
IG – @powerof nowoasis
YOGA ULUWATU
Karma Kandara Yoga Bale
The award-winning five-star resort, Karma Kandara, has launched a stunning seaside Yoga Bale in Ungasan. Offering morning and evening yoga, outside guests are welcome. The Sunday Wellness Program integrates flow yoga (8-9 am) followed by coconut water and nutritious breakfast at di Mare overlooking the ocean.
With 25% off massages (including Sunday Thai Massages) and complimentary access to Karma Beach all day, it's a rewarding formula to keeping fit and energized on vacation.
Jalan Villa Kandara, Banjar Wijaya Kusuma, Ungasan
+62 361 8482202
karmagroup.com
IG – Karma Kandara Bali
FB – Karma Kandara
HEALERS + THERAPIES & POTIONS
When you visit the 'Island of the Gods', it's only natural that you'll want to seek a spiritual essence. Experience mind and body tranquility with local healers and traditional ceremonies of Balinese culture and beyond.
HEAL UBUD


Oneworld Ayurveda
Oneworld Ayurveda is a center dedicated to authentic Panchakarma – the ultimate healing experience in the science of Ayurveda, a holistic health care system of ancient India. Panchakarma advocates living in harmony with nature and maintaining harmony between mind, body and spirit. The best part about the center is its highly qualified Ayurvedic physicians, who tailor individual programs including therapeutic massages, detoxification techniques, herbal medicines, personalized diets, yoga, meditation and lifestyle transforming experiences.
Banjar Kebon, Tegallalang, Ubud
+62 361 289752
oneworldayurveda.com
IG – @oneworldayurveda
FB – OneworldAyurveda
HEAL UMALAS


Core Energetics Workshop
If you are ready to take the next step into embracing ease, flow, abundance, and peace in your life… the Core Energetics Workshop located in the Umalas is an incredible chance to do that. The workshop is lead by Ranil Sharma, a passionate facilitator who has been assisting people into a more peaceful life through workshops, intensives, and retreats for over 17+ years.
Using the strong connection between our human emotional states and the body's physical energy field, Core Energetics has created a workshop that bridges psychology and spirituality, in a very personal and powerful way. Whether you are feeling stuck in an area of your life, or simply want to deepen your own life process – Core Energetics is an effective and transformative workshop for your personal growth.
Jalan Bucu #33, Umalas
Email Ranil Sharma for more information.
HEAL CANGGU
Pak Sirkus-Bali Healer
Whether you've heard of it through the novel 'Eat Pray Love,' developed the interest on your own, or happen to be traveling with a painful injury, the experience of a traditional healing ritual is something we highly recommend while in Bali. A local celebrity of healing, Pak Sirkus (not circus) practices out of his home, where he joyfully greets locals and foreigners alike. Using natural oils and wooden sticks to determine your body's pain points and areas in need of healing, this sacred ritual is a unique and restorative encounter.
There is no schedule or modern contact information for Pak Sirkus, he simply starts healing around 9 a.m. on certain days of the week, and you could see him right away or have to wait a couple of hours. At the end of your healing, you can purchase a palm offering as a donation and show of gratitude.
HEAL BESAKIH


Pura Besakih
Located in the slopes of Mt. Agung in East Bali, Pura Besakih is the largest and holiest temple in Bali for the Hindu religion. Known as the 'Mother Temple' of Besakih, each temple building has its own meaning within the beliefs of Balinese Hindu.
The views from the temple will do more than take your breath away, and if your visit corresponds with the 70+ ceremonies held each year, you will be treated to the magic of a traditional Balinese religious celebration.
Besakih, Rendang, Karangasem Regency
HEAL UBUD
Tirta Empul
This is one of our favorite temples in Bali. An ancient purification ritual can be experienced in Tirta Empul, which means Holy Spring in Balinese. Although the place receives hundreds of tourists every day you can still experience a meaningful cleansing ceremony. Tirta Empul was build in 962 A.D. and carries the ancient energy of that time.
Wrapped in sarongs you are free to enter the freshwater and go through the ritual on your own. Place your intention and surrender to the cleansing qualities of this sacred water.
Jalan Tirta, Kabupaten Gianyar
Now that you've landed in Bali, tasted the rich, homegrown dishes, surfed the beaches, picked up local handmade goods, walked through the sand, forests, and temples, reconnected with your spirit, body, and mind, you have experienced the magic of the island.
And yet, there is still much more transformative beauty to be found, of which we are dedicated to discover, explore, and share with you. Join us in our journey on Instagram and Facebook, and let us know your own favourite corners of Bali.