shopping for yoga wear in ubud
Published: 30-10-2012 - Last Edited: 04-03-2020
It is no secret that Bali has become a destination for yoga practitioners around the world, but it's also famous for its art, culture, ceremony, dance, surfing and for its colorful textile and garments. Talking about garment, we collected a few places to shop for your next yoga outfit.
Credit baliyogashop
Bali Yoga
The most popular yoga shop is Bali Yoga, which is also managed by the same people that organize the Bali Spirit Festival. They carry a good selection of yoga clothes for women, men and children and their line of clothing is simple and practical. They also sell spiritual books, yoga mats and music.
Instagram: @baliyogashopbaliyogashop.com
Jl. Hanoman No.44B, Ubud – Bali 80571 – Map MeTel: +62-812-8147-9094Opening Hours: daily from 9 am to 8 pmJl. Dewisita, Ubud – Bali 80571 – Map meTel: +62-897-0965-454Opening Hours: daily from 10 am to 9 pm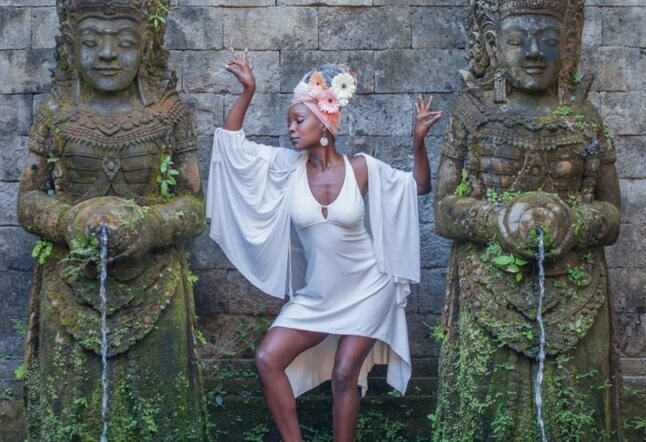 Credit ompure
The Yoga Barn Studio
Built around the community mindset, The Yoga Barn is a studio that holds classes and workshops, a spa, a cafe, and a shop with a collection of local yoga wear labels. With a variety of materials, styles, and missions in their shop, you are given the freedom to roam and find the label that fits your own yoga practice.
Instagram: @theyogabarn
theyogabarn.com
Jl. Hanoman, Pengosekan, Kecamatan Ubud, Kabupaten Gianyar, Bali 80571, Indonesia – Map meTel: +62-361-971236Opening hours: daily from 7 am to 9 pm
Ompure
Adjacent to Kafe restaurant and impossible to miss is 
Ompure
. Ompure is one of the first shops to open on Hanoman street over 5 years ago. The selection of yoga, dance and loungewear is quite extraordinary and very fashionable. Their attention to details, quality textiles and unique designs makes it a favourite among yoga practitioners and dancers. At the moment they only carry women's clothing but I was told they soon will be carrying men wear as well. Apart from classic men's wear, there are very few shops in the whole Bali that sell unique men clothes so this promise to be a welcome news for all men.
Instagram: @omepureshop

ompure.comJl. Sukma Kesuma No.5, Peliatan, Kecamatan Ubud, Kabupaten Gianyar, Bali 80571, Indonesia – Map me Tel. +1 248-667-8731Opening Hours: daily from 10 am to 8 pm
Rugu Active Wear
We like Rugu for the quality of the clothing, funky and stylish matching leggings and tops, beautiful African prints as well as delicate mono colours with some items being reversible to mix and match.
We'ar
Up the road from Kafe is 
We'ar
. Although they have been in Ubud for several years, they just recently moved near Kafe. We'ar carry a selection of men and women wear, their design is beautiful, young and avant-guard. They sell accessories like belt, jewellery and gift ideas. What we like the most about this brand is their mission to provide ethical and sustainable collection using bamboo and organic cotton as a base to many of their items.
Instagram: @wearyogawe-ar.comJl. Hanoman No.41, Ubud – Bali 80571 – Map meTel: +62-361-976-119Opening Hours: daily from 9 am to 9 pm
Credit satyayogawear
Intuitive Flow Yoga studio 
Intuitive, thoughtful, and open to all, Intuitive Flow Yoga Studio provides classes, workshops, and high-quality yoga wear that you can pick up before or after your transformative session.
Instagram: @intuitive_flow_yogastudiointuitiveflow.comJl. Raya Tjampuhan, Penestanan Kaja, Sayan, Ubud, Sayan, Kecamatan Ubud, Kabupaten Gianyar, Bali 80571, Indonesia – Map meTel: +62-361-977-824Opening hours: daily from 7 am to 7 pm and Sunday from 7 am to 1 pm
Lucky family yoga wear
Quaint, local, and affordable, Lucky Family Yoga offers a variety of day to day clothes. Head down to their shop, and find the right pair of pants and tops for you.
Jl. Hanoman, Ubud, Bali 80571 – Map Me
Tel: +62-853-3901-2089 Opening Hours: daily from 8 am to 9 pm
Satay
Across from Ompure you'll find 
Satya, a small shop they offer six basic styles of yoga wear that are functional and comfortable. 
All of these shops make their clothing in Bali and support local families, so you c
an feel good about buying there. T
hey are all within 100 meters from one another, so you don't have to go crazy walking in the heat of the day and Kafe is right there happy to serve you cooling drinks, and one of the best chai tea in town.
Instagram: @satyayogawearsatyayogawear.comFB: @satyayogawear45 Jalan Hanoman, Ubud, Bali – Map meTel: +1-213-330-1855Opening Hours: daily from 10 am to 9 pm

Studio Kolektif
Organic and Ethical yoga wear Studio Kolektif is an earth-loving and eco-friendly Swedish yoga brand. Every piece is ethically produced in Bali using sustainable fabrics and practices to prevent harm towards the environment and each other.
studiokolektif.comJl. Goutama Sel. No.15, Ubud, Bali 80571 – Map meTel: +62-857-3713-3397Opening Hours: daily from 10 am to 9 pm
Bali Canthi yoga & Gift shop 
A yoga studio and shop, Bali Canthi Yoga sells yoga wear along with t-shirts, shorts, and gifts you can take back to your loved ones, or display on your own yogi sanctuary.
Monkey Forest Street, Ubud, Bali 80571 – Map meTel: +62-857-3896-8145Opening hours: daily from 8 am to 10 pm
Have fun shopping in Ubud.
Also Read >>> Where to Buy Yoga Pants in Bali
For more info on Bali's best spots for the modern yogi STAY | SPA | PLAY | EAT | SHOP | YOGA –
Download our ULTIMATE BALI GUIDE for free.