Boutique Hotel in Gili Meno with feet in the sand
I was the only person disembarking into thigh-deep water, removing my shoes, hoisting my overnight bag (loaded with camera and iPad) as high as I could onto my shoulders, hiking my shorts up, and wading to shore through the seagrass.
I felt grateful that the water was so clear that I could check with every footstep that I wasn't stepping on any sharp coral or sea urchins.

As I waded in, a single-file column of about 10 people waded out to catch the boat I just got off.

Everyone I passed was relaxed, with their bags hoisted over their heads and their shorts hiked up – and we just smiled at each other knowingly.

The boat more or less will drop you off and pick you up.

This kind of thing becomes normal after traveling for months in less developed countries, and a far cry from the "more expectations, less tolerance" mindset I had left behind in New York.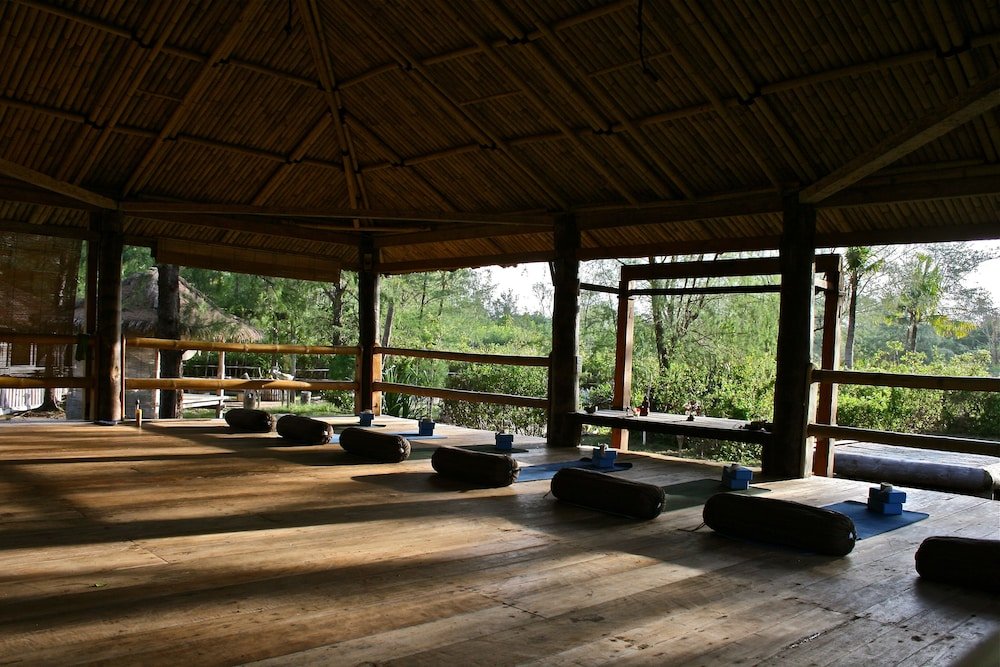 Easing into the mellow island vibe, I walked down the sandy beach road to a crossroads, where the friendly staff at a cafe directed me towards the retreat center at MaoMeno.

The website instructs visitors to "Follow the yoga signs and white coconuts from the school or below the mosque."

Follow the white coconuts: it sounds like an intriguing hunt for hidden treasure.

Sure enough, as I continued down the path, the signage and coconuts started to appear.
MaoMeno is a play on the island's name and the southern Spanish expression, short for "mas o menos", meaning "more or less".

It refers to the owner's own journey as he embarked on this major construction project on a remote island in Indonesia, his acceptance of imperfection, and willingness to go with the flow.

The logo is composed of 3 hexagrams out of the 64 that form the I-Ching (ancient Chinese divination oracle).

The left one represents the feminine side (Yin) of the unfolded Universal Consciousness, and the right one the masculine, the Yang quality of Life. In the middle, there is a space for peace.

This hexagram called T´ai represents balance, and as the masculine (Sky) supports the feminine (Earth), Peace blooms.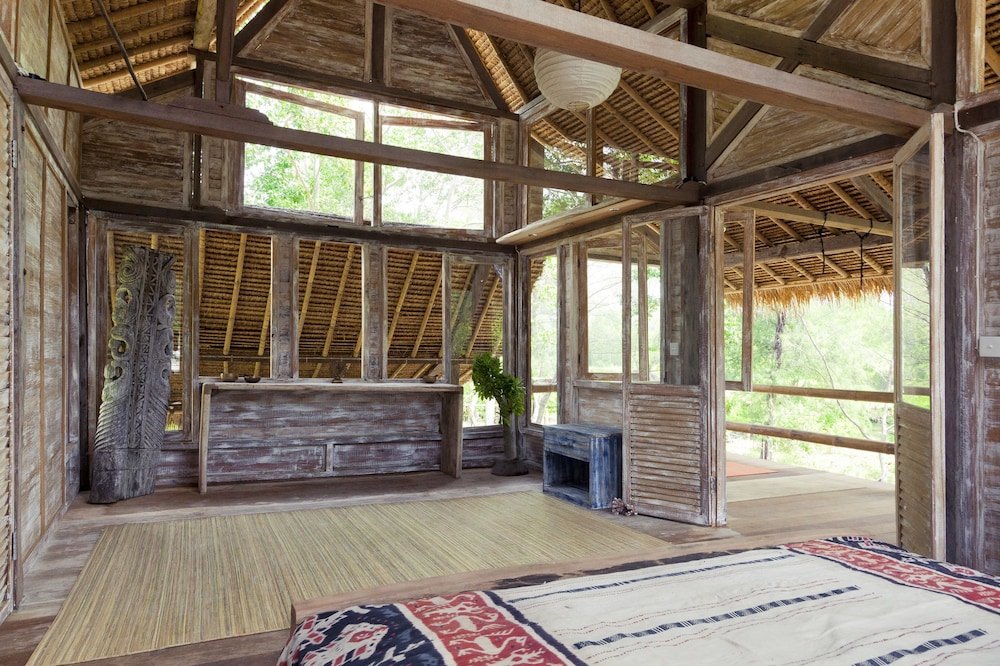 After a soft opening last year followed by a break for construction, MaoMeno reopened in May 2013 with the intention of providing "a space for peace, art and inner discovery."

The property includes a collection of houses on a sprawling piece of property, with no immediate neighbors, just green fields and palm trees swaying in the breeze.

The location is very quiet – I could only hear the gentle sounds of the ocean a few hundred feet away, and at night, crickets.

Guests can sleep in one of two main two story houses, a traditional bamboo house, and a double bungalow with an outdoor bathroom.

Everything is open air, built of whitewashed wood and bamboo, decorated in soft tones of beige and white, with gentle lighting.

The style is reminiscent of a rustic Spanish finca meets Nantucket beach house. The wood used for construction is fragrant, and the roofs are woven from ylang ylang.
I stayed overnight in the bungalow, and enjoyed my open-air shower under the stars, followed by a deep sleep in a comfortable bed in the cocoon of a cotton mosquito net.

Separate from the living spaces, guests are invited to hang out and mingle in the lounge/kitchen/juice bar area.

Here, staff serves breakfast, fresh juices, and herbal teas.

Food is sourced as locally as possible, using simple, natural ingredients and superfoods (goji berries, spirulina) brought from neighboring Bali.

There is no WiFi on the property, but guests can make use of a shared computer for a quick email check.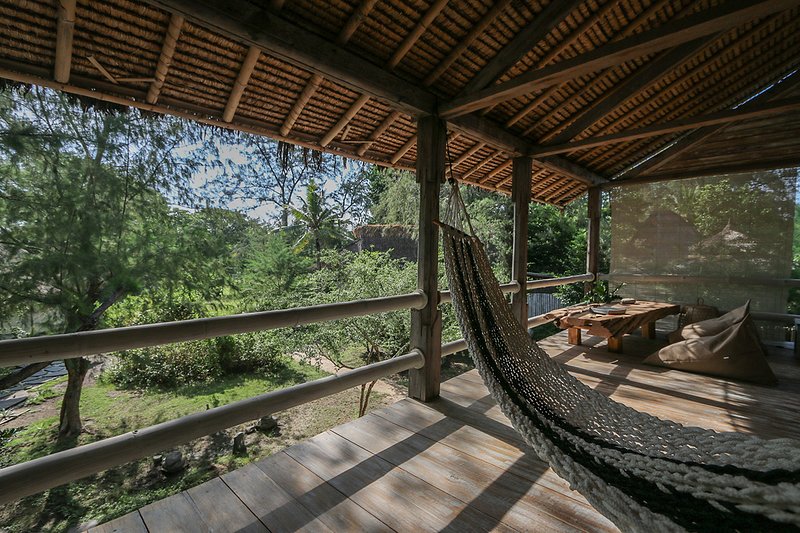 maoMeno hosts retreats throughout the year, and can comfortably sleep up to 16 people. The spa is being enlarged, and there is plan for an artists' workshop.

The rectangular yoga shala (studio) is nestled at the back of the property, with a view of the lush green fields and overlooking a meditation platform, behind also used for gazing at the clear night sky.

I arrived just in time for a late afternoon class with yoga instructor Lucy.

Integrating elements of Kundalini, vinyasa, hatha and yin, she gave great alignment cues, helpful adjustments, even deepened the experience with a few artfully placed thai yoga massage techniques.
>> Also Read: Finding Serenity & Yoga on Gili Air
>> Also Read: Gili Meno
Yoga Classes at MaoMeno
That evening, a heavy full moon was rising in the sky, and the class theme was Poornata – fullness – which Lucy wove through the class, prompting students to be mindful of the fullness of breath, and the completion / union of body and mind.

With a background as a professional dancer and with extensive training in hatha, vinyasa, jivamukti, ashtanga, and anusara yoga, as well as various types of body work and pilates, Lucy is a self-described "melting pot of knowledge.

She creatively blends body, mind and energetics to deliver a beautiful, unified class.

Classes are 90 minutes, and held on Tuesday, Thursday and Saturday at 9am and Monday through Friday at 4pm.

Class prices: 1 class 70,000 5 classes 300,000 10 classes 550,000 Privates also available.
Yoga is offered in a range of styles and levels, including Hatha, Hatha flow, yin, vinyasa flow, yoga swing, Anusara influenced and Ashtanga. Mats and props are provided.

Lucy also offers Traditional Thai Yoga Massage, Eastern Fusion Massage (a combination of Ayurvedic, Nepalese, Chinese and Tibetan massage using organic coconut oil), and Cranio-Sacral Therapy. Treatments are 60, 90 or 120 minutes.
Whether you're a solo traveler looking for solitude, cruising with companions, or looking for a retreat venue to bring a group, MaoMeno is a place of serenity, ideal for looking inward and connecting to nature.

Find MaoMeno on FB here – By Phone: +62-819-9937-8359 – GOOGLE MAP
For more info on Bali's best spots, including
| STAY | SPA | PLAY | EAT | SHOP | YOGA |
Download THE ULTIMATE BALI GUIDE for free here