Waterfall Bali | the 20 best "Air Terjun"
Published: 14-11-2022 - Last Edited: 16-11-2022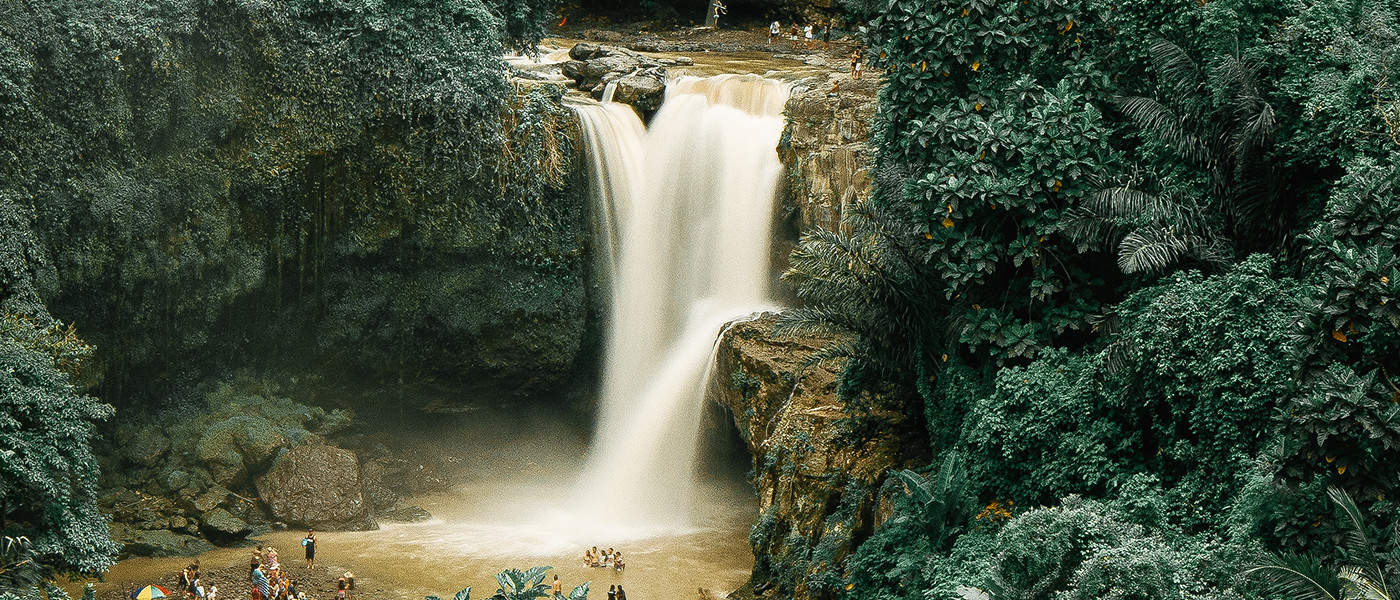 Exploring Bali's Majestic Waterfalls
Waterfall Bali | The Island of the Gods is known for its lush, green landscape and beautiful beaches, but its majestic waterfalls are also a must-see! Most of Bali's waterfalls are nestled in its gorgeous mountains and are swimmable.
If you're exploring the island for just a few days or immersing yourself in Balinese culture for longer, we highly recommend checking at least a few of these waterfalls off your bucket list.
Best Waterfalls in the North of Bali
Sekumpul Waterfalls, Singaraja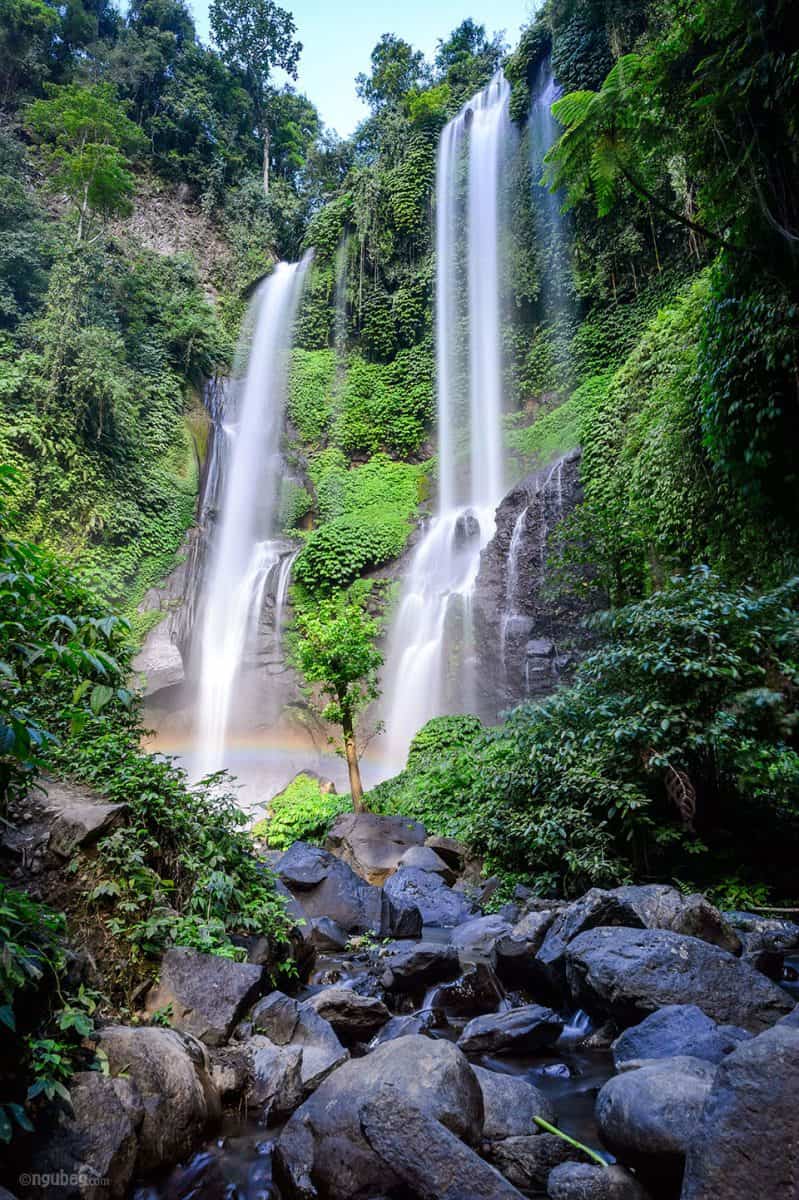 These seven narrow cascades are about an hour drive southeast of Lovina Beach. The falls are 80 meters tall and fall from two separate sources.

It's about a three-hour trek one way, including stepping through streams so if you don't enjoy hiking, this may not be the waterfall for you.

Surrounded by bamboo forests, Sekumpul is a wonderful way to get exercise, see gorgeous waterfalls and enjoy a swim surrounded by nature.

Location: Jalan Raya Desa Sekumpul, Sawan, Lemukih, Buleleng
Entry fee: 20,000 IDR – GOOGLE MAP
Also Read>>> Kangen Water
GitGit Waterfall, Singaraja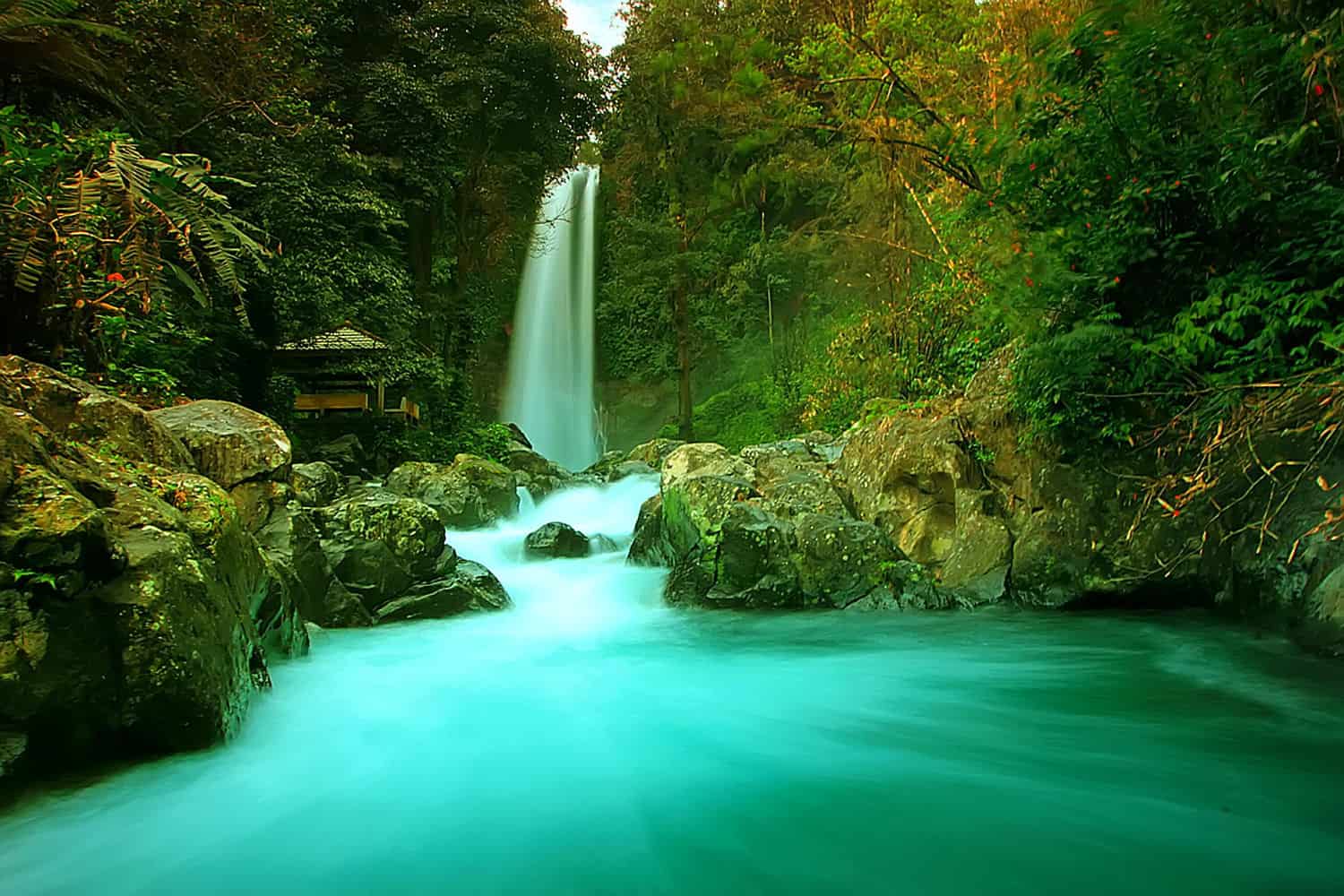 This is one of the most famous waterfalls in Bali, so prepare for it to get a bit crowded.

Located in North Bali about 70km from Densapar and 10km outside Singaraja Town, GitGit is surrounded by lush foliage and consists of several waterfalls of varying heights and shapes.

The most popular fall is about 300 meters above sea level and water flows all year round, though it's clearer in the dry season.

GitGit is the perfect waterfall for the wanderlust traveller, especially if you're on your way to Lovina and are looking for a stunning view and way to cool off.

Location: Jalan Raya Bedugul-Singaraja, Sukasada, Buleleng ,
North Bali. Entry fee: 5,000 IDR. – GOOGLE MAP
Banyumala Twin Waterfalls, Buleleng
Banyumala is perfect if you're looking for an untainted, off-the-beaten-path waterfall in Bali.

It's a great option for a swim, but be careful as the path is quite steep and slippery.

Banyumala is about 60km from Densapar and the falls are only a 15-minute walk from the car park.

The pool is beautiful and very clean, about 2 meters deep and a wonderful spot to stay for a few hours!Location: Wanagiri, Sukasada, Buleleng Regency
Entry fee: 20,000 IDR – GOOGLE MAP
For more info on Bali's best spots for the modern yogi
| STAY | YOGA | SPA | PLAY | EAT | SHOP | MEDITATE |
Download our ULTIMATE BALI GUIDE for free.
Aling-Aling Waterfall, Sambangan
These four waterfalls are not for the faint of heart. For those adventurers looking to bring out the child in you, Aling Aling is a bit of a strenuous climb but is like a slip 'n slide by the falls!

There is a 35-meter cliff for jumping into the pools.

This is one of the most unique waterfalls, with walking trails to several smaller falls including Pucuk, Kembar, Cemara, Canging, Dedari and Kroya falls.
Location: Jalan Raya Desa Sambangan, Sambangan, Sukasada, Kabupaten Buleleng
Entry fee: 10,000 IDR – GOOGLE MAP
Jembong Waterfall, Sukasada
Man-made falls are surrounded by cocoa plantations, so you can smell the cocoa as you hike the 200 meters from the car park. Not many locals and foreigners know about it so it's still one of Bali's best-kept secrets. 10-15 meters high.

The falls are a 45-60 minute drive from Lovina Beach and not great for swimming, but it's a beautiful experience if you're nearby!
Location: Unnamed Rd 81161 Indonesia, Ambengan, Sukasada, Kabupaten Buleleng
Entry fee: 10,000 IDR – GOOGLE MAP
Yeh Mampeh Waterfall, Singaraja
Located in North Bali at Les Village, it takes about 2.5 to 3 hours driving from Denpasar. Yeh Mampeh Waterfall is rarely visited by tourists because the location is far from any of the most touristic places in Bali.

The name means 'flying water' in Balinese local language and the falls are beloved by locals, who can often be found bathing in the water.

Yeh Mampeh is perfect if you're looking for a unique experience away from the tourists and typical Bali 'must-do's'.
Location: Buleleng, Les, Tejakula, Kabupaten Buleleng
Entry fee: 5,000 IDR – GOOGLE MAP
Carat Waterfall, Singaraja
Carat Waterfall is a beautiful waterfall in Tamblang Village, just 30 minutes away from Singaraja Town.

The name comes from the Balinese word "Carat' which means the traditional water jug made from the land.

The Balinese people believe the edge of the falls look just like this jug. Carat is the highest waterfall in Bali and is a must-see while you're on the island!
Location: Bontihing, Kubutambahan, Buleleng Regency
Entry fee: 5,000 IDR – GOOGLE MAP
SingSing Waterfall, Lovina
This waterfall is not very high or large but it feels like a sanctuary with bird and nature sounds as soothing background noise.

We highly recommend a soak in the rocky pool at the bottom of the falls or in one of the lava stone pools in the upper creek.

You should make SingSing a priority during the wet season (October to April) as the water flow is very light during the dry season.
Location: Tigawasa, Banjar, Buleleng Regency
Entry fee: 5,000 IDR – GOOGLE MAP
Waterfalls to explore in Central Bali
NungNung Waterfall, Petang
NungNung is a favorite among some travelers but so far not overcrowded by tourists.

The waterfall is about 900 meters high and there is a pathway made up of around 500 concrete stairs.

NungNung is gorgeous but one of the most powerful waterfalls in Bali, making it a bit more difficult to swim. If you're brave, it is possible!
Location: Jl. Raya Pura Pucak Mangu, Pelaga, Petang
Entry fee: 10,000 IDR – GOOGLE MAP
Also Read>>> Bali Healers Balians
Also Read>>> Where to buy yoga Pants in Bali
Blahmantung Waterfall, Tabanan
This stunning waterfall is about 70 km from Densapar, about a two-hour drive to the Tabanan regency, which is the largest rice-producing centers in Bali.

Surrounded by beautiful terraced rice fields, Blemantung Waterfalls are hidden among the high cliffs. From the main highway in Pujungan village, the falls are located about 1500 meters away.

The best time to visit is between 2 – 4pm if you're looking to enjoy the falls with fewer visitors.
Location: Pujungan, Pupuan, Tabanan Regency
Entry fee: 20,000 IDR. – GOOGLE MAP
Our Favorite – Tukad Cepung Bali Waterfall, Tembuku
This waterfall is located 1 hour from Seminyak, 1 hour from Kuta, and 30 minutes from Ubud so it is well-situated for tourists staying all over.

There is about a 20-minute trek down to the falls, passing a few small streams on the way down.

The best time to visit is around 11 am to 1 pm because sunlight enters into the cave where the waterfall flows from and it makes for great photos!
Tukad Cepung is truly a hidden gem with a Pura Dalem Penida Kelod nearby, which is known as the Temple of Death.It is a place of pilgrimage for those seeking protection from sickness and evil.

You can also pay a visit to the old temple of Ratu Gede Pancering Jagat in Trunyan, which is famous for its 4-meter high statue waterfall and soaking in some Balinese culture!
Location: Jalan Tembuku, Dusun Penida Kelod, Tembuku, Kabupaten Bangli
Entry fee: 15,000 IDR – GOOGLE MAP
Air Terjun Yeh Ho Waterfall, Tabanan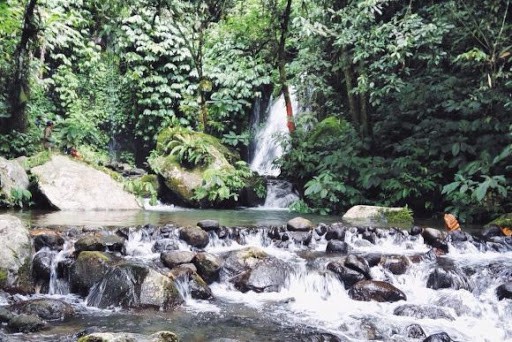 Air Terjun Yeh Ho is a smaller waterfall hidden in the Jatiluwih world heritage sight, Penebel, in the area of Tabanan.

This 8-meter drop lands to a wading pool surrounded by green plants and large stones.

The water discharge is quite heavy and comes from the mountain springs, so you can enjoy the exhilaration of swimming in its clear and clean water.

From the parking lot, it's just a 5-minute walk to this beautiful sanctuary!
Jalan Gunungsari Umakayu, Jatiluwih, Desa, Senganan, Penebel, Kabupaten Tabanan, Bali 82152
Open daily from 7 am to 6 pm – GOOGLE MAP
Bali – Munduk Waterfalls
The Munduk waterfalls are, in fact, a trek that takes you along four spectacular water cascades. We particularly enjoyed these waterfalls because they combine a hiking route with four waterfall visits.
The fact that they are located along a hiking path and not so close to a road means that you will encounter fewer tourists than in other waterfalls or Instagram spots of Bali. Actually, there is a good chance you will find the waterfalls all to yourself!
The whole trek can take between 3 and 5 hours, depending on where you start and how long you take to enjoy the waterfalls. Most of the journey is on a paved path or proper stairs, and only some steep segments represent a bit of difficulty.
Here are, from bottom to top, the Munduk Waterfalls:
Air Terjun Melanting Waterfall
There are almost 500 steps to get to the waterfall. You don't have to worry about safety on the stairs, but they can be a little steep. It's not a good idea to swim at Melanting, though. It does have a waterfall pool, but since the falls are so powerful, there is a lot of water spray, and swimming wouldn't be enjoyable.
Location: Jalan Air Terjun Melanting No.Desa, Gobleg, Kec. Banjar, Kabupaten Buleleng, Bali 81152, Indonesia
The fee to get in is 10,000 IDR – GOOGLE MAP
Labuhan Kebo Waterfall
Labuhan Kebo Waterfall is quite impressive and sprays a lot, so be careful with your camera. It has a big pool at the base of the waterfall that is great for taking pictures and flows into two even bigger rock pools. This is the best waterfall on the Munduk Waterfall trek to go swimming. The two rock pools are very shallow, but you can wade in them.
Location: Banyuatis, Kec. Banjar, Kabupaten Buleleng, Bali 81152
The fee to get in is 10,000 IDR – GOOGLE MAP
Red Coral in Munduk Waterfall
This waterfall is also called the Munduk Waterfall because it is easy to get to if you are on a road trip and want to stop by a waterfall quickly. It takes no more than 10 minutes to reach the waterfall. You can swim there because the water crashes on a flat area of small pebbles.
Location: Banyuatis, Kec. Banjar, Kabupaten Buleleng, Bali 81152
The fee to get in is 20,000 IDR – GOOGLE MAP
Golden Valley Waterfall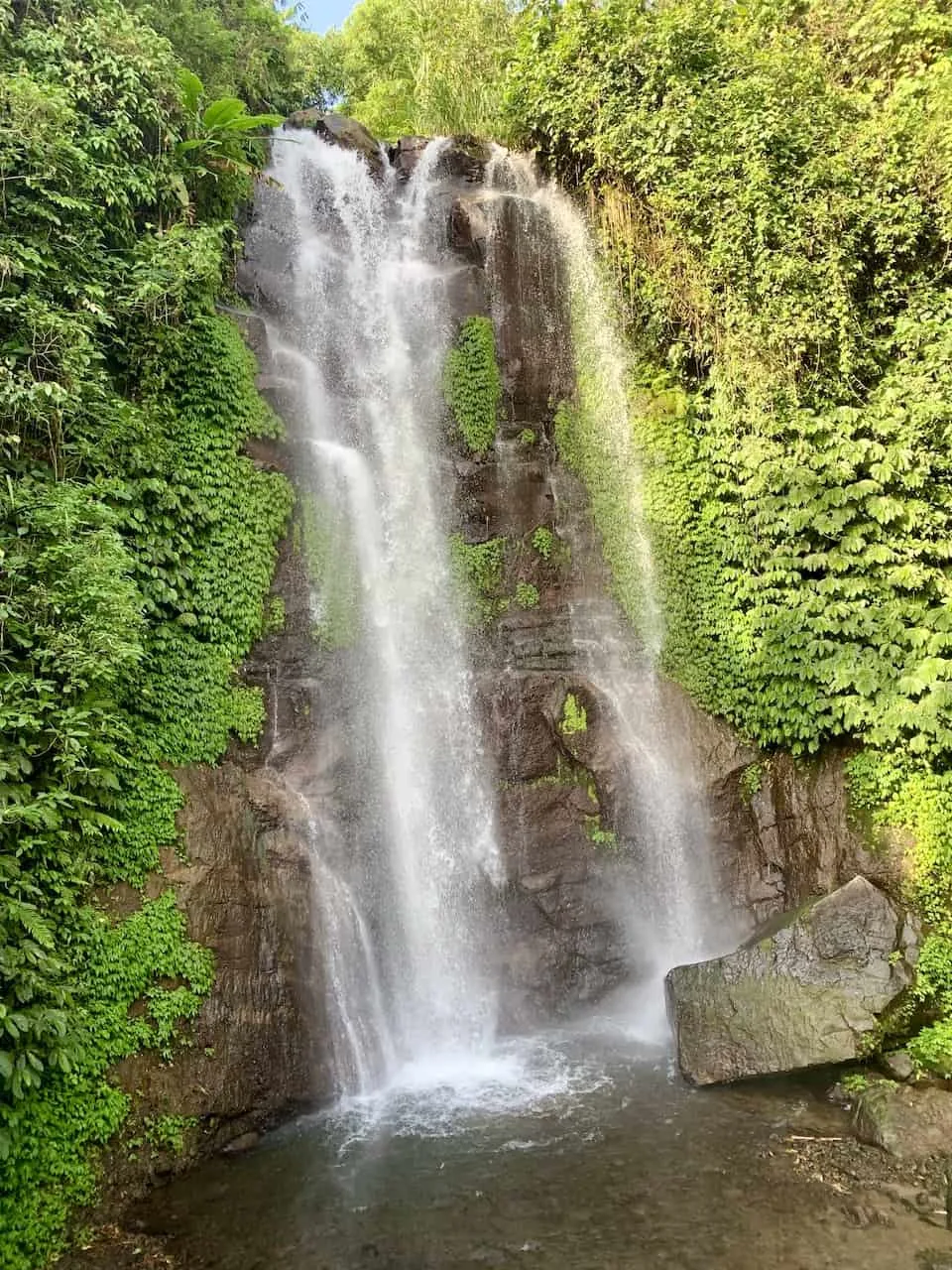 The Golden Valley Waterfall is about 50 feet high, the pool below is shallow enough to walk, and it looks great in pictures. After walking up the Munduk waterfalls trek, you can stop at the Golden Valley Eco Café, only 20 meters from the waterfall, and reward yourself with some delicious local food.
Location: Munduk, Kec. Banjar, Kabupaten Buleleng, Bali 81152
No entry fee – GOOGLE MAP
Visit a waterfall even in Nusa Penida island
Peguyangan Waterfall, Nusa Penida
If you're on the island of Nusa Penida, this is a unique experience with incredible cliffside views.

The waterfall itself is small and unassuming but there is an iconic blue stairway which leads you down a cliffside pathway to a sacred water temple, a pilgrimage site for local Balinese people.

If you're not staying on Nusa Penida, it is possible to arrange a day trip tour. Keep in mind that you will be asked to rent a sarong before your hike down to the fall.

Location: Nusa Penida, Batukandik, Nusapenida, Kabupaten Klungkung
Entry fee: 10,000 IDR – GOOGLE MAP
Bali Waterfalls you can visit in the Ubud area
Tegenungan Waterfall, Ubud
Halfway between Densapar and Ubud, Tegenungan is perfect for a day trip from either town or a stop on your way from either destination. There is a beautiful temple nearby and you can experience the serene Balinese rice fields on your way to the falls.

There is a traditional Balinese restaurant called Bebek Tamerind nearby and the area is lined with art and souvenir shops. in Ubud village, temple nearby.

Look into cliff jumping tours for Tegenungan if you're up for some adventure.

It's great for a dip in the plunge pool, but keep in mind that the falls are strongest during the wet season from October to April and swimming is not advised.
Location: Jalan Ir. Sutami, Kemenuh, Sukawati, Kemenuh, Sukawati, Kabupaten Gianyar
Entry fee: 10,000 IDR – GOOGLE MAP
Also read>>> Where to buy yoga mats in Bali
Tibumana Waterfall, Bangli
Tibumana has been said to be Bali's BEST kept secret. These stunning falls are not yet overrun with tourists and it's one of the easiest to get to- just a short 10-minute walk.

Tibumana is great for swimming and easy with children. It's near Ubud and could make for a perfect family day trip!
Location: Jalan Desa Apuan, Apuan, Susut, Apuan, Susut, Kabupaten Bangli
Entry fee: 10,000 IDR – GOOGLE MAP
Air Terjun Kanto Lampo Waterfall, Gianyar.
Kanto Lamp is located in the Village Beng, approximately 1.5 hours from Ngurah Rai airport, if you're making your way up north.

It's a tourist favorite, so it's best to go in the morning to avoid the crowds, we went at noon during Covid, and there were about ten people; at that time, the sun was hitting the waterfall directly.

After walking down the stairs, you go down to the river through the rocks, and you will see the beauty of Kanto Lampo Waterfall, adorned with beautiful rock cliffs.
You can climb the cliffs and feel the cool water of the falls. It's very wet so don't forget to bring a towel and a change of clothes!

Bring your camera for some epic shots on the falls and enjoy traditional cuisine from the food stalls.
Location: Beng, Gianyar Sub-District, Gianyar
Entry fee: 20,000 IDR – GOOGLE MAP
We know you won't regret visiting a single one of these magical waterfalls and we hope you enjoy all the natural beauty Bali has to offer!
For more info on Bali's best spots for the modern yogi
| STAY | YOGA | SPA | PLAY | EAT | SHOP | MEDITATE |
Download our ULTIMATE BALI GUIDE for free here.
For more info on Bali's best spots for the modern yogi
| STAY | YOGA | SPA | PLAY | EAT | SHOP | MEDITATE |
Download our ULTIMATE BALI GUIDE for free