yoga studios in canggu
Published: 05-12-2019 - Last Edited: 07-06-2020
keep your practice while visiting the island of the gods
Canggu has no shortage of things to do. You can find healthy eateries, stylish cafes and high-end boutiques on most corners, you could sit at a beach-front restaurants and watch the sun go down or you can visit Canggu for the same reason many people some to Canggu – for the yoga. Canggu attracts travellers from all around the world – it is a melting pot for aspiring and experienced yogis alike. Whether you are in an open air-bamboo studio, an art village overlooking rice fields or a private garden villa –– you are sure to feel the presence of the vibrant yoga community throughout Canggu.

We have done all the research for you, so all you need to lay on your mat and strike your yogi pose!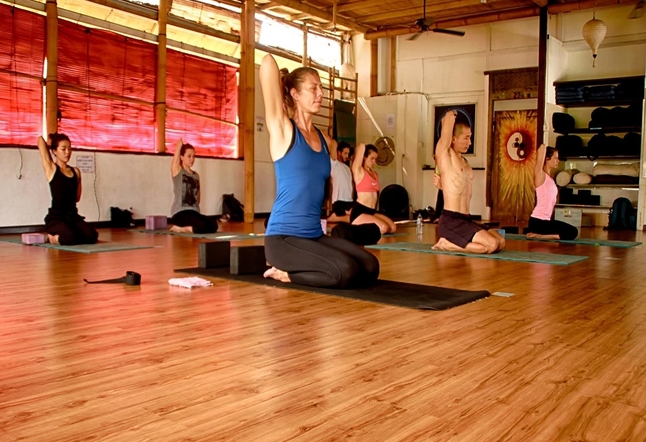 SERENITY ECO GUEST HOUSE & YOGA
Located just moments from the beautiful beaches of Bali, this eco-friendly space boasts a variety of affordable classes and packages. With an eco guesthouse, permaculture garden, and an alkaline-focused restaurant, Serenity makes for your very own budget friendly yoga retreat.
Jl. Nelayan, Canggu – Map me
+62-361-846-9251 / +62-811-3888-472 – info@serenitybali.com – serenitybali.com
Open daily to 7.30 am from 6 pm
Also Read >>>>Alkaline Restaurant @ Serenity Eco Guest House & Yoga
Also Read >>>> Review Serenity Eco Guest House & Yoga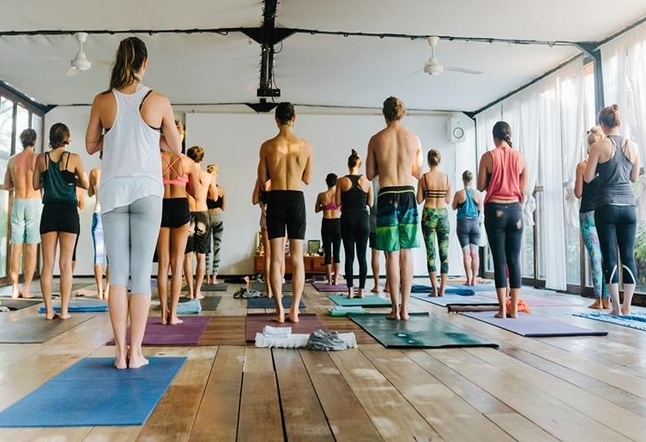 SAMADI BALI
Samadi Bali stands out as an all-inclusive healing center, specializing in Ashtanga yoga and the traditional Mysore style of self-practice. They are passionate about offering holistic wellness treatments in addition to their yoga classes and teacher training. They offer a range of spa and holistic treatments from massages to acupuncture, and they even have an organic cafe serving Ayurvedic-inspired food and drinks to nourish you post-practice. Fresh coconut, anyone?

Jl Padang Linjong No. 39, Echo Beach, Canggu – Map me
+62-8123-831-2505 – info@samadibali.com – samadibali.com/
Open daily to 7am from 9pm.

Also Read >>>> Samadi Bali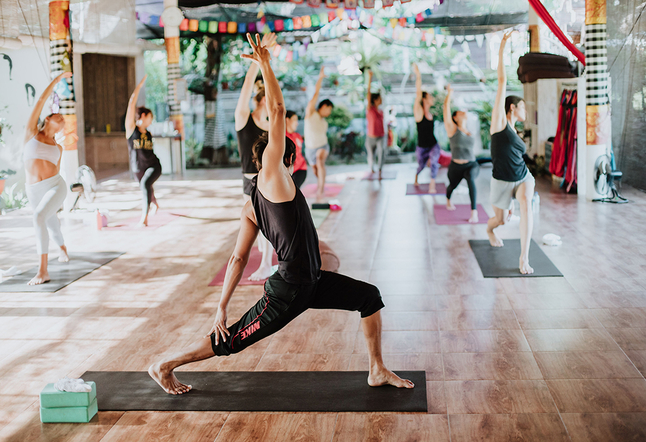 PRANAVA YOGA
Learn from the locals at Pranava Yoga, the staff all local Indonesian instructors that incorporate teaching from Balinese traditions. The grounds of this guesthouse are peaceful and serene and the views will have you forgetting that you are in the heart of bustling Canggu. This welcoming space offers daily classes that cater to all levels. Feeling adventurous? Try one of their anti-gravity classes!
Matra Bali, Jl Pantai Berawa Br Pelambingan No. 37 – Map me
+62-361-8446-486 info@matrabali.com – matrabali.com/pranava-yoga#schedule
Open daily from 8 am to 6.30 pm.
Also Read >>> Pranava Yoga Studio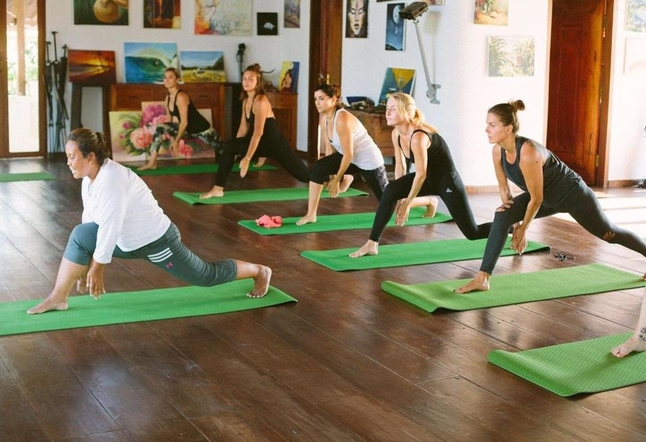 TRUE LOVE UNITY
Take your practise outdoors and connect with nature. This unique private villa located just outside of Canggu offers outdoor garden and art spaces for those who wish to take a deep breath in the open air. If you want to namaste inside, they also have a peaceful indoor studio available too for rainy days.

Jl Bumbak No.161, Umalas – Map me
+62-877-7730-3000 – pr.trueloveyoga@gmail.com
Open daily to 8 am from 8pm.


Also read >>> Where to practice yoga in Ubub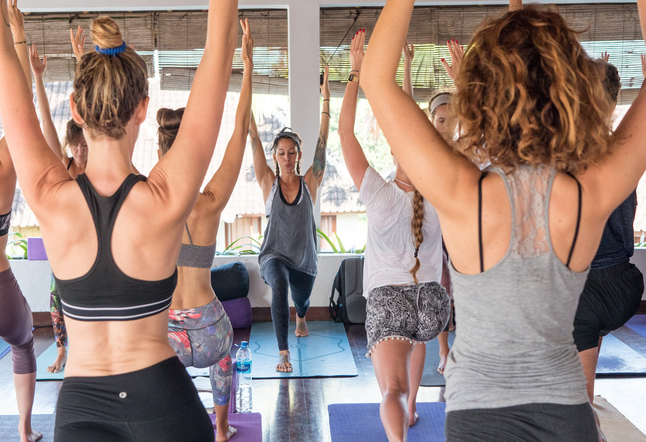 ECOSFERA
Located on the 3rd floor of Ecosfera Hotel and Spa is a stunning yoga studio that looks over the beautiful Echo Beach. Try their Sunset Flow and Meditation class for the full Bali experience!

Jl Batu Mejan, Echobeach – Canggu, Bali – Map me
+62-812-4642-6989 – info@ecosferahotel.com – ecosferahotel.com/yoga/
Open daily to 9 am from 10 pm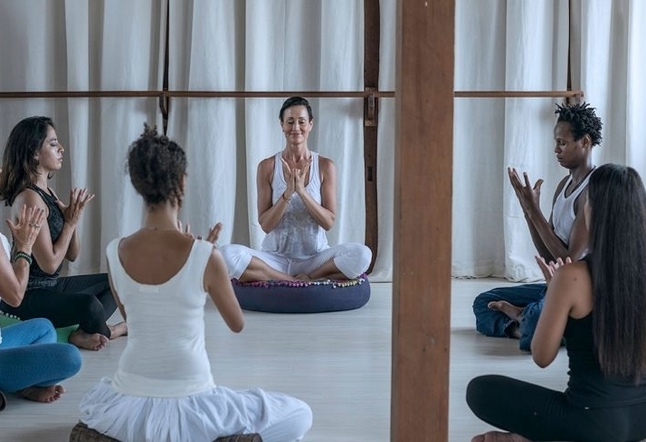 THE CANGGU STUDIO
Looking for a little more? The Canggu Studio offers a wide range of classes including familiar styles like Vinyasa yoga but for those looking to mix things up a little and add a bit of pace to your workout, you will also find boxing, Muay Thai, Dancehall and Modern Jazz. There is truly something for everyone!

Jl. Nelayan No.32, Canggu, Bali – Map me
+62-819-9957-0612 – info@thecanggustudio.com –thecanggustudio.com/
Open from Monday to Saturday from 8.30 am to 7.30 pm
ODYSSEY MVMT
Located directly in the heart of Canggu, this gym-style studio offers views of the trendy, popular streets below. If you want to be right in the action and feel the hip fresh spirit of Canggu, this is the place for you. They also have a cafe and a boutique on-site that offers a wide range of foods and products that support environmental sustainability.

Jl. Subak Canggu (Canggu Shortcut Road) – Map me
+62-821-47215665 Whatsapp +61-448-178623
hello@odysseymvmt.com – odysseymvmt.com/
Open from 7am to 7 pm Monday to Friday, from 7am to 5:30pm Saturday and Sunday

Also read >>> Where to find Yoga Mats in Bali
Also read >>> Where to find Yoga Pants in Bali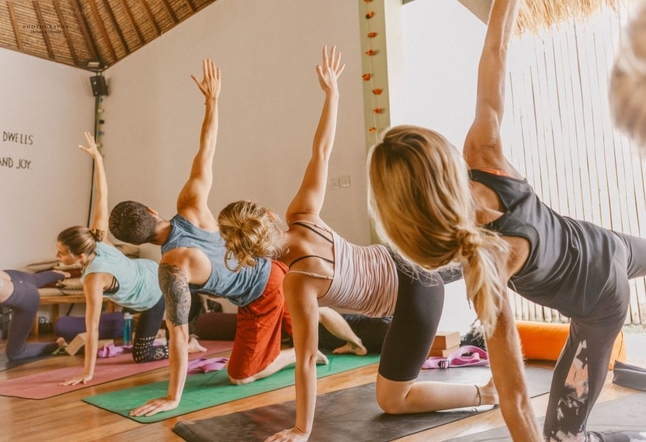 VILLA LOTUS 8
Take a deep breath and soak in the views, this unique rooftop Shala provides stunning views of the sprawling rice fields below. Located at a traditional yet contemporary resort, this class includes equipment as well as free use of the swimming pool and work area. You can stay on site for up to 30 days in the Lotus 8 accomodation. Perfecting your practise has never been so easy!

Jl. Raya Babakan No.5, Canggu, Bali – Map me
+62-361-9066338 / +62-812-39-443325 – villalotus8.com/yoga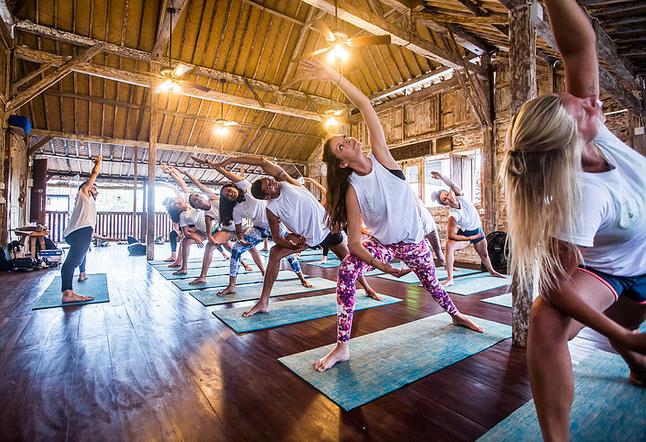 JOGA YOGA
Looking for something a little more lux? Joga Yoga provides the ultimate personal experience by offering both private group and one-on-one classes. To make it even more special, instructors are available by appointment to lead a private class at your villa or at your preferred (suitable) location.

Jl. Nelayan, Canggu, Bali – Map me
jogayogatraining.com/
Open daily from 6 am to 6 pm during the week and from 6 am to 6 Saturday and Sunday.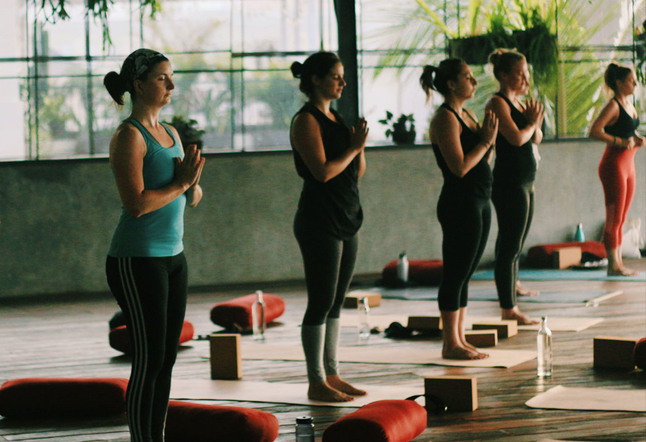 THE PEACEFUL WARRIORS
If you are longing to become an instructor yourself, or simply looking to deepen your yoga education, The Peaceful Warriors offer the opportunity to study with experienced yogis in certified Yoga Alliance 50HR or 200HR yoga teacher training.

Jl. Pura Taman Sari Jl. Padang Linjong No.22, Canggu, Bali – Map me
+62-812-3760-0771 – thepeacefulwarriorsyoga.com/
Open daily from 7 am to 10 pm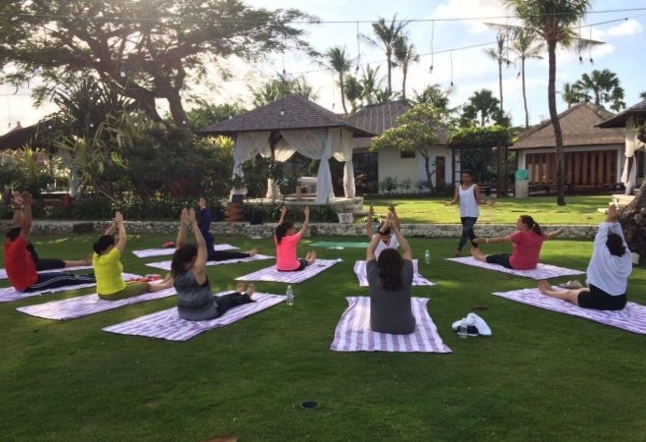 ALAMI YOGA AND HEALING STUDIO
The owner of this warm and welcoming open-air yoga studio infuses various pranic healing practices into her classes, including alami handwork, crystals and sound bowls.

Jl. Subak Sari No.18x, Canggu, Tibubeneng, Bali – Map me
+62-812-3739-4730 – Naira@AlamiYogaBali.com – alamiyogabali.com/
Open Monday, Wednesday, and Saturday from 7 am to 9.30 pm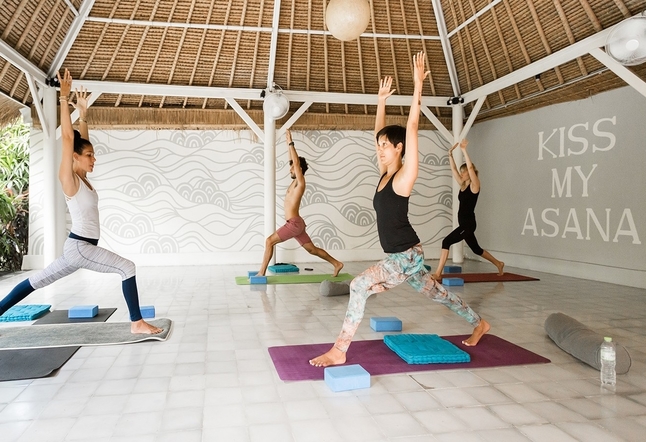 THE CHILL HOUSE BALI SURF & YOGA RETREAT
This yoga and surf retreat house is home to a light and bright shala with morning and afternoon classes in Vinyasa, Hatha, Yin and Kundalini style yoga for both guests and non-guests alike. They offer accommodation on-site, as well as a vegetarian café with fresh, locally sourced ingredients.

JL. Kubu Manyar 22, Br Pipitan, Canggu, Bali – Map me
+62-812-3958-3056 – thechillhouse.com
Open daily from 8 am to 10 pm

Also Read >>>> The ChillHouse Bali Surf & Yoga Retreat Review
Also Read >>>> How much is a yoga class in Bali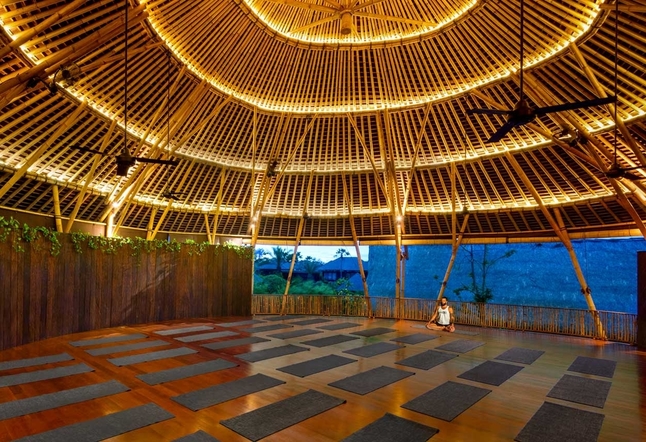 THE PRACTICE
This yoga studio is best known for its spectacular open-air bamboo structure which allows you to fully bask in the beauty around you. With views of the surrounding rice fields, you are sure to feel connected to the true spirit of Bali during your practice. The experienced teaching staff offers daily asana and meditation as well as workshops, masterclasses, teacher training, and other community events. If you are looking for a studio that values a focus on a commitment to the traditional principles of yoga, then this is the place for you.

Jl Batu Bolong No.94A, Canggu – Map me
+62-361-300-3446 – admin@thepracticebali.com – thepracticebali.com

Open daily 7 am – 8 pm.

Also Read >>> The Practice Yoga Studio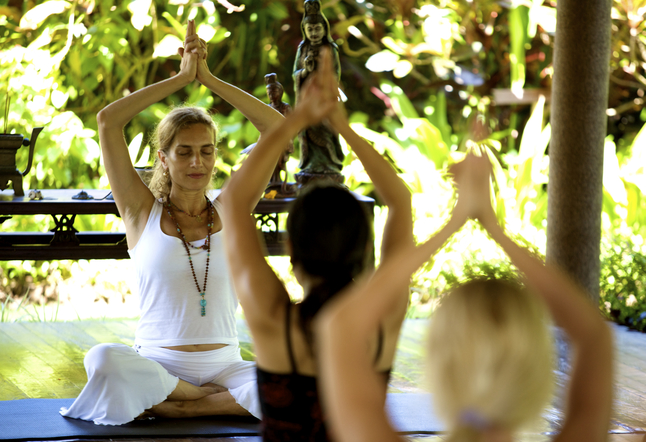 DESA SENI
This Eco Village and Organic Resort beautifully combine culture, ancient tradition, wellness, and healing. Translated, Desa Seni means "art village." Here you will find daily classes in Hatha, Yin, Restorative, Vinyasa, and more, all in a stunning village resort setting. Enjoy your practice while you take in the views from the tropical, open-air studio and afterwards you can enjoy some of the art showcased throughout the resort.

Jl Subak Sari No.13, Pantai Berawa, Canggu – Map me
+62-361-8446393 – desaseni.com

Also Read >>> Review of Desa Seni on YOGI TIMES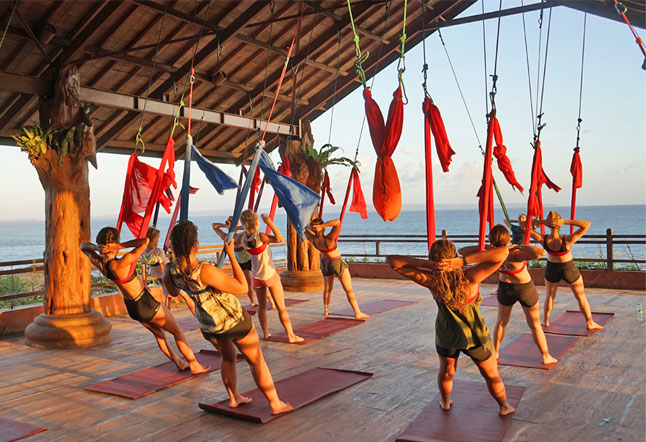 UDARA BALI
Just outside of Canggu overlooking Seseh Beach is Udara Retreat and Spa. Enjoy class upstairs in their spectacular 210sqm space overlooking the Indian Ocean, or in one of their 3 other Javanese wood Shalas. With a wide range of classes, healing water pools and gourmet health restaurant, you may never want to leave Udara's healing arms.

Jl. Pura Kramat, Cemagi, Kec. Mengwi, Seseh, Bali – Map me
+62-877-6537-7313 – udara-bali.com
Open 24hrs
In short
Thanks to these unique and beautiful studios, the Canggu yoga community continues to thrive and expand. The yoga movement here is just like the city itself— combining the old and the new, the traditional with the modern, and the peaceful with the vibrant.


For more info on Bali's best spots for the modern yogi STAY | SPA | PLAY | EAT | SHOP | YOGA – Download our ULTIMATE BALI GUIDE for free.
Facebook Notice for EU! You need to login to view and post FB Comments!