sitting down with yoga teacher octavio salvado
Published: 16-01-2016 - Last Edited: 15-11-2022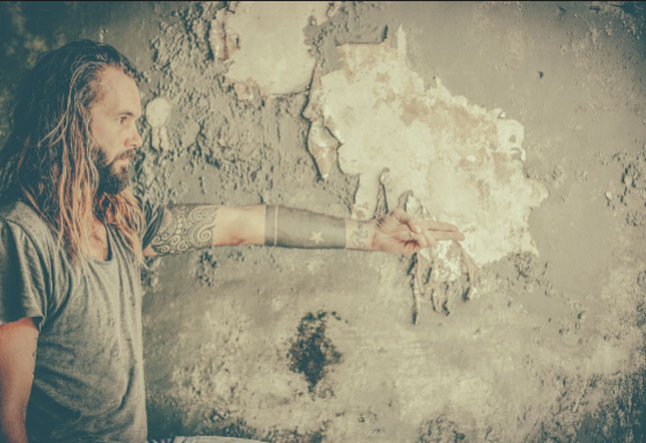 an interview with Octavio Salvado in Bali
A coffee drinking, tattoo loving, motorcycle collecting character, Octavio Salvado doesn't match with the general public's idea of a yogi. Born in Australia, he split his time between Thailand and India, amongst a mix of practicing with his teacher, studying music and philosophy, teaching and motorcycling around until he found his home in Bali.

Octavio quickly gained a following of dedicated students, drawn to his very personal mix of vinyasa peppered by skilled storytelling that leaves no doubt to an enthusiastic passion for Hindu myths.
On the wake of opening a new yoga studio in Bali, he sat down with us to explain how his nonconformist tendencies doesn't mean he takes hatha yoga any less seriously and to discuss his new venture, The Practice.

The studio was conceptualized over a year ago alongside business partner Rob Dubois and is due to open on February 1, 2016 offering a full schedule based on traditional hatha yoga teachings.
Lucia G. for YOGI TIMES: How would you define yourself as a teacher?
Octavio Salvado: I teach what I know, what I love and what I practice.

My driver is Tradition, however, I like to temper my disciplinary, perhaps rigid side with inappropriate behavior and unintentional bad jokes.
Also Read>>> Online Yoga Teacher Training
I like to think of myself as a relatable teacher, passionate, hard working and openly imperfect.
LG: You opened a large yoga studio called THE PRACTICE near the beach of Batu Bolong in Bali, Indonesia, can you share a bit about your vision?
Octavio Salvado: Between you and me, I want to destroy mindless Vinyasa like it was the Death-Star.

Asana has incredible pranic potential, yet if it's practiced with no real knowledge, of the Vayus for example and how each pose category affects our prana and therefore our minds differently, instead shows up as a Molotov cocktail of one-off, misaligned, breathless postures set to an over-lyrical, too many beats per minute playlist, then Asana itself becomes quite dangerous actually.
And I'm not just talking about physically. Prana really doesn't discern between our good qualities and our bad, it just charges up the whole piece.

So I guess the practice was built largely because of what I saw happening on the international vinyasa scene.

It scared me.

At the practice, we will add back in the knowledge, the mindfulness and perhaps most importantly, the patience that makes yoga truly great.

We will teach asana in conjunction with meditation, pranayama and 'off-the-mat' programs to help yogis stabilize and calm their minds, refine their virtues and at the same time, charge up their nervous systems and cultivate more power through physical practice.

As I said, I'm a product of tradition and both myself, Rob (co-founder in the Practice) and the Practice Team are committed to bringing traditional knowledge back into mainstream yoga.

That's why the Practice was born…. and also because on the day I got fired from my last teaching job (for being ungovernable, I think), Rob looked at me over our coffee mugs and said, "I guess we're building a yoga center then?".

Haha! Classic!

LG: What got you into yoga in the first place?

Octavio Salvado: Destiny…. and trial and error.
LG: Your life before yoga was?
Octavio Salvado: A Molotov cocktail of misaligned thoughts and endeavors set to an over-lyrical, too many beats per minute playlist! You know, drugs, fighting, women. The usual.
LG: How would you describe your style of yoga?

Octavio Salvado: I follow the rules…. most of them. I teach what has been taught for thousands of years because it works. Follow the SUN in the mornings. Follow the MOON in the evenings.

And in between, set the whole day on FIRE. I know this is cryptic. Welcome to yoga.
LG: Any particular teacher, big influencers in your life?
Octavio Salvado: The world is the greatest mirror of my mind.

The level of openness of my partner's honest, intuitive heart is the greatest measure of my integrity and authenticity.

There have been many incredible teachers along the way to whom I am eternally indebted, but its life, love and loss that have taught me the most about who I am.
LG: What do you consider the most inspiring and challenging part of teaching yoga to many people?
Octavio Salvado: Inspiration and challenge go hand in hand don't they? That's why I love doing teacher training so much (Even though I dislike the name 'teacher training').

Over that month of committed practice, seeing people's lives fall apart in one way or another is both the most beautiful and the most heartbreaking thing to be a part of.
LG: If there was one thing you would want every student to learn from your teaching, what would that be?
Octavio Salvado:
First of all, they are not 'my' teachings. No point reinventing the wheel, as they say.

These teachings belong to Tradition. What I wish for all of us is to get a grip on being imperfect, to be ok with that and to stop thinking that there are elements of who we are that don't deserve to be loved.

What I enjoy about so many of the Hindu myths associated with yoga is that they teach us that EVERYTHING that we are is something that we need.

Yoga is about figuring out how to use our totality. That's what I'm learning; that I'm enough, I'm lovable, just as I am. So naturally, I wish that for everyone.
LG: When did Bali start to feel like home?
Octavio Salvado: I think it was immediate. Well, after I found some decent coffee, then it was immediate.
LG: Is there another place in the world that feels like home to you?
Octavio Salvado: It's hard not to go esoteric on this one. But I'll refrain. Right now Bali is the only place that truly feels like home. This is where I want to be.
LG: What has been your greatest lesson in life and why?
Octavio Salvado: That real love endures. My mum and dad were together for 50 years before mum died.

They were married for 40. It wasn't always easy, but they never gave up, they just kept on loving each other through everything. Dad kept on kissing her and buying her flowers.

And mum kept on adoring him and laughing at his bad jokes. Their love is my greatest lesson. Why? Because I want a love like that.
LG: Of all the things you experience in life what brings you the most joy?
Octavio Salvado: Waking up. Waking up in the morning brings me the most joy.

In that moment I understand what an incredible gift life is.

I see my sweetheart, XYZ lying there sleeping, I see the first rays of light coming in through the window, I hear the nature all around me, I think about my day, overflowing with people I love and projects that inspire me.

Just waking up in the morning fills me with a joy that is unsurpassable.
LG: A last word of wisdom to your students and the world?
Octavio Salvado: "Just Practice".
The Practice is located in the Canggu area of Bali, 94 Batu Bolong (opposite Laca Lita restaurant). Check out thepracticebali.com