Fermented food has soared in popularity in recent years, partially due to the ever-increasing interest and research into gut health. Kombucha, a mildly fizzy, slightly sour drink, is popular with health-conscious consumers (here's looking at you, yogis!). More and more mindful consumers want alternatives to processed, sugar-filled fizzy drinks and kombucha's unique and natural flavors makes it the perfect substitute.
Kombucha is fermented from sweetened tea and a specific culture known as a scoby. Scoby stands for 'symbiotic culture of bacteria and yeasts'. The bacteria and yeasts convert sugar into ethanol and acetic acid, which gives kombucha its distinctive sour taste.
Fermented foods and drinks like yogurts, sauerkraut, kefir, and kombucha all contain live microorganisms and produce probiotic bacteria, which can help to balance our gut, aid digestion and reduce inflammation. Kombucha is rich in antioxidants and small amounts of vitamins and minerals produced when the yeast breaks down the sugars, including vitamin C and B vitamins B1, B6 and B12.
Kombucha is classified as a functional food because of its health benefits, but it is not advised for pregnant or breastfeeding women or those with a compromised immune system. Sometimes drinking too much kombucha can lead to side effects such as stomach aches, nausea, and dizziness. Prolonged fermentation is not recommended because of the accumulation of acids, which could reach harmful levels.*
Kombucha is usually made using sugar, cold filtered water, black/green tea (bags or loose leaf), and a scoby (purchased online, or from an existing batch of kombucha). To make kombucha, the tea and sugar are steeped in boiled water and left to cool. The scoby is added, the mixture is covered then left to ferment for up to a week in a cool environment. The longer the kombucha ferments, the fizzier and stronger it becomes. During fermentation spices or fruit can be added for delicious flavor profiles.
As it is fermented, strict guidelines must be met in order to ensure that kombucha is safe for consumption – if made incorrectly it has the potential to make you ill. We advise buying kombucha from a reputable source rather than making it at home.
If you're in Bali, here are some of the best kombucha brewing companies, sold all over the island:
Happy Kombucha Secret Lab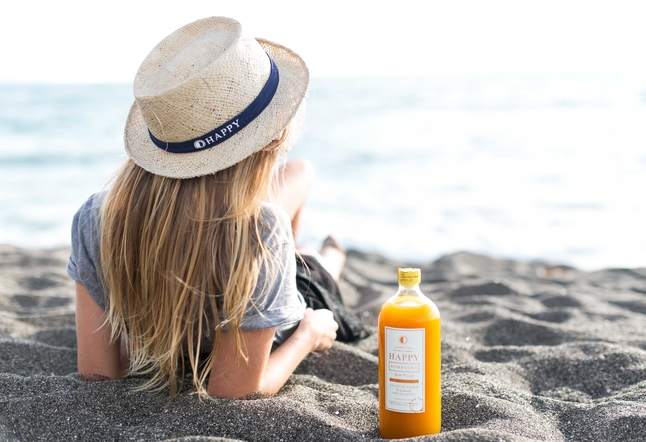 happykombuchalab.com
Whatsapp: +62-813-6232-485
Happy Kombucha Secret Lab offers delicious kombucha mixes you'll love sipping out of a nice wine glass! Vibrant flavors such as pineapple, peppermint, lime and basil and watermelon, rosemary and black pepper can be ordered online and delivered right to your home! Happy Kombucha operates on a zero waste philosophy, so they sell their products in upcycled bottles you can refill at one of the selected venues throughout Bali or by having them picked up at home. We love their commitment to supporting organic agriculture, sustainability and overall philosophy of living in the present. You can find Happy Kombucha at cafes all over Bali!
For more info on Bali's best spots for the modern yogi

| STAY | SPA | PLAY | EAT | SHOP | YOGA |

Download our ULTIMATE BALI GUIDE for free.
Kombuchi Brewing Co
kombuchibrewingco
Jl. Padang Linjong no. 73, Canggu
+62-822-4775-4770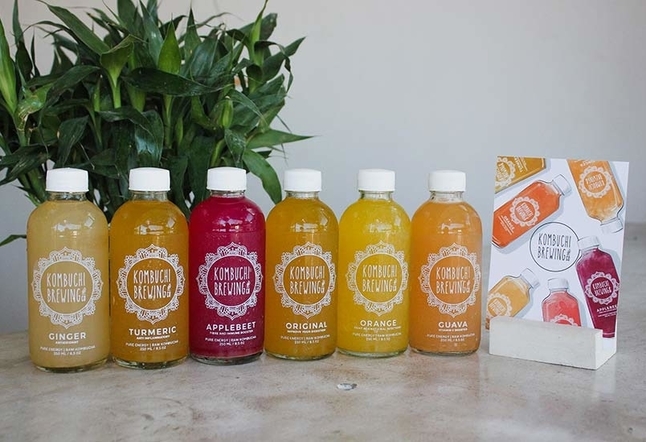 This Canggu restaurant not only brews their own delicious kombucha but also have amazing smoothie bowls that are to die for! Freshly brewed Kombucha is sold in 250ml and 1-litre bottles in the following flavors: original, guava, apple and beet, orange, ginger, and turmeric. If you're in Canggu, this is a must stop to stock up on kombucha and have a bite to eat!


Mosaic Kombucha
is new on the Bali market, they are available through orders on their IG account here and you can drink it from the Tab at a few locations in Bali such as Alchemy Restaurant in Ubud.
We love it as the Kombucha is made with natural fruits, the mother is not feeding on sugar.!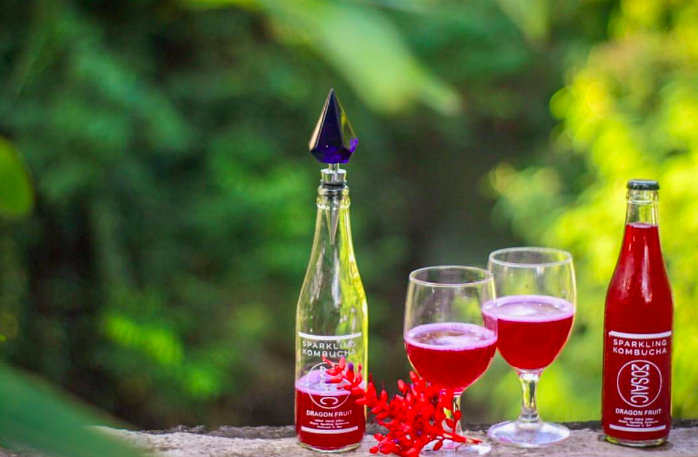 Good Life Kombucha
Owned and managed by young English-born Carly, can be found all over Bali, they have the biggest distribution on the island: from your supermarket, fitness studio to your healthy vegan restaurants. IG – FB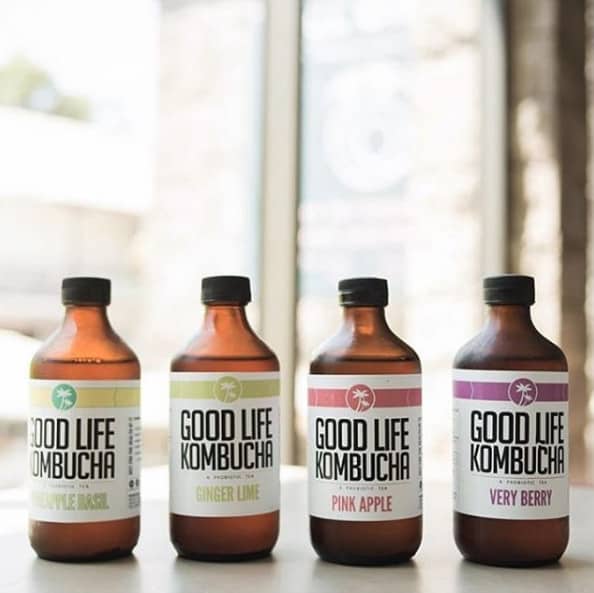 * Always ask your doctor if you are concerned about introducing Kombucha into your diet or if you have any adverse side effects after consumption.
Kombucha Good Feel

is a probiotic fermented tea with high antioxidants & vitamins.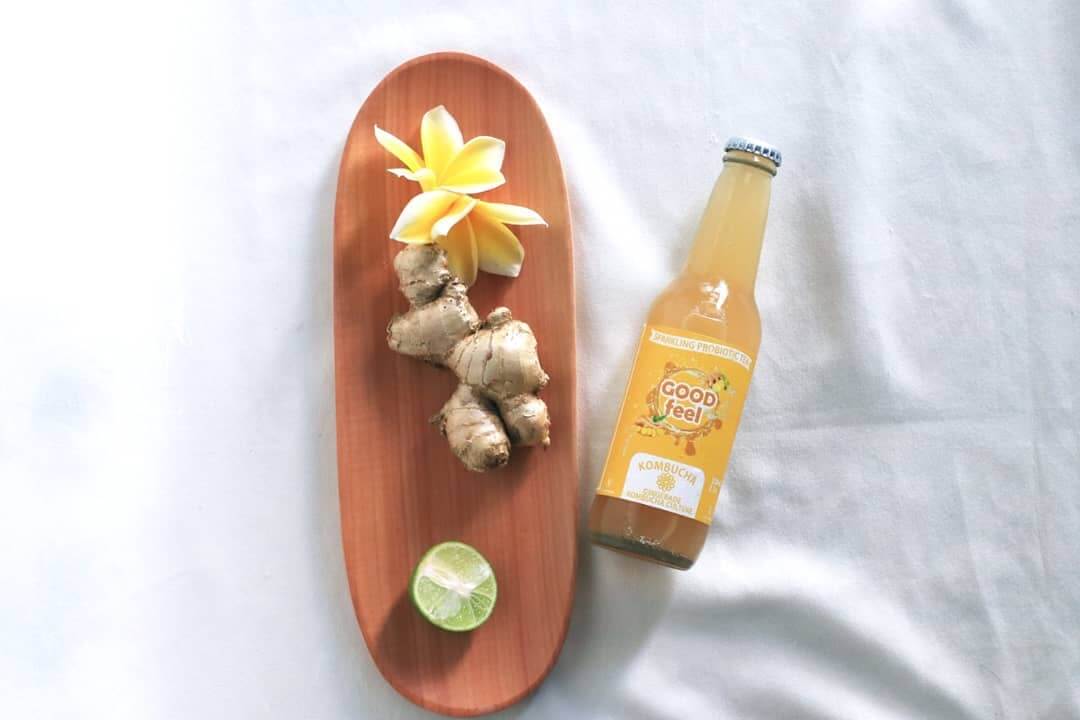 They offer wholesale and retail in case you are interested. IN – FB
Bali Bucha

utilizes only locally produced ingredients, such as 100 percent whole-leaf organic black tea. To optimize healthy bacteria, we utilize a 21-day slow brewing cycle. They use only 100% natural juices and flavorings that we squeeze ourselves. Bali Bucha is a strong and flavorful kombucha beverage that tastes best when served ice cold or over ice. IN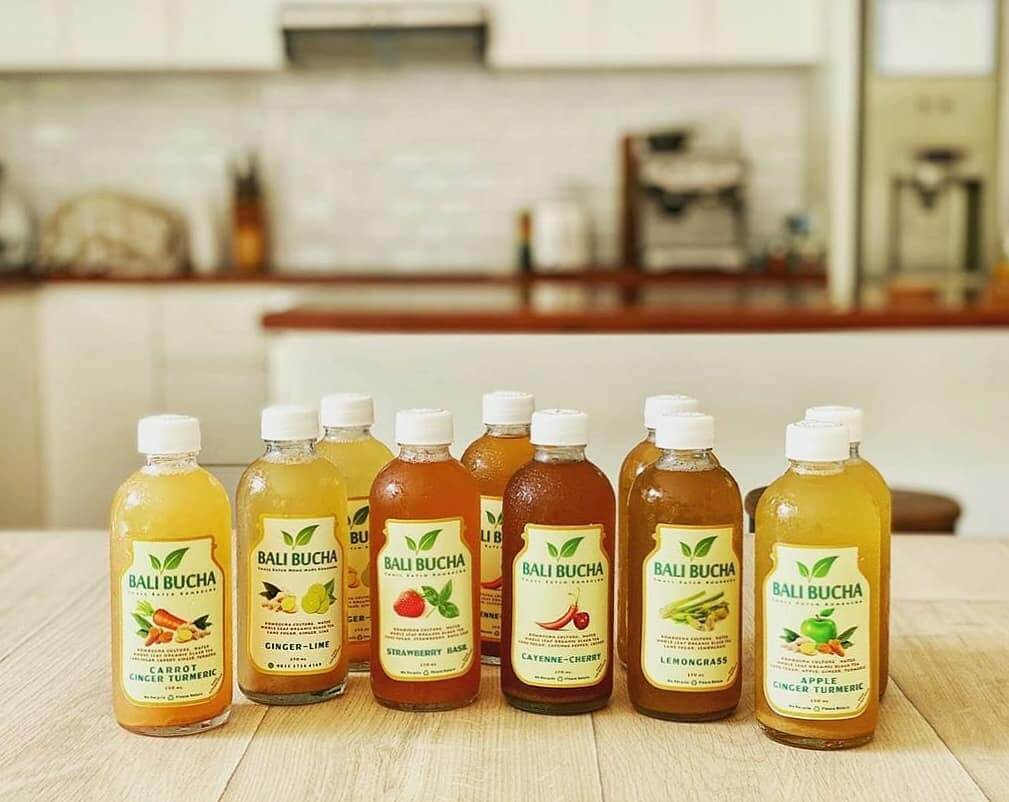 Bali Bucha may be consumed at any time of day, especially first thing in the morning to provide your gut with essential nutrients. It's also a fantastic way to give your body some low-carb, high-energy nourishment in the afternoon.

For more info on Bali's best spots for the modern yogi

| STAY | SPA | PLAY | EAT | SHOP | YOGA |

Download our ULTIMATE BALI GUIDE for free.