samadi yoga studio, canggu, bali
Published: 03-11-2014 - Last Edited: 10-03-2022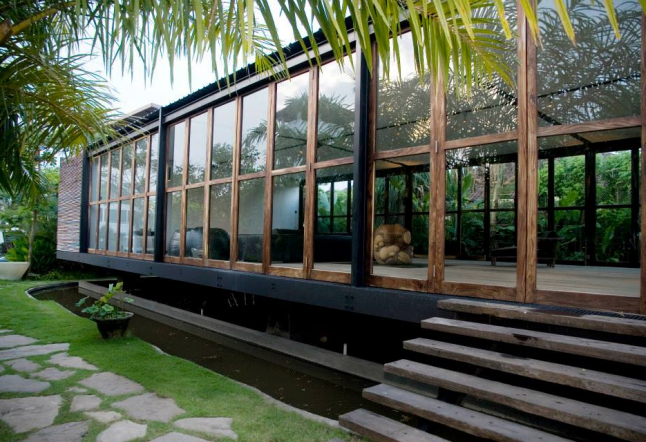 Samadi welcomes us with an ambitious promise – a center where one can achieve "radical wellbeing and self-empowerment". In the words of Jacques, co-owner, "people come to us to change their lives".
Ashtanga Yoga Studio in Canggu, Bali
How do they go about this? They offer a holistic combination of daily yoga classes, healthy vegetarian food, healing therapies, and community building events that equip visitors with tools for self-improvement.
Nestled in a quiet garden not far from Bali's Echo Beach, Samadi boasts an impressive Yoga Shala
The yoga studio is a cube-like structure resting on a water pond in the middle of a luscious tropical garden that looks more like something out of a funky design resort than a yoga studio!
Canggu fixtures, as well as drop-in visitors, participate in the daily early morning Mysore Ashtanga classes in the stunning studio, worth a look even if you don't join a class – all wood and with big windows that let in the morning light and look onto greenery.
Damien and Andrea, also partners in the center, either lead or carefully choose visiting teachers to assist students through their practices. Other styles of yoga-like Vinyasa, Yoga for Surfers, Yin Yoga, and Hatha are sprinkled throughout the studio's schedule, but Jaques is very clear – Samadi's strength is Ashtanga.
However, Samadi is more than a yoga studio, it is a concept for wellbeing, and the offerings are varied. Alternative therapies such as Cranio-Sacral healing and Chakra balancing take place in an immaculate spa area.
If connecting to like-minded souls is what you're after, movie nights, special dinners, and are organized organic farmers' markets go on throughout the month and a shop has opened recently where you can find yoga lifestyle accessories as well as a wide range of locally made organic skin-care products.
For those that fall in love with Samadi – you can even live here. The center has two suites available if you want to be fully immersed in the life-changing activities.
Samadi Price Range Yoga Classes:
Drop-in 140,000 IDR
6 class pack 700,000 IDR (use within 3 months)
12 class pack 1,300,000 IDR (use within 3 months)
1 month unlimited all classes 2,800,000 IDR
Samadi Price range holistic therapy single treatment:
From 1,200,000 IDR to 2,450,000 IDR depending on the treatment.
Great for: combining several therapies to enhance personal breakthroughs
Open: Sunday to Friday from 7:00 am to 9 pm, yoga class schedule might be later, it varies every couple of months so best to check their website for an updated schedule. Holistic therapies by appointment.
The best thing about this place: The beautifully designed yoga room resting on a pond in the middle of a tropical garden.
For more info on Bali's best spots for the modern yogi
| STAY | SPA | PLAY | EAT | SHOP | YOGA |
Download our ULTIMATE BALI Travel GUIDE for free