yoga in bali
Published: 16-10-2012 - Last Edited: 05-04-2022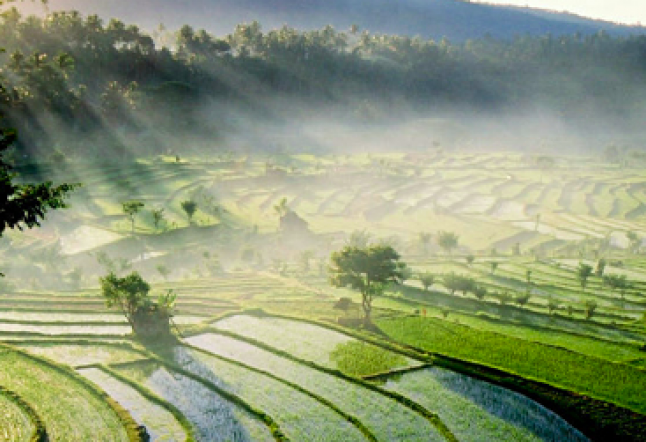 Whether you're a seasoned yogi or just getting started on your journey, no trip to Bali would be complete without a glimpse into the vibrant and booming yoga scene on this sacred island. You'll find just the right studio and teacher to match your level and lineage. Yoga classes in Bali are offered in every imaginable style, from Ashtanga to Bikram Yoga to Iyengar Yoga and Vinyasa and through to Zen Buddhist meditation.
YOGI TIMES has traveled the island to give you the best and most up-to-date tips on practicing yoga in Bali.

As a starting point, we highly recommend that yogi aficionados head directly to Ubud, where you'll find the highest concentration of studios and events.

When you're closer to the airport in the southwest, don't miss out on a unique session with Iyengar Yoga Teacher Olop Arpipi in Seminyak or a visit to the enchanted yoga village Desa Seni in Canggu.
Also Read >> Where to buy Yoga Mats in Bali
Also Read >> Where to Buy Yoga Pants in Bali
Also Read >> How much is a Yoga Class in Bali
UBUD
The artist's town of Ubud plays host to the annual Bali Spirit Yoga and Music Festival, usually held in March. This week-long event draws teachers, students and musicians from all around the world. Over the years, it has consistently grown from being a small community event to become a major, globally recognized event in the yoga scene.
Not to be missed: The Yoga Barn is the largest studio in Ubud, located on Jl Raya Pengosekan behind the Thai restaurant Siam Sally.  Tel +62361 971 236
Soulshine Bali, Michael Franti's Yoga Retreat Center, hosting numerous retreats, teacher trainings, and even weddings: Jl. Abarawati, Ubud, Bali – 80571, 
Tel 085.333.499499
For Ashtanga practitioners: Ashtanga Yoga World with Prem and Radha, offering daily Mysore classes as well as several intensives. ashtangaworld.com
Intuitive Flow is a yoga studio is located in the Penesteran area, near the Don Antonio Museum and Alchemy Restaurant.  Linda Madani teaches yoga pranala (a vinyasa mix) and meditation and offers healing sessions.
Taksu is a spa, healing center and yoga studio in the heart of Ubud: Jalan Goutama Selatan, a side street just off Jalan Hanoman. T: Tel +62-361-971-490. They offer daily classes in hatha yoga, vinyasa, meditation and restorative yoga, as well as workshops and teacher trainings.
Five Elements is a Yoga and Healing Center housed a spectacular bamboo structure and located about 20 minutes from Ubud center. Sample their fine raw cuisine, and try one of their wide range of healing treatments, a colonic hydrotherapy, or book a yoga retreat there. Not to be missed.
Radiantly Alive: Jl Jembawan 3 (opposite Bali Buddha) offers ashtanga, yin, iyengar, vinyasa, qigong, restorative, kirtan, tai chi, kids yoga, teacher trainings, raw food cooking classes, and more. Well worth a visit!
Gaia Retreat Center is a retreat center with an astonishing view of rice fields. They offer retreats, raw cooking classes and workshops, and are also planning a floatation tank, colonic facilities, and therapy rooms.
Anand Ashram: A residential Ashram that also offers daily yoga, mantra and meditation, as well as kirtans, dharma talks, trainings and workshops:
Jl. Sri Wedari Km 3, Ubud. Tel +62.361.972.633
Ubud Bodyworks has three locations around the Ubud area: the Ashram Munivara, the Bodywork center, and the Ubud Aura Spiritual Retreat Centre. They offer daily Kundalini Tantra yoga classes, meditation, medicinal healing, special ceremonies, and therapeutic practices.
The Purist Villa is a small boutique hotel that offers spa treatments, healthy food and yoga. They use recycled wood, Indonesian artifacts, natural lava, limestone and green river stones, all in a hip designer compound in the middle of rice fields.
Jl. Tirta Tawar, Banjar Kutuh Kaja, Ubud. 80571, Tel +62 361 974454 
Try Yoga at the Green School, 25 minutes from Ubud, near Five Elements, practice in this amazing open-air bamboo pavilion on the Ayung river. Classes held Monday through Friday.
SANUR
Hot Yoga Studio Leona, located in the lovely resort compound of Hotel Puri Tempo Doeloe. Classes Mon thru Sat at 5pm. Jl By Pass Ngurah Rai 209, Sanur – Bali, Tel +62.361.286542
Manik Organik Yoga (CLOSED) : Several classes daily at this studio, also home to a vegan/raw food cafe and natural-themed shop. Jl. Danau Tamblingan 85, Sanur – Bali, Tel +62.361.855.3380 
Power of Now Yoga Oasis, Jl. Merta Sari Beach Front. Tel 0813-3831-5032, Sanur – Bali. Newly built (2012), this beautiful bamboo structure at the Mercure hotel faces the ocean, perfect for morning or evening classes. They also host retreats, events and teacher trainings.
Meditation with Pak Merta Ada at Bali Usada. Various instructors offering a 6 day meditation retreat at Pranadewi Mountain Resort in Tabanan.
CANGGU
Desa Seni: This jaw-dropping yoga village resort is a destination in itself. It's also our favorite yoga practice in Canggu. A variety of drop-in daily classes are offered. The restaurant is also worth a visit before a dip in the salt water pool.
Villa Serenity is located near Eco Beach, a Bali surfers' paradise. It has dormitory rooms and one and two villas for rent as well. Daniel, the owner, hosts retreats from around the world.
FINNS Recreational Club You can purchase a weekly pass to get access to this private, members-only club. The Canggu Club offers three classes a week at 10:15 am on Monday, Tuesday and Thursday.
Samadi is a tucked away yoga village havan. Check out their local producers market on Sundays for an extra special taste of Canggu. 
The Practice offers classes in a round house of bamboo at the bottom of Batu Balong. A yin class after a surfing session followed by a bite at In The Raw? Perfect Bali afternoon.
SEMINYAK
Iyengar Yoga Teacher Olop Arpipi is a definitive must when traveling to Bali for yoga. Olop is a master Iyengar teacher and is known for his warm sense of humor.
Prana Spa and Yoga is conveniently located in the heart of Seminyak, at the Villas Bali Hotel & Spa.  Jalan Kunti 118X – Seminyak, Bali. The yoga room is small but cozy.
Jiwa Yoga: Hot Yoga in Seminyak. Yes, you can – if it's not hot enough for you already! Jl.Petitenget 78, 80361, Seminyak, Bali. Tel +62 361 841 3689
KEROBOKAN
Soham Wellness Center: Soham has hot and cold pools, we love them, we feel so clear and full of energy when we come out!
Jalan Lebak Sari, Gang Stap No. 7, Kerobokan Kelod, Kuta Utara, Kerobokan Kelod, North Kuta, Badung Regency, Bali 80361 
 
T: +62.361.474.1616
KUTA
For yogis looking for even more heat in Bali: Bikram Yoga: Istana Kuta Galeria blok 7-8, Central Parking, Kuta, Bali, Tel 0361-9644361. Classes are at 5 pm on Monday, Wednesday and Friday, 6pm on Tuesday and Thursday, and also 10 am from Tuesday through Sunday.
ULUWATU
Karma Kandara is a nice boutique hotel offering yoga and healthy breakfasts on Sunday morning, and yoga on request, all with an amazing Indian ocean view from the cliffs of Bukit.
Another option we have not tried yet is: Morning Light Yoga at Uluwatu Surf Villas.
AMED
Golden Rock Retreat Center: Aas, Bunutan, Abang, 80852, Karangasem, Bali. This is primarily a detox retreat center on the Eastern tip of Bali. They have a small yoga platform with space for a maximum of ten people, with gentle twice daily classes to accompany guests' fasting programs.
Life in Amed. Facing the Ocean, perfect get away and snorkeling place as well as a studio above the restaurant.
Jl. Amed – Seraya, Lean, Bunutan, Abang, Bunutan, Abang, Kabupaten Karangasem, Bali 80852
T: +62.363.23152
LOVINA (north)
SamYoga Bali: Dusun Panti, Desa Kayu Putih, Lovina, Singaraja, North Bali is a small hotel offering yoga, meditation, and spa treatments. Stay in one of their bungalows, the view is spectacular.
Tel: +62 81 337 6768 93
East of Lovina: the Brahmavihara Arama Buddhist Temple in Buleleng. You can practice vipassana meditation in Bali.  Retreats are offered at this beautiful monastery.
Zen Resort Bali. A luxury boutique retreat in Singaraja. Perched above the Sea of Bali, tucked into a tropical landscape of rice terraces, vineyards, natural forest and luscious designer gardens. Offering yoga, meditation and ayurveda.
PEMUTERAN

(north)
Puri Ganesha Villas Bali. Practice Ashtanga Yoga with Stella in their beautiful studio.
Bikram Yoga at Jeda Villa Retreat: Uphil from the main Road, view of the Ocean and Volcano a Bikram Studio opened its doors mainly for retreats in October 2014, stop bye, there might be a spot for you!
NUSA LEMBOGAN

(island off the southeast coast of Bali)
The Yoga Shack, located in the Secret Garden Bungalows and working closely with Big Fish Diving, offers classes 9 am, 4 pm and 6pm. They teach vinyasa flow, yin and yang, and hatha in their octagonal-shaped, bamboo yoga shala.
GILI ISLANDS
The three Gili Islands (Gili Trawangan, Gili Meno, and Gili Air) off the coast of Lombok can be reached in under two hours by fast boat from the Eastern Bali harbour town of Padang Bai.
Gili Yoga on Gili Trawangan, the busiest of the 3 islands. The Yoga and Freediving Center has one or two classes a day of vinyasa, hatha or yin yoga, depending on the seaon. Here is the schedule.
H2O Yoga and Meditation Centre on Gili Air, the smallest – and quietest – of the 3 islands. Hatha yoga classes are offered twice daily, with additional meditation classes held several times a week. The Centre also hosts yoga, meditation, reiki and qigong retreats, workshops and yoga teacher trainings.
For more info on Bali's best spots for the modern yogi

| STAY | SPA | PLAY | EAT | SHOP | YOGA |
Download our ULTIMATE BALI GUIDE for free.
If you would like to be added to our "yoga in bali" story, please contact us at [email protected]