stand up paddle yoga in bali
Published: 19-03-2013 - Last Edited: 24-10-2022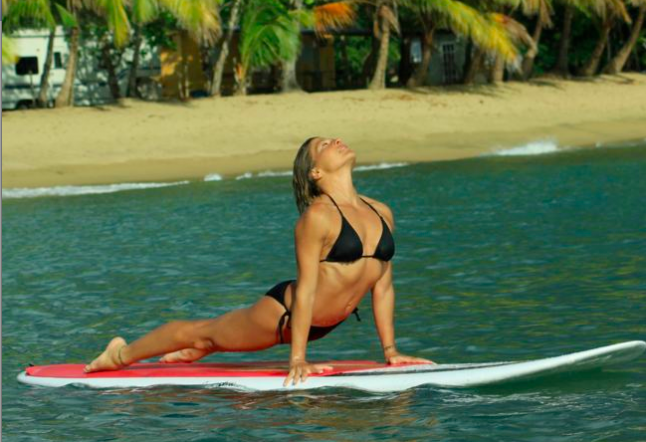 When someone first mentioned the term SUP yoga, I busily wracked my brain thinking of what it may stand for: The trouble was, that once the abbreviation of Stand Up Paddleboard yoga was revealed, the image file of my brain was none the wiser! So, upon hearing that the American craze has now hit Bali at Nammos Kandara, I just had to try it!
The experience turned out to be just what the doctor ordered. For fellow monkey minds out there, the whole SUP yoga experience provides the perfect tonic allowing one to get fully present and switch off the internal dialogue. What with the ocean sounds and rhythms combined with the need to focus on balancing one's body on the board, there is absolutely no room for the past or the future.
A basic ability to paddle is encouraged in order to maximize the yoga time but according to Leilani, our surf yogi goddess, it can be modified for all levels just by varying one's position on the board from knees to standing. Upright knees were the preferred stance for this pre-sunset experience.
The shallow lagoon was especially calm and it was hard to believe that a Vinyasa flow series could be carried out with such ease. So much so, that an Eskimo roll was needed at the end of Sivasana (corpse pose) to get the body wet!
It's difficult to decide the highlight as every aspect from the setting to the paddling to the yoga experience to the instructor evoked a number of superlative adjectives. Was it the exhilarating Downward Dog (with a view) or the amazingly stable three-legged pose, or Leilani's economical yet intuitive dialogue?
What was especially surprising is that the poses could all be carried out as normal with only one minor adjustment to look straight ahead for the side poses. The physical side of the workout surfaced the next morning in the shoulders and the stomach providing further evidence of its ability to condition the core.
To finish off our SUP yoga in Bali experience, a refresher towel, fresh juice and fluffy beach towel were found waiting for us at the Nammos beach bar. Coinciding with some sunset tunes, the euphoria could be extended that little bit longer.
Thank you to the rain stopper, Leilani, Karma Kandara staff and Mother Nature for providing the perfect lesson in 'going with the flow'!
For more info on Bali's best spots for the modern yogi
| STAY | SPA | PLAY | EAT | SHOP | YOGA |
Download our ULTIMATE BALI GUIDE for free
Read next >> yoga in bali at radiantly alive