just dance … at the yogabarn
Published: 01-07-2013 - Last Edited: 15-11-2022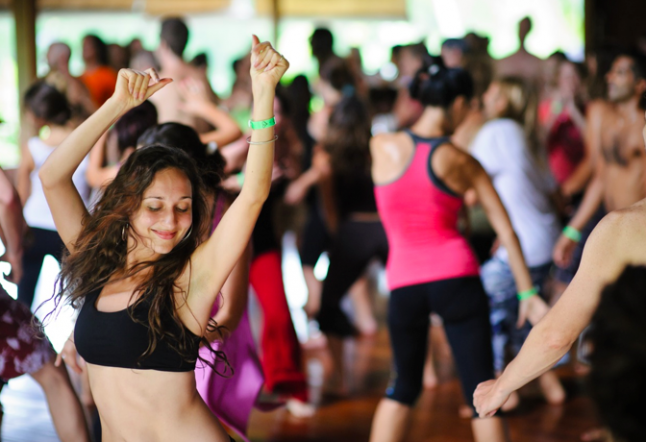 Boogie on down with DJ Charley, co-founder of the Yoga Barn on a Sunday morning from 10 – 11:30am. Rock in at your leisure anytime during this time and space wholly dedicated to those intent to 'dance like no one is watching'. Leave your inhibitions behind, celebrate your body, movement and the freedom to express yourself in broad daylight. The atmosphere is almost trance like as long term residents, kids and tourists alike come together to groove to Charley's carefully choreographed mix adhering to only one rule of 'silence' in the space. Kung Fu your broken relationship away, awaken your inner Diva, seduce your next lover, diffuse your restless energy, whatever your heart desires. Surrender your body.
Darting eyes and self conscious dance moves quickly dissipate as the non- judgemental, liberated regulars carve up the open space oozing bliss and community. Catch the eye of another diva momentarily, choose to synch moves or drift off into your own blissful direction to the beat of your own drum. Transcend the ages grooving to Charley's tunes and come back again next week to hear a completely new mix. Rise above the comparisons. Surrender your mind.
Come prepared to sweat in your favourite free flowing dress or harem pants and embrace the next 90 minutes as your body engages in a full mind-body workout. Drop into the trance and watch the stress melt. Linger longer over a vegetarian buffet in the on-site Garden Kafe afterwards and enjoy your new lightness of being. The best part of all being that there will be no hangover tomorrow. Surrender your soul.
For help designing your healthy holiday to Bali, visit Janelle Maree's website – healthytravelsbali.com
For more info on Bali's best spots for the modern yogi STAY | SPA | PLAY | EAT | SHOP | YOGA – Download our ULTIMATE BALI GUIDE for free.
Read next >> les enfants du paradis