things to do in ubud bali
Published: 29-09-2023 - Last Edited: 30-09-2023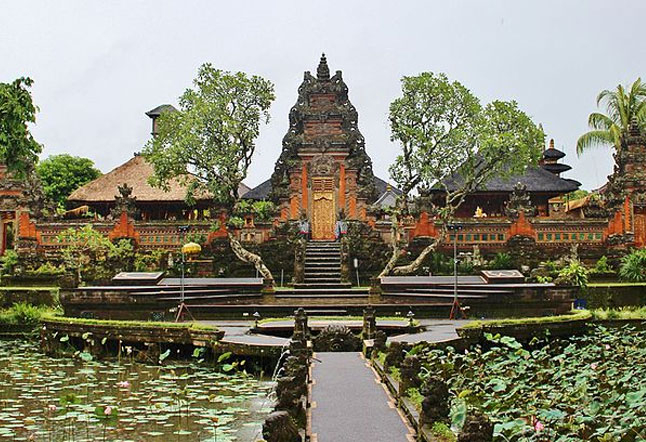 Welcome to the captivating realm of Ubud, Bali – a destination teeming with an array of exciting "things to do."
This picturesque region boasts verdant rice terraces, beckons yogis from far and wide, offers a tempting array of health-conscious dining options, and entices visitors with its vibrant traditional markets.
At YOGI TIMES, we aim to explore and share the finest destinations for today's discerning yogi.
In this article, we've thoughtfully handpicked a selection of exceptional experiences, mindful activities, and yoga studios for you to relish during your stay.
Join us as we delve into the heart and soul of Ubud, guiding you through a journey of serenity, mindfulness, and immersive cultural exploration.
EXPLORING UBUD
Monkey Forest

Photo Credit: @jacksonhousephoto
Being one of the most popular tourist attractions in Bali, the Sacred Monkey forest still makes our list of top things to see during your visit. Here you can roam the forest at your leisure while having personal encounters with endless monkeys that inhabit the space.
Beware of your belongings and don't bring any food or drinks past the entrance, as the monkeys can get aggressive and may even jump in your bag and explore its contents. Instead, buy a bunch of bananas inside and capture the unforgettable moment of a monkey eating out of your hand, from the top of your shoulder or even on your head!
Address: Jl. Monkey Forest, Ubud, Kabupaten Gianyar, Bali 80571. Phone: (0361) 971304.
Luwak coffee plantations

Photo Credit: @findingsummer
Experience the world's most expensive coffee from its origin, at one of Bali's many Luwak Coffee Plantations. All with the same goal: to educate tourists about the process and the famous, yet sacred, Indonesian civet animal (producer of 'kopi luwak'). All offer a similar experience: a free tour of the plantation and coffee making process, ending with a tasting.

We especially love Alas Arun Coffee Luwak in Tegallalang, less than a kilometer from the rice terraces; above, you can see the breathtaking setting and scenery where you can enjoy your morning coffee in Bali.
Tegallalang rice terraces

Photo Credit: @manke666
Famous for its beautiful scenery of rice paddies, irrigation system, and constant greenery, Tegallalang Rice Terraces are an exceptional sight north of Ubud in Bali. Many people enjoy these scenic landscapes, so to escape the crowds and fully experience the beauty, try to go a little bit deeper and discover small paths. Located right in the center of Tegallalang Village, you will find local shopping and restaurants down the entire street with a breathtaking view of all there is to explore.
Address: Jalan Tegallalang, Tegallalang, Kabupaten Gianyar, Bali 80561
Tegenungan Waterfall

Photo Credit:@sunshineseeker
Although this waterfall is hidden in the forest approximately 5km Southeast of Ubud, the secret is officially out and it's now one of Bali's most popular waterfalls to date. We recommend checking out this beautiful spot as it is tucked away in the cool jungle; a great place to refresh yourself and have a swim in Bali's usual strong heat. If you're staying in the Ubud area, we advise an early wake up to beat the masses who visit later in the afternoon.
Address: Jalan Ir. Sutami, Kemenuh, Sukawati, Kemenuh, Sukawati, Kabupaten Gianyar, Bali 80581. – | More Waterfalls in Bali Here |
The Mount Batur

Photo Credit: @wheresmollie
The Mount Batur tour is accessible from anywhere in Bali, yet it's most popular to leave from Ubud for the sunrise hike; perfect for the modern yogi. Experiencing this active volcano 1,717m above sea level requires some physical activity which is rewarded with breathtaking views at the top.

Most tours leave around 3am and once at the starting point you can count on multiple groups joining you on the trek. On a clear day, the view of the village and lake Batur is astonishing. There are many agencies that provide transport and guide to lead you to the summit.
Zen Hideaway

Photo Credit: @gypsea_lust
Known for its swing that hangs between coconut trees, high atop a hill, which offers a thrilling experience. A visit to Zen Hideaway in Ubud will not disappoint, as a ride on the swing with the view of Ayung River, a mini waterfall, rice fields and Mount Agung will leave you in awe.

The best – and only – way to access the magical swing is by booking a room at Zen Hideaway through Airbnb. Try to do so in advance to get the best price and assure it's not fully-booked!
Address: Kedewatan, Ubud, Gianyar, Bali 80352
Elephant cave

Photo Credit: @saiko3p
As the name would suggest, Goa Gajah is not a huge cave that you can fit an elephant in, but with its surroundings, it creates a unique complex worth visiting. Enchanting trees, streams and a river surround the cave to make this a perfect place to pause and take in your surroundings. A perfect location to meditate or write in your travel journal.
Address: Jl. Raya Goa Gajah Desa Bedulu, Ubud 80581, Bali.
Campuhan ridge walk

Photo Credit: @haylsa
Enjoy a peaceful nature trek whilst getting your body moving through the 9km Campuhan Ridge walk, away from the hectic streets of central Ubud. With breathtaking views on the gorgeous hillside, make your way to the majestic Pura Gunung Lebah temple complex, a reward at the end of your journey. It's also perfect for a morning or afternoon sunset jog, followed by fresh coconut water.
Address: Jalan Raya Campuan, Sayan, Ubud, Kelusa, Payangan, Kabupaten Gianyar, Bali 80571.
Gunung Kawi Temple

Photo Credit: @sunshineseeker
With the countless temples scattered all over Bali, it's hard to choose a favorite, but one we recommend is Gunning Kawi, Northeast of Ubud. At the bottom of a lush river valley running through the village of Tampaksiring, lies one of Bali's largest ancient temple complexes (and not crowded like some of Bali's most popular temples).

After many steps down through rice fields, you can admire monumental 7-metre-high shrines carved in the rock above the river. Scenery around the temple, its fountains, and cave are all majestic and you can have fun walking in the river and stone-hopping.
Address: Banjar Penaka, Tampaksiring, Kabupaten Gianyar, Bali 80552. Phone: 0878-6221-6435
Bali Hash House Harriers (Bali HHH)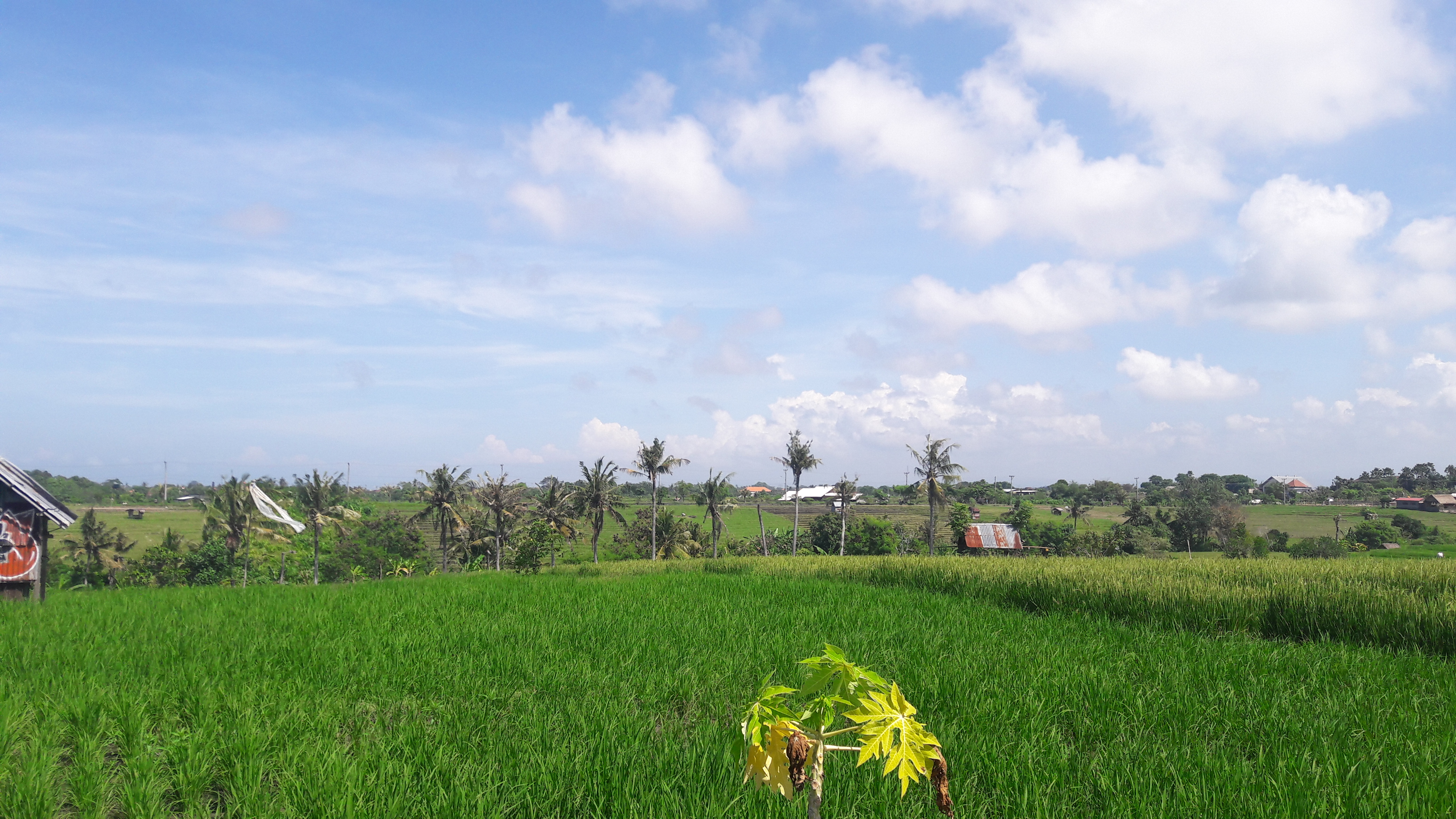 Founded by Dr Victor "Nightjar" Mason in 1977, Bali HHH is a way for both visitors and locals to go off the beaten track and see a true, authentic Bali. Whether you choose to run or walk, you get to experience villages, jungle ravines and rice terraces that may otherwise have slipped under your radar.

Bali HHH has run every Monday and Thursday starting at 4:30 pm and the start point (as it's always changing) can be found on the groups Facebook page!
facebook.com/BaliHash, bali-hash.com
SHOP IN UBUD
We-Ar yoga wear

Photo Credit @wearyoga
WE-AR is an ethical sustainable fashion and yoga brand conveniently located in the shopping center of Ubud on Jl. Hanoman. WE-AR mindfully makes fashion, yoga wear and accessories that accentuate your look without compromising your higher principles. Sold online and in stores in Bali, don't miss your chance to check out their 100% certified organic cotton and eco-luxe bamboo clothing.
Address: 41 Hanoman street Ubud, Bali. Phone: +62 361 976 119.
Traditional Art Market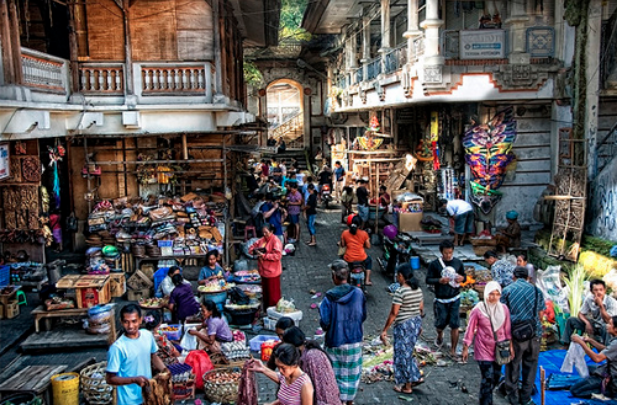 Photo Credit enjoybalivacation.com

At Monkey Forest Street you can experience a crazy world of shopping and bargaining. Like in any traditional market, you can find souvenirs, clothes, jewelry, Indonesian snacks and much more. If you haven't yet experienced a local market before, enjoy exploring and brush up on your haggling skills! Tip: visit traditional markets at the beginning of your travels as their abundance around Bali will lead you to avoid them in the long-run.
Address: Jalan Raya Ubud No.35, Ubud, Kabupaten Gianyar, Bali 80571.
Bali Yoga Shop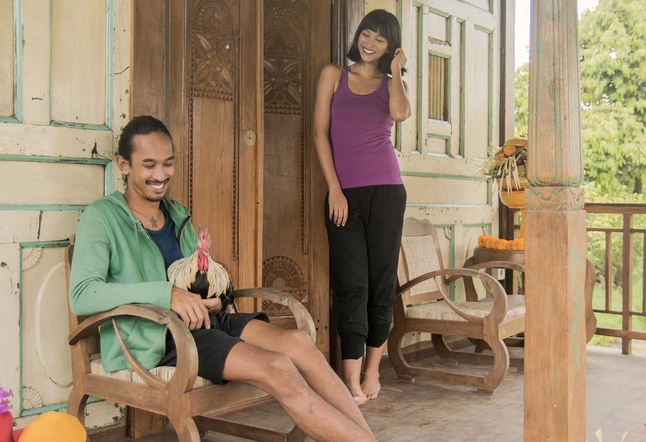 Photo credit: @BaliYogaShop Facebook
The Bali Yoga Shop is a yoga clothing brand that focuses on creating practical and fashionable designs that capture the true vibe and spirit of Bali. Their products are designed and manufactured locally as well as tested by their own yoga instructors to ensure the practicality of each piece. In addition to their clothing line, Bali Yoga Shop also offers organic yoga wear, mats, leisure wear, yoga books and DVDs, music and spiritual jewellery.
Jalan Hanoman No. 44B, Padangtegal, Ubud, Kabupaten Gianyar, Bali 80571, Indonesia.+62 361 973361.
EAT IN UBUD

Photo Credit: artspacebali.com
Away from the bustling streets of central Ubud is a hidden, cozy restaurant with spectacular views of a green jungle. Boasting a 100% vegetarian menu with a wide choice of vegan dishes, The Elephant's menu will make you spend at least 15 minutes reading through it, but whatever you decide on ordering, you're destined to love. They make food 'with love' and it makes everyone who eats in The Elephant love them back.
Address: Jalan Raya Sanggingan, Hotel Taman Indrakila, Sayan, Ubud, Sayan, Ubud, Kabupaten Gianyar, Bali 80571. Phone: 0851-0016-1907.

Photo Credit: locavore.co.id
Without a doubt, Locavore will be one of the best meals you can have in Bali. Offering an entire 'herbivore' menu catering to all of our vegetarian yogis. Mixing local, freshness, taste, originality, and creativity in the kitchen is their biggest advantage. They make sure all ingredients are locally sourced and fresh, so the menu changes all the time according to what is available. Every dish is served on a suitable plate to match the design of the food. Perfection!
Address: Jalan Dewisita No.10, Ubud, Kabupaten Gianyar, Bali 80571. Phone: (0361) 977733.

Photo Credit: @carlysutcliffe
The best place to visit for a dinner when it's already dark. Warm, climatic lights and live music on weekends create the perfect atmosphere for an evening chat with healthy and delicious food. Offering a wide selection of raw, vegan and vegetarian dishes – everyone will be fulfilled with their refined and tastefully decorated food.

Soma's philosophy is based on feeling grateful and they encourage customers to do the same (take a minute to read the introduction to their menu!) and after such a dinner it comes easily to apply this theory in practice.
Address: Jl. Dewisita, Ubud, Gianyar, Kabupaten Gianyar, Bali 80515. Phone: (0361) 8493655.

Photo Credit: @sunspicedlife
Modern interior decor meets traditional Balinese structure in this cafe– it emanates modernity and zen. With a focus on organic and local ingredients when possible, they encourage the conscious eater to continue the expectation for taste and flavor while making healthy food choices.
Address: Jalan Hanoman No. 8, Ubud, Kabupaten Gianyar, Bali 80571. Phone: 0878-6219-7585.
Earth Cafe (temporarily closed since Covid)

Photo Credit: @Rachelaust
Vegetable samosas, vegetarian tacos, sweet potato fries with homemade ketchup or yellow lentil Dahl. If you are a fan of these kinds of comfort foods, Earth Café is perfect. You can find raw or gluten-free options here as well. Earth Café is also known for the variety of juices and smoothies it offers. Don't forget to ask about their vegan ice-cream!
Address: Jl. Goutama Sel, Ubud, Bali 80571. Phone: 0851-0083-5545.
9 Angels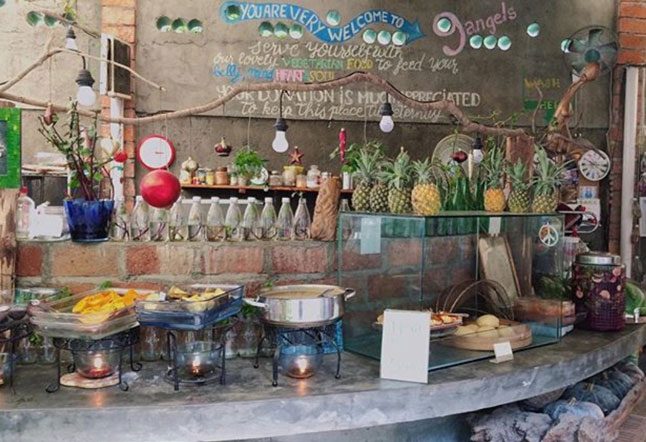 Photo Credit: @tanntastic
9 Angels (aka 9 Warung), is not only a restaurant but a communitycenter and social project that operates on a karmic, donation-based principle. Offering an assortment of hearty, vegan and vegetarian, healthy Indonesian fare served buffet-style, fermented kombucha and fresh fruit juices, 9 Angels is a must-visit.

Serve yourself, clean up after yourself and decide on a fair price for your meal to stuff into the 'money jar' located on your table. Enjoy the beautiful atmosphere and garden surroundings, make new friends, eat and relax. Although not so easy to find, it's worth the effort.
Address: Jl. Suweta No.32, Ubud, Kabupaten Gianyar, Bali 80571. Phone: 0817-776-768.
PRACTICE IN UBUD
Bali Spirit Festival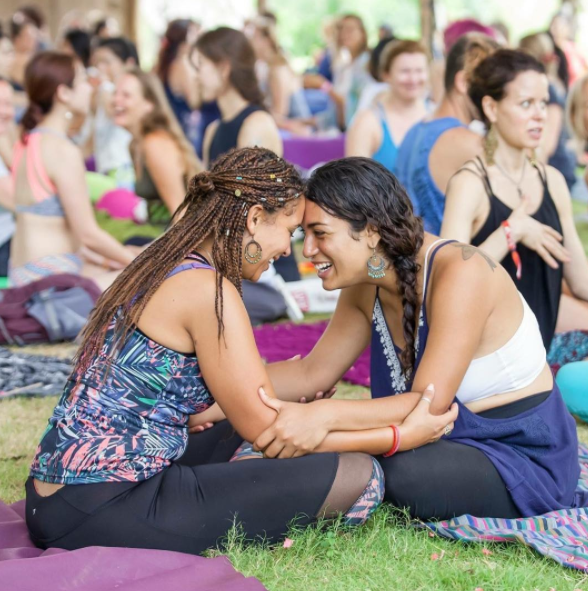 Photo Credit: Ishine Photography
Annual festival at the turn of March and April where yoga, dance, and music meet to give you an amazing experience. Special events, workshops and classes during the day, concerts, and dancing at night. Stay open-minded and feel free to fully experience the magic of this festival.

After a few days of practicing yoga, meditation, ecstatic dance and intuitive singing you can strengthen the connection between body and mind and enjoy the benefits of your growing consciousness.
Address: Jl. Sukma Kesuma No.76X, Peliatan, Ubud, Kabupaten Gianyar, Bali 80571. Phone: (0361) 970992.

Photo Credit @travelwithjane
Located on Jl Raya Pengosekan behind the Thai restaurant Siam Sally, you can find the largest yoga studio in Ubud. Atmosphere and community are what attract people here.

It is incredibly easy to make friends from all over the world– everyone is open-minded, relaxed and excited to share their journey on a path of consciousness. Every week there are over 100 classes to choose from. Check out their guesthouse, spa, juice bar, Garden Cafe, and cleanse and detox center.
Address: Jl. Raya Pengosekan, Ubud, Gianyar, Kabupaten Gianyar, Bali 80571. Phone: (0361) 971236.

Photo Credit: radiantlyalive.com
The welcoming space at Radiantly Alive is perfect for a modern yogi – clean, minimalist, white interiors, glistening wooden floors, and of course, teachers encouraging conscious community. Classes are smaller, offering a more cozy ambiance for your yoga practice. Come and try some flows that are designed to boost your inner radiance.
Address: Jalan Jembawan No. 3, Padangtegal, Ubud, Gianyar, Ubud, Kabupaten Gianyar, Bali 80571. Phone: (0361) 978055.

Photo Credit: Soulshinebali.com
Michael Franti's yoga hotel and retreat oasis are dreamy from all of the sun, soul music, and of course yoga. The overall retreat centre offers a truly unique experience mixing the comforts of home, the community feels of an ashram and the personal touch of a boutique hotel with eloquent decor. Soulshine Yoga Retreat Center hosts numerous retreats, teacher trainings, and even weddings, located on Jl. Abarawati, Ubud.
Address: JL. Ambarwati, Ubud, MAS, Gianyar, Kabupaten Gianyar, Bali 80571. Phone: 0853-3349-9499.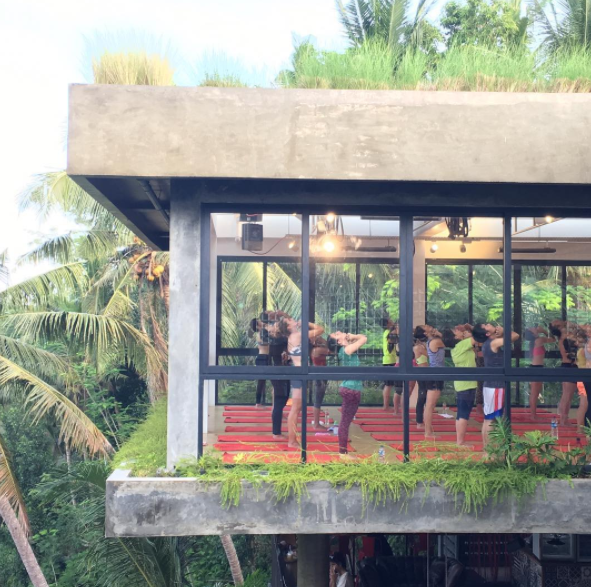 Photo Credit: Ubudyogacentre.com
Ubud Yoga Center is your one-stop yoga studio with three modern, clean, beautiful yoga rooms, about 5 minutes from Ubud's busiest tourist spots. In addition to various types of yoga and pilates, Ubud Yoga Center is popular for their new intensive Bikram classes. Don't miss their Sunday morning Hot Ashtanga class set in the most serene studio that allows the morning sun to fill the room with natural light.
Address: Jl. Raya Singakerta No.108, Singakerta, Ubud, Kabupaten Gianyar, Bali 80571. Phone: (0361) 8987207.
For more info on Bali's best spots for the modern yogi

| STAY | SPA | PLAY | EAT | SHOP | YOGA |
Download our ULTIMATE BALI GUIDE for free.