yoga in berlin
Published: 03-06-2017 - Last Edited: 05-10-2022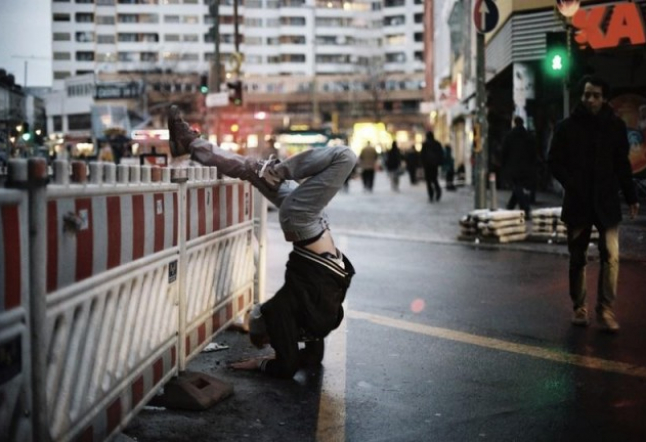 Berlin is a magnet for young, liberal, and creative people from all over Europe. It is the place to be if you love art, music, and culture, and it supports a full spectrum of different lifestyles, from traditional through alternative to unconventional.
Each neighborhood is a universe of its own, offering its dwellers a range of possibilities that best fit their life circumstances and needs. Keep this in mind as I introduce you to different yoga options around the center of the city and provide some interesting background behind them.
Berlin Mitte area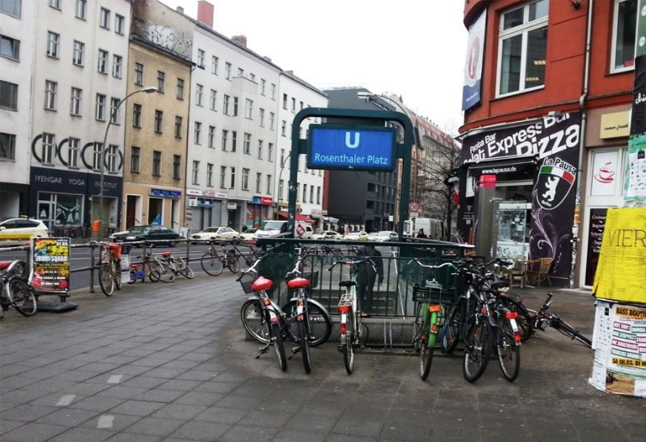 The most natural place for me to start with is Berlin Mitte, as this is where I live, work, and play. Berlin Mitte is a very hip place, and it is also very popular with the tourists for its cultural landmarks and shopping. There are many yoga options in Berlin Mitte, ranging from boutique yoga/fitness studios to American-style yoga studios.
BeCycle
: based on the concept of fitness and healthy living, BeCycle offers power yoga and cycling classes for members. There is a healthy foods cafe, a pop-up store, and a mini co-working space that is a part of the complex, reflecting very smartly on the needs of the young creative professionals that seem to populate it every time I pass by (which is quite often).
Jivamukhti Yoga
: is that famous and popular yoga style from New-York created by David Life and Sharon Gannon in mid 80's. Famous, because some American celebrities have been told to practice it, and hence popular ever since. The practice consists of a fast-paced Vinyasa class, with music, chanting, and a mini lecture on how to live according to the yogic moral principles. 
Spirit Yoga
: envisioned to become a big German yoga franchise, it's Hackisher Markt location certainly is a big success. I hear of yoga classes there as big as 30 people, which I can imagine to be true based on the really good location popular with upper middle class working women and well-to-do stay-at-home moms.
Berlin Prenzlauer Berg area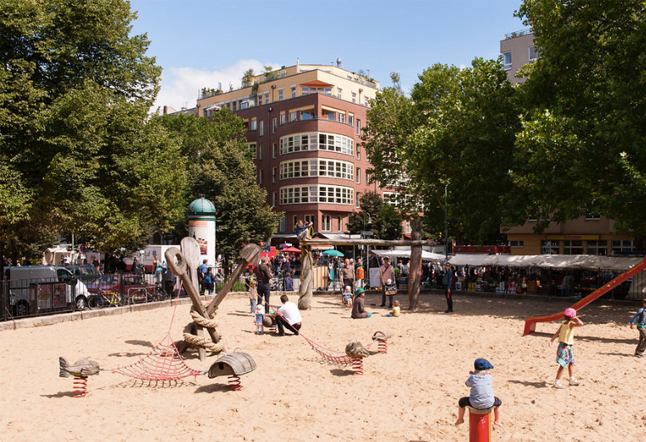 This location is close to my heart, since it is close to Mitte. Also called the "Pregnancy Hill" by some locals, it is popular with families and feature a lot of children's products, and services. The Yoga

studio selection here is rich and diverse, with options for pregnant women and parents that want to do yoga with their children.
Ashtanga Studio Berlin
: is THE place for good traditional Ashtanga. Of course this is where I practice, but I have tried other options and settled for this one for a good reason. The owner,

my teacher An

drea Lutz, is a student of Nancy Gilgoff— a very respected teacher of the method with more than 40 years of experience. The studio is often visited by other well-known teachers.
The rest of the studios in this area I will mention briefly, because there are just so man

y. Two new-age type yog

a studios with creative approaches to co-sharing space, classes, and ideas are

Your Space

and

Yoga4All

. Both have a similar feel to them and are connected by friendships. 
Lovers of traditional hatha yoga will feel at home at

Yoga & Ayurveda im Sonne & Mond

. Those who would like to get a lot of attention in the small groups under the scrupulous supervision of an

Iyengar

yoga teacher should check out

Yoga Klub Berlin

. 
Yogis who love Vinyasa Flow styles have a variety of options, with almost every studio offering something of this type. For

a d

own-to-earth, easy-going kind of flow

head to the

 

Yoga Circle

.
Berlin Kreuzberg area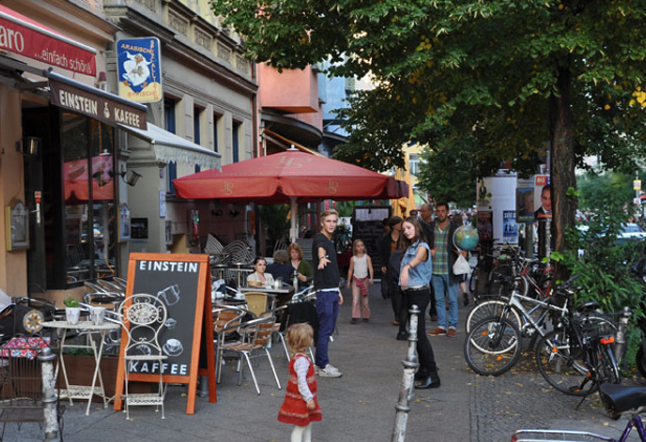 Berlin Kreuzberg has been initially populated by people from diverse backgrounds, many of whom were of Middle-Eastern/Turkish origins. Given its proximity to the center and affordability in the past, at one point Kreuzberg attracted a lot of artists and musicians. It is still a very colorful and cool place, but many of the original inhabitants are constantly being pushed out by the people who can pay increasingly higher rents.
The amouny yoga options her

e is immense, and I'm sure there are many nice studios to consider. Since it is a little a bit off my grid, I can speak from experience about the following yoga centers.
Yoga Raum Berlin
: a few times that I had the pleasure to visit, I was impressed by

the feeling of community at th

e studio. This was also one of the first yoga studios to offer

AcroYoga

classes and workshops. The owner originally studied the

Anusara yoga

system, but with time developed his own approach that he calls Element Yoga. 
Yellow Yoga:
is the kind of yoga studio that supposedly makes you feel good. A friend of mine described her experience there by emphasizing the atmosphere of openness, acceptance, and non-competitiveness. On top of that, you pay based on how much you can afford to spend.
English Yoga Berlin:
this is more of a community space for expats with very affordable prices and a great yoga blog. It is a very small, humble place, and this is precisely why I find value in it.
You also might like to learn about
berlin yoga conference