afterglow by anglow
Published: 20-11-2018 - Last Edited: 09-11-2022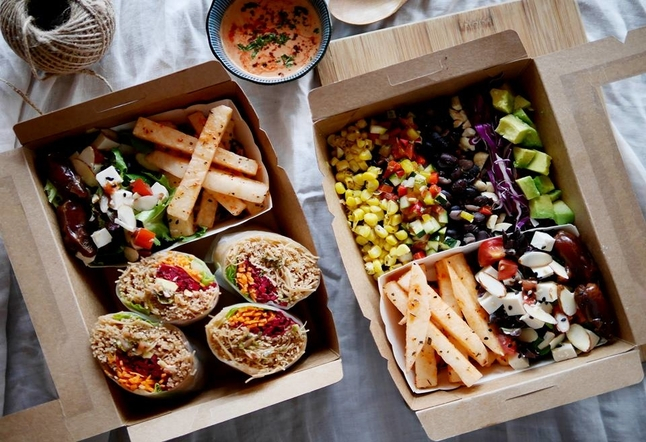 If you're looking to venture away from the typical meat and rice-loving cuisine in Singapore, Afterglow is a great downtown eatery. With 80% of their food vegan and mostly raw, owner Carmen told us that it hasn't always been easy to break the ground and attract Singaporeans who don't typically flock to the raw vegan scene.
Fortunately, times are changing. Since opening 5 years ago, a younger, ethically-minded and healthy demographic is visiting this warm, friendly restaurant.
This discerning crowd, blended with health conscious expats and tourists has made Afterglow one of the top vegetarian restaurants in Singapore.
Carmen has put her heart into creating a balanced and delicious menu, sharing: "Not only vegans come here to eat. People who are cutting out sugar, avoiding gluten and people who simply want to look after their health are also regulars.

We have many customers who care about the planet and know that eating a plant based diet is more sustainable."
Most importantly, the food is great! Try the teriyaki vegan"meatballs" made with mushrooms, oats and walnuts with a wonderful creamy cashew mayonnaise all placed wrapped in a crunchy lettuce leaf.

The avocado kimchi maki rolls are also a must-have, made with ground almonds as a substitute for rice – the perfect blend of crunch and spice!
At Afterglow, you can enjoy an array of healthy desserts with fruit, nuts, avocado, coconut oil, honey and maple syrup used instead of sugar and gluten.

There is also an extensive choice of teas, craft beers, ciders and spirits if you're looking for a nice evening out.
We cannot recommend Afterglow enough – it's truly a hidden gem in downtown Singapore, perfect for the health-conscious modern yogi.

Google Map
Read next >> veggie grill