yoga studios in amed
Published: 17-01-2020 - Last Edited: 08-02-2020
five places to practice while in amed
Amed is a string of quaint seaside fishing villages on the northeast coast of Bali. As it is far from the crowds of more populated areas like Ubud and Canggu, most people visit these black sand beaches to relax, snorkel and dive.
Let's add yoga to that list, shall we?
Here are the best places to practice during your time in peaceful Amed.
OCEAN PRANA FREEDIVING AND YOGA

Located on the top floor of their bamboo house surrounded by lush vegetation, Ocean Prana gives daily classes in breath control, meditation, aligned forms of movement. Yoga is offered as a means to improve the respiratory system and increase strength and flexibility in the physical and mental bodies. Therapeutic massage, private sessions, and specialty workshops are also available by request.
Jl. I Ketut Natih, Jemeluk Bay, Purwakerti, Abang, Bali – Map me

+62-363-4301587 – oceanprana.com – contact@oceanprana.com– FB – @oceanpranabali – IG – @oceanprana_bali – no online schedule available.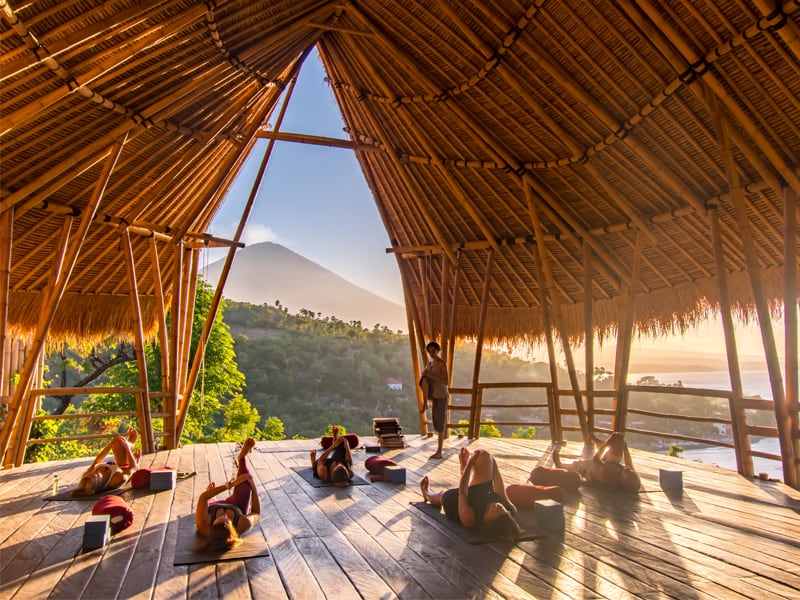 BLUE EARTH VILLAGE

Blue Earth Village originally grew out of the Apneista Freediving and Yoga School. The extraordinary, elevated yoga shala, made from bamboo and recycled Ulin wood, offers sprawling views of Gunung Agung and Jemeluk Bay. With space for 35 yogis or 100 meditators, this deck hosts daily classes, with a weekly schedule shared on their Facebook page. Morning and evening classes, along with regular workshops and intensives are offered.
Jl. Raya Amed, Bunutan, Abang, Kabupaten Karangasem, Bali – Map me
+62-821-4554-369 – blueearthvillage.com – info@blueearthvillage.com – FB – @blueearthvillage – IG – @blueearthvillage_bali

Open daily from 12 am to 22 pm
>>>Also Read: Yoga in Ubud
>>>Also Read: Yoga in Canggu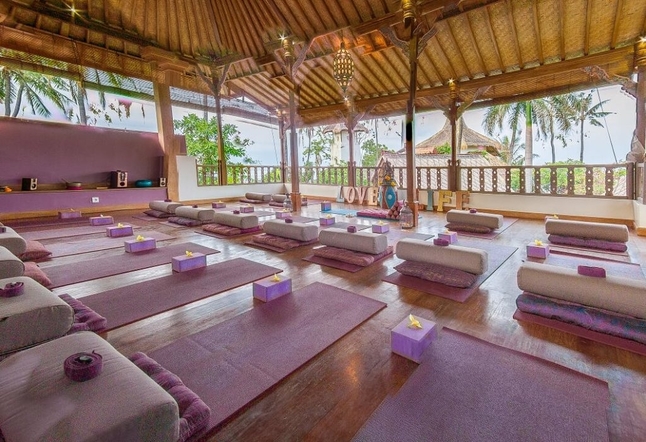 LIFE IN AMED HOTEL

This beachfront hotel offers yoga classes twice a day to its guests and visitors to the Amed coast.
Jl. Amed – Seraya, Lean, Bunutan, Abang, Bunutan, Abang, Kabupaten Karangasem, Bali – Map me
+62-363-23152 – lifebali.com – info@lifebali.com – IG – FB

BUDDHA SUNSET YOGA

The beautiful beachside Meditasi Bungalows offer yoga classes for all levels at 9 am and 5 pm daily. Join the class in their courtyard which overlooks the beach below.
Bunutan, Abang, Kabupaten Karangasem, Bali – Map me
+62-363-4301793 – meditasibalii@yahoo.com – FB: Meditasi Bungalows
COCONUT YOGA BALI

Close to the sea and surrounded by jungle is the charming Kelapa Cottage Resort. Here, Coconut Yoga offers daily classes, 200 and 250-hour teacher training, and yoga retreats with their partner Yoga Here & There.
Raya Celuke, Amed, Jl. Abang – Amlapura, Purwakerti, Abang, Kabupaten Karangasem, Bali – Map me

+62 0812-3657-830 – yogahereandthere.com – 
coconutyogabali@gmail.comFB: @Coconutyogabali – IG: @coconutyogabali – Schedule

>>> Also Read: Yoga in Pemuteran
>>> Also Read: How much is a Yoga Class in Bali

Amed is a perfect place to retreat and regroup. Let yoga be your guide in this relaxing, seaside region!