nusa lembongan
Published: 06-06-2017 - Last Edited: 15-11-2022
Bali has long secured its reputation as one of the top travel destinations for yogis around the world, but few have discovered its little sister island, the blossoming yoga paradise of Nusa Lembongan.
From Bali's Ngurah Rai Airport, it's a quick getaway—just a half hour's drive to the harbor in Sanur, then another half hour by fast boat to the island. Lembongan's turquoise water and pristine beaches are pure bliss on arrival.
Nusa Lembongan is tiny, only 5 square miles (8 km) around, and is covered in sprawling mangrove forests and gorgeous white sand beaches. The majority of its residents are involved in seaweed farming, and the crystal-clear water is dotted with brightly-colored fishing dinghies, giving the island a distinctive local feel. Lembongan also boasts some of the best snorkeling reefs and surf spots in Indonesia.
For yogis, the scene is booming. With a newly opened beachfront yoga shala, standup paddle board yoga classes, holistic spas, and healthy food choices, it's packed with activities and experiences to make the anahata sing.
Here are some of my favorites:
YOGA
1. The Village Nusa Lembongan – A panoramic ocean views.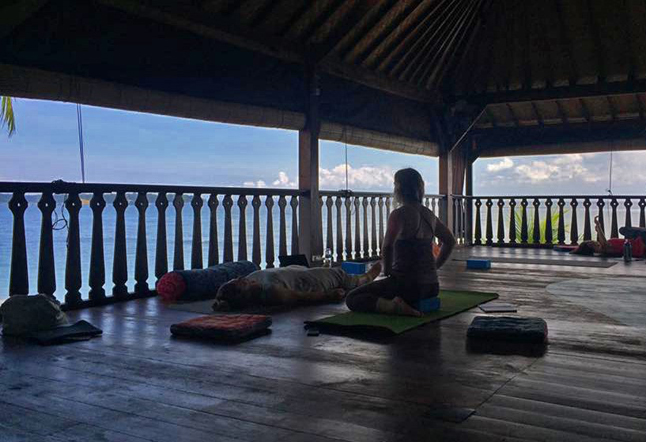 The village Nusa Lembongan is a brand new yoga spot located right on the beach, with a stunning 180-degree view of the ocean from its second-storey shala. Traditional holistic hatha classes are taught every afternoon by Leelah Sol, but the shala can also be rented for retreats and events. If walking north along the beach, The Village is about 10 minutes from the harbor; look for the "Agung Bungalows" sign and inquire about classes at Ginger and Jamu Café.
2. Serenity Yoga – Stand Up paddleboard yoga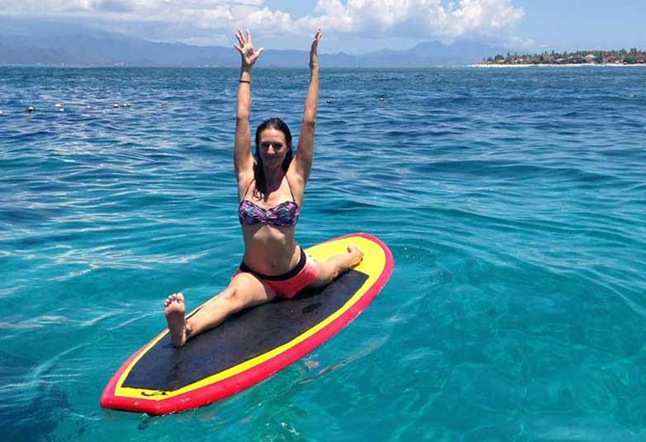 In addition to offering a wonderful variety of studio classes (including FlyHigh Yoga), Serenity Yoga is pioneering SUP yoga on Nusa Lembongan. Located in a quieter area in the northern part of the island, far from the hustle and bustle of the harbor, Serenity Yoga offers reasonably priced SUP classes amongst the beauty of Lembongan's seaweed farms. Look for their signs just north of Blue Corner Dive.
Serenity Yoga – Phone number: +62-812-3849-9141
Google Maps
3. Yoga Shack – Earthy spirituality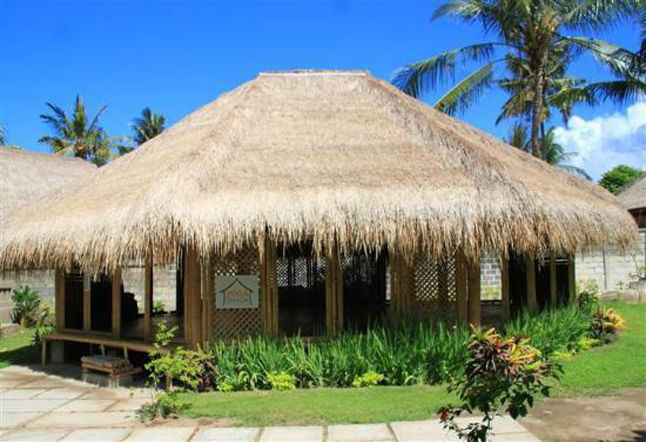 For a more rustic feel, Yoga Shack provides heartfelt yoga classes in a deeply spiritual atmosphere. Situated between two temples, Yoga Shack was built using all natural materials and is shaped like an octagon, the symbol of mother earth, to harness the natural spiritual energy known to flow freely through the island. Along with Big Fish Diving, Yoga Shack is nestled within the Secret Garden Bungalows complex, making it a great all-in-one for yoga, accommodation, and SCUBA.
Yoga Shack – Phone number: +62 (0)81 353 136 861
Google Maps
Yoga Shack – YOGITIMES review
4. Yoga Bliss Lembongan – Garden yoga and vegan treats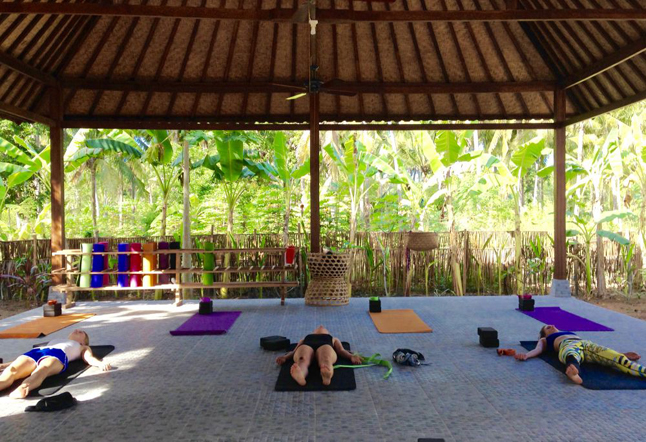 A short walk from Yoga Shack is Yoga Bliss, a Balinese-inspired shala with classes 6 days a week in its tropical garden setting. Yoga Bliss gets bonus points for its delicious Vegan Café, which whips up delicious, 100% plant-based snacks and meals you can enjoy after class. Find them behind Green Garden Warung, just a few turns from the main road of Jungut Batu.
Google maps

Speaking of food….
EAT

1. Green Garden Warung – Conscious, clean cooking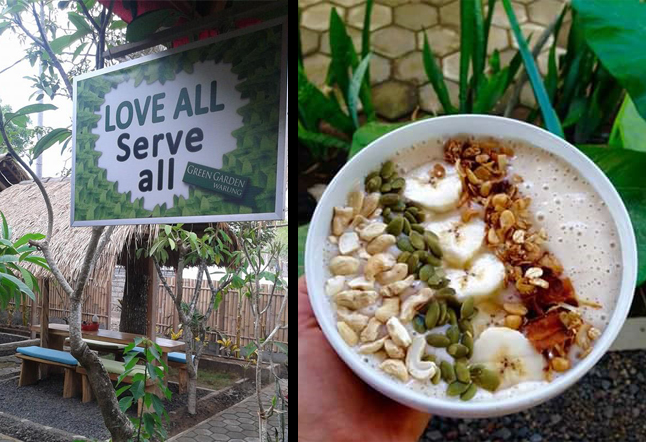 It's rare for a place to pull-off both local and Western food so flawlessly. With the full vegan café menu as well as healthy options for meat-eaters, Green Garden Warung is always a safe and delicious choice. The thatched roof and natural materials give the restaurant an authentic vibe, and they stay true to the local culture—25 percent of their profits are donated to local community and environmental causes, making them beautifully aligned with yogic philosophy. Don't miss their vibrant smoothie bowls and soulful curries.
Green Garden Warung – Phone number: +62 813-3741-9282
Google Maps
2. Bali Eco Deli – Deliciously eco-friendly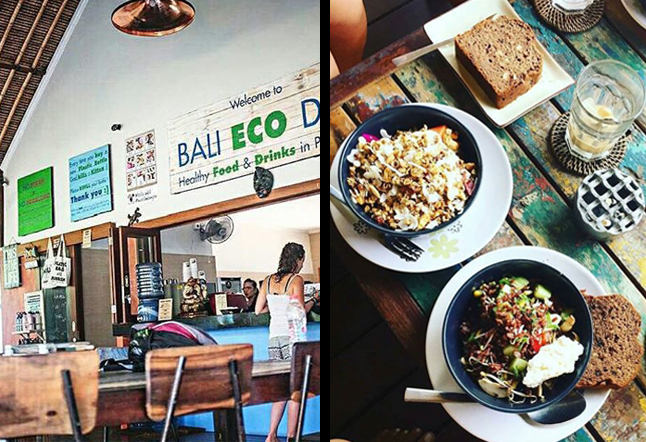 To fully uphold the yamas and niyamas, most yogis place a high value on environmentalism, a movement in which the Bali Eco Deli is a true standout. The cozy café on the main road of Jungut Batu is consistently ranked as one of the top restaurants in Lembongan thanks to their fresh salads and healthy meals, all while contributing fiercely to the conservation of Nusa Lembongan. They've established a recycling program throughout the island that transports recyclables to Bali-based facilities, installed a system to conserve Lembongan's fresh water, and chosen to source their ingredients from local fair-trade, palm-oil-free, organic farms.
3. Ginger & Jamu Café – Toes in the sand, taste sensation in the mouth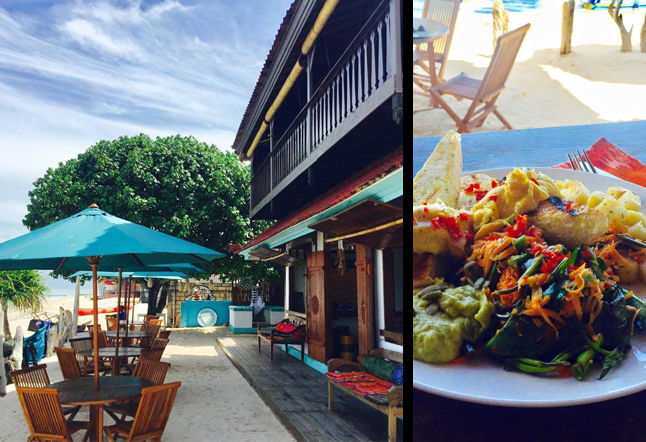 A newcomer to Lembongan, Ginger & Jamu has taken full advantage of nature's beauty: the café is right on the oceanfront, opening out to a spectacular beach scene. With seating both inside the bohemian-style café as well as out on the sand, it's perfect for rocking up in your swimsuit and enjoying a meal with a view. The menu has a wide variety of vegetarian-friendly options and tasty creations that can't be found anywhere else on the island. Try the falafel wrap or roasted pumpkin for a definite hit, then head up the stairs for yoga at The Village.
Ginger & Jamu – Phone number: +62 813-5334-8230
Google Maps
EXPLORE
1. Surfing for all levels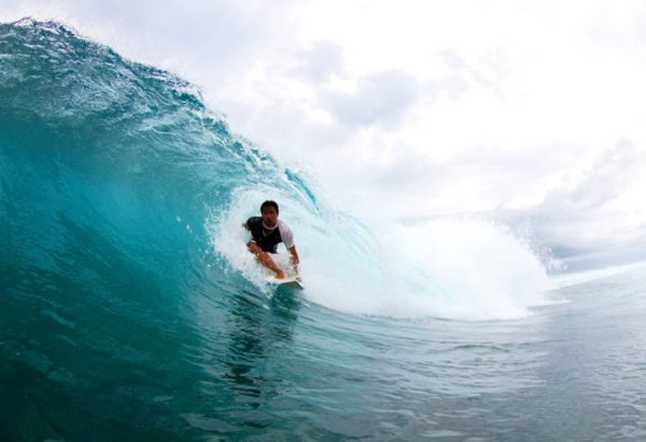 Home to three world-famous surf breaks, Lembongan is also a surfer's paradise, for beginners and experts alike. In order of difficulty, the breaks rank as follows: Playgrounds (great for beginners during small swell), Lacerations (a big, barreling right-hander), and Shipwrecks (right-hand break with fast walls and tubes for experienced surfers, requiring boat transport). For fun, experienced surf instruction, try Newbro Surf School or Monkey Surfing.
Newbro Surf – Phone number: +62 822 3625 8403
Monkey Surfing – Phone number: +62 821 4614 7683
2. Snorkel and dive (with giant Manta Rays!)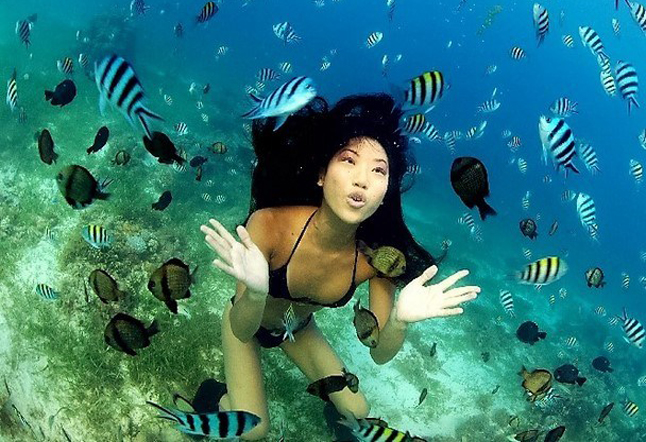 It's impossible to talk about Nusa Lembongan without mentioning the underwater life. Yogi divers are well aware of the deeply meditative state that can be found below the ocean's surface, and Nusa Lembongan offers innumerable options for exploring the open seas, including Lembongan Dive Center and World Diving.
Snorkeling trips will usually take you to three different spots: Manta Bay (southwest of neighboring Nusa Penida, where you're sure to see giant manta rays), Crystal Bay (with the clearest waters imaginable), and Mangrove (with incredible biodiversity of sea life). Use Manta Snorkeling, or stick with Monkey Activities after your surf session.
Lembongan Dive Center – Phone number: +62 82145352666
World Diving – Phone number: +62 812-3900-686
Manta Snorkeling – Phone number: +62 813 3921 7498
Monkey Activities – Phone number: +62 821 4614 7683
3. Kayak through the mangroves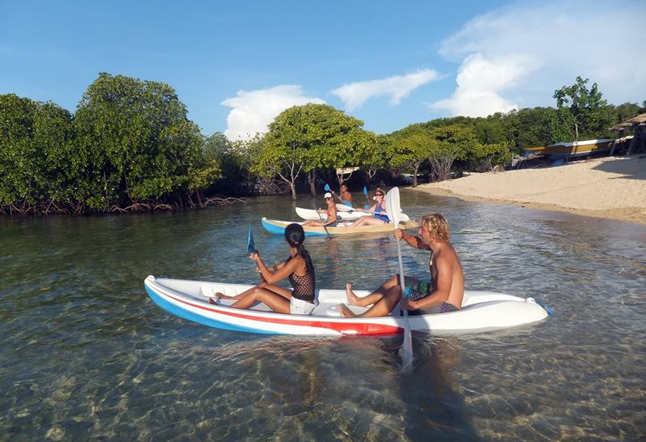 Being present in nature may be the best way to achieve peace and mindfulness in our lives. Slicing smoothly through the water between mangrove trees takes it to a whole new level. Heading further north on the island leads to truly untouched, wild nature, where you're free to explore. Kayaks and SUP boards are available for rent with Lembongan Water Sports, giving you up-close experience with the rawness of Lembongan's mangrove forests.
Lembongan Water Sports – Phone number: +62 8155773999
4. Rest and relaxation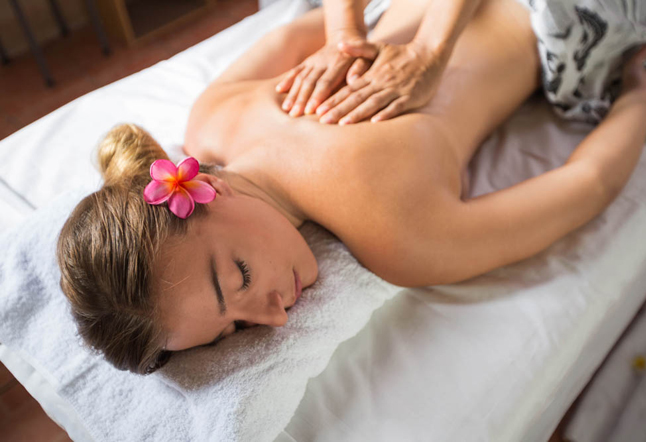 At the end of the day, the best way to unwind is with a spa treatment, meant to soothe you into that island zen.
SuB Reflexology has a homey local feel, and Wayan provides the best massages on the island. For a more posh experience, yogis will also be glad to know that the holistic Organic Spa offers all organic treatments, sourcing from the local nature as much as possible.
The ideal yoga vacation strikes the perfect balance of asana, mindfulness, relaxation, and adventure. Pepper in some healthy and earth-conscious food, breathtaking nature, and a location that's off the beaten path, and you arrive at Nusa Lembongan—and may never want to go home.
SuB Reflexology – Phone number: 0812-3675-7214
Organic Spa – Phone number: +62 821 4443 9900
About the author.
Megan Mulrine is an RYT 500 currently teaching at retreats and teacher trainings in Bali. Her website, Yogatrotter.com provides yoga and meditation guides for traveling yogis and digital nomads, to help travelers maintain their personal practices all around the world. Follow her adventures on Instagram @yogatrotter_.
For more info on Bali's best spots for the modern yogi STAY | SPA | PLAY | EAT | SHOP | YOGA – Download our ULTIMATE BALI GUIDE for free.

Read next >> things to do in nusa penida