things to do in nusa penida
Published: 21-05-2018 - Last Edited: 12-08-2021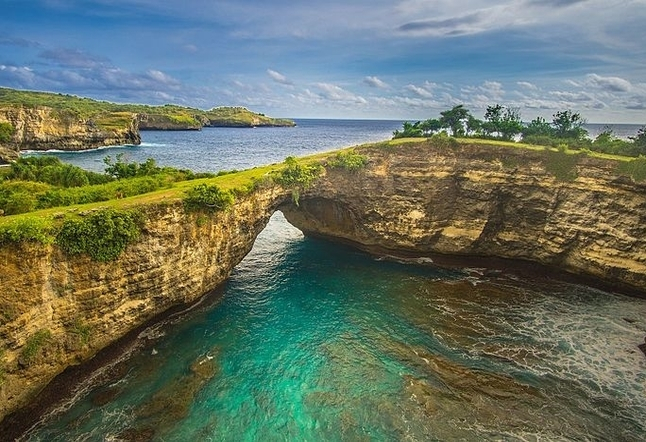 Looking for an island to spend the day or weekend? Nusa Penida provides the perfect day trip or weekend getaway on the south west coast of Bali. For now it remains a hidden gem, with not many tourists aware of the magnetic vibes of this Indonesian island, but we have a feeling it will not stay hidden for long, as more and more people are sharing the island's magic.
As you arrive, you will instantly notice how open and friendly the locals are, on our walk to our accommodation, we were pleased to encounter smiles as they drove past and all willing to help. The locals seem to know each other and this provides a lovely family atmosphere that is rare to find elsewhere.
PLAY
Kelingking Beach
Kelingking Beach is quickly making Nusa Penida a major attraction and is becoming a focal point of the island. To get there you can walk down the coast, the walk is takes around 45 minutes, but be warned it is very steep and you must be careful when going down. Once you arrive it will be worth it! A stunning beach with crystal clear water and white sand awaits you.
The famous coastal cliffscape really does hold a resemblance to a T-rex and we felt like eagles looking down on the wonder of the beautiful waves crashing in what felt like slow motion.
Broken Beach and Angel's Billabong
You can tick off two of the attractions in one journey. Broken Beach has a very beautiful view and they have set up a place for photos to be taken. There is also a place where you can refuel with local snacks and refreshements. Angel's Billabong is a natural infinity pool and is positioned a couple minutes walk from Broken Beach. Make sure tides are low and is safe before you plan your trip, many tourists have been taken out to sea due to high tides. The floorbed feels like carpet on your feet and is a wonderful experience to relax in the pools or have a swim. Avoid going too close to the edge, as depending on the tides can be very dangerous.
Crystel Bay Beach
While Crystal Bay Beach is known for its diving, however the beach itself is not the best place to relax as it was quite littered and under the water you can find rocks and bits of rubbish floating. We reccommed hiring a boat to take you out around 100 yards into the bay and you will for sure enjoy the crystal clear water you would expect at Crystal Bay.
STAY
Budget – Full Moon Bungalows
These basic bangalows offers live music during the night and access to their taxi services. A driver for the day costs around 500,000 IRD. The bungelows are clean, but basic. Full Moon Bungelows are in a good location for water activities and dining.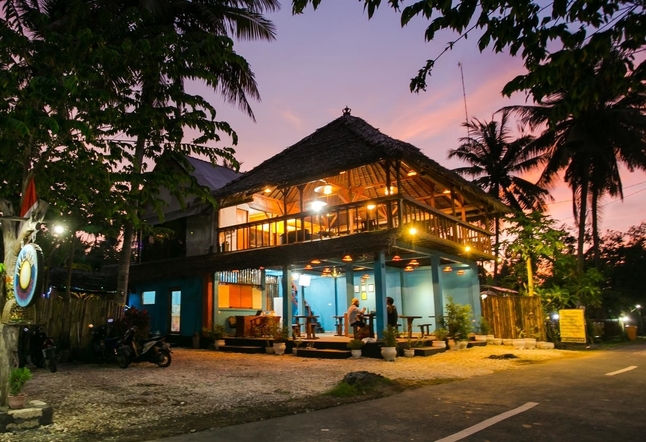 Credit Full Moon Bungalows
Luxury – Coco Resort Penida
Coco Resort Penida is in a superb location only 10 minutes drive from the beach. The cottages are clean and well equipped. The staff is very friendly and will assist in any way possible. Coco Resort has great character and provides the perfect stay as you adventure out and explore the awe inspiring paradise of Nusa Penida.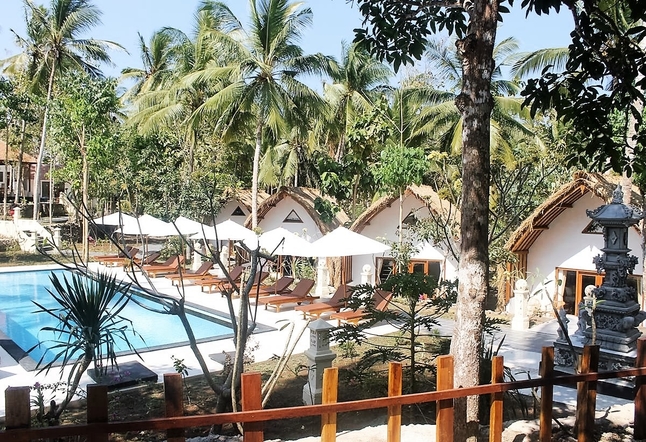 Credit Coco Resort Penida
Octopus Dive Workshop
Octopus Dive Workshop is walking distance from Full Moon Bungelows and offers snorkelling and scuba diving. A fantastic way to spend the day! Nusa Penida is famous with its beauty and diversity of healthy coral reefs. There are millions of uniquely rare sea creatures that decorate the island. They offer a variety of dives, including Crystel cave for experienced divers and Blue corner or Broken beach for beginner divers where you can see manta rays. If you are a strong swimmer you can rent a snorkelling kit for 60,000 IDR and swim out at Penida Colada or along the beach and you will experience the wonders of underwater life.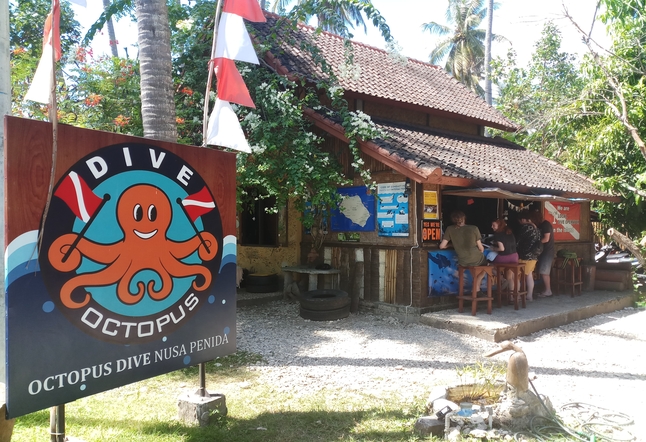 Credit Octopus Dive Penida
EAT
Penida Colada
Dining on the beach at its best. Penida Colada provides the perfect backdrop for dining. The food is fresh and offers a variety for all tastebuds. In the night the friendly owner dones a guitar inviting the crowd to join. The atmosphere is chilled and in the morning you can have breakfast in deckchairs and take in the beauty of the sea.
NUSA PENIDA TIPS
How to get to Nusa Penida
We advise to start your voyage from Bali to Nusa Penida early in the morning and instead of purchasing the private boats, opt for the public fast boat to avoid tourist prices and to get a more authentic experience.
Caspala
Bali Seaview
provides public boat services to Nusa Penida through several locations like Padang Bai, Benoa Harbour and Sanur. You can book a ticket for as early as 7:30 AM and the trip takes as much as 90 minutes.
Travelling around the Island
As scooter and car hire are limited we reccomend getting there early morning to avoid dissapointments. Also the roads can be dangerous and rough so we suggest getting a tour guide who also acts as your driver for the day. We got one from our hostel and paid 500,000 for the entire day.
ATMs
Make sure you bring enough money because ATMs are few and far. Nusa Penida holds a unique charm, combining brilliant water activity spots with delicious food and captivating landscapes. It will certainly provide you with all you could look for in a short island trip. For more info on Bali's best spots for the modern yogi STAY | SPA | PLAY | EAT | SHOP | YOGA –
Download our ULTIMATE BALI GUIDE for free.