warung 9
Published: 21-09-2015 - Last Edited: 24-10-2022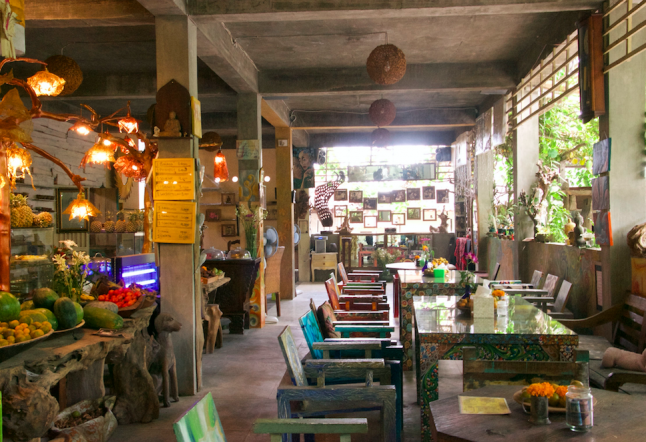 There is a restaurant, based in Lodtunduh village. It is locally owned, and has started a pretty unique concept in town. It's a self-service vegetarian restaurant, where the only thing you don't do your self is the cooking. When you arrive at Warung 9, you can sit under the pergola covered by Passiflora with passion fruits hanging down as if they were chandeliers.
It is easy to get caught up in the vibe. There is a self-service buffet. There are eggplants, red rice, corn cob, pumpkin soup, tofu, and other vegetarian meals. You can also enjoy a coffee, a Kombucha, or a glass of alkaline water. You will also be required to wash your own plate and utensils. The benefits of this restaurant is not only the great food, but the socialization you get from the people you meet.
I particularly liked the terrace with a little breeze, feeling the sun on my skin but protected by the shadow of the pergola. If you find some yellowish passion fruit hanging from the ceiling, you are welcome to try it for a little contribution.
Here are the 5 steps that you might follow to reach the 9th cloud… well I mean the warung 9.
Step 1: Find this very nice place Take a breath and catch the vibe. You might recognize your Ubud yoga teacher hanging out at the next table.
Step 2: Get to the self-service buffet and be prepared for the hardest time choosing what you are going to eat, but once you pick your tempting food, check the helpful price grid and calculate the value of what you have been eating / drinking.
Step 3: While you are waiting for your coffee or beverage of choice, be social, and have nice conversation with like-minded people . There is no Wi-Fi here.
Step 4: Pay your bill by putting money in the little pots . You'll always find change in those if you need it. It's a trust-based business.
Step 5: Plan to come back again with many friends. Maybe for the tango night at 6 PM on Wednesdays and Sundays.
For more info on Bali's best spots for the modern yogi STAY | SPA | PLAY | EAT | SHOP | YOGA – Download our ULTIMATE BALI GUIDE for free.
Read next >> taco casa