saul david raye
Published: 25-02-2013 - Last Edited: 16-11-2022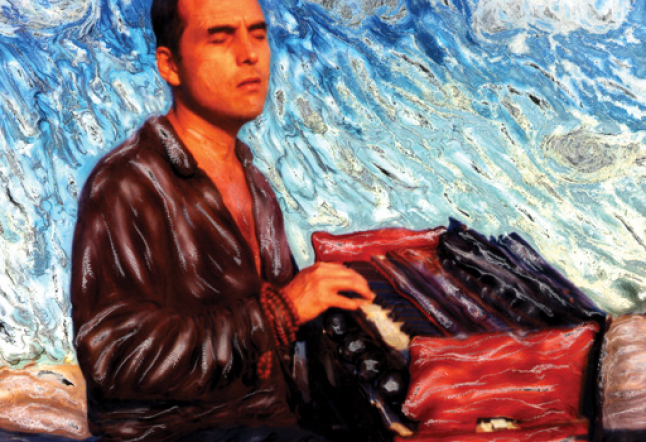 Sometimes his eyes are closed as he teaches class and you can feel that Saul David Raye himself is in the process of receiving instruction. His students feel this too as he guides the whole room into the experience of Yoga – unity on the mat, in the room, and on the planet.
Saul's spiritual journey began at an early age. As an eight year old, he would ask his parents to drop him off at churches. "I had a deep desire to know about God," says Saul. While in high school, he met his first Dharma teacher, Yogavacara Rahula, a Buddhist monk and Yogi. After seven years in the music business, while still in his early twenties, he went to live with Yogi Rahula in a forest at a Buddhist monastery in West Virginia where he stayed for a year and practiced intensive yoga and meditation. He went on to train in numerous yoga, meditation and healing practices with many masters from different healing traditions. For several years, he lived in Asia and India, studying and practicing Yoga, Thai massage, pranic healing and vipassana meditation.
In doing this interview, it is clear Saul's passion and devotion to yoga, his students and to life. In fact, it feels like you could sit down with him for hours, weeks, years and his knowledge and wisdom around yoga and healing might never cease to flow.
The teaching of dharma is central to Saul's view, "In the Vedic tradition, yoga arises from dharma; there is no yoga without dharma. It is the Universal law or truth that binds us all together – all of the Eastern teachings are based on dharma. It is the unity of existence. I believe in dharma, in the deepest parts of my being. I know we are all here for a purpose. We all have a part in the unfolding of consciousness here on Mother earth. The process of yoga is meant to connect us to our personal dharma (sacred duty) which links us to soul's purpose."
In the west, yoga can often be confined to a physical practice, while he sees the value in this, he believes strongly that "yoga is and has always been a holistic practice that embraces every aspect of who we are. The yogic vision encompasses wholeness." Saul makes a point to say, "I believe that yoga's essential teaching and revelation is that we each have our own, inner connection to the universal source of power, love and light…this source is who we really are. Yoga is both the movement towards and the experience of wholeness." Saul's class embodies this holistic approach to yoga as he weaves asana, pranayama, meditation and sacred intention together as a connected process of wholeness, connecting us to this inner source. "It is my intention to create the space for people to relax, to be safe, to heal and align more deeply with their true self. Whatever yoga we do becomes much deeper when it is coming from that place because it allows space for wholeness."
Saul is a family man. He sees his yoga, family and path all entwined. When referring to his partner, and their three sons (Griffin, Jai and Taj), he says, "They are my joy, my heart teachers, everyday they teach me about love, life and yoga. Any philosophy has to be grounded in the soil of real life or it is just knowledge." Saul also has a deep love and history in music (he grew up in a recording studio), which explains his use of chanting and music in class. This love recently inspired a collaboration with musician and chant master Dave Stringer, producing and engineering two acclaimed albums of Sanskrit chant and soulful world music.
Saul currently teaches community classes at Sacred Movement in Venice, directs the Thai Yoga massage training program at the White Lotus foundation and leads yoga programs and retreats around the world. For more information on Saul's training programs and classes please visit his website at sauldavidraye.com.
Read next >> an interview of the artist steve sabella