the sacred banyan tree: 700 years old meaning
Published: 10-02-2023 - Last Edited: 23-02-2023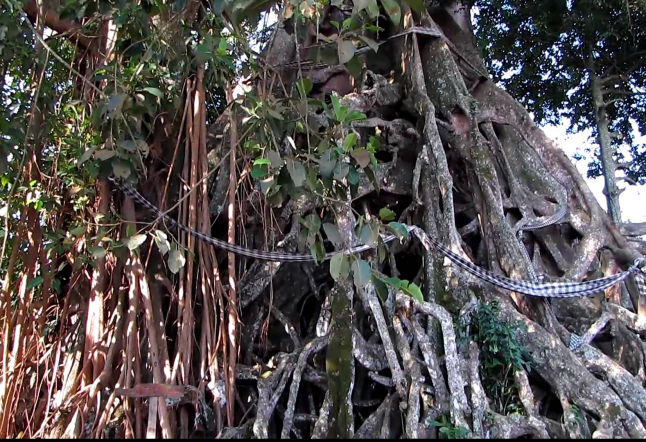 Eternal Banyan Tree – Giant Ancient Tree in Bali
While Bali is full of hidden gems, one of the most divine is the sacred Banyan tree. For the Balinese, the tree is a symbol of unity and power for, with its sturdy trunk and far-reaching roots and is even depicted on the national coat of arms of Indonesia.

The sacredness of the tree comes from the belief that the Lord Krishna rests on its leaves.
The sacred banyan tree is integral to the temple for the dead or Pura Dalem in Balinese villages.

It represents the eternal cycle of death and rebirth and it protects spirits after death.

Hindus believe the trees are inhabited by Gods and spirits of deceased ancestors, which is why the trees emit vast spiritual energy.

They can often be found wearing checkered cloth surrounded by shrines built to appease the Gods and spirits.

Some locals believe the sacred banyan tree's spiritual energy attracts demons, so cleansing ceremonies are performed routinely, especially near cemeteries and special shrines are built to ward off demons.
The belief that banyan trees are sacred is not exclusive to Balinese Hindus.

In fact, the banyan tree is featured in cultures and religions across Pacific Asia.

In Buddhism, the sacred banyan tree is often used as a metaphor for lust overcoming humans.
Also Read>>> Bali Best Waterfalls
This is related to the epiphytic nature of the tree, as the banyan often harmlessly overtakes other surrounding plants as it grows.
If you're visiting Bali and want to enjoy more 'off the beaten path' local secrets, you can go make a wish in the woods by the Giant Banyan Tree.

This huge, majestic tree is located in Northern Bali in a village called Gesing. It is believed to be 700 years old and stands at 85 meters tall.

You can walk through the roots of the tree and better yet, they say all your wishes will come true!

Read and watch the video below about the giant Banyan Kayu Putih Tree in Tabanan area.
For more info on Bali's best spots for the modern yogi
| STAY | SPA | PLAY | EAT | SHOP | YOGA |
Download our BALI Vacation GUIDE for free.
Kayu Putih Giant Tree – 700 years old old Kapok Tree Bali's Tabanan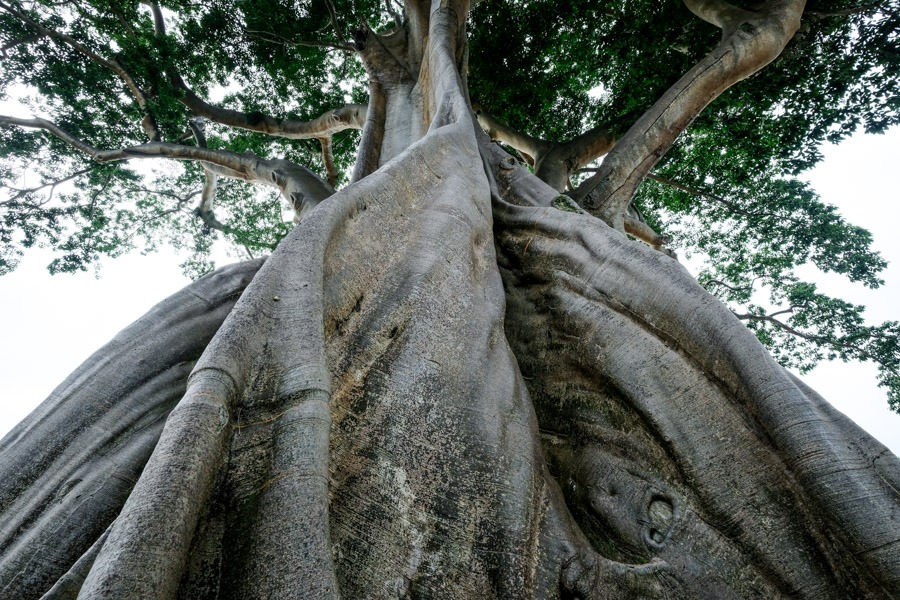 Kayu Putih is the word for a massive Kapok tree in the center of Bali that is thought to be one of the island's oldest and largest trees.

Like other places in Bali, it's a splendid tree with a 'fairy tale' feel to it.
On some websites, it's also referred to as the 'Bayan Ancient Tree' (Bayan is the neighborhood).

That moniker has probably led some people to believe it's a Banyan tree, despite Bali's many fantastic Banyan trees!
Kayu Putih Giant Tree – History & Facts
Kayu Putih means "White Wood" in Bahasa Indonesia as well as refers to the color of the massive tree trunk.
Some have referred to this as a magnificent Banyan tree, but I believe it is a massive Kapok tree (binomial nomenclature Ceiba pentandra), which really is extremely rare in Bali.

People may be confused about the Banyan because they misread the nickname 'Bayan Ancient Tree' in Instagram posts.
According to local villagers, the tree is much more than 50 metres high as well as 700 years old, implying that it was a baby when some of Bali's beautiful temples were being constructed.
Also Read>>> Banyan Botanicals
This is an intriguing tree and one of myour absolute favourites in Southeast Asia.
Overall, it's a fantastic place to visit in conjunction to Taman Ayun Temple as well as the Sangeh Monkey Forest, both of which are nearby.
A tiny Balinese temple sits beside the Kayu Putih tree, and yet you don't have to wear a sarong to explore the grounds.
There's so many good photo opportunities here, and because the tree is so massive, you need another wide angle camera to do it justice.
As of 2022, the entrance fee to Kayu Putih Ubud is waived.
There is no admission fee to see the tree, but there is a donor box where you are expected to leave a small tip.
We gave them a ten thousand Rupiah tip, and they were okay with it.
Getting There
The Kayu Putih tree can be found inside the Bayan Banjar district of Bali's Tabanan regency. It's labeled 'Bayan Ancient Tree' on Google Maps.

Address: H5VP+9QF, Tua, Marga, Tabanan Regency, Bali 82191

It's about a one-hour head north from Ubud and Canggu, and there's an excellent road to the tree.
Renting a scooter or hiring a private car and driver is the best way to get there.
If you want to see other stunning trees, go to Bali Botanical Garden in Bedugul, which is located in the northwestern part of Bali.
This 160-hectare park contains thousands of different tropical plant and tree species, including a gigantic twisted Banyan tree resembling one of the Lord of the Rings' walking trees.

For more info on Bali's best spots for the modern yogi
| STAY | SPA | PLAY | EAT | SHOP | YOGA |
Download our ULTIMATE BALI GUIDE for free