Where to stay, eat, play, spa, and explore in pemuteran
Close your eyes…inhale…exhale…and discover the peacefulness of the small and quiet village Pemuteran in North Bali. Pemuteran literally means 'come back to you' and it offers a deep inner experience.

This is the place to relax and to find the way back to yourself.
Pemuteran is the ideal place to discover the traditional lifestyle of Bali. It is located in the beautiful northwest area of the island, approximately 125 km away from the airport.

As well as yoga classes, there is a wide range of leisure activities to enjoy in Pemuteran and its surrounding areas.
Activities such as diving and snorkeling are available at bio rocks or the famous Menjangan Island.

You can watch the sunrise or sunset from one of the nearby temples, or enjoy bird watching, kayaking, trekking in Menjangan National Park (17km).

Revitalizing trips to nearby waterfalls or mangrove forests can be followed by sunbathing on the beach and traditional Balinese massages. 

There are infinite options, the only hardship you will have is choosing!
WHERE TO SAY
Puri Ganesha
Peace, quiet, tranquility and raw food cuisine– this is Puri Ganesha. Beachside villas, complete with private terrace and swimming pool, offer a secluded oasis away from the hustle and bustle of the South.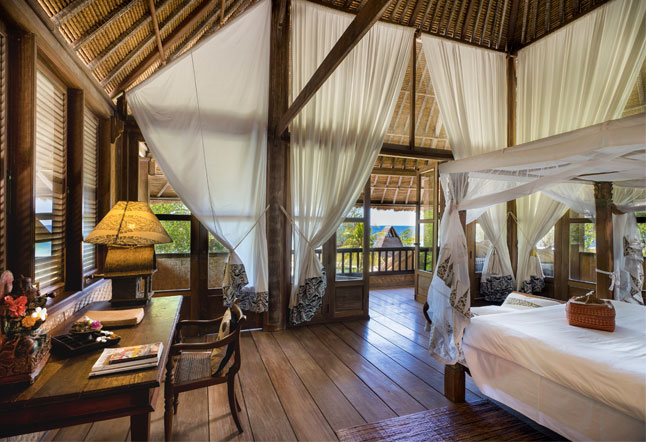 Four large private villas, each with their unique design, provide guests with a healing and nurturing place to lay their heads.
Treat yourself to a private message and enjoy the locally sourced gourmet raw food as you soak in all the beauty that North Bali has to offer.
Gerokgak, Buleleng Regency, Bali
+62-812 3932 984
puriganesha-homes

SUMBERKIMA HILLS VILLAS
Sumberkima Hill is not a hotel, but a private villa retreat. This place lies on top of a hill with a stunning 360-degree view of the Balinese Sea, the Barat National Park, the valleys of northwest Bali and the Javas volcanos.
Guests can choose between 13 villas/rooms, suitable for 2 to 11 people. Each villa is different in size, style, and interior but all of the villas offer a luxury Balinese atmosphere. A private infinity pool in each villa makes your stay even more relaxing.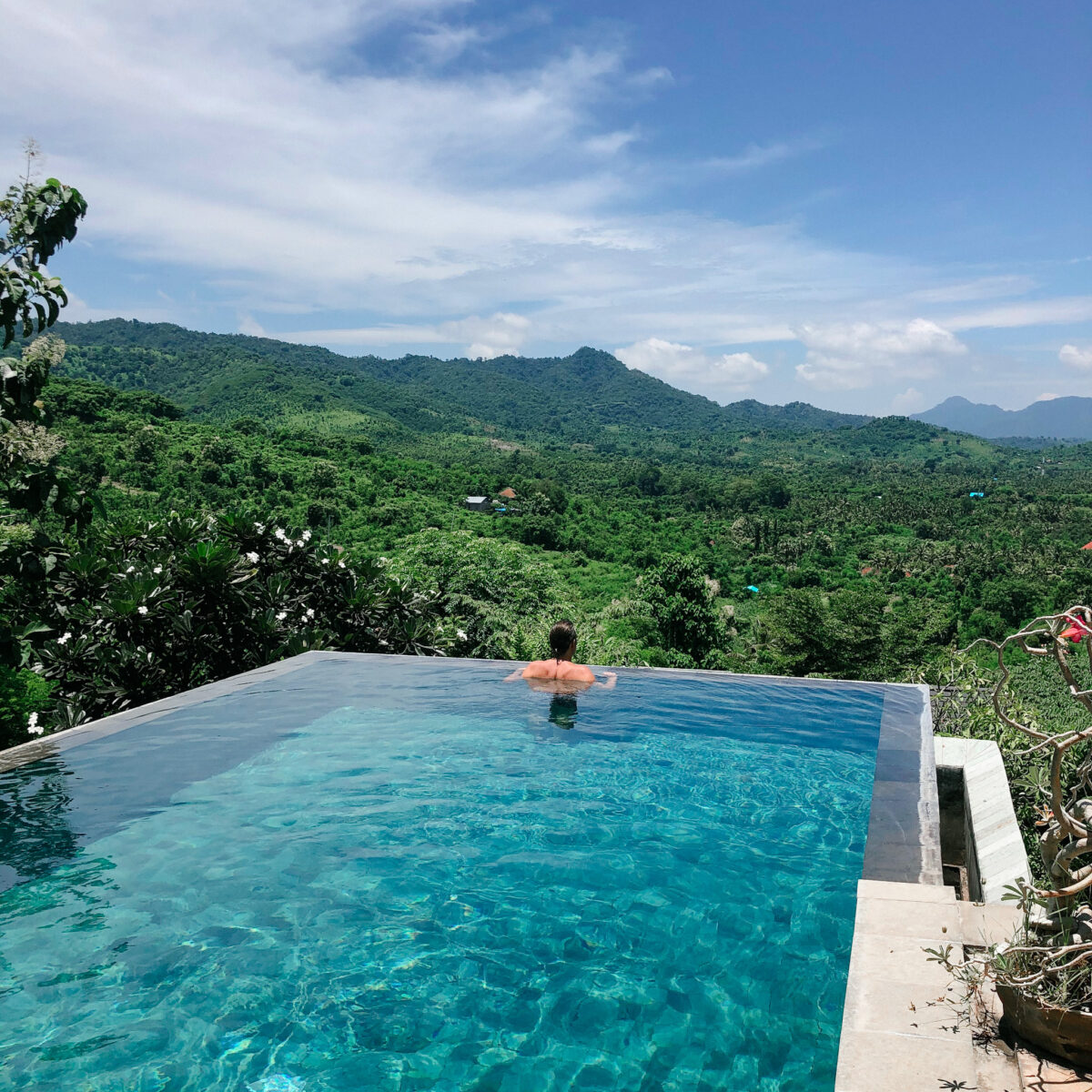 sumberkimahill.com – [email protected]
DUNE ALAYA YOGA HOTEL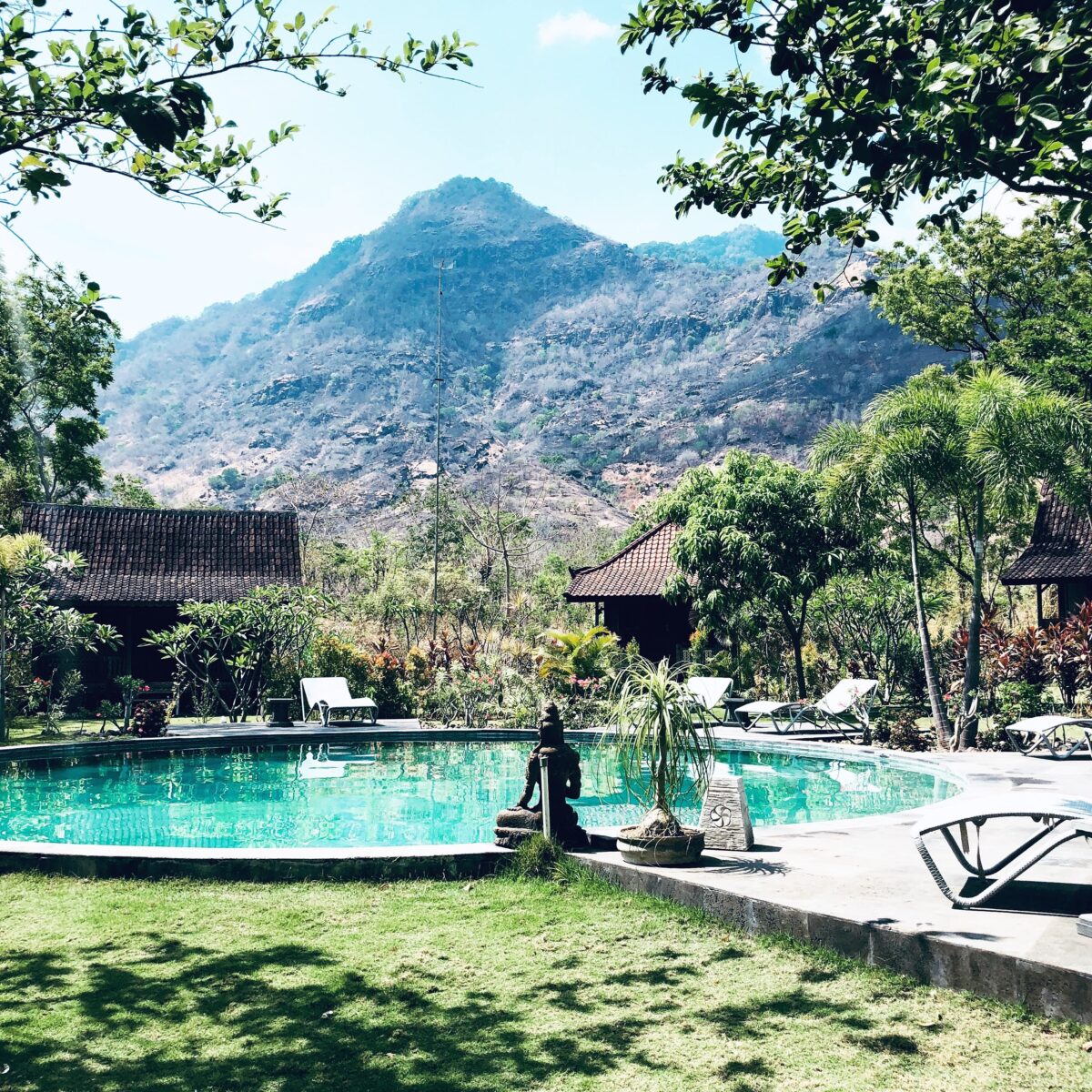 Alaya means 'soul' in Sanskrit and this small, rustic hotel is the perfect place to forget the hassle of your daily life, and let your soul run free.
Dune Alaya Yoga Hotel is a secret hideaway with only 9 rooms. All rooms are typical traditional Balinese wooden bungalows, each surrounded by a huge garden.

They offer 4 spaces as one-room bungalows and 4 spaces as two-bedroom bungalows, each with either shared or separate bathrooms. In the main house, there's an additional larger room with a separate corner for a child's bed, when needed.
This hotel is situated at the foot of the mountains and in the middle of Balinese nature.

The property has a small swimming pool right in the middle of a beautiful garden and its own big yoga Shala. You might say it is an energetic and spiritually enchanted place.

There's no WIFI on the property either, so you can fully immerse yourself here without disruption to your vibrations. It presents itself as the perfect place for small groups, retreats, and families, but individual guests will also enjoy this tranquil place.
Dune Alaya Yoga Hotel offers Hatha Yoga following Yesudian's teachings twice a day, five days a week.

The classes are suited for absolute beginners and advanced level yogis. Guests have free access to the yoga hall for meditation, chanting or their own practice.
Private yoga classes, stress management classes, and deep relaxation techniques are also available for guests to learn upon requests.
SUN SUKO BOUTIQUE RETREAT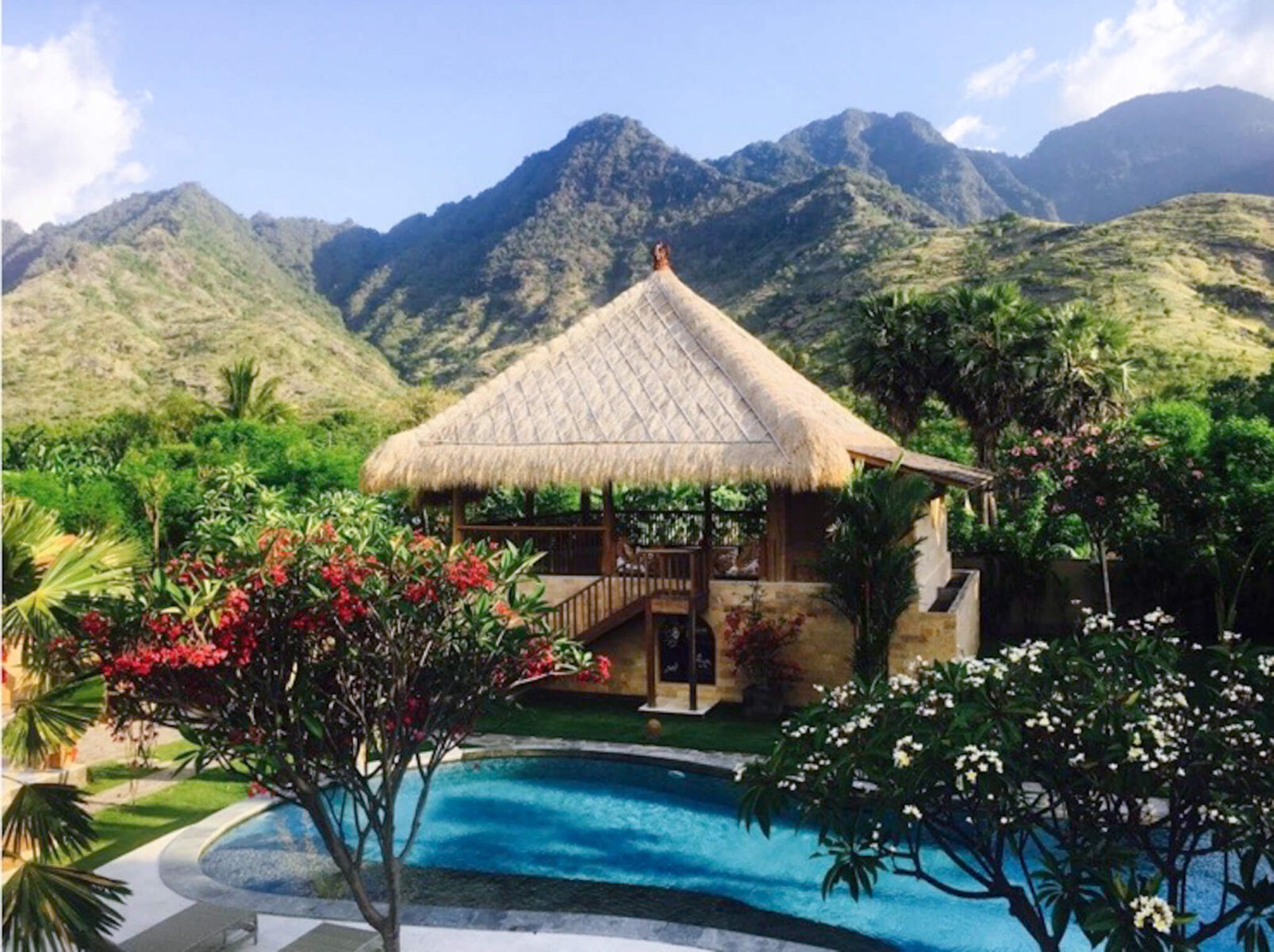 The Sun Suko Boutique Retreat was built by Anja Braendli, an independent Swiss fashion designer. 

This space allows oneself to remember the essential power of being centered, which is easily lost in a fast-paced world.
After 15 years of living and working in Bali, and 25 years working in the fashion industry, Anja decided against keeping up with the speed and pressures of making clothing collections. 

Driven by a constant flow of creativity, Anja was able to make a dream come true, to create her own unique boutique hotel, paying lots of attention to detail.
Based on her own experience of feeling drained, she was seeking to create a place of peace and tranquility for every individual to recharge.

Therefore she created an infrastructure that combined holistic treatment, healthy food and balancing movement in a pure, simplicity-oriented environment.
The retreat offers 10 rooms – each has its own theme and design. Every detail of the room has been chosen with passion and love to make guests feel at home.

The retreat has been built with a unique mix of concrete, natural stone, and recycled teak wood, making your bedroom a unique and comfortable place to stay.

The hotel has its own restaurant and yoga terrace.
sunsukoretreat.com – [email protected]

MATAHARI BEACH RESORT & SPA (closed)
The Matahari Beach Resort & Spa is a perfect getaway by the Java Sea and Bali Barat National Park. Surrounded by tropical gardens, this exclusive resort features spas, day trips to experience Balinese culture and delightful cuisine.

Whether you're interested in relaxing by the beach or pool, practicing yoga in the gardens, or getting a feel for the Balinese way of life, there is something for you here!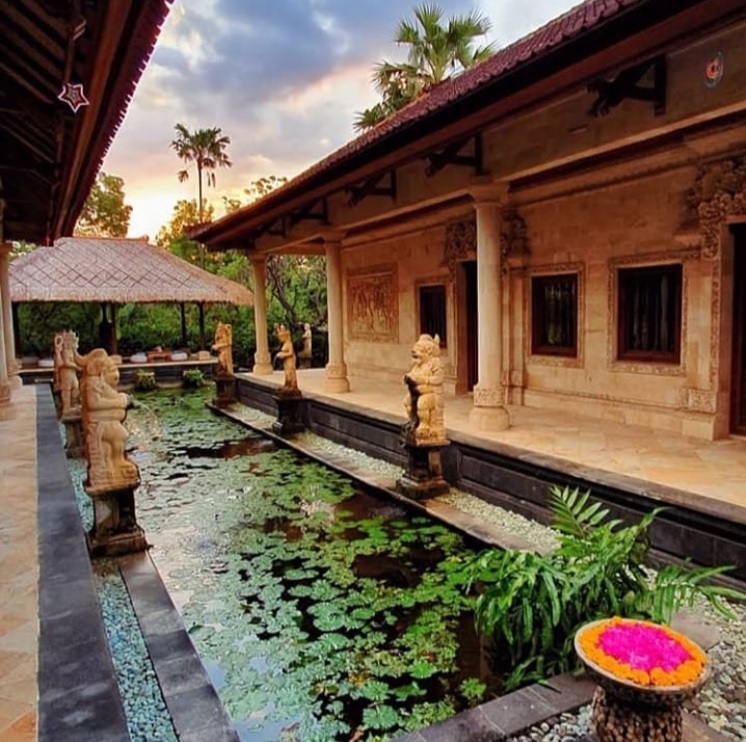 The restaurant boasts creative "East meets West cuisine," featuring both local and Western specialties.

The chefs use organic ingredients that come from partner plantations nearby and local farms or are harvested from the resort's own garden. We can personally vouch for the delicious vegetarian options!
Better yet, the resort has a wonderful relationship with the Pemuteran community, initiating a local kindergarten and orphanage in recent years, encouraging education and music and arts within the children of the village.
Jalan Raya Seririt, Gilimanuk, Ds. Pemuteran 81155
+62.362.92312 – +62.812.380.5458
matahari-beach-resort.com
SEA GLASS HOUSE (closed)

If you're searching for the perfect place to practice dazing at the symphony of colors on the horizon or falling asleep in mid-day to the sound of the waves – then look no further. Sea Glass House is a unique boutique hotel made entirely out of the recycled glass that Japanese artist Seiki Torige – an award-winning hand-built glass & iron designer-artist uses for his creative projects.
WHERE TO EAT
SETIA WARUNG

After working many years in one of the best hotels in Pemuteran (Puri Ganesha mentioned above), in 2016 Setia decided to open her small Warung (restaurant). You will find just four tables on the main road, encompassing the street food atmosphere of a traditional Balinese restaurant.
What the place might lack in comfort and quietness is counterbalanced with the taste of the food. Setia makes wraps and salads that are different every day with four dressings to choose from.
The owner learned extensively while working at Puri Ganesha, and offers vegetarian and non-vegetarian dishes that are delicious.
At the west part of JL. Pemuteran, Pemuteran, Pemuteran, Gerokgak, Kabupaten Buleleng, Bali 81155
SELINI CAFE & BAKERY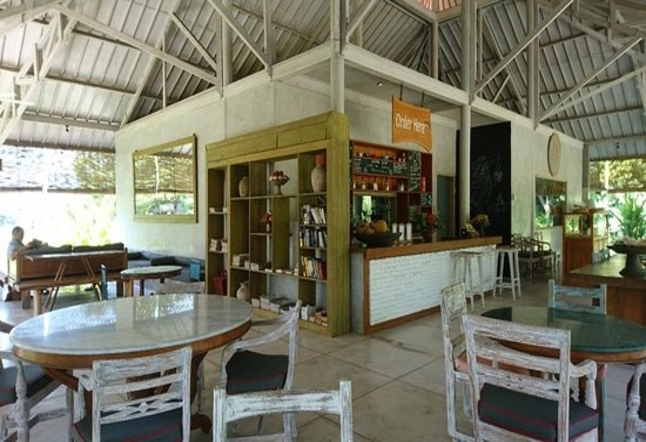 Credit Ursi M
You've had a long active day and let's be honest – even a yogi craves some carbs or western food every now and then.

Nothing bad about following your cravings once in a while, especially on your holidays.
This is the place to spoil yourself plus there's fast WIFI, the best sea views around and all with an airy and laid-back atmosphere.

Enjoy the tasty vegetarian burger, a cappuccino float or homemade delicious chocolate cake with ice cream.
Do you want to be more on the healthier side? Go for the greek salad with fresh homemade pita bread, fresh coconut water or one of their delicious smoothies or lassies. Be careful though, you can easily forget time exists while on the couches of this open pavilion ambiance.
Jl. Singaraja-Gilimanuk, Pemuteran, Gerokgak, Kabupaten Buleleng, Bali 81155
TAMAN SELINI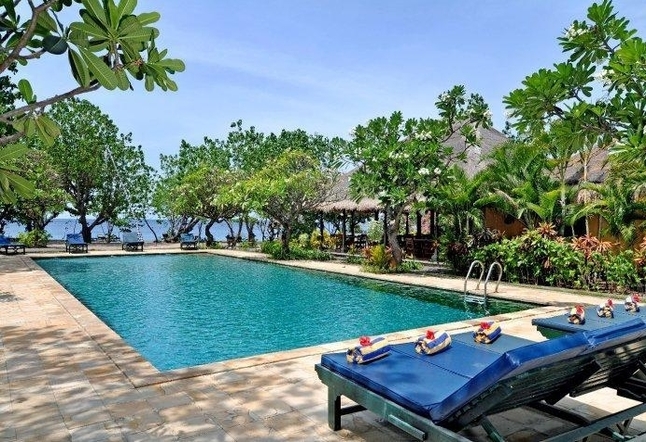 Credit Taman Selini
If you're looking for a place with a romantic atmosphere and tasty food from all corners of the world Taman Selini is the place to choose.

Enjoy dishes from the Indonesian Archipelago with a collection of classics from West Sumatra, Java, and Bali, like chicken satay with peanut sauce, Soto ayam, and beef rendang Padang style.
Their highlight is a big plate of vegetarian mezze; they have a delightful selection of the most popular Greek appetizers and dishes.

They also offer a rich variety of traditional Italian pasta, pizza using a homemade pita base, various kinds of local fresh fish, vegetable dishes and new combinations of Asian Fusion.
JL. Pemuteran, Pemuteran, Pemuteran, Gerokgak, Kabupaten Buleleng, Bali 81155
WHERE TO PRACTICE YOGA
MATAHARI BEACH RESORT & SPA (closed)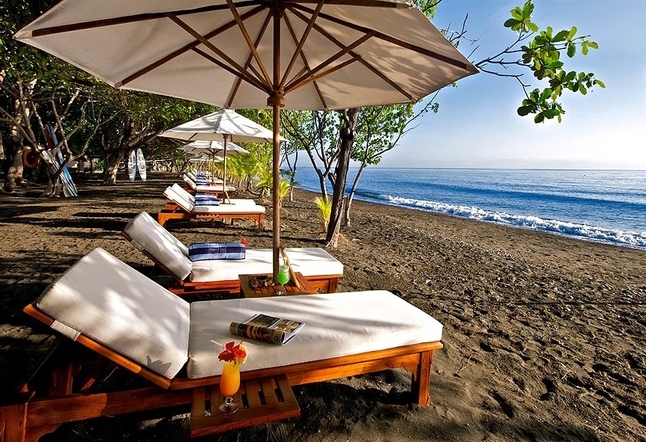 Credit Adventure Life
The small yoga pavilion of the Matahari Beach Resort & Spa is located in their beautiful garden. Yoga classes start at 8 am every morning. Their yoga is based on the Indian Ashtanga Yoga.
In Ashtanga, we aim to do each movement without forcing the body. So you can focus specifically on your breathing, to go deep and relax as much as you can.

The harmony that results from the combination of breathing and movement, leads you to inner stability and increased well-being.

Private Classes are also available.
SUMBERKIMA HILLS VILLAS
The yoga pavilion of Sumberkima Hill has a beautiful view over the valley and sea. Sumberkima Hill offers Ashtanga Yoga classes for beginners and intermediate levels.

Their Ashtanga Yoga classes are great for building core strength and toning the body, to synchronize breath and movement, and to produce an internal heat designed to purify the body.
YOGA AND DIVING
DIVE INTO YOURSELF RETREATS
What connects yoga with diving? It is not just the breathing techniques which are important but both are also about a journey into another world, a journey towards yourself.

The 'Dive into yourself Retreats' is an awesome combination of yoga and diving.
From April onwards 'Dive into yourself Retreats' offers the possibility to combine these two passions up to four times a year.

Beginner yogis and divers without any certification are just as welcome as advanced.
Dive into the warm tropical ocean, explore the underwater reefs, stretch your body and tap into your own deep wisdom.

Feel your desires, your dreams, and your next big calling. Return home feeling inspired and ready to start living your next extraordinary chapter.
Feel supported with daily yoga classes, guided meditations, coaching sessions and a small group of like-minded people.
SNORKELING & SCUBA DIVING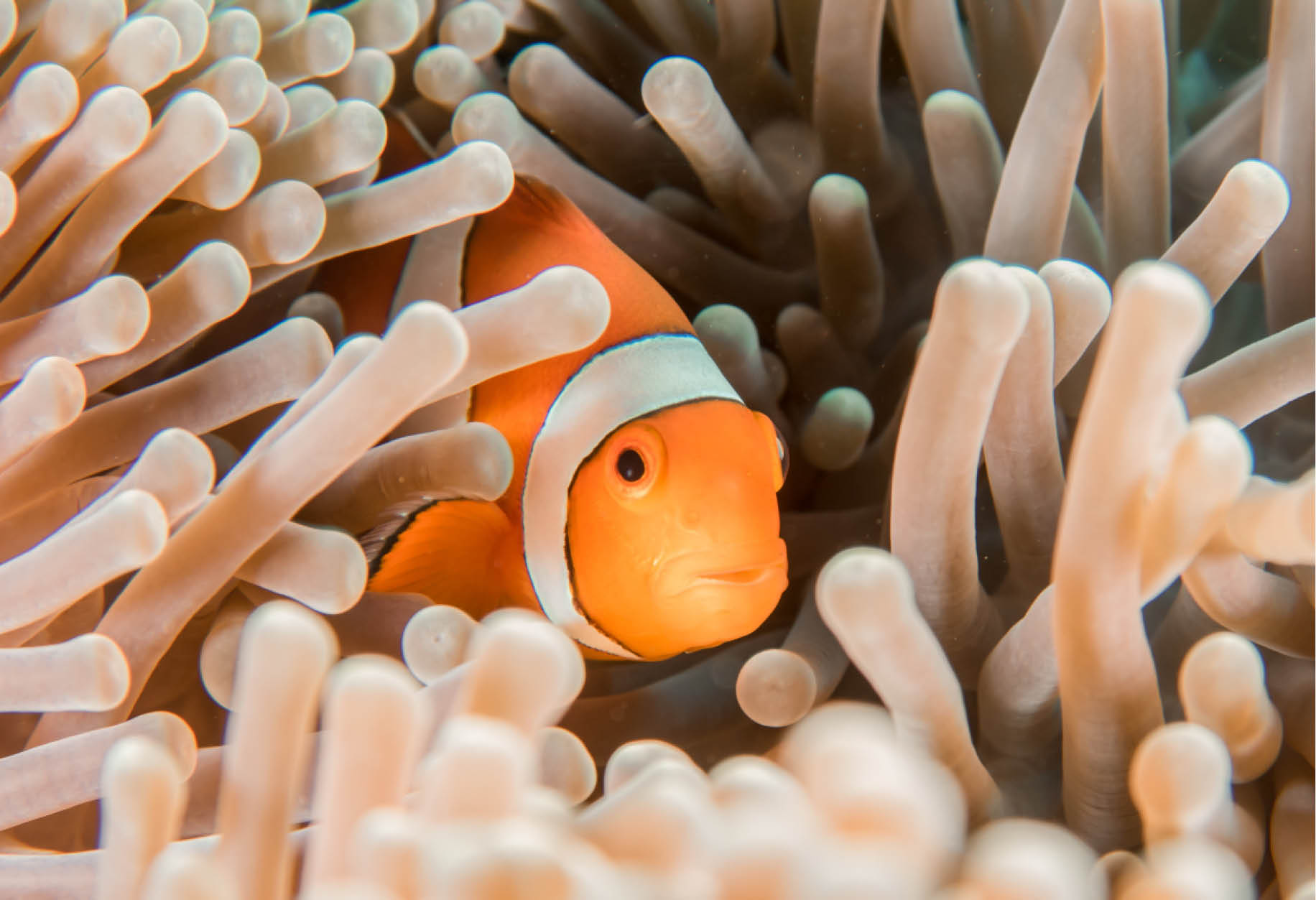 You have the choice between the stunning reefs of Menjangan Island and the dive-and-snorkel sites in Pemuteran Bay.

Menjangan Island is a part of Bali Barat National Park and is well known for its beautiful underwater world.
There are excellent sites with good conditions and visibility for snorkeling and diving. You can view beautiful soft and hard corals, sponges, and a great diversity of gorgonian fans.

These reefs attract huge numbers of small fish including brightly colored parrotfish, damselfish, pufferfish, yellow back fusiliers, unicorn fish, barracuda, and silvery jacks.

The walls plummet deep into the ocean floor so there is always plenty to see. This tour takes around four hours and two different sites will be visited.
Pemuteran Bay is approximately 1 km away from the coast and is made up of underwater islands that are leftover from a long-extinct volcano.

They offer a wide variety of topography and next to the typical colorful reef and swarm fishes, you may also see schools of snappers, large mackerel, batfish, sweetlips, emperor fish and lots of fusiliers.

With some luck, you could also see some frogfish, crocodile fish, shred fish, baby white tips, different kinds of nudibranchs, scorpionfish and octopuses.
There are over 25 reef sites and a number of high-quality dive centers in the area, below are some of them.
SEA ROVERS DIVE CENTER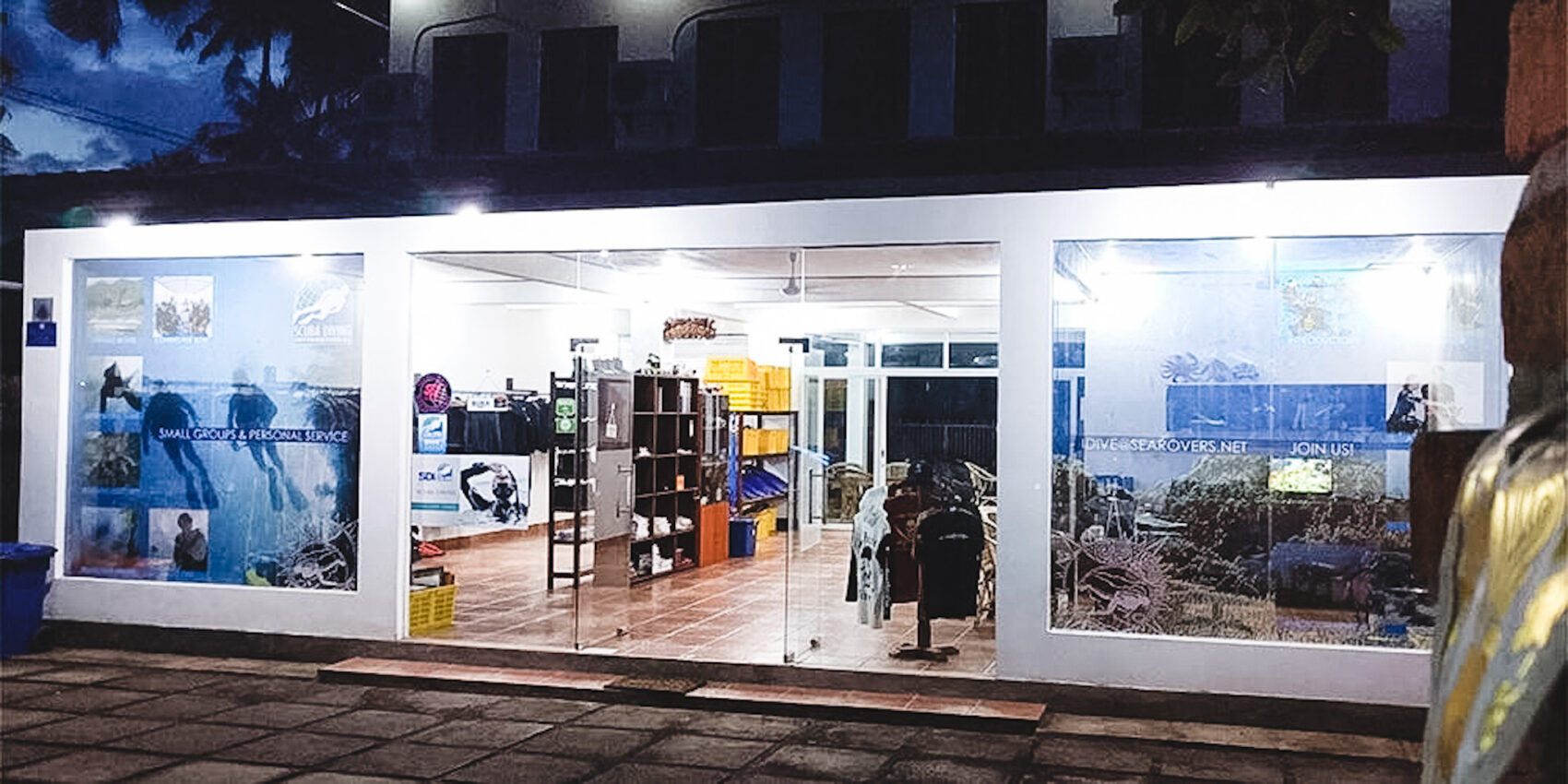 Paul and his team use multiple-use plastic bottles and we love them for that among other things. You can be assured with this center that all equipment is being checked and up to date.

searovers.net
+628113857118

REEF SEEN DIVERS CENTER
reefseenbali.com
+6236293001 – +628123894051 
BALI DIVING ACADEMY
Bali Diving Academy – 
scubali.com/diving-in-bali/diving-in-pemuteran
+6281339176652
ABYSS OCEAN WORLD
abyssoceanworld.com
+6282237795135
EXPLORE
Something for the early bird – the opening times are Monday to Thursday and Saturday, 5 am – 8 am.

The traditional markets "pasars" take place at night or in the very early morning. The early time keeps the products fresh.

You'll find a great variety of daily needs; groceries, offerings, spices and various exotic.
Did you ever try the dragon or the snake fruit?

Have a look at them and you will understand immediately where the names are coming from.

The jackfruit may smell but the taste is one of a kind – somewhere between mango, pineapple, and paradise.
TURTLE HATCHERY
The Turtle Hatchery or Project Penyu (Penyu means in Bahasa Turtle) is definitely worth a visit – the baby turtles will immediately win your heart and if you like to, you can even set one free and support the project with a small fee.
Project Penyu, founded and run by the dive center Reef Seen and the help of the local village, is an important conservation project.

Reef Seen states on their website: "The purposes of the Reef Seen Turtle Hatchery Project are first, to protect the living sea turtles and secondly, to increase the chances for turtle hatchlings to reach maturity, reward the locals who will find a newly-laid sea turtle's nest and either bring it or we collect the eggs ourselves.
By doing so, we encourage villagers not to kill or capture mature turtles, who are likely to return and lay more eggs.

At the same time, turtle eggs that would otherwise have been eaten are protected and given the chance to hatch.

The hatchlings are kept at Reef Seen in a holding tank, where they are fed and cared for until they are bigger and have a greater chance of survival in the open sea.
According to the season, there are eggs from three different species of sea turtles – Green, Olive Ridley, and Hawksbill.

Their main energy isn't put into the hatchery itself but into raising local awareness of the need for conservation. Local fishermen increasingly recognize the problems of over-exploitation of natural resources.

There is hope that their knowledge will be passed on to other villages as well as to the following generations.
Gili Trawangan, Indonesia, Gili Indah, Pemenang, Kabupaten Lombok Utara, Nusa Tenggara Bar. 83352
JUNGLE TREKKING – WEST BALI NATIONAL PARK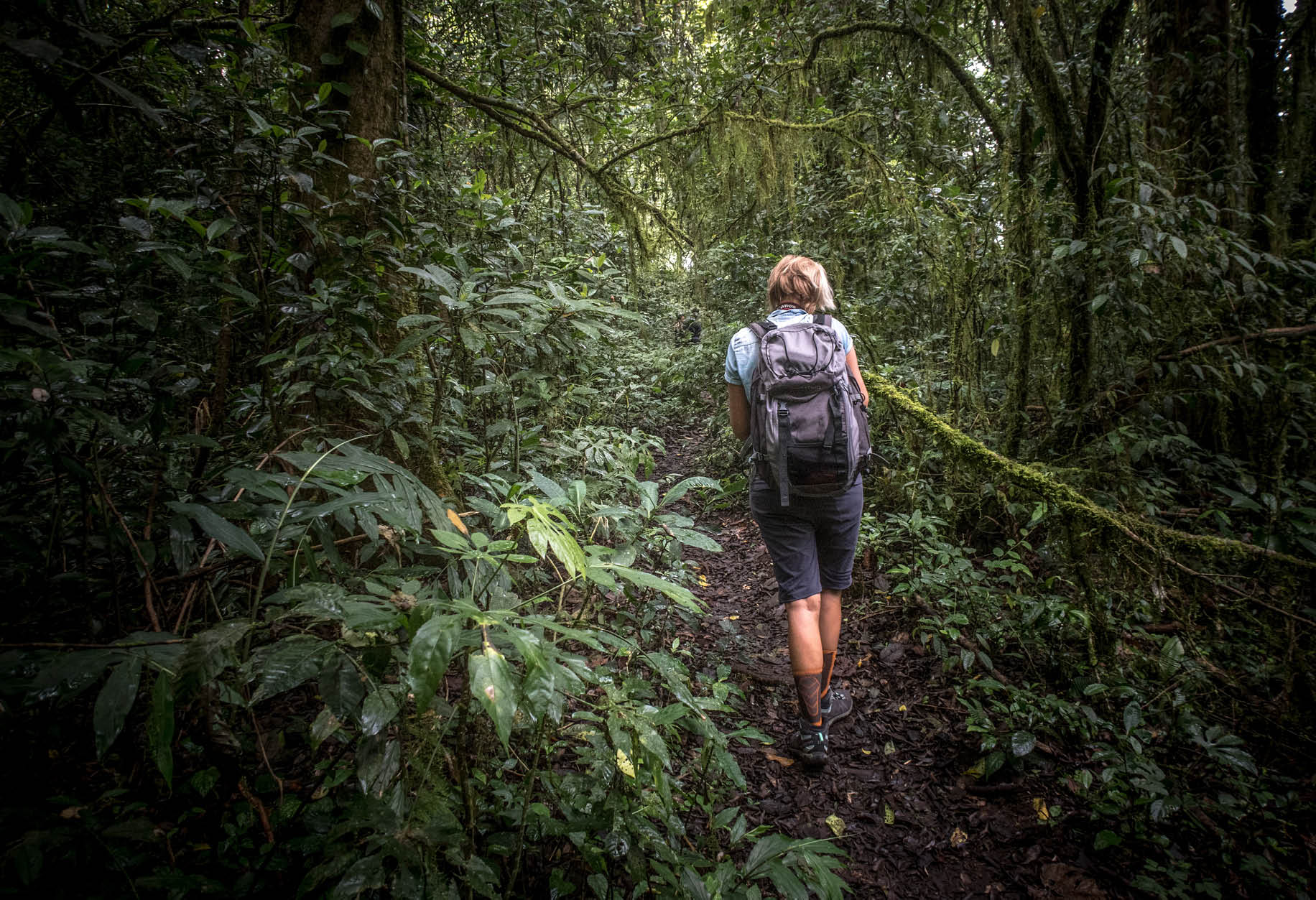 This is an easy hike through the jungle that lasts around two to three hours, depending on your choice.  

Your guide will be a certified, English speaking Park Ranger that will describe all the different kinds of plants and animals that are found in this area.
During the hike through the jungle, you will cross a small river bed which carries only water during the rainy season.

Along the way, you will have a chance to see some species of animals inhabiting the jungle such as wild chickens, monitor lizards, birds, and monkeys.

The knowledge of some of the guides is amazing. Thumbs up for their effort to protect the environment and teach the local kids to respect nature.
HOTSPRING AIR PANAS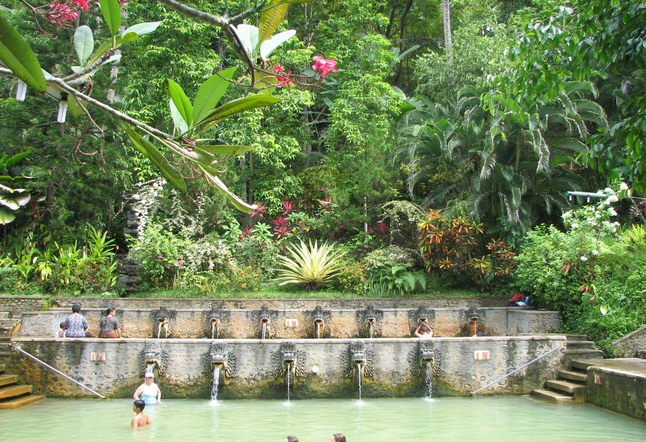 Credit Eric Bajart
Not far from the Buddhist temple are the Banjar hot springs. It is set in a beautiful flowered garden in which these ancient-looking hot springs are located.

There are three baths where you can puddle in 38ºC sulfur water. 

Traditional belief holds that this hot spring can cure illness, eliminate the feeling of stress and provide relaxation. It can get crowded during Balinese Holidays.
PEARL FARM
Near the fishing village of Pemuteran is the Atlas Pearl Farm. Visitors can do a tour and learn about the oyster-breeding program, the cultivation cycle and see a demonstration of pearl seeding and harvesting.
Visiting the pearl farm gives the unique opportunity to see and understand the whole process from the human intervention on the oyster, to the birth of the pearl and all various stages until it is finally extracted from the shell and made into a fine piece of jewelry.

Upstairs, the showroom displays some of the most stunning pearls cultured in Bali's waters.
The staff on the pearl farm are always ready to teach interested visitors. In Indonesia, pearls come in three different shades: golden, silver or white and Atlas is renowned for its silver pearls with hints of blue and a lustrous finish of finest quality.
Atlas Pearl Farm Jalan Nelayan, Penyabangan Village: North Bali, Tel:+62 81 238 77012, +62 361 284455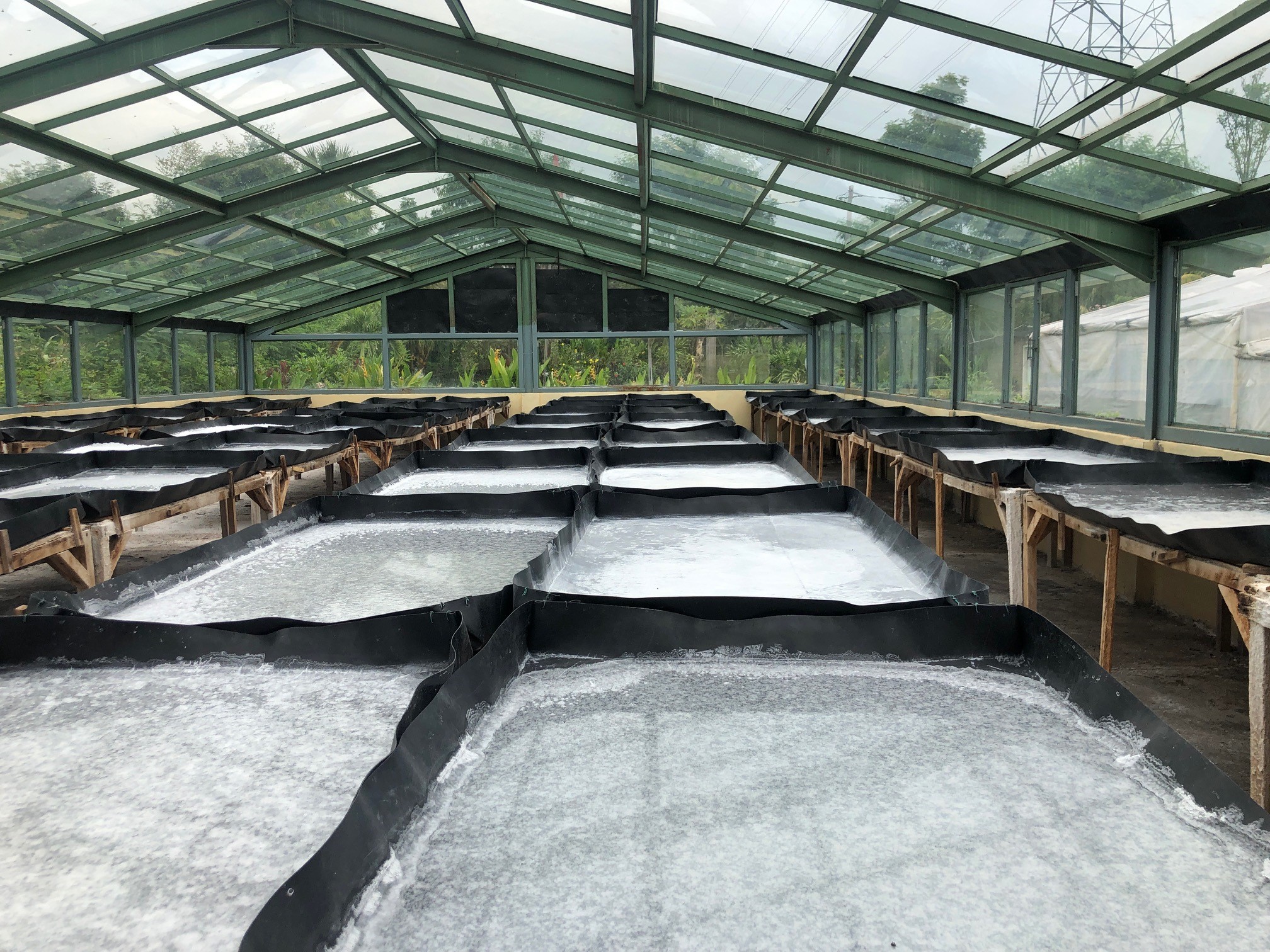 Visit the Bali Artisan Salt Farm for a tour and witness the fascinating process of manufacturing gourmet salts.

Local salt farmers have carefully perfected their craft for years in order to expertly yield large quantities of a variety of salts.
The staff love to teach visitors who are interested in learning about salts and the specific techniques used to produce them.

Learn about the nutritional values of the salt crystals, taste some of the various blended flavors they create and appreciate the expertise it takes to yield salt! For a tour of the salt factory – contact owner Pak Made Gegel.
Jalan Sahadewa No. 1 Dinas Loka Segara , Pemuteran, Bali – 81155, Indonesia.
For more info on Bali's best spots for the modern yogi
| STAY | SPA | PLAY | EAT | SHOP | YOGA |

Download our YOGI TIMES ULTIMATE BALI GUIDE for free.