jamie elmer
Published: 09-12-2011 - Last Edited: 15-11-2022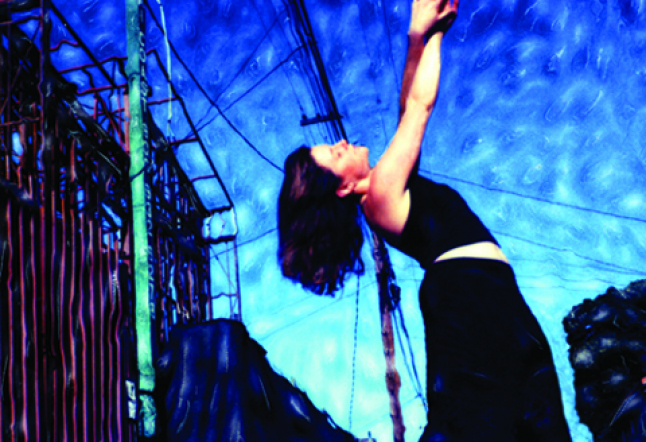 Jamie Elmer has been a body in motion all her life. She began her formal training at the tender age of eight, which eventually sent her across the country into a fierce ballet and modern practice at the North Carolina School of the Arts""an elite residential high school for gifted young artists. She then came to LA in 1998 to complete dance training at the prestigious California Institute of the Arts. Upon graduation, Jamie was promptly recruited into the LA-based Helios Dance Theatre, where she captivated audiences with her athleticism and passion.
Yet amid two decades of corporeal creativity and prowess, it wasn't until the dancer fell into a deep and consistent yoga practice that her relationship to movement elevated to the sacred. "I had been using my body all my life, but it was yoga that showed me just how out of my body I was," she admits. Jamie's path to yoga and teaching is a journey of resistance, humility and grace. She had to step back inside her body to see the world with new eyes.
Jamie had been introduced to yoga during her dance training; in her early twenties, she did an intensive two-week practice in preparation for a special dance piece. Much to her surprise, she struggled with it and candidly recalls, "I hated it. I was angry, I was humbled. I did not like it!" How could someone so flexible have places unopened? How was it that someone so strong could feel so fatigued? The puzzling confrontation continued to rear its head every time she stepped on the mat. In addition, she suffered from a serious back injury related to dance, and the practice grew ever more unappetizing.
While dancing in LA, Jamie began to practice with Max Strom. She would drop in a class once or twice a week, curiously drawn to the reliable frustration Strom's flow would incite. It was when Jamie reached an emotional peak in her personal life, on a day when all the pieces seemed to be falling apart, that Jamie's relationship to yoga reached a turning point. Dragging herself to the mat, arriving 30 minutes before class, Jamie confided in Strom of the storm she was weathering, and forged a friendship and mentorship for life. As so often the case with crisis, that dark day awakened her to the sacredness of yoga and led to a six- or seven-day-a-week practice.
The path to Jamie's teaching is equally studded with a refreshing vulnerability. "I had been studying with Max for two years and worked as his assistant, and throughout he had tried to get me to do a training""to which I refused time and time again," she says. "My practice was for me; I didn't want it to become a job." With a final coaxing, Jamie embarked on the training from the angle of deepening her own practice. In 2001 Jamie completed Max's program and held true to her intention of not teaching. "I was terrified. I was terrified of using my voice to guide a room. As a dancer I could be a mimic, I could wear any mask, but as a yoga teacher I had to be myself. That's much scarier." After another year of consistent practice without teaching, Max forced the moment to its crisis, telling her that she had no choice but to begin teaching at Sacred Movement. He had already printed her name on the schedule for three to four classes a week.
With the terror still present in the beginning of Jamie's career, she continued sit with the discomfort, as if it were a pose itself, slowly relaxing into her role as guide and deepening her own practice along the way. Her class is a vital vinyasa flow informed by her innate kinesthetic understanding and dance background, with supple adjustments and astute detection of subtle alignment issues. As we speak I observe a flicker in Jamie's eyes as they zoom in on a man jogging by; she comments on how uncomfortable he looks. To clarify and refine her already laser-sharp awareness, Jamie completed her Pilates certification from Long Beach Dance Conditioning two years ago and blends work with a reformer into some of her private sessions. Jamie's precise knowledge of anatomy is also influenced by the work of physical therapist Sherry Brourman, the person Jamie holds responsible for her own back healing.
Her collective knowledge is rounded with a spiritual alignment reflective of Jamie's deep connection to yoga as a healing practice. When you take a class with Jamie, it's clear in her voice, aura and energy that her intention is to reverberate this healing wave onto her students. "Everyone's connection to yoga is different and everyone heals in a personal way. But what I really want my students to feel when they walk out the door is that they were seen. I think so few people really feel seen. So whether it's eye contact, a touch, an adjustment or an intention, I want each student to feel acknowledged."
Jamie does not limit this philosophy to the interiors of a studio; rather, she commits herself to sustaining yoga off the mat and into world. "I want my students to practice the yoga I teach when they are on the 405 or when they have a fight with a lover""when you don't have a room full of people breathing and practicing with you." Jamie is friends with the parking attendant at Exhale and she checks in to see how the students treat her. This is the assessment Jamie seeks out.
A great teacher has the gift of seeing all that is within a student and allowing him or her to re-experience themselves through their eyes. With the eye of a dancer, now fully embodied, and the open and empathic heart of a yogi, Jamie Elmer sees you: your muscles, your mind and your mood.
And she makes you feel good. Jamie now lives in Annapolis, Maryland
Read next >> juliette kurth