7 reasons why a yoga retreat can transform your life
Published: 10-08-2020 - Last Edited: 03-10-2022

Wondering if a yoga retreat is for you?
You probably know people who went on a yoga retreat in a remote, exotic destination. You've seen the photos they've shared on Instagram, and you've heard their stories about how their life has changed ever since. But due to Covid-19, we all have been experiencing difficulties with traveling, let alone going far to attend a yoga retreat.
But luckily, there are many other options you can explore before long-distance destinations are accessible again. You can participate in online yoga retreats, day retreats, or even weekend retreats close by. That still allows you to have a holistic yoga experience – even in a crisis like this.
Here are seven reasons why a yoga retreat can transform your life:
Reconnect to yourself & heal
Whenever you notice that you're experiencing a lot of stress, feeling overwhelmed with your thoughts and emotions, or simply being lost and uncertain about your purpose in life, it's an indicator that you have disconnected from yourself. Being aware of that disconnection is the first step to reconnect to yourself.
A yoga retreat can help you to find your way back to yourself. Holding the space for you to slow down, rest, and simply be, that alone allows healing to take place.
Have some ME time & learn to love yourself
When was the last time you were able to enjoy a short couple of days just for yourself without feeling guilty? The purpose of loving yourself is to be able to give and receive love unconditionally. It's important to love ourselves first to treat us with acceptance, harmony, and respect. When (re)treating yourself in one way or another, you take "me time" dedicated to self-awareness, self-love, and self-care.
Investing this sacred time – just for yourself – is like a love letter to your body, mind, and spirit and will transform the relationship with yourself and others.
Step outside of your comfort zone
Maybe you have never attended a yoga retreat before. Perhaps you have never even done yoga before. All that doesn't matter. Because a yoga retreat is about stepping out of your comfort zone and finding a new source of comfort, confidence, and trust within yourself.
By stepping out of your comfort zone and allowing yourself to try something new (even if you've made it to many retreats before, no yoga retreat is like the other), you will develop personally.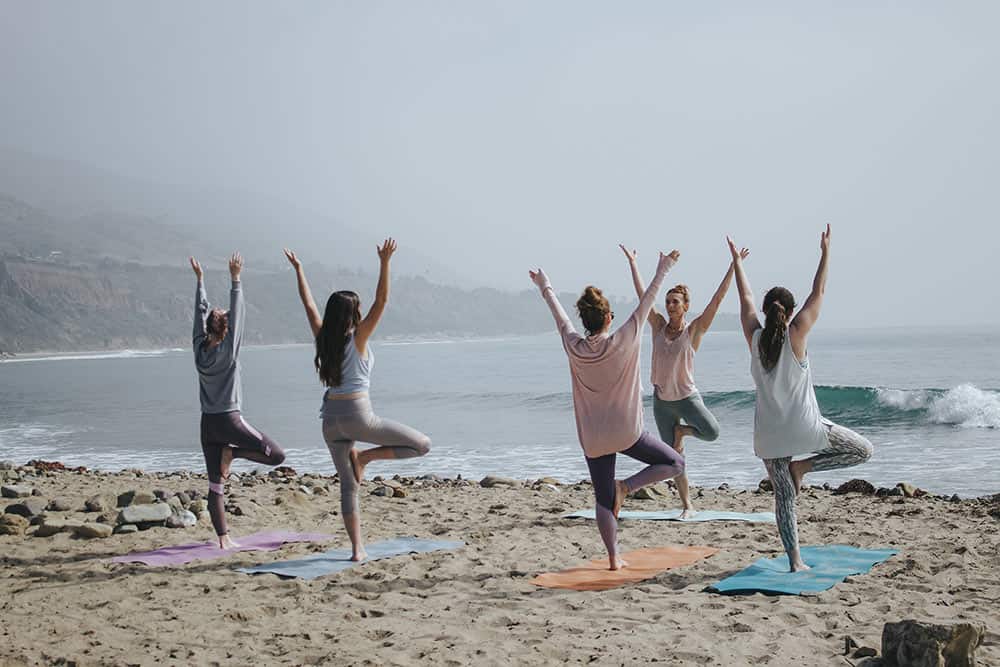 Meet like-minded people
Have you ever heard the phrase, "Your vibe attracts your tribe"? There are many different kinds of yoga retreats out there, the ones for people interested in Ayurveda, boot camps, silent meditation, detox, etc.
Find the one with the focus you want to deepen your knowledge and get in touch with a new community of like-minded people.
Spiritual expansion
Joining a yoga retreat can create a deeper level of spiritual connection. And it doesn't matter whether you are entering a luxury retreat in a paradise location, or decide to make an online yoga retreat at home. In the end, what matters is the change happening in the inside.
Your spiritual expansion, personal development, and emotional growth are the long term reasons why a yoga retreat can transform your life.
Improve your health
During a yoga retreat, you will be engaged in different holistic wellness practices like yoga, meditation, pranayama, and breathwork, which will have a positive effect on your overall health. Additionally, you will most likely be eating healthy meals, spending more time in nature, sleeping well, and reducing stress. All these factors allow you to get downtime. After some days, you will start seeing positive shifts happening in your body and your mind. It will improve your health on many levels.
Change your life habits.
Ultimately the biggest reason why a yoga retreat can transform your life is the change in your life habits. Because a yoga retreat should not be about escaping your life for a short while, only to go back to your stressful habits afterward.
A yoga retreat should be about, including some of the mindful practices in your daily life. Maybe meditation or yoga will become a regular practice, and small gestures of (re-)treating yourself are going to become a habit, even if it's just allowing yourself to rest more.
The real transformation of a yoga retreat takes place afterward. Because the end of a yoga retreat is only the beginning of your own journey.
YOGI TIMES recommends the 3-day online yoga retreat from Namastay Home Retreat. Well organized and easy to integrate into a busy schedule.
Also check out this: 10 of bali's most magical yoga retreats