The Best Arabic Restaurant in Bali: A Review of Zali
Published: 29-09-2022 - Last Edited: 05-01-2023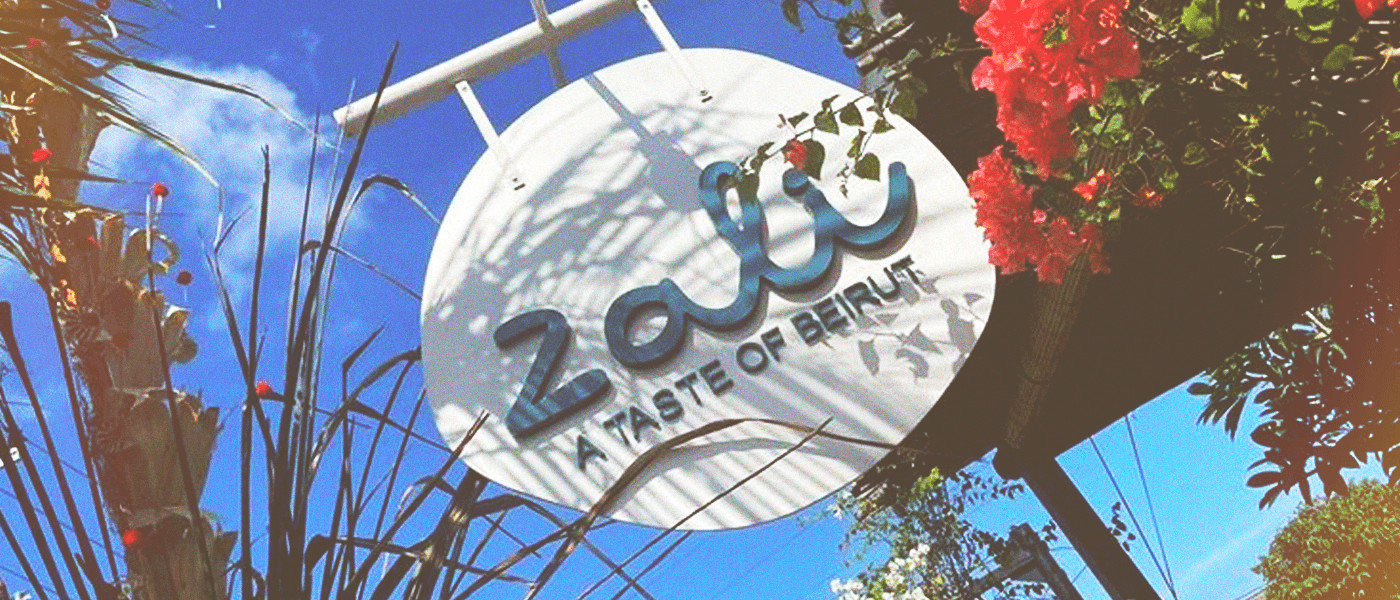 Zali brings Beirut to Bali for a morning of delicious Arabic cuisine and middle eastern vibes
The new brunch spot on the block, Zali, the premiere Arabic Restaurant in Bali blew us away with its delicious food, warm Zali, the latest addition to the neighborhood's restaurant scene, exceeded all expectations with its exceptional fare, attentive service, laid-back atmosphere, and authentic Lebanese flavor. Owned by Liza, a native of Lebanon, Zali has been delighting diners for about a year with its tribute to Liza's culinary heritage. Zali is a must-try for anyone seeking a taste of the Middle East in Canggu.
Lebanese cuisine is a true culinary gem, featuring a wide range of dishes that showcase the country's abundant resources and cultural influences. One of the things that sets Lebanese food apart is its emphasis on healthy, superfood ingredients such as tahini, legumes, olive oil, fresh herbs, and vegetables. These ingredients not only lend flavor and nutrition to the dishes, but also provide a sense of cultural identity and pride.
Zali is a restaurant that perfectly embodies the essence of Lebanese cuisine, offering an impressive selection of dishes that highlight the country's unique flavors and ingredients.

From savory mezze platters brimming with hummus, baba ghanoush, and falafel, to hearty entrees like shawarma and kafta, there is something to satisfy every appetite. What's more, Zali is mindful of the needs of its diners, offering a range of healthy, vegetarian, and gluten-free options that make it easy for everyone to enjoy the delicious flavors of Lebanon.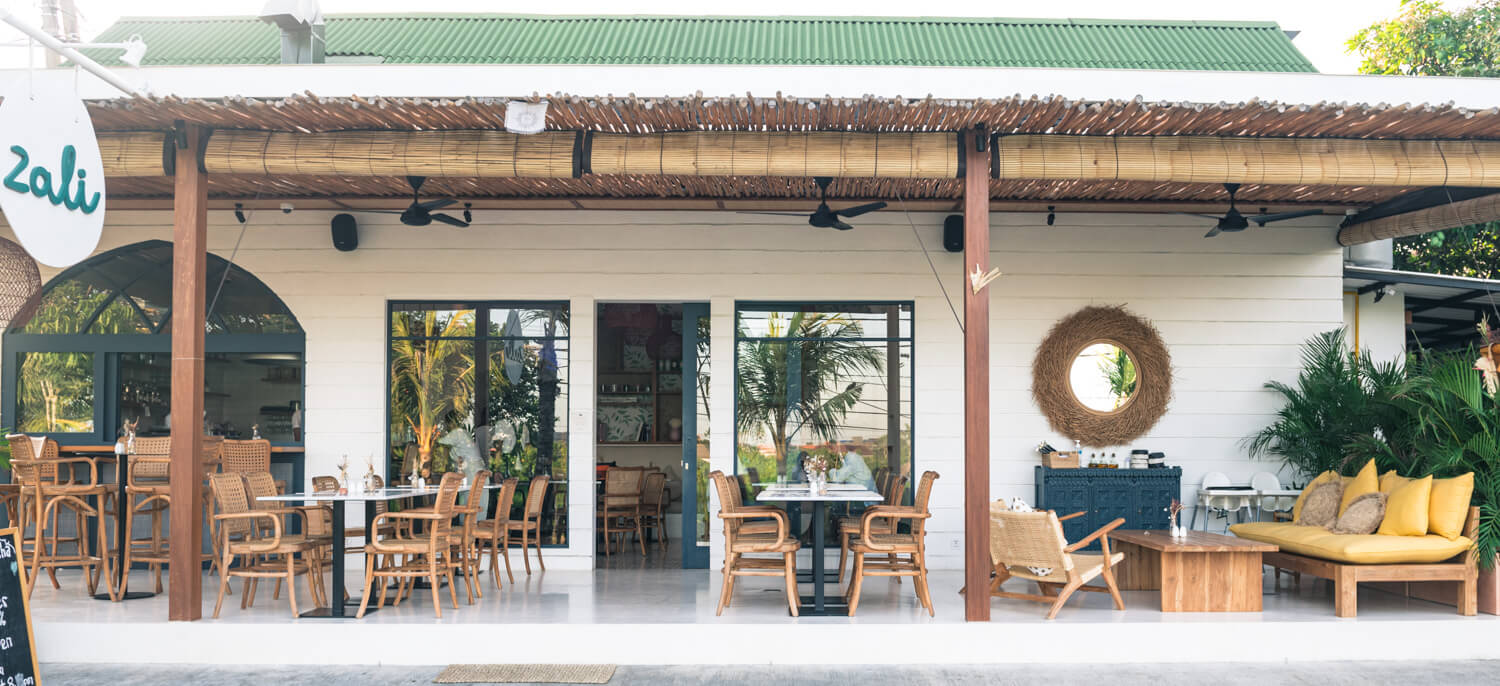 The location
Zali is located in the bustling neighborhood of Pantai Pererenan, surrounded by a variety of cafes and restaurants. Despite this competition, Zali stands out with its distinct boho decor and attention to detail.

The restaurant boasts a clean and simple, yet elegant style that is warm and welcoming. As soon as you step inside, you are enveloped in a cozy ambiance that invites you to sit back, relax, and savor the delicious flavors of Lebanese cuisine.
The restaurant is impeccably clean and well-maintained, with a focus on creating a comfortable and inviting atmosphere for diners. The decor is thoughtfully chosen, with Bohemian chic-inspired touches that add a touch of whimsy and personality to the space.

We sat on the terrace, which is modern and open, and the perfect place to be on a sunny day in Bali. Its bright yellow sofa and middle eastern touches make it stand out on the high street.
Liza welcomed us and passionately told us about the new launch of the breakfast menu. We had the pleasure of trying just a selection of what their new breakfast menu has to offer.

From 8 till 11 am, customers can choose from 20 beautifully thought out dishes, a range of beautifully brewed coffees, and fresh juices.
However, Zali is not just a brunch spot. After 11 am Zali goers can enjoy their incredible lunch and dinner menu until late (midnight).
The Arabic cuisine at Zali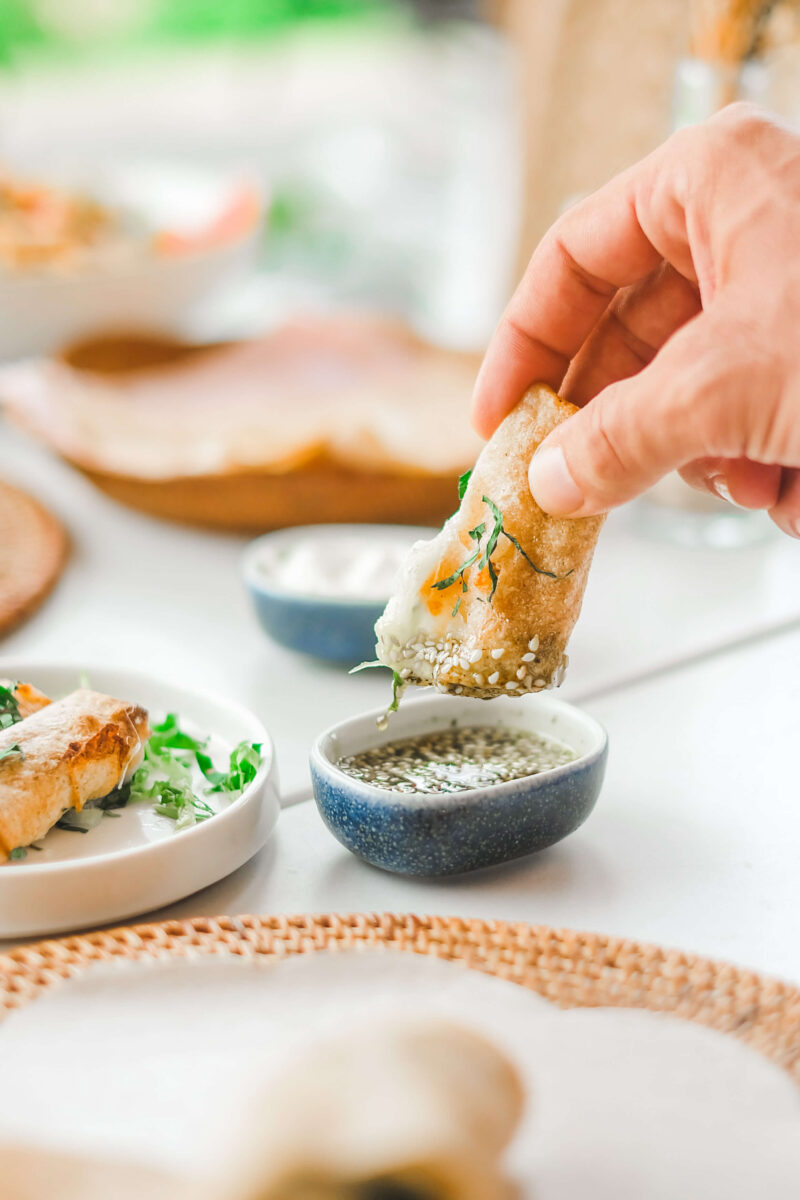 Our favorite dish was the 'Zali saj sampler,' a selection of saj bread topped with zatar, labneh, cheese, and fresh vegetables. We got to watch how Zali makes their saj, a middle eastern thin bread made only of wholegrain flour, salt, and water.

The saj is baked fresh for every order on a hot metal gill. It's simple but delicious and the perfect accompaniment to their homemade labneh, zatar, and tahini.
We also loved the falafel eggs, a Lebanese twist on the classic scotch egg. The falafel was the best we have ever tasted!
In addition to the falafel eggs, we also tried the mango pancakes at the restaurant. They were delicious and had just the right amount of sweetness. The mango flavor was really prominent in the pancakes, and they were served with a side of whipped cream. Overall, it was a great dish and we would definitely order it again.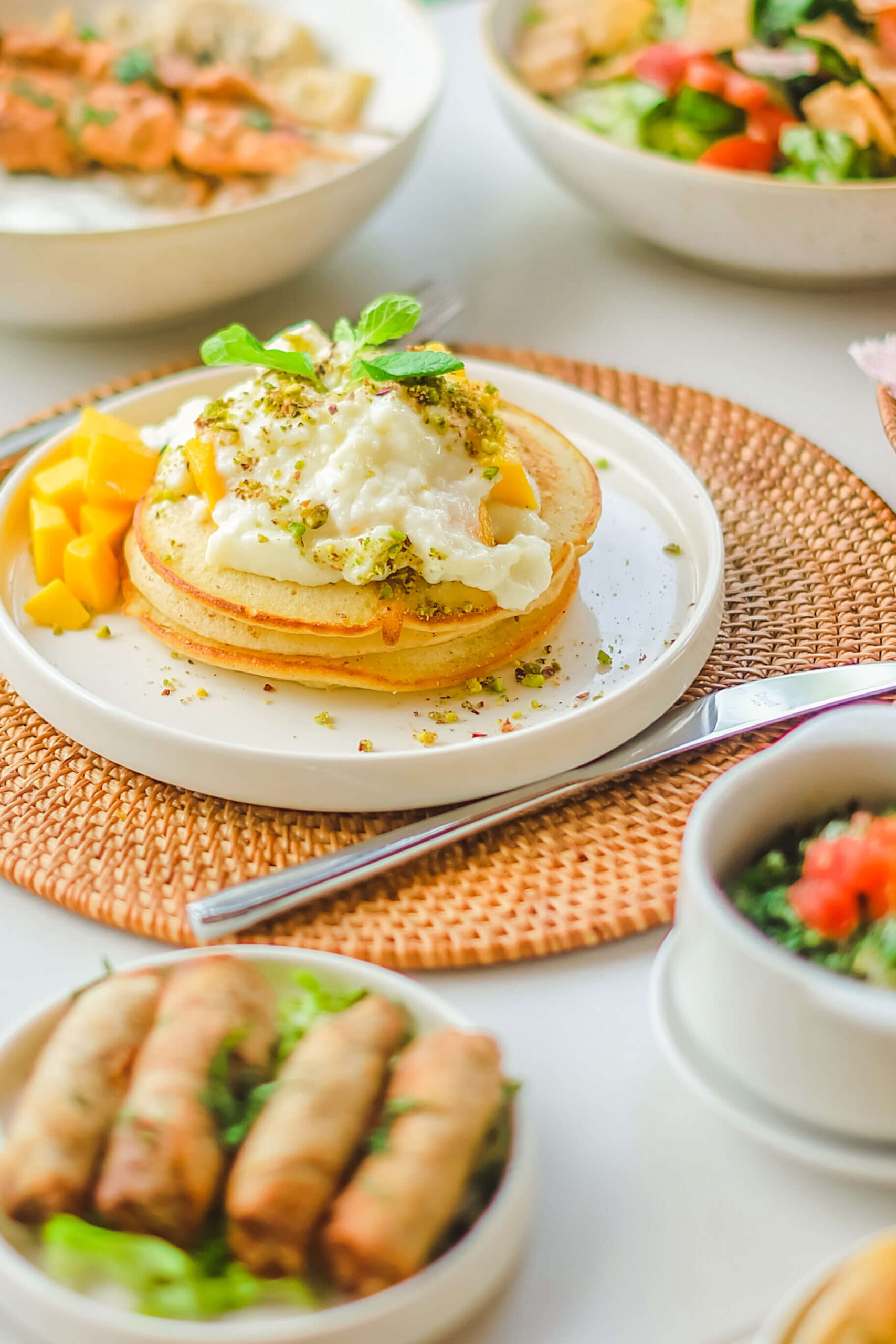 If you are craving more of a classic brunch, they also make a selection of eggs on wholegrain sourdough toasts. We tried the halloumi, avocado, and fried egg; and the muhammara, sauteed mushrooms and fried egg. Everything was super tasty, delicate and fresh. Furthermore, Zali's breakfast menu includes Lebanese-style omelets, smoothie bowls, pancakes, and much more.
Zali's is known for its accommodating and inclusive approach to dining, which is reflected in its diverse menu options. The restaurant offers several options for those with dietary restrictions, including gluten-free sourdough and Saj bread.

Additionally, the menu features a wide range of vegetarian and vegan dishes, catering to a variety of dietary preferences. This commitment to catering to the needs of all customers adds to the welcoming atmosphere of the restaurant.
The coffee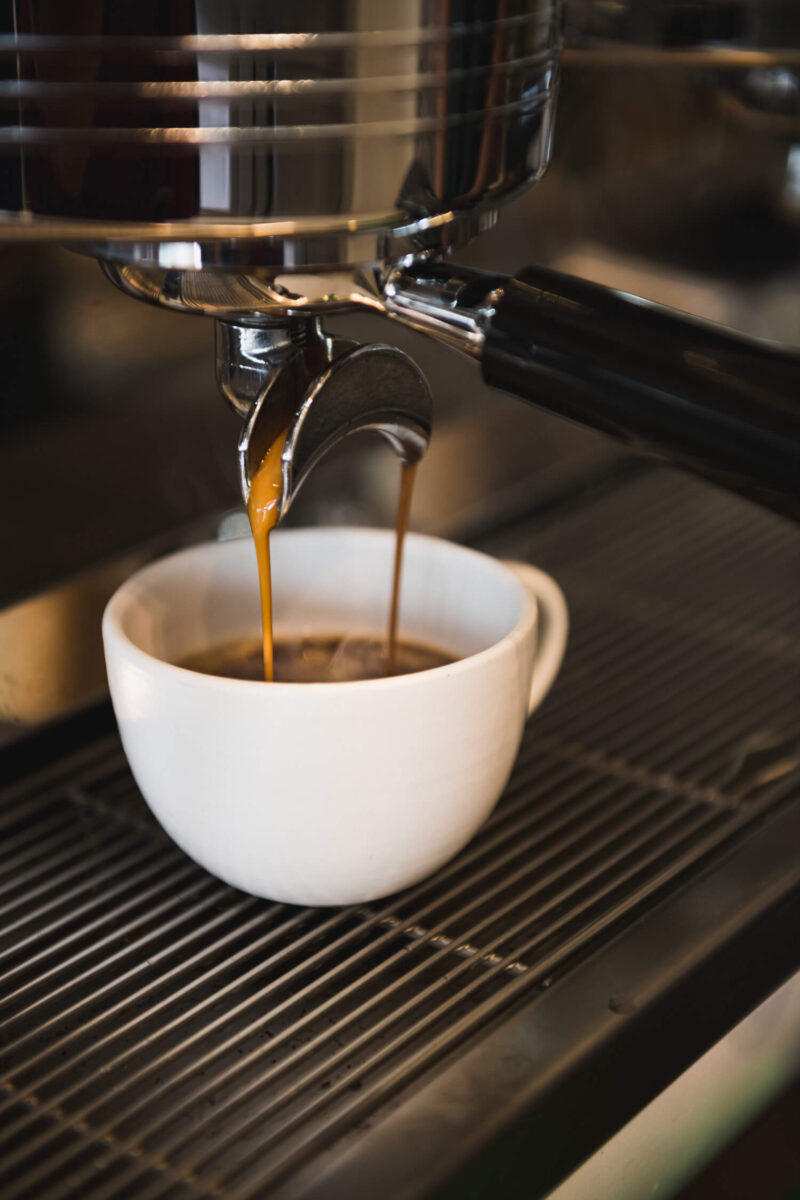 The coffee at Zali is truly exceptional, making it well worth a visit to this Bali gem. We had the pleasure of trying both a coconut flat white and a latte, and were thoroughly impressed by the quality of the brew. The presentation was also noteworthy, with the coffee served in a beautifully crafted metal pot and accompanied by delicate painted tea cups.
To complement the delicious coffee, we highly recommend trying the turmeric namoura cake and the halawa, a Lebanese tahini confection topped with pistachios. Simply delightful!
Zali's team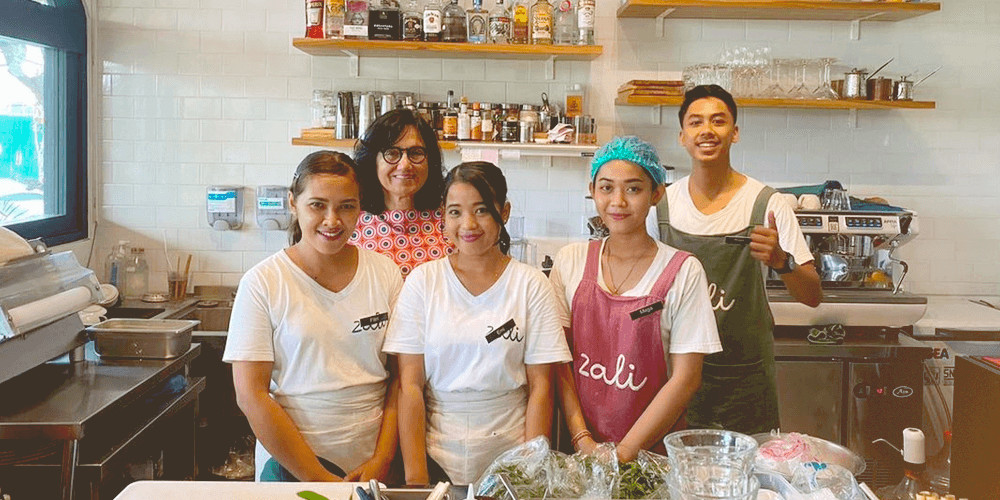 The staff at Zali were truly a highlight of our visit. They were incredibly warm and welcoming, taking the time to ensure that we had a delightful experience. Their attentiveness was much appreciated, and they were more than happy to provide us with detailed information about the various dishes, including their cultural significance and history within Lebanese cuisine.
Liza is a super passionate owner who works on the front line with the staff, contributing to the standard of service. Their passion for the food and the establishment was evident in every interaction, and it added greatly to the overall enjoyment of our meal.
Their customers are at the heart of everything they do. We observed this when they introduced us to Matcha, their first ever customer and most loyal! He comes daily for his coffee and the ambience and warmth of Zali.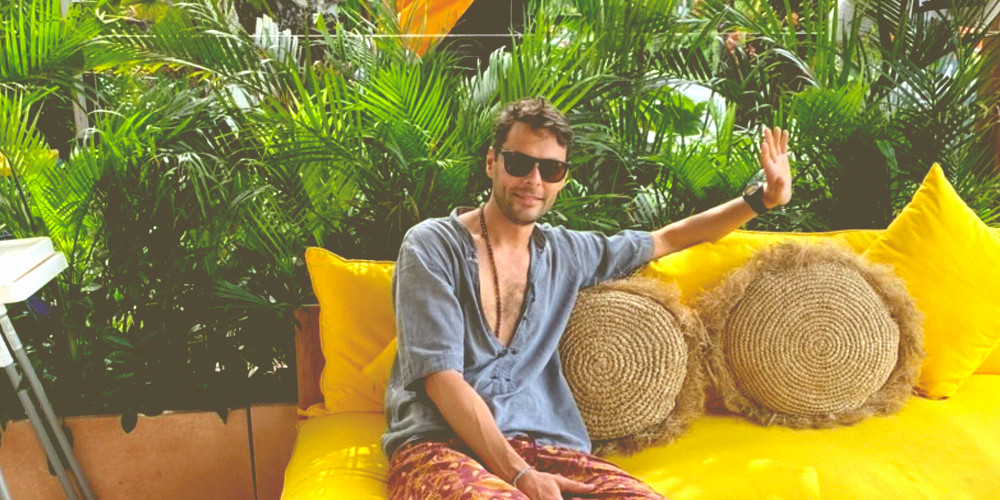 Zali is not just about brunch!
The menu at Zali is truly diverse and offers something for every meal of the day. For breakfast, they serve a variety of coffees and pastries that are sure to please. At lunchtime, you can choose from a selection of Mezzeh, salads, and bowls, all of which are expertly prepared and bursting with flavor.
If you're visiting for dinner, you'll be treated to a range of traditional Lebanese plates that are sure to satisfy. And with the restaurant open until midnight, you can even stop by for a late-night snack or a refreshing cocktail.
In addition to their regular menu offerings, Zali also has a special event on Thursday evenings featuring traditional live music. This adds a unique element to the dining experience and is sure to be a hit with music lovers.
Due to the high demand for tables at Zali, it's important to note that reservations are highly recommended. This popular Arabic restaurant in Bali is always busy, so be sure to plan ahead and secure your spot in advance to ensure a seamless and enjoyable dining experience.
Contact Zali's Restaurant
FB – IG – MAP ME
Open: Everyday 8 am to Midnight
Full Menu available on their IG