marqt
Published: 06-04-2015 - Last Edited: 12-08-2021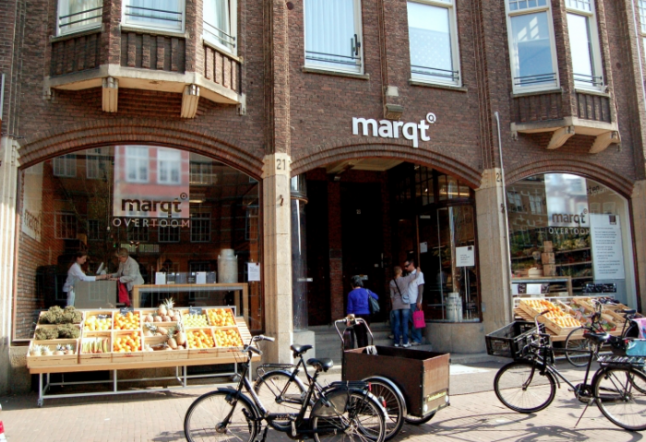 Those who think a supermarket can't be sustainable haven't been to Marqt yet! According to Marqt you can't produce real food; real food just grows. It grows not only by letting it grow naturally, but also by refraining from adding unnecessary additives to something nature already grows naturally. At Marqt you can find local, seasonal, biological, fresh products.
When visiting this gem it's almost impossible to leave the store without buying something! Everything looks so fresh, healthy and ready to eat. They also sell products you just can't find in a normal supermarket, such as the most delicious raw chocolate bars from "˜lovechock' (if you haven't tried these yet, please do yourself a favour and bring a visit to Marqt even if it's only to try one of the heavenly flavours of these bars).
The founders, Quirijn Bolle and Meike Beeren thought it was time for a new, innovating approach on how food is offered. Innovation in a sense of working closely together with the suppliers and letting the consumer get to know the products by hiring people who have a know-how on what they sell. It's not like any ordinary supermarket. When shopping inside of Marqt you feel like walking into a luxury, industrial, indoor market. For those who are familiar with "˜La Boqueria' in Barcelona, it has a similar feel to it.
Marqt's philosophy is to have respect for everyone who makes our food; that includes also animals and the planet as a whole. A great advantage of this supermarket is that you don't have to scan every product on whether it's biological and sustainable or not. At Marqt you just know your food is produced with love and care for the environment.
Their sustainable approach on doing business reflects on their energy efficiency, producing as little waste as possible and the use of electric trucks. Also, fresh products that are close to their expiration date are donated to people in need or are converted into energy.
Even when it comes to the payment method they've taken the environment into account; you can only pay with pin, chip or credit card, so keep that in mind when you stop by to buy your groceries! Not using cash really is safer, better for the environment and also faster! Marqt can be found on various spots in Amsterdam. One of the favourites is the one on the Haarlemmerstraat, one of Amsterdam's famous shopping streets known for its wide variety of unique food shops, boutiques and the alternative cinema "˜The Movies'.