yoga studios in new york city
Published: 13-03-2013 - Last Edited: 30-10-2022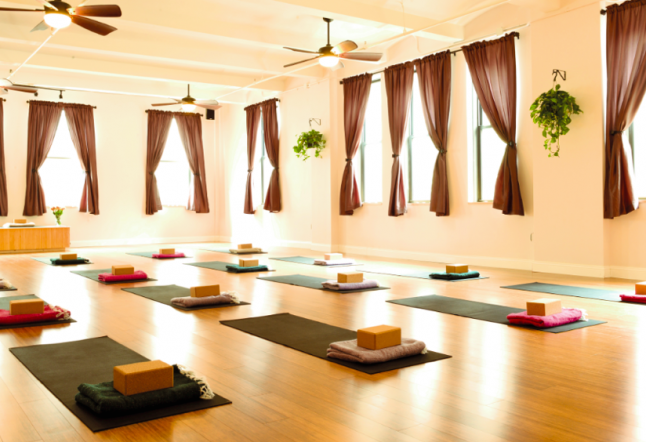 While you are in New York, take some time for yourself to rejuvenate and check out some of the yoga studios in New York! These days, New York is rivaling California for top yoga studios. New York never does anything halfway and in the last 15 years, New York has really made a name for itself in the yoga world. The growth of yoga nationally has been explosive and yoga studios in New York have literally tripled over the last 6 years. The streets are filled with busy executives scurrying around with iphone in-hand and yoga mat over-shoulder. Practically every neighborhood has at least 3 yoga studios – from the busy Midtown corporate white collar lunch crowd to the Upper East Side ladies-who-lunch morning classes to the Mommy's and Baby prenatal craze in Brooklyn. There is simply a yoga class for everyone at all the yoga studios in New York.
If you are searching for an anatomically correct and precision based class, you can rock up to Ishta Yoga in Greenwhich Village. There Alan Finger's descendants really drive home an understanding of the body and its capability for achieving bliss in a perfectly aligned state. If you are looking to be a member of a cool, yoga club, there is always PURE Yoga, Asia's import uptown on the Upper East and Upper West Side. It is the ultimate "club" experience of pampering. If you are looking to enlighten yourself along the way, you can study spiritually in the philosophy of yoga with a great master, Sri Dharma Mittra at Dharma Yoga, in the new Chelsea loft. If you are looking for a real downtown vibe, you can hit the hip boutique yoga studio Kula Yoga Project before you meet friends for drinks at the Tribeca Grand Hotel. If you are venturing out of Manhattan and find yourself across the river in Brooklyn check out Tara Glazier's Anusara studio, Abhaya Yoga in DUMBO. Manhattan views from atop this warehouse building will have you mesmerized.
If you find yourself in New York, you are never far from some of the greatest yoga studios in New York. With the pace of the city, it is no wonder that yoga is the natural antidote to every New Yorker's acid tongue and stress level. For that reason alone, the experience of doing yoga in New York is worth having! Join in the experience and try out all the great yoga classes that New York City has to offer. You will be glad you did.
Read next >> bikram yoga in new york