yoga in new york city
Published: 14-11-2012 - Last Edited: 19-08-2021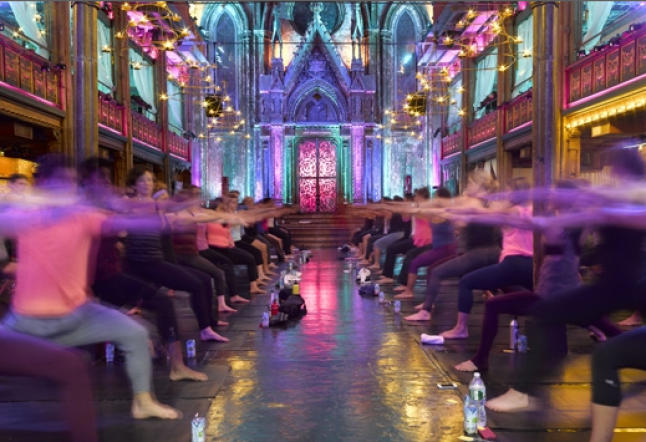 When you think of cutting edge trends, you naturally think of the city that inspires it all – "the city that never sleeps" – of course, we are talking about New York City. It is not an overstatement to say that New York City has always been known for setting today's hottest trends in fashion, design, art and culture. And more recently, New York City has become known for its influential mark on today's yoga scene. Let's take a closer look"¦. Just a subway ride around town will unveil the latest yoga spots "hot off the street" in this chic trend-setting city.
Let's start uptown on the Upper East Side where many families reside.
Oh Baby!
Everywhere you look, and especially uptown – there are more and more pregnant women practicing yoga in New York these days. To accommodate the large demand for this specialized type of yoga, there are many amazing "Pre-natal" yoga classes being offered at studios around the city such as at New York Yoga on the Upper East Side. This family oriented yoga studio offers not just "Pre-natal" classes but also "Mommy and Me" classes to help new mothers bond with their newborns over their love of yoga.
New moms of all ages flock to this studio to listen to the inspirational and very humorous words of Melissa Feldman, pre-natal yoga teacher and guru-mom. As Melissa says, "I teach an active and challenging prenatal yoga class because, for most women, labor is hard; this is how they prepare," Melissa says. "And in mom and baby yoga, I'm rebuilding the compromised parts of their bodies and giving them support and encouragement because new motherhood can be challenging." Check out Melissa Feldman's classes at New York Yoga.
Taking Flight
Moving downtown towards Union Square, we come across OM Factory – a unique yoga studio that specializes in many different types of yoga but especially Acro-yoga and Aerial Yoga which are new practices in acrobatic yoga both executed on the floor and above the floor in hanging hammocks of cloth. These two new yoga styles are a mixture of acrobatics, thai massage, yoga and aerial dance similar to that of Cirque de Soleil. They are both beautiful and enchanting practices to watch. The level of grace and ease with which this practice is instructed is inspirational and encourages everyone to levitate off the floor – quite literally! See more at OM Factory's Acro-Yoga and Aerial Yoga classes.
Tribal Gatherings
As we move further downtown, we can see that the downtown NYC scene is a mecca for the dedicated yogi. In many downtown communities there are gatherings of happy, healthy and beautiful yogis who congregate to share spiritual beliefs & practices and inspire each other while supporting community initiatives. One such tribal gathering occurs each year over the New Year. Yogis in the Jivamukti Yoga community – teachers and students from around the globe – gather together to practice asana with their gurus, Sharon Gannon and David Life. There are many other modules on social activism, veganism, nutrition, philosophy, kirtan and yoga dance that are on the agenda. The Jivamukti Tribal Gathering begins with Silent Meditation (Mauna) on New Years eve and continues through one week of teachings up at St. Georges's Ballroom.
Other NYC tribal gatherings promote social initiatives such as the Underground Yoga Event, led by yoga teacher, Rima Rabbath. Jivamukti teacher, Rima taught a 2-hr mega asana class to over 200 students at the Angel Orensanz Foundation for Contemporary Art on the LES on October 11, 2012. Produced by the Well Fed NYC group, a group specializing in creating healthy and adventurous experiences for the NYC sector, professionally orchestrated this event to feature only the highest caliber entertainment. Accompanied by the captivating sounds of world-renowned DJ/Producer Sasha, the Underground Event aimed to raise money for the Low Line Project whose goal is to convert an abandoned trolley station beneath Delancey Street into a Subterranean public park. Organic elixirs were provided by Love Grace Foods and transformative scents filled the air by 1229. Lululemon was a partner and treated every guest to a complimentary yoga mat.
The Seed Experience is another great up-and-coming NYC tribal gathering of healthy and conscious individuals who are living a harmoniously holistic lifestyle of vegan diet and yoga. The Seed Experience has been transforming the way New Yorkers see health and healing with their breakout 2012 shows that support plant-based nutrition and lifestyle. Last summer, they launched New York City's 1st All Vegan-Lifestyle Conference in Soho which invited the likes of esteemed Dr. Joel Fuhrman to talk about "Winning the War Against Cancer" and how essential micronutrients (fruits and veggies) pave the way to reducing all incidences of cancer. Brendan Brazier, professional athlete and author was also on-site to talk about "Plant Based Performance Nutrition." On December 3-6, 2012, The Seed was back promoting a plant based lifestyle and practice of yoga for their Yoga Week. The Seed teamed up with local yoga heavy-hitters such as Jivamukti Yoga, ISHTA Yoga, Sonic Yoga, and Pure Shakti Yoga. After yoga class, guests sipped on organic cold-pressed juice from Juice Press, and delicious vegan food samples. All attendees received a goodie bag full of vegan snacks from Liz Lovely, Yoga Earth, GoMacro, Raw Revolution, Justin's Nut Butter, Purely Elizabeth, Primal Spirit Foods, The Kale Factory, and Kopali Organics.
When talking about tribal gatherings, no yoga teacher knows it better than Elena Brower. She is the heart and soul behind most of the community gatherings around New York City and has recently been teaming up with Alignyo's Yoga to benefit local survivors of Hurricane Sandy.
Smooth Moves
Hot yoga doesn't get any hotter than the Yoga Dance Parties that have been popping up all around the city. Partnering with Kirtan bands, yogi's are encouraged to get up and rave on their practices. Some of the hottest dance parties around include the combo yoga and dance class, by Yoga Soundscape which is typically held at Kula Yoga Project in Tribeca and houses large scale yoga classes with live DJ's and a few musicians followed by a dinner and/or dance party afterwards.
The hottest yoga nightclub around is Get Your Dance On with big raves both in NYC and LA. In NYC, Get Your Moves On can either be found at Judson Church or Donna Karan's Urban Zen or at YogaWorks SoHo. YogaWorks in SoHo is notorious for opening 2 floors of dancing from 7:30 pm til midnight. Most nights the entertainment at YogaWorks is broken up between areas for "cool DJ's" and other areas for "chilled out music" such as orchestral movements with cellists. There is something for every yogi at the YogaWorks dance parties.
Since yogis need refueling, these dance parties are sponsored by awesome raw food manufacturers such as Gnosis chocolate and various kombucha and coconut water manufacturers. The Power of service can always be seen behind these large-scaled NYC community yoga parties as they will generally give a percentage of their proceeds to benefit a local charity.
Runway Yoga
We would be amiss if we didn't mention that in some way the NYC fashion trends today are shifting to include more fashionable yoga attire. This may seem obvious but fashion-conscious New Yorkers are nowadays wearing their yoga clothing out more to casual hip restaurants and shopping, etc"¦ There is a new trend in "fashionable casualization" – clothing that moves with you, supports you and gives you a chic appearance. According to Mia Demarest, yoga student in NYC, "If I can wear it to class on Saturday morning, and meet friends for an uptown brunch and then shop afterwards on Madison Avenue in the same clothing, then I am buying it! I need clothes that adapt to my lifestyle. I need flexible clothes for class but need attention to design so I can be seen out and about in it."
There are many manufacturers that are currently hot in NYC that understand just that trend. Lululemon, Alo, Lucy and Athleta understand that dilemma and have created lines of yoga wear to address those specific lifestyle needs. Sometimes in NYC it seems as if it is just about the label, but in reality, people want to look good and they will purchase products for yoga that will help them feel more at ease and more comfortable in their skin.
Clean Eats
New York City is no stranger to healthy vegan and raw food delights. Clean eating is one of hottest trends in the city these days. Yoga students line up in droves to pick up delectable raw food lasagna and key lime pie at Organic Avenue as well as drop by the Jivamuktea Vegan Café for Sharon Gannon's raw food chocolate mousse, her own personal recipe! Sharon is passionate about veganism and she has been putting her heart and soul into her new cookbook which supports the peaceful yogi's diet. If New Yorkers are really lucky, they have managed to find themselves on the 4 Course Vegan A-list for a Saturday evening private dinner at Chef Matteo's loft in Williamsburg.
Organic Spa
New Yorkers really need to de-stress and the trend today in New York is to hit the natural and organic spas that specialize in no-chemical treatments, Great Jones Spa is one of the hottest go-to spaces for the ultimate retreat back to nature. Where else in NYC can you sit next to a 2-story high waterfall wall while sipping your organic all-greens juice?
This is just a bit of what's happening today in the NYC yoga community. New trends are developing daily and we at Yogi Times are committed to bringing you the latest as they occur. Stay tuned!