Yoga Sita
Published: 05-07-2011 - Last Edited: 20-10-2022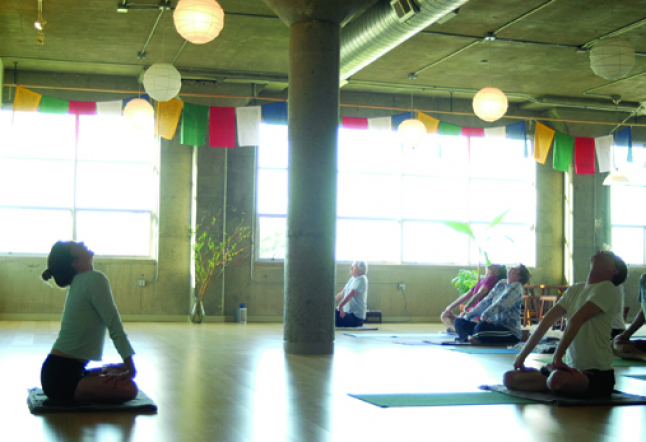 It is Sunday, and students begin to stroll into an early morning class at Yoga Sita in the San Francisco neighborhood of Potrero Hill. A student sits in a corner placidly strumming a guitar, the mild sounds accentuating the already warm feeling of the place. In another corner, a vase of curly willow reaches toward the prayer flags and paper lanterns that hover lightly above it like clouds. In all, it is a space of calculated naturalness. Light organic touches are strategically placed to prepare the entrant for the journey ahead, but something is missing.
The director of Yoga Sita and sole teacher Susannah Bruder enters – the missing element that brings the studio to life. It remains to be seen how many students will arrive on time this morning. It is the first day of daylight savings time, and some may not have sprung forward with the rest of the world. Susannah gives a laugh; it is likely that more than one student will stroll in an hour late. Nevertheless, within moments the space fills with a dozen students eager to attend the 9am hatha yoga class.
While Susannah has been teaching in the Bay Area for over ten years, opening her own space was quite a development. She has named her first studio Yoga Sita, which is a reference to the goddess Sita, the Queen of Rama in the Ramayana, and the embodiment of feminine energy. In Sanskrit sita translates to "a furrow for planting seeds." Susannah created her studio as a refuge, a place where students could engage in their practice without the pressures of ego and control that sometimes exist in modern yogic life – a place to have fun. At Yoga Sita the seeds are planted, and students begin to come to life.
Yoga Sita offers a depth of instruction that is uncommon among contemporary yoga studios. Students are introduced to the eight limbs of yoga – including yamas, niyamas, postures, breathing and meditation – and are encouraged and inspired to develop their own path in the practice. Each student's strengths and weaknesses are accommodated. Classes accommodate students with issues that range from muscle strains to invasive diseases such as cancer. Each student is treated as an individual, something that comes from Susannah's previous life in rehabilitative therapy.
As incense is lit, students roll out the green sticky mats and wool blankets that are provided. It feels like spring as light streams in from large windows which surround the space, and show off an extraordinary view of downtown San Francisco. The warm-up begins, and as I'm rotating the feet and doing leg stretches and breathing exercises, I wonder if I will go upside down today. The wall at the back of the room is outfitted with straps that harness students as they pull themselves into various inverted postures. The system of straps is inspired by B.K.S. Iyengar's use of ropes, and resembles the system at Piedmont Yoga Studio in Oakland where Susannah trained and taught with Rodney Yee.
We move through an invigorating sequence of postures – Sun Salutations, Downward Dog, Warrior I, II and III and so on. Susannah calls out the name of each pose in Sanskrit and then again in English so that students begin to learn the names of the poses.
It is easy to see that the students who come to Yoga Sita are familiar to this place and to each other. Laughter rings throughout the class, and students embody a fellowship almost as if they are family. The ability to balance a sense of camaraderie alongside one's need for independent insight into one's own practice is one of the studio's major strengths. Susannah's students are gently guided by the art of touch. In Downward Dog, she encourages students to get their heels on the ground with a light touch in the right direction.
As I finally get my heels down, Yoga Sita's phone rings and someone is calling to come up for class. We all laugh. Should we let them in on the joke that they're an hour late? The laughter dies down as we enter another challenging posture, and we are alone again, each of us existing only to ourselves, turning our smiles inward to focus on what lies within.
At the end of the two-hour class, each student is even more alive than at the start of class. No one seems to be missing that hour of sleep that was lost. I am ready for a cup of chai from nearby Chatz. Students chat and make plans to enroll in one of Yoga Sita's week-long immersion classes. The seed has been planted. We are all awake and renewed and ready to participate more fully in the world.
Map and Directions to Yoga Sita.
Read next >> Mountain Pose Yoga Festival