Mountain Pose Yoga Festival
Published: 23-07-2011 - Last Edited: 20-10-2022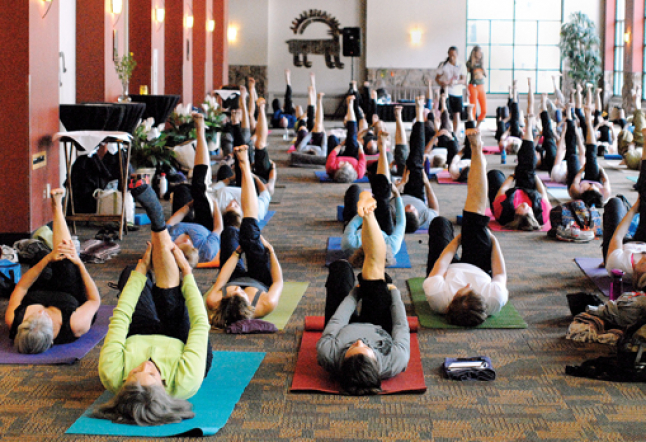 Rain lashes the windows, thunder booms and I lay peacefully on my new friend's, Biomat – 35 pounds of amethyst crystals between layers of cotton padding and heated with good juju to keep me cozy. I wait excitedly for my first acupuncture treatment. I am staying at Copper Mountain for the first annual Mountain Pose Yoga Festival and have made some wonderful acquaintances in my first hours here.
Mountain Pose Yoga Festival is a little different than most yoga retreats, because it was designed to attract health and wellness practitioners in addition to yoga instructors and students.
On Thursday evening, world-renowned yogi, Rodney Yee, opened the conference with an inspiring report on how vibrantly the yoga movement has exploded in the western world over the past 20 years and how diverse its teachers and studios are. In addition to being one of finest yoga instructors in the US, Rodney is also the Chairman of Donna Karan's Urban Zen Foundation. He shared with us the purpose and scope of the pioneering program that he, Ms. Karan, and Colleen Saidman Yee have spearheaded to augment the US Health Care system and more fully take care of patients and caregivers. Rodney shared with us some of the problems they are confronting and the solutions they have implemented.
Rodney Yee and Colleen Saidman are a powerful and incredible duo with six decades of combined study and teaching between them. Just watching them takes me into a state of bliss and presence. They are true masters and their knowledge is grounded in experience and practice and they work so well together. As I relax in deep restorative poses, Colleen comes around to do Reiki on us"¦ahhhh. The smell of mountain streams, full of spring flood, and pine trees drifts on the breeze. If only I could sleep, I could stay here forever"¦
Throughout the weekend, there were several lectures by MDs practicing holistic medicine: Kenneth Bock, MD, pediatrician, spoke on the dangers of toxicity and gave a sobering power point presentation on the statistics of chemical production, use and consequent illnesses they cause, especially to fetuses and children. Dr. Bock also spoke about the new childhood epidemics "the 4-A disorders:" autism, attention deficit hyperactivity disorder (ADHD), asthma and allergies. Over the past quarter of a century, autism has increased a staggering 1500 percent, while ADHD, asthma and allergies have also skyrocketed. Dr. Bock finds these meteoric increases staggering and has dedicated his life to treating these conditions and educating others to do the same.
On Friday evening, at an inspiring lecture by self-named cancer "˜thriver,' and author, Kris Carr, a raise of hands showed the audience to be at least 25 percent doctors. After learning about the benefits of a pH neutral body and the awesomeness of green juice, I found myself drinking a lovely glass of Carr's own personal recipe garnished with strawberries and avocados.
The next afternoon, after realizing that I don't sleep at high altitude (9,500 feet is high!), I wander into Kishan Shah's holistic yoga class. Kishan is a practitioner of ayurveda, a yoga teacher and lecturer at UCLA. His grasp of Vedic knowledge is inspiring, honest and funny. The day before, Kishan Shah gave an animated and fascinating three-hour lecture on the basics of Ayurvedic medicine and panchakarma treatments that can be done daily at home. His enthusiasm for the material was completely engaging and we learned how to apply this knowledge immediately.
I gasp and sweat through a relatively gentle set (kindly modified for a beginner crowd who isn't used to doing yoga at this height.) According to the ancient texts, the three most important asanas are savasana, yogic squat and headstand. The next morning, his meditation class takes me on a journey of the mind through the sutras of yoga. With the help of some beautiful mantra and breathing techniques, my mind is silent for an entire 3 minutes!
Written in collaboration with Claudette Baker, L. Ac., Dipl. Ac. & Herbs
Read next >> devi yoga