healing with watsu in Bali
Published: 21-10-2019 - Last Edited: 24-10-2022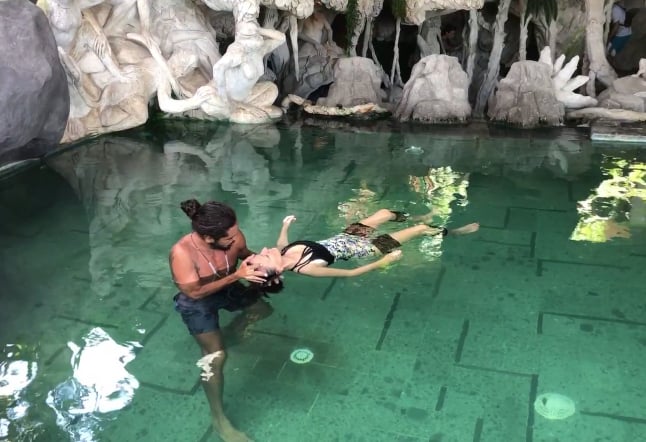 water healing combines elements of massage, joint mobilization, and stretches.
If you are looking to have a unique experience, consider Water Healing, also known as Watsu (Water Shiatsu). This special treatment, in a 35° Celsius (95 °F) warm water pool, is extremely relaxing and enjoyable.
American aquatic bodyworker and poet, Harold Dull from Harbin Hot Springs developed it in the early 1980s.
A practitioner or therapist moves your body as you passively float, which frees the body in ways that are impossible on land. There are numerous benefits from this graceful and meditative therapeutic treatment. For instance, relaxation through a controlled release of muscular tension and stiffness, stress reduction, and increased body awareness.
Watsu treats the whole body, mind, and spirit. In addition, it explores stillness, heart and mind alignment, expansion of consciousness, and a deep sense of release. You can expect to feel some of these things immediately, even after the first session.
Here in Bali, this practice is accessible with the well-trained therapists at Udara in Pantai Seseh.
I had my session with Spiros, an experienced Watsu facilitator who rhythmically provided a calming and reassuring treatment. I could immediately dive into the realm of complete detachment, with a mild to moderate massage to increase the experience.
Moments of absolute stillness are also part of the session so that the subconscious and physical effects can integrate. This is a fantastic treatment to diminish physical pains. It also facilitates emotional release because of the feeling of calm, grounded centeredness.
In essence
Water Healing is a joyful journey back to yourself and a precious and rewarding time-out from your hectic life.
Contact Spiros for a Watsu Session in Bali via Whatsapp: +30-693-226-1510
Read next >> the anantara spa