the toronto yoga show 2015
Published: 15-06-2015 - Last Edited: 09-11-2022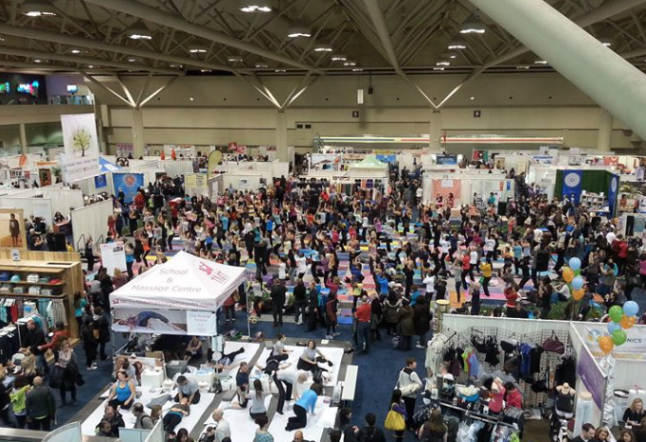 The Toronto Yoga Conference attracts yogis from far and wide for a high vibrational and soul-stirring weekend. This leading yoga event takes place at Toronto's Metro Convention Center every year. It is the perfect way to roll into the spring vibe, move your body and mingle with like-minded individuals. With over 250 conscious-minded organizations and companies, it is an event you don't want to miss.
The yoga show is devoted to presenting a full variety of yoga in simple, understandable and beneficial ways. From the time the doors open until they close, there are hundreds of hours of workshops, yoga classes, seminars and more offerings to participate in. Some of these workshops include Your Mind on Meditation, The Art of Sequencing (for teachers and inquisitive students), and How to Love Backbends, just to name a few! From beginner yoga classes, to nutritional seminars to yoga philosophy, anatomy and teachings there is sure to be something for you. It is filled with good energy, higher vibrations and a community of conscious individuals ready to spread the love, light and healing powers of yoga and elevate global consciousness!
Many of the leading yoga teachers in Toronto and from abroad gather at this spectacular event. JP Tamblyn-Sabo, Darren Austin Hall, Megan Marie Gates, Shonna Brown and John William Bauld all attended this year's conference offering invaluable workshops and unforgettable concerts and Kirtans. Darren and Megan collaborated for a mystical experience as they fused yoga, meditation and music into a journey for your soul while Shonna and William shared their divine practice of Bhakti (love devotion) through an evening Kirtan concert.
This year there were also weekend teacher trainings and retreats offered for those who really wanted to deepen their practice and experience. Yin Yoga retreats, detox retreats and restorative yoga teacher trainings all took place under the magical roof of the Convention Center.
It is amazing to see so many individuals come together as a community for this remarkable event. It truly illustrates the love and support that the Toronto Yoga community embodies. Whether you are looking to stop by to check out some booths, attend a workshop, purchase some yogi swag or just be in the energy of like-minded and high vibrational energy, this is definitely worth checking out!
Read next >> best gluten free restaurants in toronto