best gluten free restaurants in toronto
Published: 11-12-2014 - Last Edited: 09-11-2022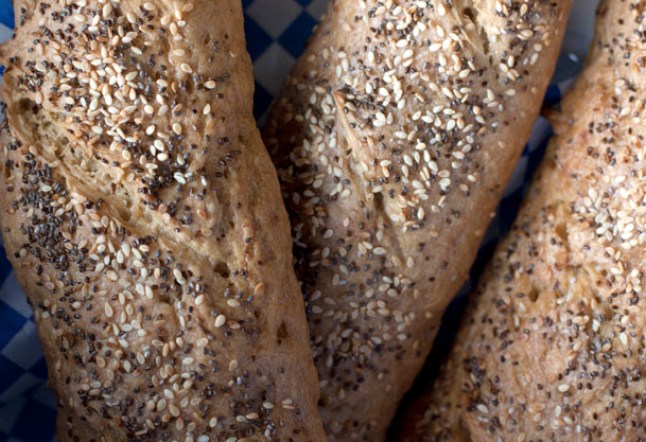 Don't let dietary restrictions hold you back from enjoying the wonderful tastes and one-of-a-kind food that Toronto has to offer! Toronto has kept up with dietary needs and trends flawlessly offering an extensive range of restaurants, cafes, bakeries, markets, juice bars, etc. to satisfy anyone's needs. Many places offer raw, vegetarian, vegan, gluten-free, and dairy-free options (and probably more!) – so you don't miss out!
Whether you are new to Toronto and looking for a couple of places to eat, or a seasoned Torontonian seeking a new hip spot for a bite to eat, we have got you covered. Check out the extensive list below to find the perfect place for you.
ANNEX
Live Organic Food Bar
264 Dupont St. livefoodbar.com (416) 515-2002
This place is always poppin' – whether you are looking for a take out meal or a sit-down lunch/dinner, Live food bar has got you covered. Since 2002, they are Toronto's premier organic, plant-based restaurant and offer nothing but high quality, healthy, whole foods. Their extensive menu features juices, salads, stir fry's, raw desserts and more. All menu items, raw and cooked, are gluten and refined sugar-free.
Magic Oven
270 Dupont St. magicoven.com (416) 928-1555
Magic Oven is an award-winning restaurant chain located in almost every region of Toronto. They are known for their pizzas made with fresh, local and organic ingredients. The Gluten-free pizzas are to die for, and there is something for everyone on the menu. Vegan and vegetarian options available for pizzas, pasta, salads, and sandwiches – you can't go wrong.
Kensington Natural Bakery
460 Bloor St. W. kensingtonnaturalbakery.ca (416) 534-1294
This is the perfect spot to grab a quick but tasty homemade treat from Quang Dieu, owner, and operator of Kensington Natural Bakery. Quang specializes in catering to specific dietary and special needs of his customers – even doctors send patients with prescriptions for special dietary needs to Quang and his bakery! Croissants, cookies, pies, cakes, muffins, danishes…anyone?
DANFORTH
The Big Carrot Food Market and Organic Juice Bar
348 Danforth Ave. thebigcarrot.ca (416) 466-2129
Browsing through the Big Carrot Natural Food Market is a perfect way to spend a Saturday afternoon! Located inside the market, there is Ontario's 1st certified organic vegetarian deli and an Organic Juice Bar. All dishes are prepared daily and sold by weight, perfect to eat-in or take-out.
DOWNTOWN TORONTO
Kupfert & Kim
100 King St W. kupfertandkim.com (416) 504-1233
Kupfert & Kim, also know as the wheatless and meatless place to be, is always buzzing. This quick-service restaurant provides vegan and gluten-free meals to the fast-paced city dwellers in Toronto. If you're looking for a quick, healthy meal to fuel yourself for the day ahead or a post-yoga refuel, try their house-made granola – gluten-free oats, dates, sunflower seeds, flax, pecans, pumpkin seeds, cinnamon, nutmeg, and daily toppings. Uhm YUM!
KENSINGTON
Hibiscus Café
238 Augusta Ave. – hibiscuscafe.ca (416) 364-6183
Sweet and savory buckwheat crepes and vegan desserts are most popular at this family-run vegetarian café. All items on the menu are gluten-free and vegetarian with vegan options. Craving some ice cream and want to stay away from the dairy? Check out the famous homemade dairy-free ice cream in a gluten-free cone.
Spirit Bird Bakery – spiritbirdbakery.ca (647) 406-6145
This cute little bakery is home to the most amazing vegan gluten-free baked goods, and raw superfood desserts. As you stroll through Kensington market, be sure to refuel with one of their delicious treats like a peanut butter Goji energy ball!
HIGH PARK
Rawlicious
2122 Bloor St. W. rawlicious.ca (416) 519-7150
Gluten and dairy-free organic raw and vegan cuisine. This is a go-to place for many, offering a wide range of juices, smoothies, desserts, appetizers, and entrees. They are always offering either special, raw cleanses or something new to try on the menu. Check out their pad Thai with kelp and zucchini noodles, or their raw pizza served on a sprouted buckwheat and flax crust!
QUEEN WEST
Fresh on Crawford
894 Queen St. W. freshrestaurants.ca (416) 599-4442
With 4 locations in Toronto, Fresh restaurants are the go-to place for many. Offering an extensive menu of juices, smoothies, starters, entrees, and desserts – Fresh never disappoints and will cater to anyone's taste buds.
Grasslands
478 Queen St. West. grasslands.to (416) 504-5127
An elegant fine dining experience offering exceptional whole foods. The menu is completely vegetarian with gluten-free, nut-free and wheat-free options. Perfect place for a date night.
TORONTO WEST
Hogtown Vegan
1056 Bloor St. West hogtownvegan.com (416) 901-9779
Vegan and vegetarian, comfort food haven. Mac and cheese, Caesar Salad, peanut butter, and banana French toast just to name a few and get you salivating!
ST. CLAIR WEST
Starving Artist
584 Lansdowne Ave. starvingartistbar.com (647) 342-5058
Craving waffles? This is the place to be. Everything at the Starving Artist is served with, in and on waffles. Lucky for gluten-free yogis, there are gluten-free and vegan options available.
Toronto is known for some of the best restaurants and culinary experiences.
This beautiful city provides an abundance of gluten-free restaurants, bakeries, cafes and more to meet your dietary needs.
Whether you are traveling downtown Toronto, the East, West, North, or Southside, you are sure to find exactly what you are looking for.
This extensive guide will help you satisfy any cravings your heart (and stomach) desire!
*If you know of other locations please contact us at info@yogitimes.com and we will add them.
Read next >> the toronto yoga show 2015