laughing lotus yoga center — nyc
Published: 10-11-2022 - Last Edited: 13-11-2022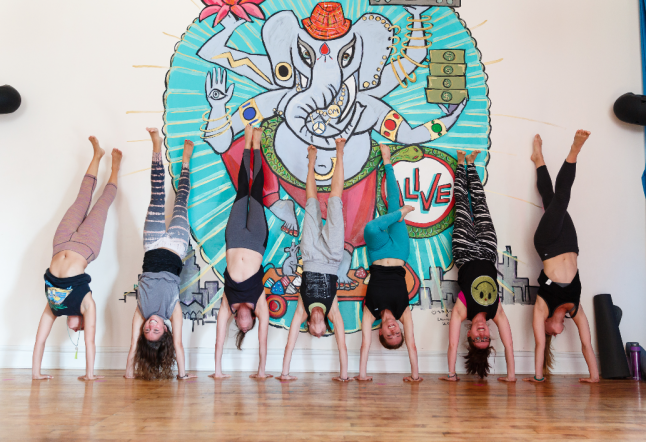 One knows they've walked into someplace special the minute they enter Laughing Lotus Yoga Center in New York City. The spray-painted gods and goddess usher students down the hall, and into a large open reception area that allows plenty of room for everyone to mingle before and after class.

The graffiti-covered wall, glitter bar, and dancing Ganesh in the dance hall all add to the joyful atmosphere of the center.

One of the first things a newcomer realizes upon arriving at Laughing Lotus Yoga Center is that its diverse and colorful community is one of its greatest features.

Creators Dana Flynn and Jasmine Tarkeshi wanted to create a place, and a practice, that would allow people to "move like yourself."

That philosophy attracted free-thinking, wisdom-seeking, creatively bold yogis from all around the world. From a physical standpoint, Lotus FlowTM focuses on honoring one's body, instead of forcing it into positions it would rather not be in.

From a spiritual standpoint, Lotus FlowTM teaches the same philosophy – honoring one's true self instead of forcing it to fit some preconceived mold
People have certainly taken to this concept. What started out as summer rooftop classes almost 20 years ago has grown into three centers in NYC, Brooklyn, and San Francisco. Lotus NYC offers a wide range of activities including daily classes, workshops, teacher trainings, kirtans, and other special events.
Each teacher at Lotus brings his or her own unique flavor to the Lotus FlowTM teachings, and yet all share a common thread of interweaving spiritual lessons throughout well-rounded classes.

Each class includes a dharma talk, asana, pranayama and/or chanting, and seated meditation.
The cornerstone of Lotus is its teacher training program, which offers both 200-hour trainings and 50-hour advance trainings.

They offer a wide range of training topics including chakras, restorative yoga, yin yoga, hands-on assists, fly (inversions), Ayurveda, sequencing, Acro yoga, the subtle body and more.

Definitely a place to check out, whether for a class, special event or training.
Read next >>> the yoga school