kia miller
Published: 11-08-2012 - Last Edited: 09-11-2022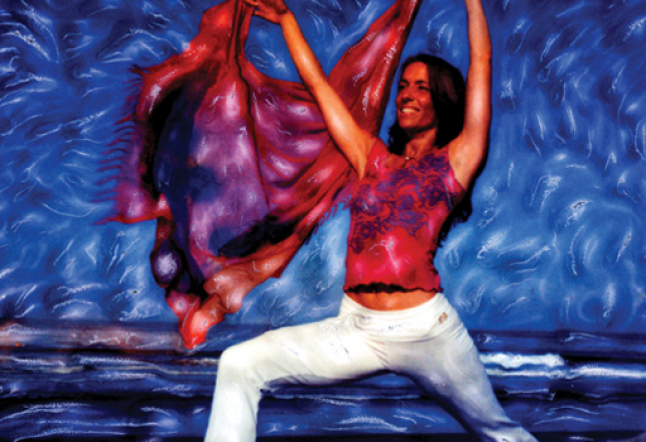 radiant yogini teaching kundalini yoga in santa monica and way beyond

We could all use someone like Kia Miller in our lives. It's not because she's beautiful. It's not because she's got charm and character. It's not because she's a girl's girl or a yogi's yogi. It's because she's everything in between. One of the qualities that makes Kia a great teacher is that she's not just a studio yogi. Indoors or out, in every aspect of her life, she's an active student of yoga. Her wide variety of experiences around the world have made this Falkland Island-born belle an inspiration to all who know her.

Kia Miller currently teaches at Yoga Works in Santa Monica, but her life as a yogi is a long way from the career she initially set out to pursue. Before she entered the world of yoga mats and meditation altars, Kia lived a life that many girls dream about, strutting down the catwalks of Milan as a high fashion runway model. As her future and the possibility of a life of fame and glamour unfolded before her, Kia realized that she wanted something different from what that world had to offer her. From an outsider's perspective, stepping out of the glittering spotlight to follow the path of a yogi might seem like a radical and unexpected departure, but for Kia, it was the most natural thing in the world.

Growing up on a farm in the Falkland Islands, where she was surrounded by the purity of nature, had much to do with shaping the person she is today. The rich history and lush landscape she enjoyed in her youth grounded her and connected her to the wonder of the universe, setting the stage for her to manifest a life as a student of spirituality. Life on a farm taught her the phenomenal force and beauty of nature. Constantly surrounded by horses, sheep, and rolling hills and meadows, Kia developed an attachment to the cycles of nature and a strong bond with the earth. Whether she's in South America or here in the States, Kia is always connected with nature around her.

The Falkland Islands did more than make Kia aware of the influence of Mother Nature. Growing up during a time of war, when Argentina invaded the Falklands, she sensed that life had "something else" and "something more" in store for her. As the country struggled for peace, Kia also struggled in a search for self-significance. This search lead her across the sea to Europe to become one of the fashion industry's freshest new faces.

It was after a photo shoot in Los Angeles that Kia Miller began her transition away from standing in front of the cameras to working behind them. Instead of concentrating on outer beauty, she chose to "start looking at things from the inside out." It was then that she decided turn her focus away from her modeling career and toward whatever else life had to offer. A natural with the cameras, Kia began working on documentaries, exposing to the world the different trials and tribulations experienced by people all around the globe. With film as her weapon of choice, Kia strove and continues to strive to uncover important stories that are outside the public awareness.

During her travels, Kia Miller encountered great teachers and philosophers, who taught her lessons more profound than she had never imagined. She found herself inspired by the strength and wisdom of the people she was filming. It was in this way that Kia's study of yoga began. An introduction to the Ashtanga yoga system developed by Sri K. Pattabhi Jois led her to another teacher who introduced her to the tradition of Kundalini yoga. The combination of these experiences led her to create her own practice, Radiant Yoga.

Never without six yoga books around her, this ambitious yogi combines aspects of what she has learned from different approaches to the practice of yoga to create what, for her, is the perfect personal balance. To Kia Miller, Kundalini practice is a scientific approach to the mind and soul, affecting each and every part of the body. She uses this philosophy to coach herself to master her mind and live her yoga practice. Additionally, her Radiant Yoga practice is her new approach to flow yoga classes in los angeles, letting the yoga lead her instead of the other way around. She describes herself as rushing water lead by a pipe, always moving and evolving, but allowing herself to be entirely guided by God.

In fact, her humble attitude is hard to miss. When asked how she recognized her calling to be a yogi, she simply replied, "life got in the way of yoga." It's hard to imagine the Kia we know now as the girl who sported the latest fashions in Europe, but that's just the kind of person she is. Ever wonder what models-turned-yogis do when they're not in the studio? Never one to follow the path of the sedentary, Kia can often be found riding the Santa Monica waves on her boogieboard or hiking through the national parks around California.

In addition to work and fitness, she devotes her mind and body to the advancement of culture and society, whether it's through her activist work around the world or her involvement with teens in a local Yoga for Youth program. This afternoon extracurricular program is held twice a week to help young adults benefit from yoga practice. The skills they learn, such as focus and attention, can be applied to other aspects of their lives. Kia recognizes that yoga is not simply the balance of one's self, but also the passing of knowledge to students both beginning and advanced.

A self-proclaimed activist, Kia exudes an irresistable energy. Her personal philosophy is "radiance," to "live to our fullest creative potential" so as to "uplift all we come in contact with." Therefore, it's easy to understand why her classroom philosophy is to reach past the resistance of students to explore their mental and physical capacities. With a sweet demeanor and everlasting smile, she brings out the best in those around her simply by being an admirable example. She has made a graceful and meaningful transition from fashion model to role model.
Watch a video of Kia Miller teaching yoga at Wanderlust.
For Kia Miller's Yoga retreats.
For Kia Miller's Yoga Teaching Schedule.
Follow Kia Miller on Facebook
Read next >> samantha mehra