janet stone
Published: 25-04-2022 - Last Edited: 09-10-2022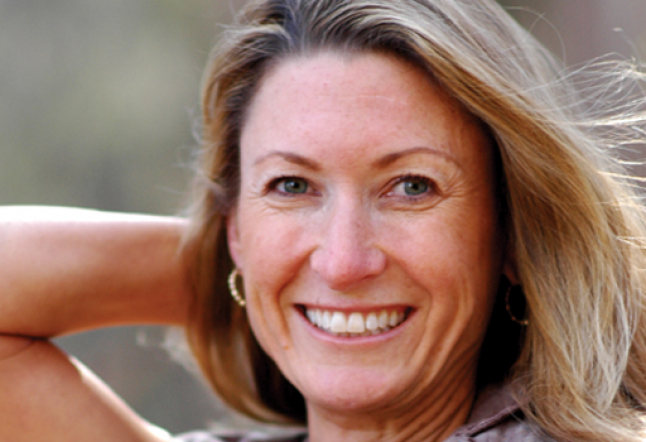 Radiant heart with janet stone yoga
To Janet Stone, drawing 80 to 100 students to her yoga classes is as effortless as losing the weight she gained during her two pregnancies. When asked the secret of her success, she responds with a shrug and a warm, easy smile, "I'm just lucky I guess."
Modesty aside, luck has little to do with it. After seven eleven of teaching, Stone's students flock to her classes at Yoga Flow in the Castro to be held by her welcoming energy, vigorous asana and lighthearted jokes.

Her charismatic stream of consciousness commentary compels people to return week after week after week.

A celebration of God and grace, Stone's hot and sweaty Vinyasa classes wring out life's limitations and set your spirit free.

San Francisco Chronicle columnist and fellow yoga teacher Mark Morford says, "Every once in awhile you find one of those rare teachers who seems to embody that precious yogic alchemy of strength, humor, sensuality, warmth, ease of spirit, and an utter lack of pretense, all wrapped in a voice that could melt concrete.
Also Read>>> Online Yoga Teacher Training
Janet's classes are like some sort of divine test kitchen; you walk in carrying all your random personal ingredients, and you leave feeling like a perfectly well-baked pie, eager for someone to eat you."
Janet Stone's path to teaching yoga was certainly more accident than intention.
Before discovering yoga, Janet was addicted to adrenaline, participating in activities such as surfing, snowboarding, mountain bike racing and adventure travel.

Twenty five years ago she discovered and began practicing yoga while traveling in India. "Yoga brought me into balance and reduced my need for high adrenaline experiences," she says.
After India, she returned to Southern California where she continued working in the film industry, writing scripts and making short films.

She continued her yoga practice, which she credits with supporting her through the intense grief of losing her father.

After experiencing the healing power of yoga, she deepened her yoga studies in Santa Monica with Bryan Kest and Max Strom.

Afterwards, she taught a few classes for fun but had no ambitions to transform her passion for yoga into a career.
It wasn't until she met her husband and moved to San Francisco that her part-time teaching gigs began to attract more and more students.

As word of mouth and her student following grew, she began teaching more.

She decided to teach full time. She now funnels her creative energy into healing and entertaining her yoga students.

In a recent class she urged students to "move beyond how adorable you are."

According to Stone, the humor diffuses the tension that some yoga poses can bring up for students.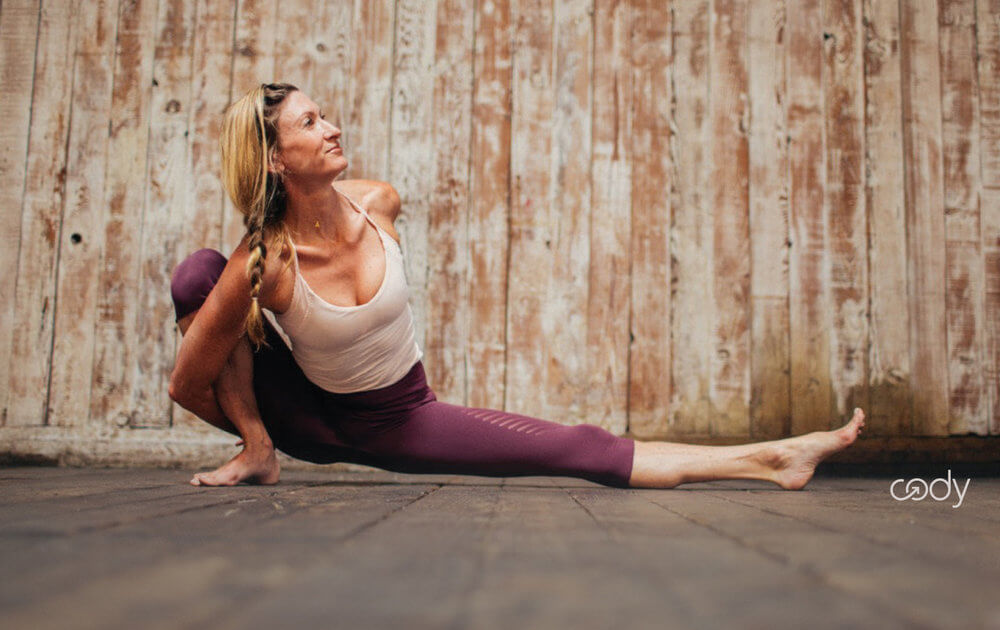 In late September, her Friday night Mellow Flow class started off with a lengthy kirtan.

Stone sat cross-legged on the studio's small stage, her reed straight dark blond hair in a ponytail, her impossibly long legs clad in pinstriped Lululemon capris.

Bathed in candlelight and flanked by guitarist/yoga teacher David Lurey and two assistants, Stone brought an air of nobility and humility to the seat of the teacher.

Her clear voice—resonant with power—filled the cavernous room, singing out from the depths of her soul, yearning to connect to Shiva.

The students belted out the chants with familiarity—one enthusiastic Om after another, creating a palpable vibration, uplifting mind, body and spirit.

As she teaches, Stone glides through the room—pausing to demonstrate a lunge, a warrior, a backbend—her depth of knowledge and dedication to practice evident in her familiarity with the poses.

It's easy to see why clothing company Lululemon Athletica chose her to be one of their first international yoga ambassadors.

Offering her unique mix of quirky comments and yogic philosophy, she never plans what she says in class, preferring to use intuition and creative flow to say what is required in the moment.

"I can feel what the room needs and am able to say it," she says.
Despite how effortless her yoga career has been, Stone finds her other job as a mother more challenging, requiring enormous amounts of energy and hard work.

But to Janet, motherhood and marriage holds as many rewards as her yoga practice.

She credits her children with keeping her real and helping her practice the psychological aspects of yoga all day long. Her two girls, four-year-old India, and toddler Lilliana, take up the majority of her life these days.

To devote more time and energy to raising them, Janet cut back her schedule to only four classes a week at Yoga Flow.
Also Read>>> Virtual Yoga Classes
Though it's difficult to make time for herself, she rises every day at 4:30am for her two-hour practice.

"Motherhood has shifted everything for me—the way I look at the world and what I want from my practice," she says.

To maintain balance she taps into the endless source of "compassion, contentment and flexibility" that yoga provides.

"And I'm not just talking about my hamstrings," she jokes.
Having a family has not diminished Janet's love of travel.

She's combined her two jobs by organizing yoga retreats in Mexico, Bali and Thailand (often with friend and colleague Rusty Wells), bringing along her daughters.

Stone loves retreats because they give her an opportunity to bond more deeply with her students, to give them more personal attention and to watch their practice grow.
Through her classes and volunteer work with organizations like Power to the Peaceful, Global Mala, the Shakti Foundation and the Art of Yoga Project, Stone's desire is "to offer support for the relief of suffering and create more ease in the world."

She loves her work.

"To get a forum in which to bring yoga into action and allow the effects to ripple into the community is a delicious joy."
What's next for Janet Stone?
Other than completing her first DVD, Radiant Flow & Mellow Flow with Janet Stone (to be released in December), she plans to live in the moment and "just keep breathing.

Janet Stone can be reached here on: IG – FB – Youtube and via email & her website below.