beach garden – organic kitchen
Published: 08-10-2018 - Last Edited: 30-09-2022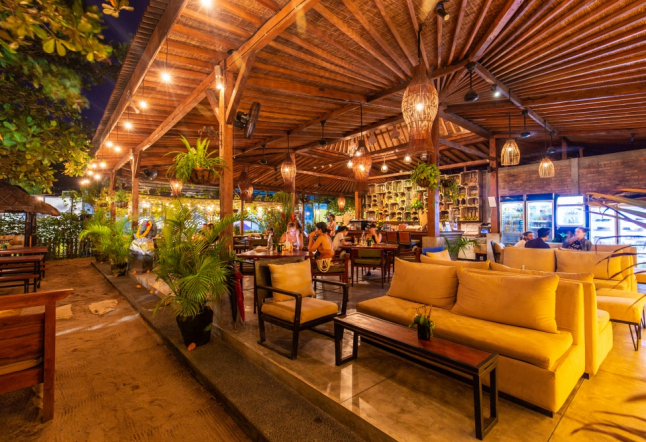 where raw food, organic dishes and smoothies come to life on batu bolong
There is a trendy haven that is attracting Canggu foodies off the busy streets of Batu Bolong. 'Beach Garden – Organic kitchen' is taking raw, organic and healthy food and making it a vibrant outdoor experience. Just a few minutes from the ocean, this garden restaurant offers a satisfying raw fix after a morning at the beach.
There's a tropical setting to its menu and vibe. The beach-inspired entrance is a carpet of soft sand as you walk up into the restaurant. Dining underneath plants and trees, with walls decorated with local fauna, it really does feel like a quiet escape from streets filled with shoppers and traffic.
Inside the restaurant you see families coming together. Towards the back, digital nomads sit under cabana-style seating. The young and trendy catch up over at the juice bar.
For the plant-eaters, its imaginative menu is full of healthy creations. Their dishes are just as intimate as its setting. Plates are exquisitely decorated and are served with a contagious Balinese smile.
Their platter of vegetarian treats is a great option to share. Embraced inside a carved wooden bowl, you are reminded you are about eating the essence of nature.
Their international chef, Ronald Junior, an Alain Ducasse trained protege from Rio Brazil. BEACHGARDEN ORGANIC KITCHEN offers a dazzling array of avant-garde vegan/ raw/ vegetarian and whole food comforts as well as some classic dishes, something for everyone, whatever your mood.
The raw papaya and avocado sushi are tightly rolled and displayed on top of a smear of miso-vinaigrette. They look like colors on a pallet, ready to be dipped and spread across taste buds. The jackfruit posing as a replacement to chicken in a tantalizing curry is certainly convincing. With many dishes vegan-friendly, it's a see-saw from raw to imaginative. Their nutritious macro-bowl filled with spinach, beetroot linguini, and crispy seaweed makes a satisfyingly funky bowl. It would be amiss not to try their Rainbow Spring Roll, made with rice paper, sweet chili sauce, asparagus, mango, red paprika, red cabbage, rice noodles.
We like the dimensions to this tropical getaway – on one side is a relaxing beach garden hosting its flagship restaurant with international healthy cuisine. Its corners boast a juice and salad bar. Towards the back of the restaurant is a raw food shop offering freshly prepared ingredients to take home with you – like a trendy food market inside a café.
Inside the restaurant, their IN THE RAW juice bar aims to serve the very best, fresh, organic juices and natural foods freshly prepared every day. Homemade fresh juices are cold-pressed ready for you to enjoy or take away. Ingredients like coconut, charcoal, carrot, ginger are just are few of the organic faves you'll find in these rustic glass bottles. It's juicy and refreshing to drink, you can taste the freshness of each ingredient. Try its creative juice bar and enjoy a Kombucha Martini, or a charcoal-lemon and honey concoction.
The owners want to create a sense of community allowing the Canggu hub to enjoy international fusions in a healthy way. It's a trendy place oozing with healthiness – its aim to be 100% preservative-free. It's like a laboratory, bringing raw food alive.
If you are looking for a vibrant spot to enjoy freshly made food, BEACHGARDEN ORGANIC KITCHEN is the place to spend your time and money.
For more info on Bali's best spots for the modern yogi STAY | SPA | PLAY | EAT | SHOP | YOGA – Download our ULTIMATE BALI GUIDE for free.
Price range: 10-15 USD
Great for: Lunch with friends, raw options, family time.
Open for: Breakfast, lunch and dinner & dinner.
Best thing about this place ? Healthy food in an outdoor and vibrant atmosphere.
T: +62-812.374.96861
Jl Batu Bolong No. 103, Canggu, Bali – 80361, Indonesia – FB – Map me. 
email