where nature meets mediterranean delights
Enter the serene world of Woods Bali, where dining amidst nature is taken to a new level. This beautifully designed restaurant embraces its name with more than just a mere moniker – it boasts an actual tree, an elegant centerpiece in the heart of the dining area.

Woods Bali is an ode to nature's beauty over a two-story building designed to evoke the ambiance of a refined and enchanting treehouse.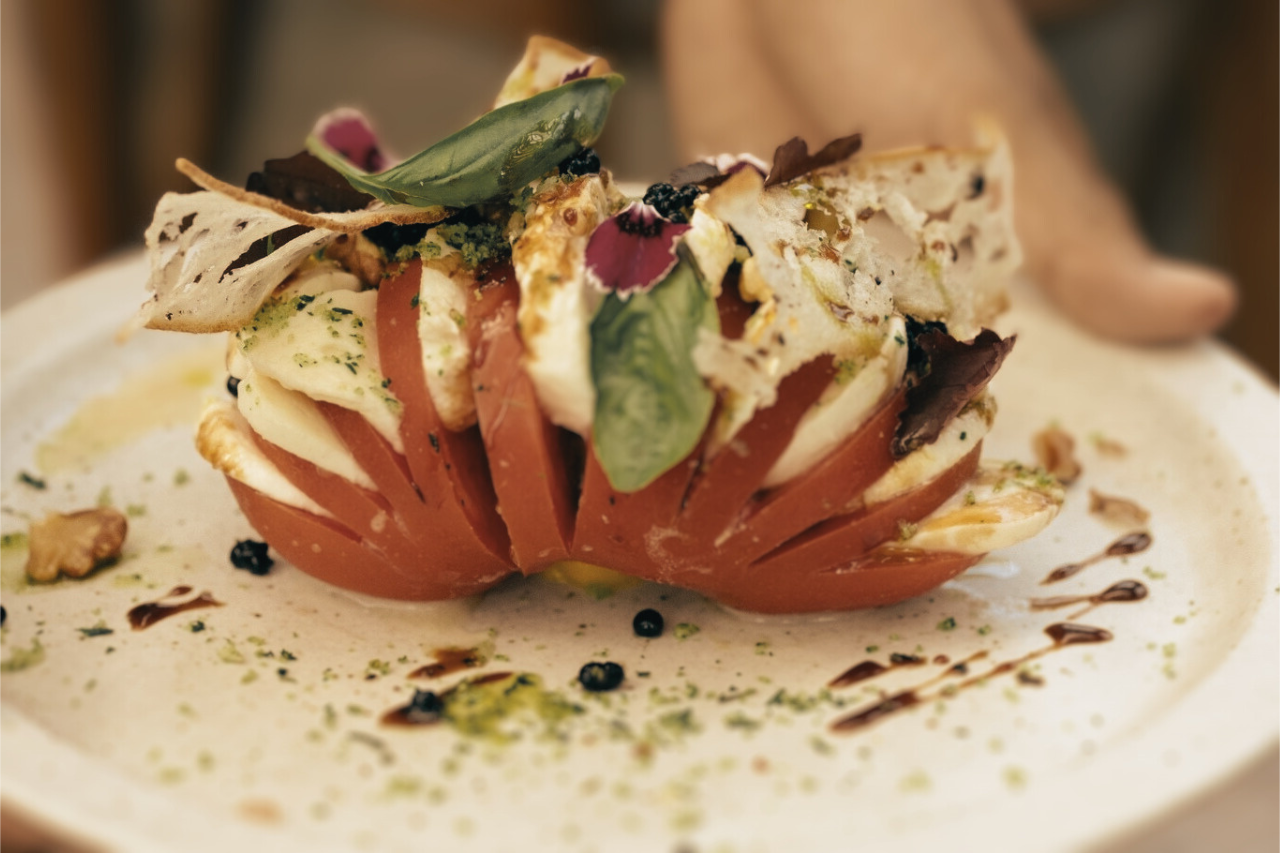 Local Meets Mediterranean Menu
Woods' menu is a delightful journey through Mediterranean flavors, drawing inspiration from Bali's vibrant culinary tapestry and incorporating fresh, locally sourced vegetarian ingredients.

Among the crowd-pleasers are the Beetroot Carpaccio, Pumpkin velouté, vegetarian Pizza soufflé, Cauliflower steak, and the forever famous Polenta fries! (seriously, the best we have ever tried!)
Woods Bali's open kitchen provides a delightful peek into the heart of the restaurant, where the head chef and the kitchen team work their culinary magic, adding an element of transparency and warmth to your dining experience as you observe their skilled craftsmanship.
Complementing the menu is an excellent selection of wines, cocktails, and, for tea aficionados, an unparalleled tea menu sure to delight.
An inviting ambiance
As daylight gracefully transforms into evening at Woods Bali, a subtle transformation occurs.

The restaurant's charm extends beyond the dining tables, inviting you to unwind and savor the moment at a cozy small bar.

Here, you can sip on expertly crafted cocktails, mingle with fellow patrons, and patiently await your table.
Don't miss their Jazz Sunday Brunch, with great live music, piano concerts, and the best of both worlds, indulging in a fusion of breakfast and lunch offerings from their menu.
Professional Service
The staff at Woods is well-trained and knowledgeable, with an attentive presence. Whether you seek menu recommendations or require any special accommodations, their dedication to ensuring your comfort enhances the overall charm of the establishment.

We especially appreciate the meticulous attention to detail evident in the decor, the carefully curated lighting that sets the perfect ambiance, and the impeccable cleanliness that underscores the overall charm of the place.

Also, we like that Woods provides a committed manager who goes above and beyond to cater to the needs and preferences of each guest. With a strong presence in the restaurant, he ensures that every diner feels valued and well taken care of.
In Conclusion
Woods Bali offers more than just a dining experience; it's a tranquil escape that seamlessly blends nature-infused ambiance, a diverse Mediterranean vegetarian menu, and impeccable service.

Whether you're a digital nomad seeking a peaceful sanctuary or simply searching for a memorable meal in a natural and classy setting, Woods Bali welcomes you with open arms.
With its inviting atmosphere and delightful cuisine, Woods Bali has earned its place among Bali's top 10 dining destinations!
YOGI TIMES Rating: ★★★★★
Please note that this review reflects our personal experiences and individual experiences may vary.
We wholeheartedly encourage you to embark on your culinary voyage at Woods to craft your impressions of this remarkable establishment.
Jl. Dalem Lingsir No.8, Pererenan Kec. Mengwi, Kabupaten Badung Bali 80351 | Map me | IG | FB | woodsbali.com | Tel: +6285-3339-35558 |