sacred space yoga sanctuary
Published: 14-06-2012 - Last Edited: 15-11-2022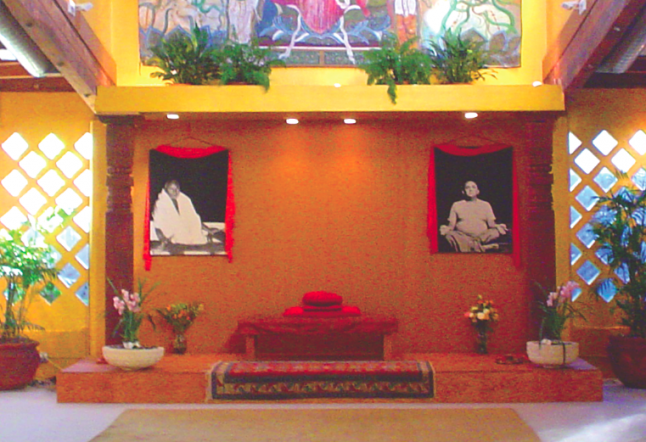 I'm in a cross between a big living room and a grandiose temple. There is wall-to-wall carpeting, a high, light-filled atrium, hand-painted tapestries, gorgeous carved woodwork pillars, candles and flowers throughout the space. We are several hours into a weekend retreat in which no one is supposed to be speaking, but some of the attendees have found a loophole and have broken into singing and chanting.
Sacred Space is a place where one comes to open the heart. This is the core of the teaching, and to prove the authenticity and effectiveness of such work, you will find only openhearted students among the attendees in any of the meditation classes or retreats.
A yoga center in the Western, more industrial part of Berkeley, Sacred Space is a hidden gem that is near to my own heart as I have studied here for about many years. Perhaps a familiar name to many, the space is visited by relatively few, but those that do come to a class, concert or other event often leave with a vow to return. Meditation practitioners work to enhance their capacity to channel kundalini (life force) through breath and conscious effort to widen their chakras (body energy centers).
This center is not a primary destination for hatha, or asana-based yoga, but rather it is focused on the meditation of yoga. The particular practice is an ancient Tantric tradition known as kundalini mahayoga. While Tantra has come to be identified with sexual practices, the ideas embraced by the meditation practice are actually based in oneness of reality, a relinquishing of all puritanical doctrines (what a person can and cannot do to grow spiritually) that dictate an individual's spiritual growth.
Originally a reaction to lifestyle rigidity in religion, Tantra combines elements of both Hindu and Buddhist beliefs, embracing all elements of life as fuel for growth, including those not normally associated with spirituality. Kundalini mahayoga speaks to the necessity of a teacher to help one in their growth, someone who not only serves as an example and guide, but also as a fueling device through energetic transmission known as shaktipat.
Weekly mediation classes are held on Monday, Tuesday and Thursday evenings, all of which are free and open to the public. The center also sponsors devotional chanting evenings and various concerts about once a month.
The work of Sacred Space's primary teacher, Swami Khecaranatha, or Nathaji, is unique and touching to a wide variety of people. His 35-year-old commitment to his own spiritual growth and that of his students is extraordinary and unassuming. While setting an example for constant, heart-based growth, he is an accessible friend to anyone wishing to seek him out. He is grounded in the real world, understanding of the dramas that all of us struggle with daily. Having been raised in Texas, he has a rich sense of humor about his own life and background while expressing gratefulness to his own teacher, Swami Rudrananda, and the founder of his lineage, Swami Nityananda. "I'm not special, I am just extremely lucky," is a quote he has often used to describe his own introduction to kundalini mahayoga.
In addition to regular kundalini classes, the center houses holistic heath practitioners, weekly qi gong classes, music events and samavesa yoga (coming soon). Samavesa yoga is a full immersion program in hatha yoga, meditation, scripture and philosophy.
Nathaji's wife Sonia is a certified hatha yoga instructor and offers private yoga classes as well as acupressure, massage and other bodywork. Together, the two of them create a welcoming and beautiful space for meditation-seekers throughout the Bay Area. Sacred Space also has occasional retreats for those wishing to be immersed in the practice. Retreats offer several consecutive days of secluded and focused inner work for participants.
Sacred Space offers an experience one can seek as little or as often as he or she desires, but the sweetness of the energy would inspire anyone seeking a deeper spiritual life. If the joy is in the path and not in the destination, Sacred Space is truly a friendly and exciting highway.
Read next >> mynx inatsugu