yin, chinese meridians, and qi gong
At the start of my yoga journey, I would rather spend my time at a sweaty Vinyasa practice than joining a Yin Yoga class. However, after years of practicing and teaching this dynamic style, my interest grew. I've wanted to explore the deeper layers of the physical and energetic body and mind.

I found Yin: my personal way in. While attaining physical vitality, Yin Yoga has tremendous wisdom on an emotional and spiritual level. I truly believe the world, especially the West, needs more of Yin. So with this goal in mind, I signed up for a teacher training course.

The lead teacher, Annie Au, started her career as a contemporary dancer in Vancouver. In 2012 she had a chance to go back to Hong Kong, where she danced professionally.

A dance company offered her a professional contract, but before signing it, she decided to do a 200-hour yoga teacher training in Thailand. At that time she didn't care much about a Downward Facing Dog.

But instead, she felt attracted to the soothing sound of OM. During the training, she was confronted by her bruised ego and voices of insecurities from the dance world, but had also found a great sense of peace in her yoga practice.

The entire experience was so transformative that she decided to stay and assist at this Ashtanga yoga school in Koh Phangan where she graduated.

A year later, Annie and her partner at that time started their own yoga teacher training school in Thailand and Bali called All Yoga. In 2015, Annie moved back to Canada. She was going through a hard time and took solace in the newly opened Dharma Temple in Vancouver.

The practice of Dharma Yoga opened her heart again. Since then Annie has completed her 500hr Dharma Yoga Life of a Yogi Training (LOAY) and is currently completing the 800hr LOAY.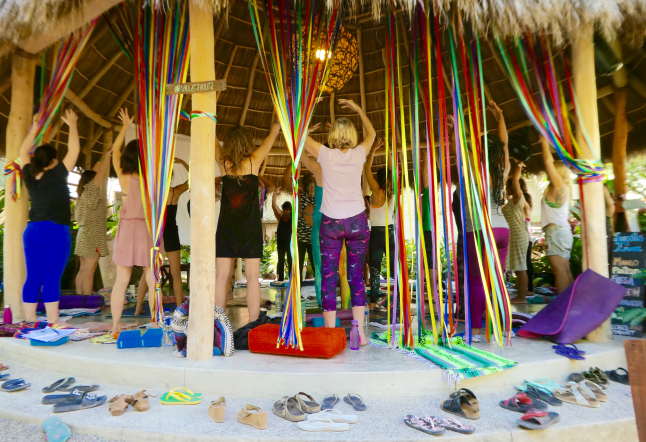 In 2016, Annie felt empowered to create her own yoga teacher training infused with authentic knowledge of yogic philosophy and Buddhism.

Besides the physical and emotional benefits of yoga, Annie's ultimate goal is to empower people to overcome sufferings brought on by emotional obstacles and self-detrimental beliefs.

According to the Middle Way in Buddhism, everything is coming from you – you are the centre of everything. In her teacher training,

Annie and her partner Dr. Word Smith strive to share the wisdom of Buddhist Teachings with their students. Specifically on how we can create the world we want by understanding the Laws of Karma.

"My whole life has been a blessing. Everybody comes into my life to teach me something, although I might not see this in the beginning," said Annie. Besides her teacher training in Mexico several times a year, she also guest teaches at Exhale Yoga Retreats and All Yoga Training in Sri Lanka, Thailand and Bali.

Annie is a super authentic and knowledgeable teacher; her teaching style is very professional, clear and creative. She still likes the sound of OM, so you can expect a lot of chanting in her training.

Her Yin classes focus on supporting people to develop a steady meditation practice. Ultimately, through yoga Annie strives to help you find a sense of peace and happiness from within. During the training she shared a lot of wisdom based on her life lessons and from Buddhism.

We did our best to stay conscious during every class to hear what she had to say, as everything was so interesting and inspiring! By allowing periods of silence, Annie's words truly seeped into our body and mind.

This 10-day course was unique, because of the Eastern touch. Tyler Cole, a doctor in Medical Qi Gong, taught us the fundamentals of Chinese medicine including the Five Elements, the Three Treasures, healing sounds & colors, and of course Daoism.

Dr. Tyler also led daily morning Qi Gong classes based on the Daoist Five Elements. Annie focused more on Buddhism, yoga philosophy, how Chinese Meridians align with the physical Yin postures and organs, and their associated emotions.

We truly enjoyed the discussions on different life topics in the perspective of Daosim and Buddhism. There were also a few talented students who had the opportunity to share their light in Reiki, Traditional Chinese Medicine (moxa, guasha), and visualization meditations.

The head chef, Ale Jasso, is a friend of Annie's and an advanced practitioner from Annie's Buddhist community. Ale works full-time at Diamond Mountain Retreat Center in Arizona serving meditators and other retreatants throughout the year. She is very skilled at cooking foods that compliment spiritual practices.

She uses different spices to make delicious vegan and vegetarian cuisines. Ale doesn't use garlic or onion as they disturb the inner channels, which affect your meditation.

Also, she reads the group and adds more oil when she feels we need more grounding after a few days of internal spiritual work.

With only using locally grown fresh ingredients, you could honestly taste Ale's love and sincere intention in every meal.

Villa Sayulita is a wonderful retreat place with a secret garden where the ducks, dogs, and chickens wander across the garden.

How peaceful it is to be in lectures accompanied by the clucking sounds of chickens! And how cute to have the dogs come to visit us for a cuddle once in a while.

We have enjoyed the variation of training spaces: the yoga deck on the rooftop overseeing the sunrise and tropical birds flying around, the indoor yoga space decorated with a beautiful circle of life mural and the open-air garden shala.

During our break, we would enjoy the pool or walk within a few minutes to the beach or into town.

The rooms are very spacious and comfortable with AC, a fridge and a bathroom en-suite.

This 100 hour Chinese Meridians and Yin Yoga Teacher Training has been a deep internal journey. In class, we sometimes hold poses for up to ten minutes, so a lot of emotions would come up.

But with skillful guidance by our experienced trainers, we would bravely explore our physical and emotional edges.

Thank you Annie and Tyler for holding space during this transformational process and for sharing your abundance of knowledge and skills from the East with us.

I can't wait to pass this onto the Western world! Namaste.
Best thing about this School ? The Eastern touch (Chinese Meridians, Qi Gong and Five Elements)
Read next >> body fly international academy