zula – permanently closed early 2020
Published: 08-07-2012 - Last Edited: 20-06-2022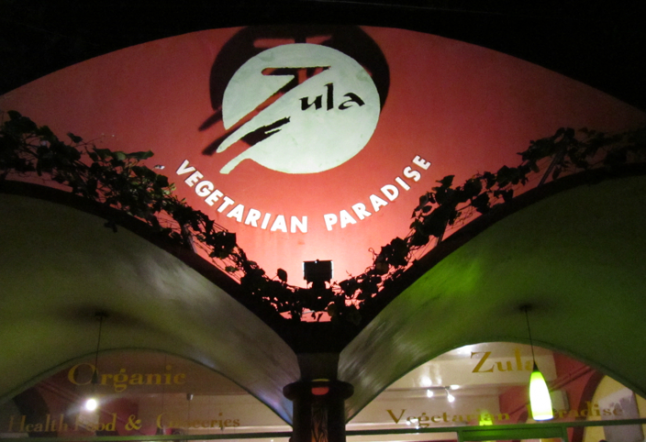 former vegan restaurant in Legian, Bali
Seminyak Bali, is home to some great vegetarian restaurants and cafés, a lot of which are …*cough* "organic" and they really don't come much better than Zula.
Located on one of the most lively streets in Yak', Zula is perfectly placed between chic boutiques and welcomes the colorful bunch of expats, holidaymakers, locals and down the street from amazing Yyengar yoga teacher Olop. The atmosphere is simple and homely. The staff is extremely smiley and the toilet is a pleasure to be in – seriously, you will be in there for ages reading the plaster of posters and fun stuff on the walls. There are books on sale, many take away products from the Down To Earth range, organic produce, natural cosmetics – most of which are hard to find in Bali – and let's not forget the important stuff…the grub!
Trying to choose from a menu as well as Zula's is both a treat and tough, as you will want to try everything. But if you need help, try the falafel sandwich (more of a pitta kebab) – it's packed full of salad, falafel that isn't dry and dollops of nutty and fresh hummus – very filling and tasty!
The entire menu is derived from macrobiotic principals, so every vital nutrient, vitamin, minerals, fibers and micronutrients is covered leaving you worry-free that the choice you make will be highly nutritious and most dishes are ethnic inspired inline with the restaurants' middle-eastern name.
Also Read>>> Zali Lebanese Restaurant in Bali
The menu also provides its customer with an abundance of fresh juices, smoothies and teas/coffees as well as sugar and dairy-free desserts, ask for their vegan ice cream. This truly is vegan/vegetarian paradise!
The beautifully pint-sized and welcoming Liat Solomon, is Zula's proud owner and is also a chef and educator on a macrobiotic based diet, and its benefits to health and lifestyle. Zula is the first restaurant from the mother company Down To Earth, which Liat first opened in 2003 in Bali. Liat lives and breathes a healthy eating lifestyle and if you are ever fortunate enough to be in her company you will see the benefits first hand. She is always spritely, enthusiastic, glowing and ready to educate.
Zula is a middle-eastern term meaning hospitable home and it is exactly that, but a home where the food is totally vegan, tasty and (as Zula states), a home that doesn't use "anything that has a face or a mother".
Ask for their vegan ice creams.
For more info on Bali's best spots for the modern yogi STAY | SPA | PLAY | EAT | SHOP | YOGA – Download our ULTIMATE BALI GUIDE for free.