the best vegetable cutter there ever was!
Published: 22-08-2022

the practical vegetable cutter for all
There are plenty of options for a vegetable shredder machine, fruit chopper, food processor onion chopper, vegetable cutter, and veggie cutter but often, these nifty gadgets are very cheaply made and don't age well as a result.
However, the Alligator of Sweden makes prep time a breeze, and it's quite literally a vegetarian, vegan, or plant-based dieters' dream!

Yet, we found that the vegetable cutters and fruit choppers at Alligator of Sweden have incredible quality and are still really simple to use for all of the home chefs out there.
Our favorite feature of these vegetable cutters is the South Korean cold-rolled 301 stainless steel, which means that there won't be any garlic flavors or remnants of your food processor onion chopper on your fruit salad.

You will also prevent rust issues with this vegetable shredder machine, as the blades themselves won't dull any time soon.

With many kitchens having limited cabinet space, it's nice to know that the sleek, minimal design of this veggie cutter doesn't take up too much space and will blend in well with the rest of your appliances.
A design for every kitchen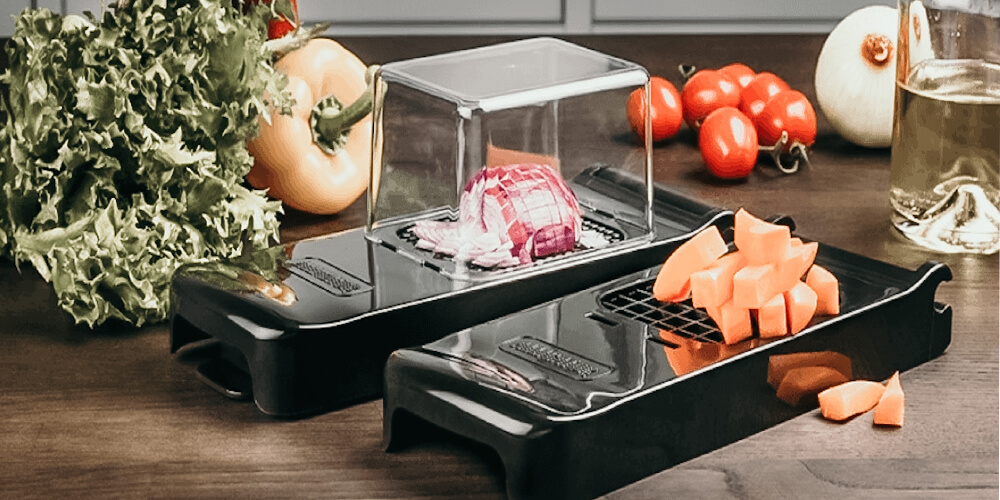 The Alligator of Sweden vegetable cutter comes in a few different varieties. There's the option to get the original veggie cutter in a white and green durable plastic, which might be super appealing if you have kiddos helping you in the kitchen!

Teaching children the fundamentals about food is essential if you want to expand their palettes at a young age.

This fruit chopper can be an excellent outlet for such an activity.
We recommend the black edition, which ties into the widely admired Scandinavian design if you want a more sophisticated finish.

However, if you're looking for a more heavy-duty and professional finish, the Alligator of Sweden also has a stainless steel vegetable chopper featuring the South Korean stainless steel throughout the entire unit.

With this option, you'll never buy another fruit chopper in your life! It's also reassuring to know that quality and care will never be compromised because they are manufactured in Sweden. Did we mention the unit is dishwasher safe?
It doesn't matter much in some recipes as to how you cut your veg; however, when you dig a little deeper, you will realize just how much of a game-changer this vegetable cutter is!

When you cook with identical fruit or vegetable pieces, you can eliminate the risk of having smaller pieces burnt and larger pieces undercooked.

Thanks to this, it reduces the cooking time of your vegetables, reduces prep time, and is safer than attempting trendy TikTok kitchen chopping hacks!
Also Read >>> Excalibur Food Dehydrator Review
Last words
Thousands of professional chefs and home cooks worldwide use these vegetable choppers, and because of this, you can find the Alligator of Sweden in over 30 countries.

In addition, the company makes it a simple process whenever you need to buy replacement parts instead of buying an entirely new set.

Therefore, in terms of conscious consumption, and sustainable living, this vegetable cutter is an excellent tool for your home, and you can use it throughout the years with ease.

alligators.se