utama spice shop in sanur & ubud
Published: 02-03-2015 - Last Edited: 24-10-2022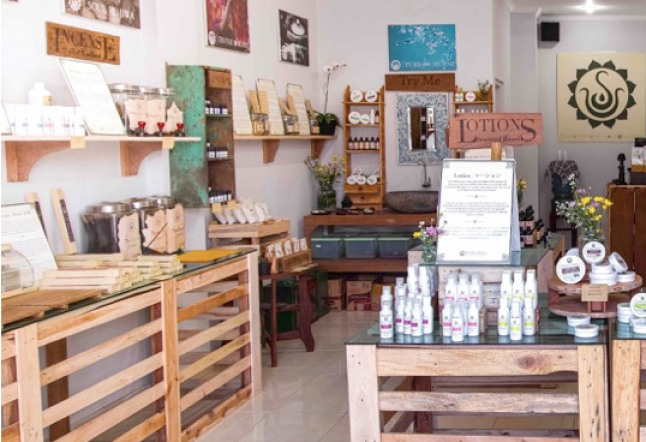 Utama Spice Stores offers all natural products for the skin and home. Utama Spices' line uses 100% pure natural ingredients that are sustainable, predominantly locally grown, sourced from small farmers and every product sold is made by hand in Ubud, Bali.
Created by Melanie Templer and Dayu Suci, their venture started from a deep passion to preserve Balinese herbal traditions and their shared love for plants, herbs, and aromatherapy. Beginning in 1989, Utama Spice has continued to uphold their reputation by sticking to the Balinese cultural concept of Tri Hita Karana – respecting and working harmoniously with humanity, nature and the divine. Utama Spice stores and beauty line are a delight for the senses. "We are simply packaging people's birthright, the right to the smells of the forest and the earth, to re-establish the link between people and their traditions. The nose has a very powerful memory," says Melanie Templer.
Utama Spice has two physical stores, one in Ubud (Monkey Forest Road) and one in Sanur (Gopa Town Center). Although the Ubud store is the base of Utama Spice, both of these stores stock loads of wonderful, natural products, all created by hand.
To this day, their factory is still a family kitchen, shining with the love of ancient Balinese recipes. They believe that the process of creation is something one needs to experience whole-heartedly, therefore they have introduced their Lip Balm Bar, where you can create your own lip balm on location, and choose your own unique blend from a selection of essential oils.
You begin by choosing from 3 lip balm bases in the scents cinnamon, peppermint or orange leaf, and add up to 4 drops of your chosen essential oil, of which you can combine, to completely personalize your product. Additionally, the glass container used for your balm can be returned to be refilled as part of Utama Spices' reusable packaging program in Sanur.
Their all natural aromatherapy products, such as body scrubs, face masks, and aromatherapy oils are known to be of the highest quality, only containing natural ingredients and are completely free of parabens, chemical binders or synthetics. These products, along with a selection of herbal teas, incense sticks, and wellness gifts, reinforce Utama's thought out approach to the wellness of the body and mind.
Ubud Shop: Jl Monkey Forest (130M from the forest). | Tel: +62 (0) 85 100 853 155 | Open Monday – Sunday 9am – 8.30pm
For more info on Bali's best spots for the modern yogi STAY | SPA | PLAY | EAT | SHOP | YOGA – Download our ULTIMATE BALI GUIDE for free.
Read next >> Nyaman art gallery