Nyaman art gallery
Published: 05-10-2016 - Last Edited: 15-11-2022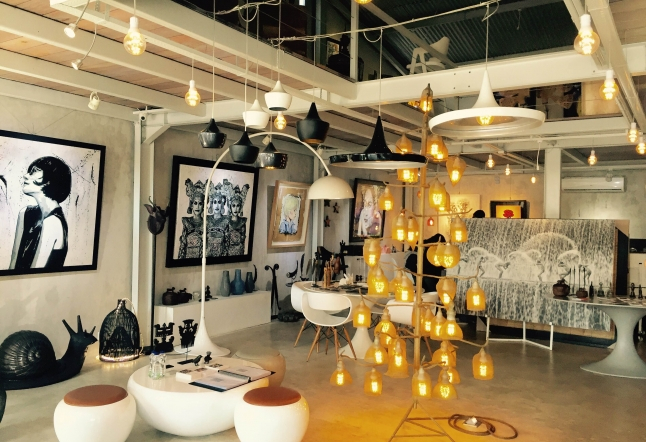 Contemporary painting in Seminyak
Translated from the Indonesian language the word 'nyaman' means 'cozy or 'comfortable'. It defines the philosophy of Nyaman Gallery to aim to highlight the welcoming scenery of Bali to their guests, and also the comfort with which they share and enjoy contemporary art.
The Nyaman Gallery is parked in the bustling heart of Seminyak, Bali's most fashionable beach area. Walking into the ample exhibit room, you are immediately invited to absorb the spirit of 'nyaman.' You are welcomed into a sophisticated ambience, created with the subtle scent of incense and soft casual lighting.
Nyaman Gallery began in February 2015, when Melvine, the gallery founder and conceptual generator, created a physical art space for Bali-based, local and international artists. The dual-level arcade represents the diversity and virtuosity, the art of discovering the hidden gems of the artistic mind, and artist's final product.
The gallery provides a relaxed atmosphere in calm earthy colors away from the hectic Seminyak streets, taking you on a journey to the world of contemporary art. Melvine says that "the concept of creating such place is simple – to enjoy a nice environment with creative people and make everyone to feel at home." The staff is extremely welcoming and happy to show guests around and answer questions. They also offer consultations in scenography and interior design.
They present a fine assortment of artwork, ranging from street-art-inspired modern painting, urban photography, exotic sculptures and installations, as well as homemade Balinese pieces of jewelry and sculptures. If you are inspired by tribal photography, you will really appreciate art pieces created by Stephane Sensey or traditional lifestyle captured across Indonesia by Yoga Raharja.
Nyaman Art Gallery is an art station where the East meets the West. It's a charming artwork residence where contemporary art is shown for exhibition and sale. Heart warming art can be found to suit every taste, whether looking for fashion decor, jewelry or simply to melt and absorb into the world of visual delights.
Facebook – www.facebook.com/nyamangallery
For more info on Bali's best spots for the modern yogi STAY | SPA | PLAY | EAT | SHOP | YOGA – Download our ULTIMATE BALI GUIDE for free.
Read next >> divine goddess yoga shop