nyaman art gallery
Published: 01-09-2023 - Last Edited: 11-09-2023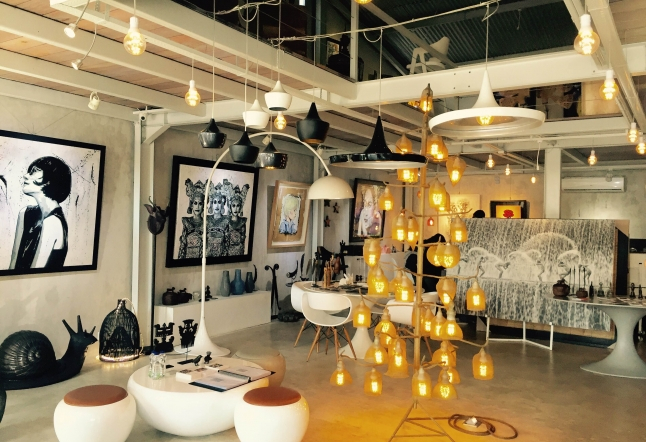 Contemporary painting in Seminyak
Feelings of "coziness" and "comfort" are what come to mind when the Indonesian word "nyaman" is translated from its original language. More than just a definition, it encapsulates the spirit of Nyaman Gallery's mission, which is to highlight Bali's inviting allure while skillfully blending it with an appreciation of contemporary art.
The Nyaman Gallery is a beacon for art enthusiasts because of its location in the bustling heart of Seminyak, which is widely considered Bali's most fashionable beach enclave. The feeling of 'nyaman' is palpable the moment you step foot inside the airy and spacious exhibition space.

Every detail, from the delicate aroma of incense that floats through the air to the soft glow of ambient lighting, has been painstakingly selected to create an atmosphere that exudes a sense of coziness and refinement.
A Safe Haven for the Expression of Creativity
Melvine, a visionary who lives in Bali, set out on a mission in February 2015 to carve out a space in the island's art scene for artists from all over the world, both locally and internationally.

She had the idea for the Nyaman Gallery, which is now spread over two levels, each reflecting the vibrant tapestry of various artistic expressions. The room's purpose is not simply to display art but to celebrate the discovery process, beginning with the conception of an idea and continuing through its materialization.
In addition to having an extensive collection, the gallery is notable for having a peaceful atmosphere. It provides a tranquil haven amidst the frantic pace of Seminyak with interiors that are bathed in calming earth tones, and it has an outdoor pool.

According to Melvine, who puts it quite eloquently, the purpose of this establishment is "to curate an environment where creativity thrives, where kindred spirits converge, and where everyone feels a sense of belonging."

This sentiment is further amplified by the welcoming staff, who are always eager to engage and ready to guide visitors, share insights, or even delve into discussions about scenography and interior design.
A Mishmash of Different Types of Art
The items for sale at Nyaman Gallery can best be described as being eclectic. The extensive range features everything from intricate sculptures and installations to edgy canvases influenced by street art and evocative urban photography.

The gallery also takes great pride in displaying indigenous Balinese works of art, such as exquisite jewelry and figurines from various Balinese artists.
Those who have a passion for traditional photography will find that Stephane Sensey's masterworks provide an in-depth exploration of the aesthetics of various native cultures.

In the meantime, Yoga Raharja's photographs capture the genuine spirit of traditional Indonesian lifestyles, providing viewers with an unfiltered look into the nation's heart.
The Meeting of Different Cultures at Nyaman Gallery
Nyaman is more than just an art gallery; it is a confluence of cultures where Eastern allure and contemporary designs from the West come together in harmonious harmony. Every cranny and cranny resounds with a tale, and every piece of art utters anecdotes from nearby and faraway lands.

Your haven is Nyaman Art Gallery, whether looking for exquisite jewelry, one-of-a-kind accessories for your wardrobe, or want to indulge in a visual and auditory extravaganza.
In its most fundamental sense, Nyaman Gallery is not merely a location but an experience. A creative retreat in which one can temporarily lose themselves, only to reemerge with a more enlightened and revitalized spirit.

For every art enthusiast who makes the journey to Bali, it will be a vacation that promises memories etched in colors of inspiration.
Facebook – facebook.com/nyamangallery
For more info on Bali's best spots for the modern yogi
| STAY | SPA | PLAY | EAT | SHOP | YOGA |

Download our ULTIMATE BALI GUIDE for free.
Read next >> divine goddess yoga shop