the private spa – wellness center CLOSED
Published: 21-09-2012 - Last Edited: 20-06-2022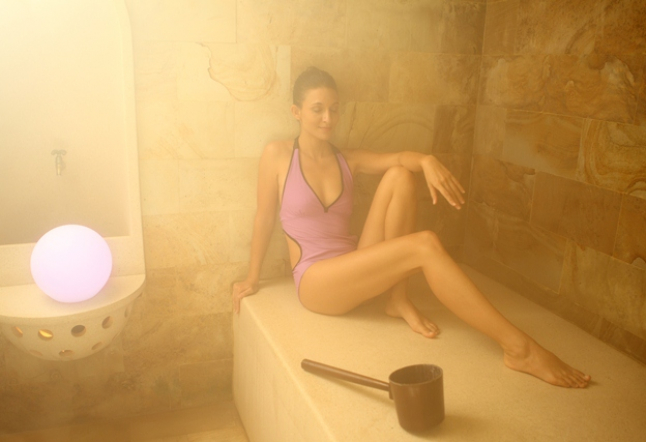 CLOSED
In the busy and bubbling Seminyak area, on Jalan Dyana Pura, lies a heavenly space of peace and serenity.
The Private Spa
 is a
holistic
natural day spa.  Open since November 2010, it reflects the emergence of the spa culture in Bali.  This exceptional establishment goes far beyond the obvious treatments offered by most of the surrounding spas in the area. However, it is not until you actually enter the spa, that you can realize the overall concept of The Private Spa and the spaciousness of the building. Owners and husband-wife team, Erika Dewi and Fabrice Garrigues had a big vision.  The enormous 5,000 square feet building stands amongst the finest spas in Bali, with treatments, services and hygiene that is impeccable. There is a Hammamm-Turkish Bath, and an infrared sauna.   Both are especially good for detoxification.  The Luxe Caviar Spa for manicures and pedicures is delightfully decorated.  Each spa rooms has unique décor and characteristics. Another wellness attraction is the teahouse, a recovery lounge where you get to enjoy a light lunch with a healthy menu. Be sure to try the Hydrotherapy Bio Thermal Pool, in which you experience a 30-minute powerful jet stream that massages different areas of the body.  The Bio Thermal Pool is the result of a scientific and medical research supporting positive Bio energy transfer to the body, via water, air and sound. Clean and airy, the décor in the large rooms for treatments can be at "a bit eclectic", as explained by the owners.  They have taken the opportunity to display various options of building materials like stone, glass, recycled wood and terrazzo.  There are 9 spacious thematic treatment rooms including the Japanese Scene, Thai Scene, Indian Scene, Moroccan Scene, Balinese Scene, Victorian Scene and European Scene.  The variety has turned their spa into a show room for potential spa industry clients. The management puts a lot of attention on training the staff well. Each of the therapists goes through a thorough training. 
Also Read>>>
Zali Lebanese Restaurant in Bali
They experience the spa as both staff and client in order to have deeper understanding of the clients' needs.  A regular practice of exercises such as dancing, qi gong and
hatha yoga
ensure that the therapists maintain a natural state of
awareness
while performing the treatments. It shows and creates an instant trust, knowing you are under the care of professionals. Their signature treatments are more like body rituals and art massages with options such as Chakra Balancing, Dancing Silk, and beauty de-aging treatments.  Let them lead you through their Prognos Body Energy Diagnostic System, a simple and painless way to evaluate your state of health and balance of yin and yang.  You also get to enjoy classics such as manicure, pedicure, body scrub, facials and wraps. With an in-house laboratory, The Private Spa utilizes its own cosmetics and body products created by owner Erika, with scents and ingredients that are carefully picked for their natural healing properties. Don't miss out on this amazing experience. Go practice your yoga with famous
Iyengar yoga Bali teacher Olope Arpipi
(5 minutes from the spa) and spend the rest of the day indulging in spa bliss. For more info on Bali's best spots for the modern yogi STAY | SPA | PLAY | EAT | SHOP | YOGA –
Download our ULTIMATE BALI GUIDE for free.
BALI YOGA GUIDE