taksu spa
Published: 07-06-2015 - Last Edited: 24-10-2022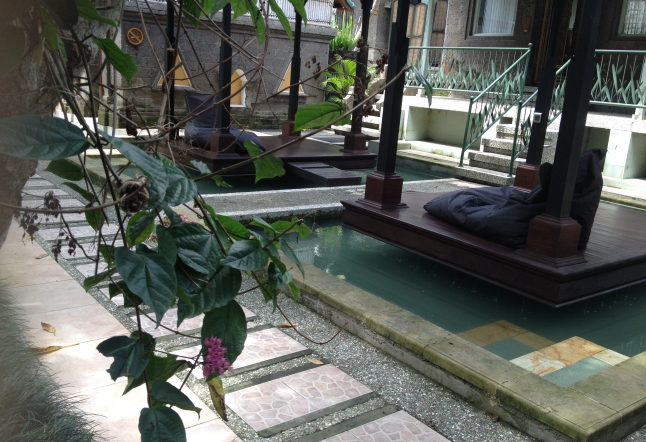 My first experience at Taksu was attending a 5 rhythms dance class I had heard of from a friend. On arrival I noticed that although the location was right in the center of town, the place felt unusually peaceful.
It was night time so I couldn't really see my surroundings very well, but as I entered the classroom I found myself in a very modern open yurt nestled in the middle of a tropical jungle. As I danced to the music accompanied by the symphony of insects & birds I wondered if I was in a dance class or in a dream. On my way out I was pretty curious about the rest of the place so I grabbed a menu & decided to explore in the following days. On my way home I coincidentally saw a sign that said: Taksu- Healing Haven. Hmmm I thought… the dance class was quite healing, let's see what else this place has to offer.
The next morning I went back & asked the head staff to recommend the most popular treatment. Without hesitation I was told to try the "Ozone Therapy" which supposedly attracts people from all around the island for Cancer & Lymphatic detoxification treatments. I'd heard of the benefits of Ozone being injected into the body, but they had a less invasive treatment that only required me to sit, wait & sweat.
After literally sitting still in a small enclosed box the size of my body & experiencing what it felt like to be cooked & steamed for 45 minutes I did feel a bit relaxed, however I would only recommend this treatment to those seeking specific assistance with their detox programs. The process was not particularly comfortable & I felt like I would have needed a series of treatments to reap the real benefits of this therapy.
Since Taksu is primarily known as a Spa I decided to go the traditional route and try a massage & facial. First I chose the Ayurvedic massage. Being led to the massage room was a bit of a trek, but I in for a pleasant surprise. While walking across the grounds I actually felt like Alice in wonderland. As we walked along a river that runs "through" the entire grounds, I was surrounded by lavish trees, deity statues, waterfalls, a traditional outdoor balinese praying temple, which I was told is open to customers at anytime to make offerings or have a peaceful moment alone., this place really captures all of the elements of Bali while maintaining the western modernities of a Spa, that although we may not admit, we do demand & expect.
I was expecting to arrive to a traditional massage room with a table, but instead was brought into a penthouse overlooking the jungle with glass windows all around. To change into my balinese sarong, I was led to a bathroom that looked like it was from The Game of Thrones, a bathroom built for a goddess.
The 90 minute massage was a series of long & deep strokes combining special oils & scrubs. It was blissful and the bliss lingered on as I received a relaxing facial consisting of tonics, scrubs & creams made from organic produce grown in Taksu's own garden, which they're expanding into a self-sustainable market to be used for their restaurant.
By this time I was pretty hungry and the restaurant being set in the middle of a quiet garden, was the perfect place for me to plop down into a lounge chair & relax. I enjoyed a bunch of fresh greens from their salad bar & a cold-pressed juice.
Just before leaving, one more thing peeked my interest, their Yoga class. The next morning, I attended the Yin Yoga class (a 90 minute deep stretch) located at the top of the Taksu grounds, on a quaint little platform literally suspended over the jungle. (see photos above!) I had forgotten the art of "stretching", and how crucial it was to the practice. The teacher Indra was soft and gentle in his approach. A breath of fresh air compared to the Yin Yoga I had experienced at other studios so far.
It seems I only experienced a small sliver of what this sanctuary has to offer, but I can say that this is a place to see and this is a place to experience while visiting or living in Ubud. It's a hidden gem in the heart of the city.
Open: 10 am to 6 pm everyday
For more info on Bali's best spots for the modern yogi
| STAY | SPA | PLAY | EAT | SHOP | YOGA |
Download our ULTIMATE BALI GUIDE for free.
Read next >> goldust beauty lounge