di mare restaurant and lounge at karma kandara
Published: 08-04-2013 - Last Edited: 15-11-2022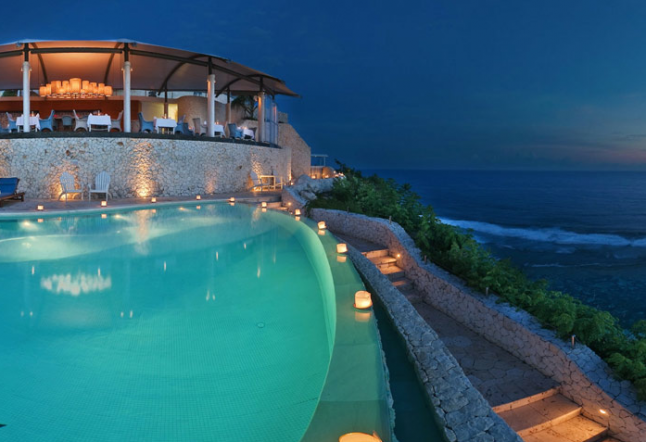 What's the perfect way to ease the digestive system into dinner after a full body spa treatment downstairs at Karma Spa? With a liquid appetizer from Di Mare Restaurant and lounge upstairs of course.
Obviously this resort takes its nutrition and health seriously, listing a breakdown of the nutrients and benefits of each concoction. Whether the focus be on weight loss, detox, energy, immunity or digestion, there is a juice or smoothie to suit. How about a low calorie protein booster or a spinach blend to start? Or perhaps a selection from the 'Seven Chakra' cocktail menu is more tempting?
The healthy 3 course food menu comes preselected which means less thinking and more time absorbing the view and what a view it is from an open dining room perched up on the cliffs of Uluwatu.
The food menu consists of a combination of raw and cooked ingredients. For the raw foodists, the entrée is a highlight comprising a chilled cucumber soup which presents like a minty green coloured clockface comprising cucumber, mint oil, organic yoghurt, cumin seeds and some edible garnish strategically placed at 3,6,9 and 12 o'clock. The result is very cool and refreshing!
The bite-sized morsels of wild spinach, cherry tomatoes, balsamic and basil to follow, also hit the spot. Fresh and light, and importantly leaving room for dessert where Di Mare delivers again on the health front serving up a duo of mango consisting of homemade sugar free mango sorbet and tartar from mango. Is it the tart finish that successfully quells the usual sweet cravings or is it a sign of a perfectly well-balanced menu?
Either way, it's pretty safe to say that the same wellness expert responsible for the star ratings on the juice menu, has a hand in the food menu design. Healthy gold stars all around go to this resort for leaving guests feeling indulged, energised and satisfied from the inside out.
For more info on Bali's best spots for the modern yogi STAY | SPA | PLAY | EAT | SHOP | YOGA – Download our ULTIMATE BALI GUIDE for free.
Read next >> divine earth