qi palawan
Published: 11-12-2016 - Last Edited: 09-11-2022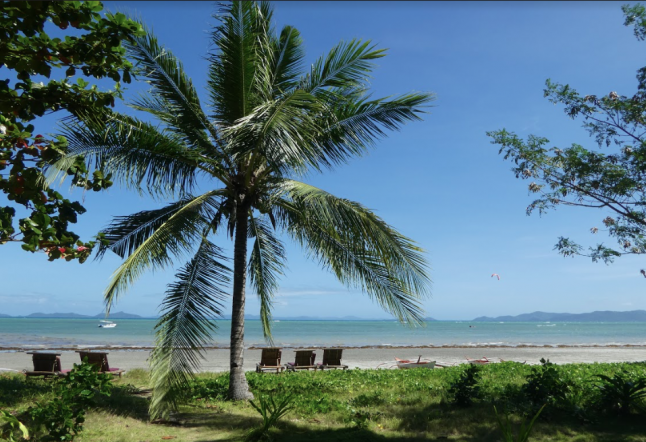 Palawan is famous for her clear blue water, limestone cliffs, and tropical islands. In the northwest coast of the island, it is almost hard to see any of this beauty by the mass of boats packed with tourists. The northeast coast of Palawan, however, is almost undiscovered.
In a tranquil bay decorated with coconut trees, we have found a hidden eco-paradise. Don't worry about how to get there, they will pick you up from El Nido and bring you back for free. Actually, the one-hour of wobbling in the car through the beautiful local countryside and along spectacular coastlines is absolutely worth seeing and part of your experience reaching Qi Palawan.
Imagine eight ocean-view bamboo bungalows and two spacious villas in a green lush garden near a deserted white-sanded beach. All bungalows are incredibly comfortable with high-quality beds and huge outdoor bathrooms. They also have a private veranda with seating and a sunbed. We really enjoyed sitting here at night while enjoying the silence and the beautiful starlit sky.
The owners Ismael and Bettina (from Barcelona and Texas, respectively) found this beautiful spot a few years ago. They aimed to develop an eco-conscious getaway with the comfort of home. And they did! Together with the local community, they offer a real sustainable experience for their guests. They use solar power, bamboo as building material (as this grows rapidly without fertilizers) and offer eco-friendly toiletries and natural insect repellents.
While it's easy to just simply kick back with a book here, they also offer lots of great activities you won't want to miss! Have a great start of your day and join the gentle daily yoga class in their beautiful ocean view yoga shala. You can also practice on your own here or book a private class in different styles. We truly recommend to spoil yourself with a Swedish massage by Rowena and an aloe vera bathing in the spa afterward. The relaxing sound of crickets will give you a real natural healing experience.
Rather be active? Go for kiteboarding, diving or mountain biking. Also, the island hopping tour must be a good one, as the coral reefs in the Sulu Sea on this side of the island are still unspoiled in contrast to the El Nido side. Here you can experience the real Robinson Crusoe feeling of being alone on an island. Enjoy the wonders of the underwater world through your mask and have a picnic on a secluded beach. They also offer paddleboards and local boats to explore the Qi Bay yourself. As they protect this bay for destructive types of fishing since they arrived, the coral in this bay is recovering.
The restaurant is set up for a great hangout spot. There are a chilling couch, a bar, and a pool table. Ismael is a former chef who trained his cooking team very well. The menu is a grateful respite for the Philippino kitchen: healthy variations of local dishes and delicious Spanish influences like chorizo sausage, gazpacho and patatas bravas. Although lettuce is really hard to find in this country, at Qi you can eat lovely salads. They grow lettuce, vegetables and any herbs fresh in their own garden and buy only products which are locally sourced. Oh, and don't miss the chocolate mousse. Mouth-watering!
As most people want to know, yes they have Wi-Fi. Actually, the fastest we have had in the Philippines. However, we think Qi Is the perfect place to enjoy a digital detox and disconnect. Take a deep inhale of fresh air, look around and admire the beauty of nature above and below the sea surface in this magical place.
Read next >> Galapagos Highlife