Galapagos Highlife
Published: 10-02-2013 - Last Edited: 09-11-2022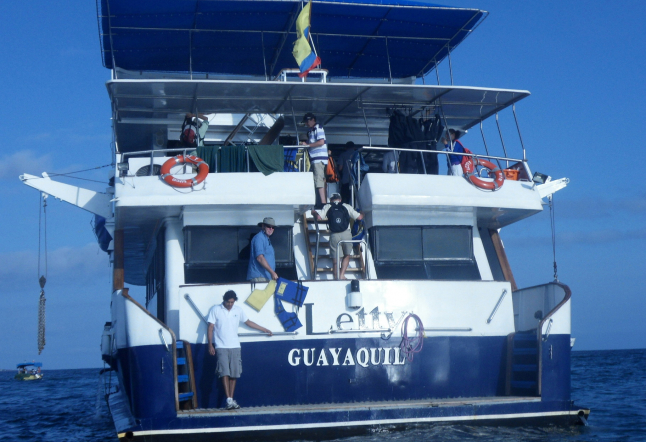 Galapagos visitors choose between staying on land or staying on a boat. If you go with a boat-based tour, joining a cruise run by Ecoventura — an Ecuadorian-based company with a fleet of three 20-passenger yachts and one 16-passenger boat for divers — is a perfect choice.
Ecoventura ensures that travelers are well-attended. A high staff-to-customer ratio means plenty of attention to detail. Vegan, vegetarian or gluten-free? No problem. Chef Xavier Mancayo and assistant Roberto Urgiles are there to make sure that all your special dietary needs are met. Delicious snacks and entrees are cheerfully provided with fresh fruits, salads and vegetables featured at mealtimes.
Knowledgeable guides make all the difference when learning about the Galapagos' unique landscape and wildlife. Professional naturalists Ivan Lopez and Orlando Romero have close to 50 years' worth of experience between them and both speak very good English. They can answer most questions with plenty of detail and background knowledge.
The atmosphere on the boat is friendly and relaxed. Cabins are small, but with a good amount of storage space. Most socializing occurs on the top deck, in the dining room, and on the daily walks on islands. This cruise is for decent swimmers who like to spend time in the water, as swimming and snorkeling are daily activities that are offered. Passengers also need to be able to get in and out of small boats, so this cruise is not good for people with mobility problems.
Ecoventura has Smart Voyager status, which means sustainable practices and fair treatment of employees. New beach towels are available upon request, as these ecological standards mean that used towels are not automatically replaced on a daily basis.
Read next >> mandala spa & resort villas