Purrington's Cat Lounge
Published: 23-02-2015 - Last Edited: 09-11-2022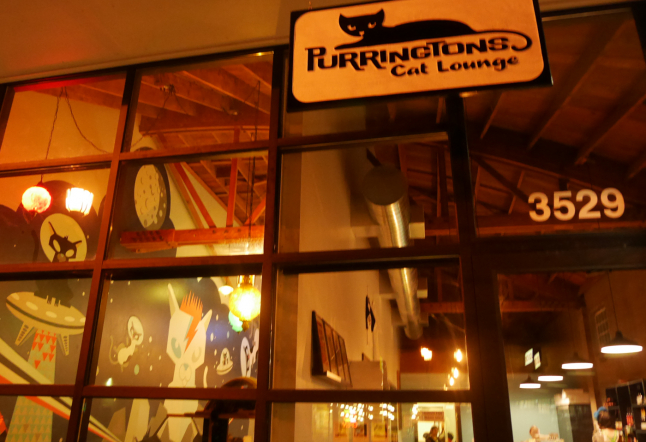 Portland recently joined other free-thinking cities by opening its first cat lounge. At Purrington's, you can drink a coffee or a tea while cuddling with kitties.
Owner Kristen Castillo first dreamed of starting her cat café in 2013, after learning of such an enterprise in Paris. It took a year and a half before she could successfully navigate health codes and make her vision a reality, and she successfully opened in January, 2015.
Castillo partners with local shelter The Cat Adoption Team, who provide around 8-10 adoptable cats at once. The café's first month of business saw a large turnover in the feline staff; many of them were adopted into loving homes. Perhaps it was due to the fun space-themed mural covering the walls – Kitty astronauts piloting their UFOs painted by Artists Cathy Libnic, Hector Sanches and Lance Lovett.
Visitors can attempt to entice cats into playing with an array of feathered toys; however, it seems as though the cats are in charge! If they want to nap, they steal away to a high shelf where visitors aren't allowed to disturb them.
The lounge also offers several snack choices for vegans and vegetarians. Try the chips with house-made salsa, or a herbed cashew, cracker and veggie plate. Coffee, tea, hot chocolate, wine and local beer are also available.
Purrington's is a fun place to check out in Portland, especially if you're entertaining out-of-town visitors. And if you're considering adopting a cat, the lounge gives you a chance to hang out together and see if you hit it off. There is a limit of 20 people allowed in the cat room at once, and advance reservations are required. To spend an hour in the cat room, it will cost about $8.
Read next >> Katmandu Boutique