Katmandu Boutique
Published: 03-05-2012 - Last Edited: 09-11-2022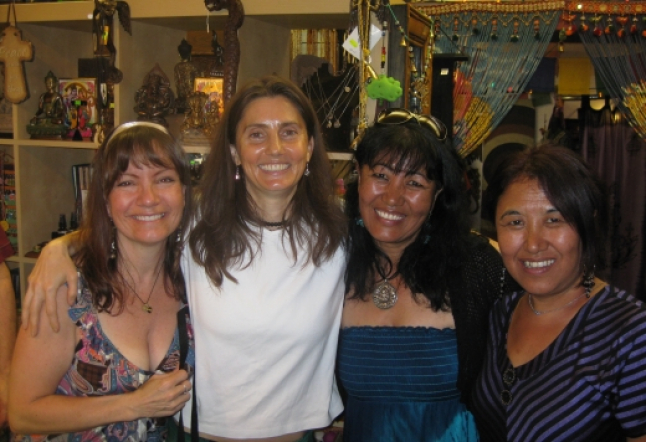 The Katmandu Boutique began as an attractive kiosk of colorful and unique yogi collectibles on the Santa Monica promenade. A shining aura amid a swarming array of OM symbols beckoned you to a transcendental experience way beyond the generic shopping venture. The space had endless views of buddhas, peeking deities, altar statues, meditation tools, goddess spirituality, heavenly scents, beautiful textiles, cool clothes, great vibes and handcrafted arts from Nepal and the Far East.
When Nepalese native, Reena Gouchen, first moved her fondly known and well-loved 'Katmandu Boutique' to its Lincoln Blvd. location, the street still suffered the longtime stigma of drugs and prostitution. The presence of the store has helped transform the block into a more positive, uplifting place – adding a lighter, brighter and more powerful vibration that attracts yogis, peace seekers, kirtan artists and those exploring a spiritual path or cultural exchange.
Without any pressure or expectation to buy, many people come just to be enveloped in the unique ambiance and good vibes. You can escape into the meditation room, rest, have tea, talk, visit, read and listen to sweet, peaceful music. Offering more than a few foreign trinkets, Reena has built her inventory slowly over the years by learning about her customers. "My customers become my best friends" she says, "I love to find things for people, bridge cultures, build relationships, create beauty, joy and happiness, and I love learning about and listening to my customers and sharing my culture with them."
Reena cultivates community by creating spaces and special events for people to gather and make connections. Every Wednesday is free 'tea day' and a back room serves as a venue for yoga and massage, kirtan and other healing arts – often by donation. Many friends and customers look forward to her grand quarterly parties featuring big discounts and delicious, home-cooked Nepalese vegan food. "The festival-like parties are a way I give back to the community who has also been so generous to me over the years, supporting me with business and good word-of-mouth referrals. This is a way of thanking them" Reena says proudly.
Motivated by a drive to help people in various ways, Reena also started a non-profit called 'Self-Help Group' to assist people with cerebral palsy in Nepal. As a young, single mother of a son with cerebral palsy, she has dedicated a beautiful and majestic room in the store to raise awareness and outreach to help those afflicted with the disease.
In a few short years, this immigrant entrepreneur has managed to create a sacred environment with cross cultural connections in a positive, familial atmosphere that is endearing. Reena delights in the vibrant community around her, "I am honored and very thankful to be surrounded by such a wonderful and divine community! I am truly Blessed!"
Visit Katmandu Boutique and mention 'YOGI TIMES ARTICLE' for 10% Off!
//
//
Read next >> working class acupuncture